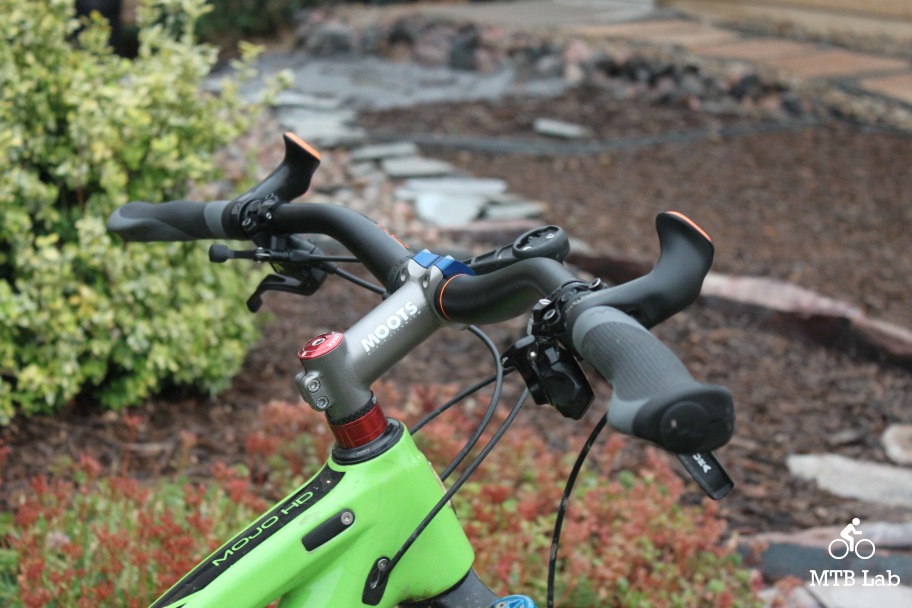 SQlab 311 Handlebars and 411 Innerbarends
The new Innerbarends are wicked cool and highly functional, and the hand and arm relief they provide are greatly appreciated. The 311 handlebars provide excellent ergonomics and a comfortable and natural hand orientation, along with a useful combination of back, forward and up sweep, and a soothing blend of rigidity and damping.
311 Handlebar
The ergonomic bars utilizes functional sweeps and rise and designs to improve comfort, optimize positioning and decrease hand fatigue and hand related issues. The 7050 aluminum alloy bars have a prominent 16º backsweep and 50mm rise and 740mm width, a 31.8mm clamping diameter and weigh 290 grams and retail for $104.99. A unique design of the bars is that they also have a 10mm forward sweep and 5º upsweet, which keeps you up forward in a comfortable heads-up position. The backsweep prevents hyperextending the wrists and provides ergonomic hand and forearm and elbow positioning and reduces Carpal Tunnel Syndrome issues and hand numbness. They optimized the bars wall thickness for lightness and have ovalized the tubing between the stem clamp and the ends which offer a functional balance of rigidity and flex and vibration damping. The bars can be shortened to 700mm if desired and they also come in 15 and 25 rise options.
411 Innerbarends
Their new Innerbarends or 'Inwards mounted bar ends' are innovative and unique and were designed to be positioned inwards of the grips. The Innerbarends are made from fiber reinforced plastic, have a single clamp bolt design and weigh 102 grams for the pair and retail for $44.99. By moving your hands inwards, your elbows get positioned into the torso, and your upper body gets stretched mildly forward for improved ergonomics and biomechanical advantage and decreased hand fatigue. The relaxed elbow and natural hand position provide relief for the muscles in the arms, shoulders, back and hands. Bar grips help alleviate stress by providing multiple hand positions on the handlebars and by just offering the ability to move things around while riding.
For further information refer to sq-lab.com or a full review at Review – SQlab 311 Handlebars, 411 Innerbarends, and 711 SY Grips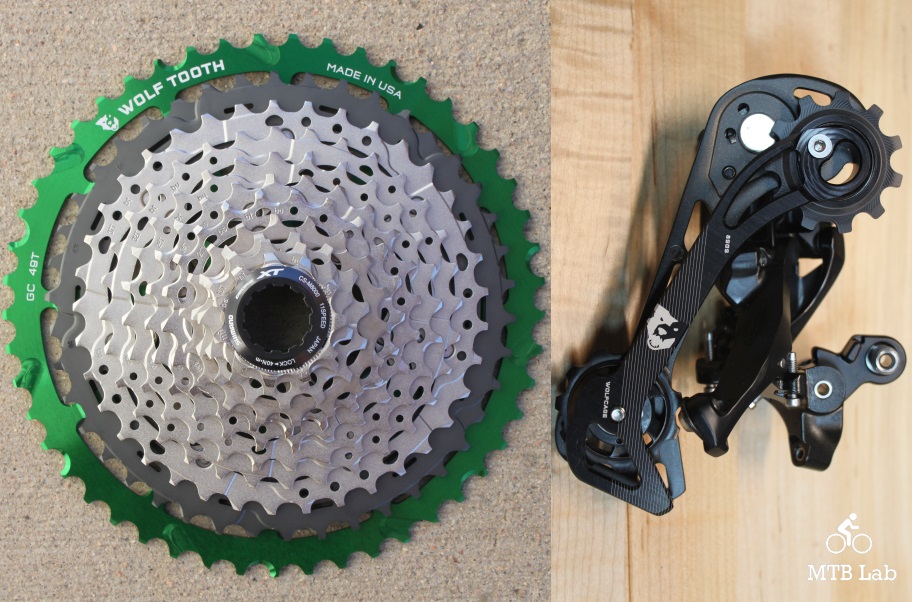 Wolf Tooth Components GC 49T Cog and WolfCage Kit for Shimano 11-speed
The Wolf Tooth GC49 cassette extender cog allows you to modify your existing Shimano 11-speed 11-42T cassette to create an ultra-wide range 11-49T cassette system, which is close to mimicking the gearing offered by the uber expensive SRAM Eagle 12-speed 10-50T drivetrain. It was optimized and works with various standard freehub body compatible 11-speed 11-42T cassettes, including Shimano XT, XTR and SLX, SRAM NX and SunRace. All Shimano derailleurs require their WolfCage derailleur cage kit to function with the GC49 cog, while SRAM 11-speed derailleurs will work in a stock form with the 11-49T cassette stack with only a few minor tuning alterations. The tested GC49 and WolfCage kit retails for $124.95.
GC49 Cog
The GC49 kit retails for $89.95 and provides a 49-tooth extended range cog and an 18T replacement cog, and comes in a slew of colors in either a Shimano or SRAM/SunRace version. The Wolf Tooth 49T cog is made from 7075-T6 aluminum and weighs 110 grams and fits at the end of the cassettes and you remove the current cassettes inner 17T and 19T cogs and replace them with the kits included steel 18T cog to create an 11-speed 11-49T system. Wolf Tooth made the decision to use a 49T cog instead of 50T because it allowed them to nearly double the number of shift gates from 4 on a 50t to 7 on a 49t for faster shifting, and the 2% difference between them isn't significant enough to lose the improved shifting characteristics.
WolfCage Derailleur Cage
The WolfCage is a modified derailleur cage with an eccentric pulley that replaces the stock 11-speed Shimano inner cage and its upper jockey wheel, and the system improves chain wrap and derailleur capacity for the extended 11-49T range setup. It comes in a variety of colors in XT and XTR models in either medium cage GS or long cage SGS versions and retails for $39.95 and is also available as part of the '49T GC Cog and WolfCage Kit for Shimano 11-speed' that I tested for $124.95. The WolfCage is made from 6061-T6 aluminum and is only compatible with mechanical (no Di2) Shimano 11-speed rear derailleurs, including SLX, XT, and XTR.
For further information refer to www.wolftoothcomponents.com and a full review at Wolf Tooth Components GC 49T Cog and WolfCage Kit for Shimano 11-speed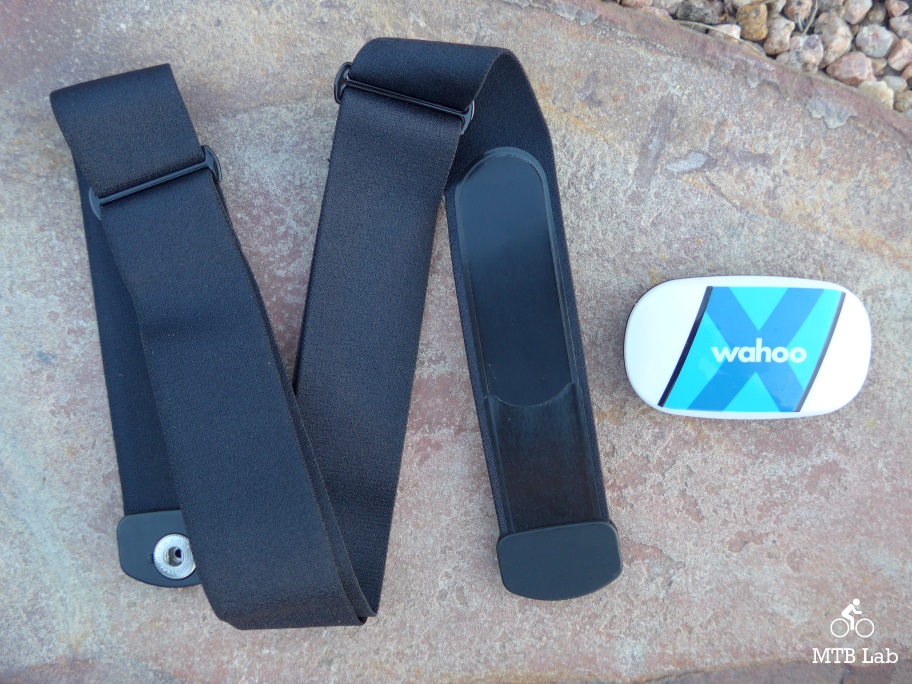 Wahoo Fitness TICKR X
The Wahoo Fitness TICKR X is dual band heart rate and exercise monitor that can be paired with Bluetooth 4.0 and ANT+ compatible devices, and it has internal memory that can store up to 16 hours of data even when the appropriate device recording interface isn't available and can then be auto-synced to a smartphone afterward. In addition to heart rate, calories burned, and workout duration, it has advanced motion analytic capabilities utilizing an accelerometer, allowing a multitude of data capturing functions. The wireless TICKR X sensor provides real-time data tracking and comes with a chest strap and pairs with various Apps on both iOS and Android operating systems. I have been using the TICKR X as a heart rate monitor with my Garmin 1000 and 500, Bryton 530 and 310 cycling GPS computers for an extended period, and it always worked seamlessly, and I've found it to be comfortable and accurate and durable.
The TICKR product lineup of heart rate monitors consists of the top of the line TICKR X for $99.99, the running oriented TICKR Run for $79.99 and basic TICKR for $49.99. The base model features HR and calorie tracking, dual-band technology; the Run edition adds on running analytics and RunFit App support and a treadmill mode, while the X gets all of its brethren features along with functionality for Memory and cadence and fitness rep counting.
For further information refer to wahoofitness.com and for a full review at Wahoo Fitness TICKR X Review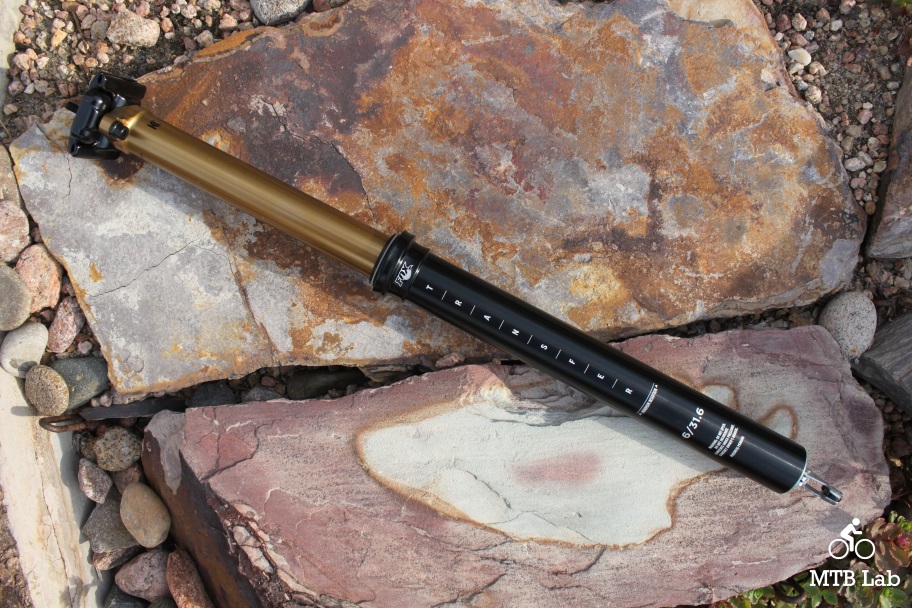 Fox Transfer Dropper Post
The new Fox Transfer is a superb infinitely adjustable hydraulic seatpost with a consistent and smooth stroke that offers speed modulation via the remotes lever input. It replaces their extremely reliable and durable three-position mechanical D.O.S.S. post and features an all new internal system that resides in the upper shaft.
The Transfer uses a nitrogen spring and hydraulic cartridge design with options of 100, 125 or 150 mm of travel and 356mm 406mm 456mm lengths, respectively. The cable actuated hydraulic height-adjustable seatpost uses a handlebar mounted remote which is separately available in two options for $65 each, a left side below the bar for a 1x setup and a left/right on the bar for 2x/3x gearing. The Transfer comes in 30.9mm, and 31.6mm diameter sizes and utilizes a zero offset saddle clamp with a 2-bolt attachment system.  It comes internal and externally actuated routing versions, and is available in a Factory model with the Kashima Coat for $314, and a Performance model with Black anodization for $264.
For further information refer to www.ridefox.com and a full review at Fox Transfer Dropper Post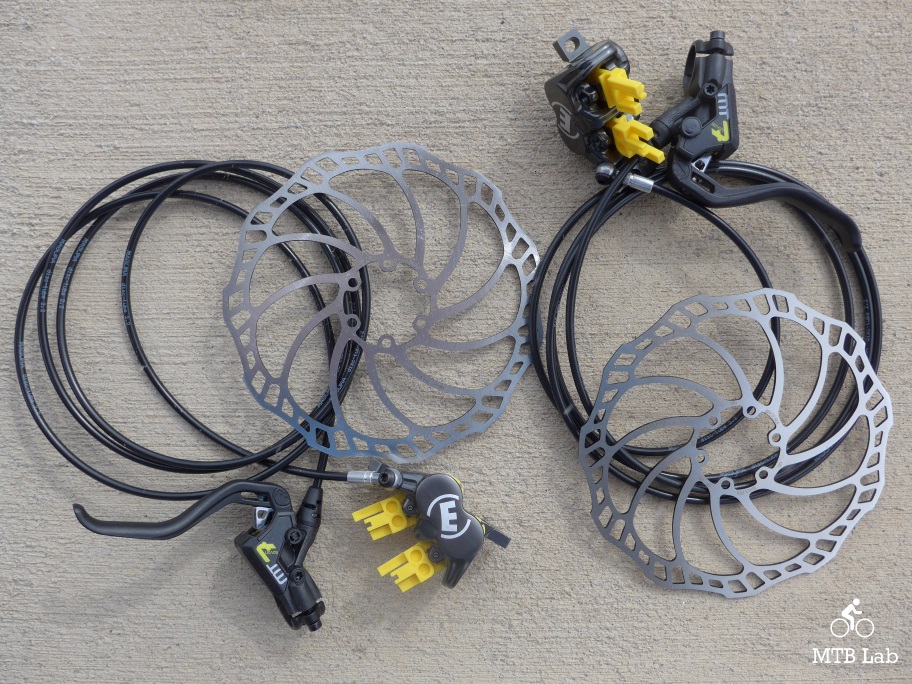 Magura MT7 Brake
Magura's flagship four-piston MT7 brake has incredible power, superb modulation, and offers precise braking and control, with highlights to its feathering capabilities and lever feel. It uses their Carbotecture SL reservoir, an ergonomic aluminum lever with toolless reach adjustment and a forged alloy 4-piston brake caliper with an adjustable banjo. The brake retails for $310 and weighs a moderately light 268 grams.
The Magura MT series of brakes consist of the two piston MT2, MT4, MT6 and MT8, the four-piston MT5 and MT7 and the new MT Trail (MT7 front and MT8 rear). The gravity oriented four-piston brakes utilize technology and design that came from their development of their motorcycle brakes. With this new series, they increased the mechanical leverage ratio progressively for enhanced deceleration power from the base MT2 model to the top of the line four-piston MT7. The best bang the buck in power in their MT lineup is their MT5, which retails for a more reasonable $200 a side.
For more information visit MaguraDirect.com in the US and Magura.com elsewhere and for a full review at Magura MT7 Brake Review
SKS Fatboard Fender Set
The two piece SKS Fatboard fender set is the ultimate set of mudguards for fat bike tires, offering all round mud and debris protection. The front fender mounts on the bike's downtube utilizing their power strap system, which has enough adjustment to fit any sized tube, whether it's round or irregular. The rear mounts on the seatpost using their adjustable QR clamp system. The rear fender has two separate hinge arms, allowing for maximum adjustability for the geometry of any bike. The fenders are made of reinforced plastic and are 5.5″ wide and 19″ long, and they'll retail for $55.
Specs
Ultimate mudguards for fat tires up to 5"
Front mounts easily under the downtube with high-performance straps
Rear fits to the seatpost with SKS' proven quick-release strap system
Dual adjustment arm puts rear fender right where you want it
353 grams – length 480mm x width 130mm, front & rear
Made in Germany
MSRP $54.99
For further information refer to  sks-usa.com and a review at Just In – SKS Fatboard Fender Set