Bryton
The new Bryton Rider 530 GPS bike computer follows in the footsteps of their great little 310 brethren and gets updated with a larger 2.6″ screen that can show up to 12 data fields, and now includes navigation and track functionality. It offers excellent performance and can track distance, speed, location and elevation using a sensitive GPS chipset and a barometric altimeter. The $180 Rider 530 can synchronize wirelessly using the ANT+ network protocol and pair with compatible power meters, speed/cadence sensors and heart rate monitors. It also has Bluetooth capabilities for a smartphone but not for sensor pairings. The unit can store up to 300 hours of history with a long winded 33-hour battery life for the ultimate in long term use without recharging. The displayed data is highly configurable and has up to seven scrollable data screens. Recorded data is easily downloaded to a PC using a USB cable or via WLAN, and the data can be analyzed with Bryton training software in addition to third party utilities.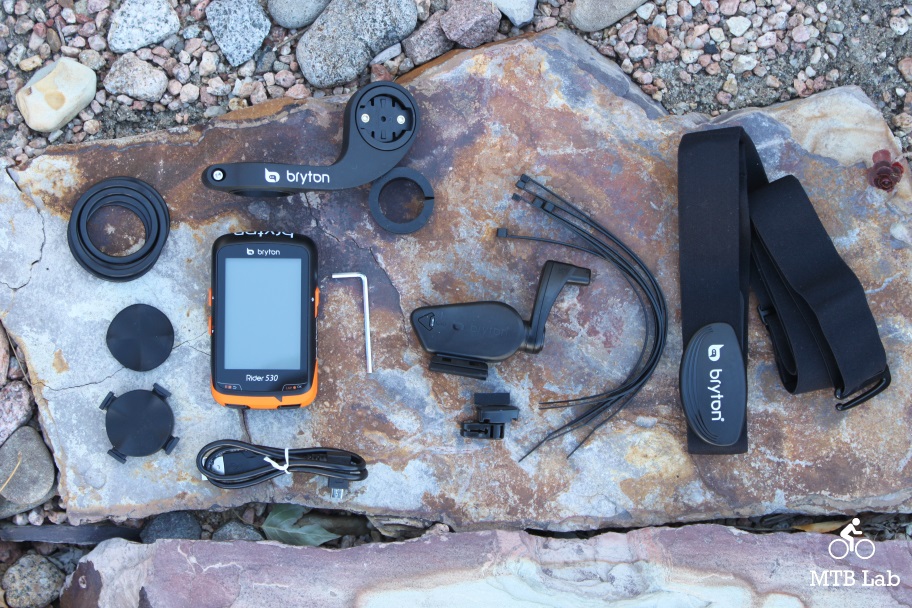 High-sensitivity GPS receiver for fast positioning.
IPX7 waterproof.
Seven customizable data screen with the maximum of 12 data per page.
Follow track plus turn by turn navigation.
Built-in compass provides heading information.
Built-in barometer for training with the terrain.
One second recording.
Compatible with ANT+ Heart Rate monitor, speed, cadence sensors and power meter for advance training.
Anti-glare display for daytime and clear backlight for night rides.
Support for viewing stats on devices or uploading to Strava, Training Peaks, and Fit track.
Strava Auto Upload to sync your activities seamlessly from Bryton app.
First Impressions
The Rider 530 is easy enough to use out of the box, and default screen and pages were usable, but I quickly customized everything the way I like my data laid out for readability and usefulness. I ended up going with three pages of data, with my main page having hr/distance/altitude/ride time/time and several other pertinent data fields on the next two pages. The menu system is somewhat primitive but thankfully intuitive, and except for the on/off button, everything is controlled by four buttons, up and down buttons to move through the menus and the pages, and the multifunctional select/start and back/stop buttons. The buttons are a bit stiff, which makes it tough to effortlessly move around the menu system or change pages, but it does help with their durability. Once the 530 is synced up with the Bryton App on your smartphone, it was easy to load new rides onto its database (upload was slow), though it would be nice if it autoloaded to your home computer. Their Bryton Sports website system lets you upload and download and organize your data, and while it's decently functional, I found it somewhat confusing and not extremely robust, especially compared to Garmin Connect. I did like the Strava Auto Sync on their smartphone app, which was handy to autoload my data directly to Strava.
The Rider 530 offers all the essential data on an easily readable screen that lights up nicely at dusk and during darkness, and the long battery life means you'll be hard pressed to run out of juice during any rides.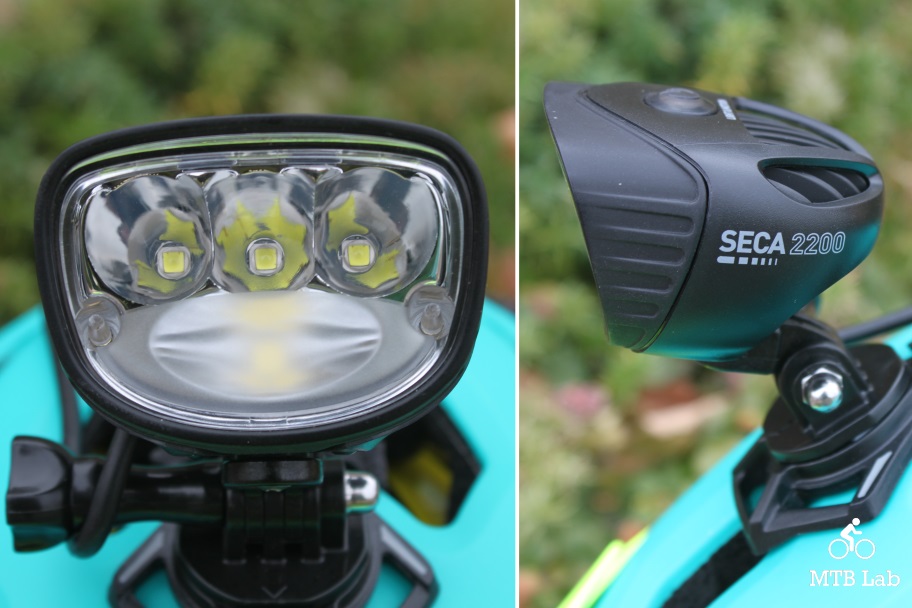 Light & Motion Seca 2200d
Light & Motion tweaked their Seca lineup this year and now have a model 2200 and 1800. The illuminated control buttons have been raised and are more prominently, so they have a better tactile feel when being used with gloved hands. The Seca 1800 now has four light beams, with the lower one being more defused for better trail functionality. The waterproof lights both feature CREE LED's, enhanced firmware, custom engineered reflector/optics that diffuses the bottom LED to cover an ultra-wide spread down in front and focuses the top LEDs for penetrating the darkness and maximizing riders' depth perception.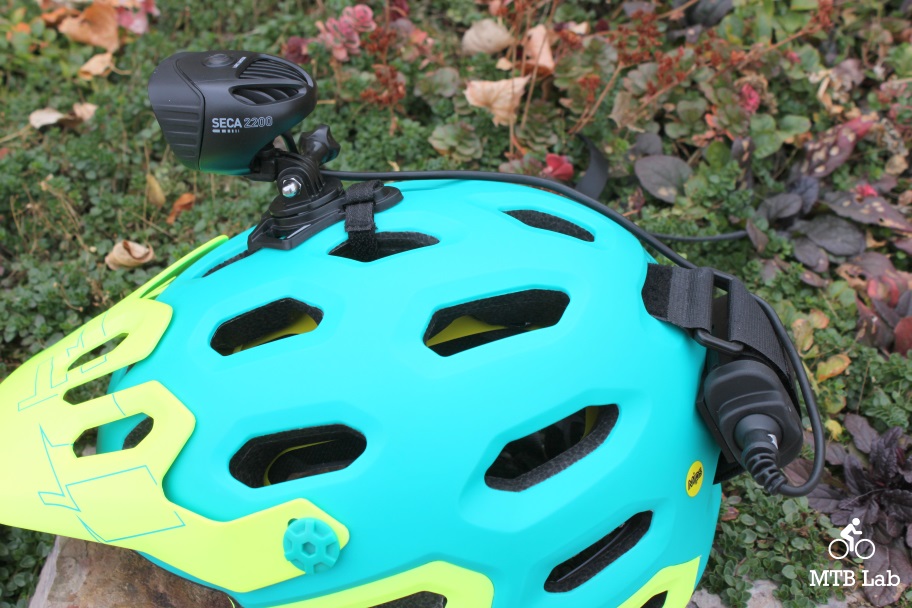 Light & Motion is lighting up the drone market with their new Seca 2200d, which was optimized for smaller drones such as the 3DR Solo, DJI Phantom, and Inspire, the integrated GoPro interface is versatile and secure and offers multiple mounting options. Custom-engineered optics with four Cree LEDs provide a 24-degree beam with a blistering 2200 lumens of output. The Seca 2200d runs off of its 2-cell battery, leaving the drone with full power for maximum flight time. This modular design allows freedom to mount the light head and battery for proper balancing separately. Additional batteries can be added to ensure that, even in the most remote setting, drone users have the runtime to get the shot. The Seca 2200d includes the 2200 lumen and a 2 Cell battery pack, a GoPro mount with an extension arm, a battery strap, a charger, and retails for $380.
First Impressions
I am still waiting on a drone to test the full Seca 2200d kit, so for now, I am testing it on my helmet for mountain biking. Once you get this light out on the trail at night, it's brilliant and provides an excellent wide and functional beam. It was easy to setup on my helmet with everything in the drone kit, though I did grab a piece of rubber padding from my home shop to keep the hard plastic battery pack stable on the helmet shell. My Bell Super 3R has an integrated GoPro mount already installed, so it made putting the Seca 2200 head unit on and off straightforward. The button on the unit was easy to press on and off, even with gloved hands in the dark. You can choose three different brightness levels and one pulse mode; the high is 2200 lumen, the medium is 1100 lumen and the low is 550 lumen. The brighter the settings the shorter the runtime, and with the small 2-cell battery I was able to eek out around 50 minutes, just enough for a quick jaunt after darkness has fallen. The standard full-fledged Seca 2200 Enduro comes with a 6-cell battery which offers an extended 2.5 hour run time.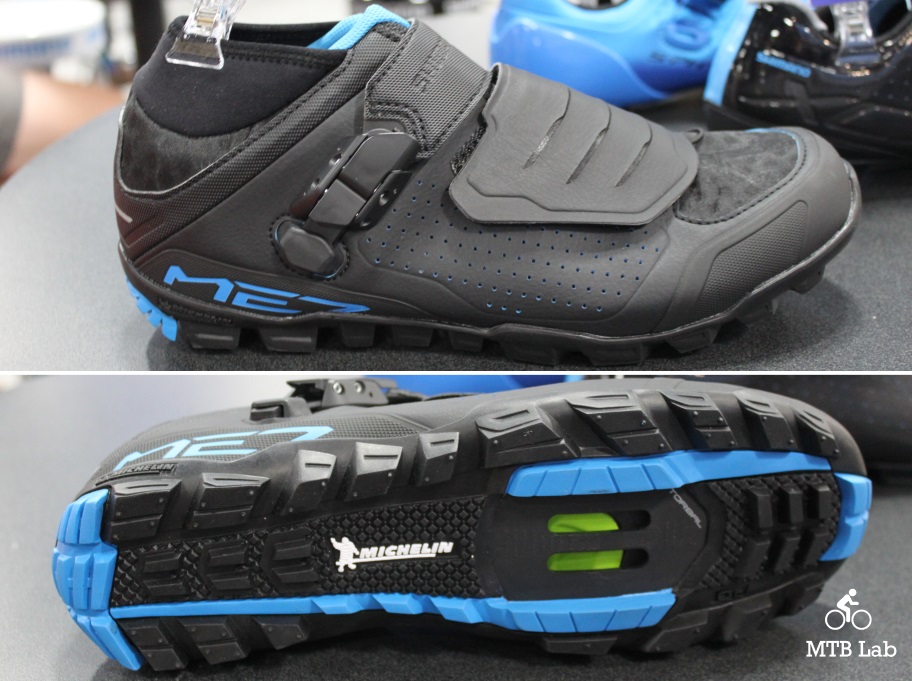 Shimano ME7 Shoe
The new Shimano ME7 mountain bike shoe utilizes an exclusive outsole design, created in collaboration with Michelin and features a dual-density rubber and a strategic lug placement pattern. The design draws upon Michelin's extensive knowledge of tread design to improve grip off the bike without compromising pedaling efficiency. Further advancing rider protection and comfort, a new stretch Neoprene ankle collar keeps out trail debris while ample mesh ventilation throughout the front and rear of the shoe ensures ventilation even during long, hot days on the trail. The speed lacing system comfortably adapts to a wide range of foot shapes and is kept protected from the elements by an armored lace shield.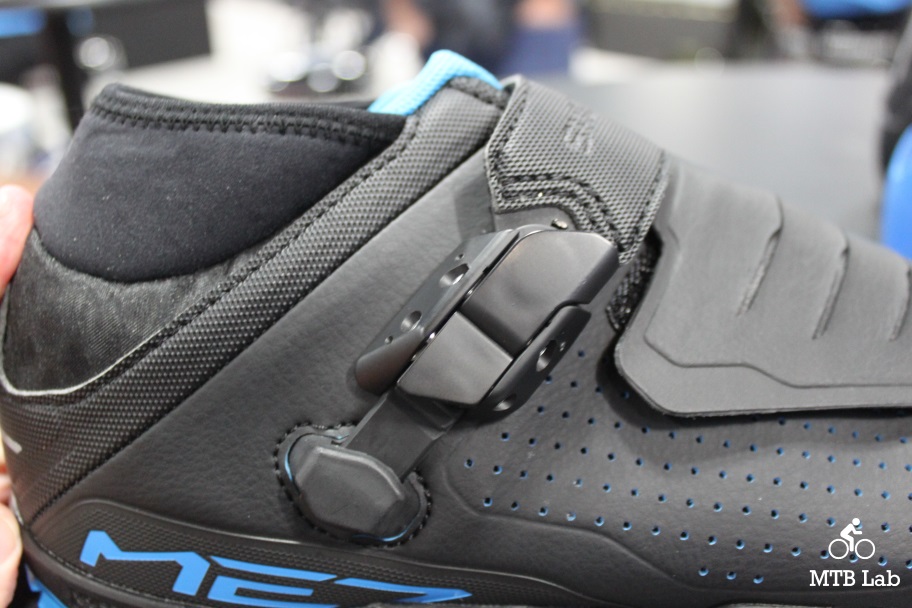 Specs
Combining the lightweight and pedaling effectiveness of an XC shoe with the durability, grip, and armor aggressive trail riders require
Reinforced armor provides great protection and excellent durability
Stretch Neoprene ankle collar offers additional protection from trail debris
Speed lacing system adapts to wide range of foot shapes with a secure fit
Super low-profile, reverse mount buckle securely holds foot
Extra-cushion insole
Michelin high-performance, dual-density rubber outsole offers superior traction with unmatched durability, stability, and slip resistance
First Impressions
These have to be one of the easiest shoes I have ever used to take on and off. You push the lower button on the buckle to release the latch and then pull back the lace shield/cover and extend open the speed lacing system. Once the lacing is open, the shoe expands outwards making for easy foot insertion. Reverse the order to tighten everything down and using the top lever on the buckle latches everything down tightly. The ratchet on the latch pulls your foot back down into the heel cup, making for easy fine tuning of the shoe fit. I liked the Neoprene ankle collar which prevented dirt and crud from getting into the shoe, which is a pretty standard problem on the sandy and gravelly trails I frequent. The TORBAL (Torsional Balance) sole optimizes the pedaling efficiency at the cleat interface, yet it provides some lateral movement at the heel for improved comfort and flexibility. The Michelin outsole offered excellent traction and stability and had so far been pretty durable for all my regular hike-a-bike forays. While hiking and riding along harsh terrain and bumping into things, the toe box and armoring around the edges have provided excellent protection, and ruggedness. So far the shoe breathed well, has been extremely comfortable, easy to wear, tough, is pedal performance oriented and is decent for hiking.