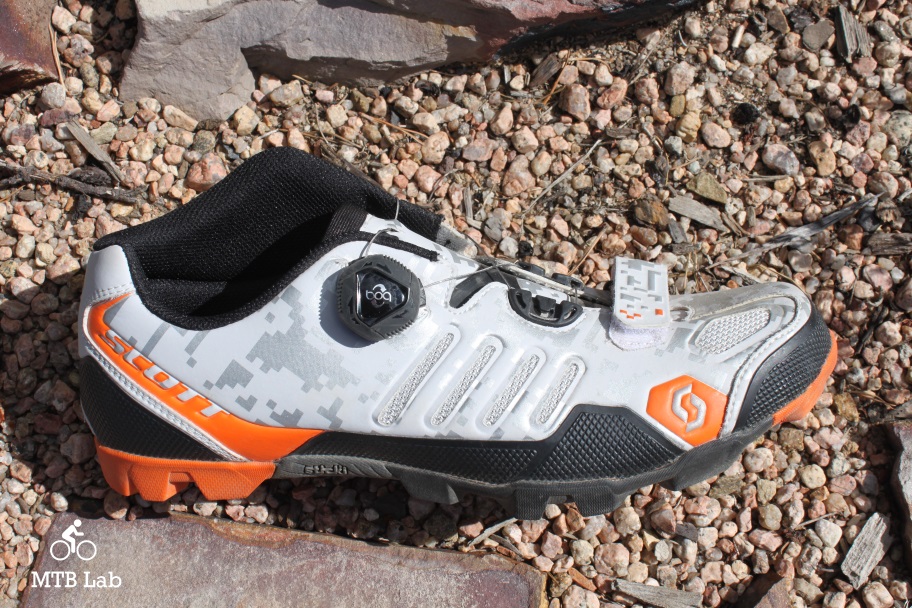 The Scott Shr-Alp RS mountain bike shoe features the excellent BOA closure system, a sole that offers x-country stiffness with great comfort and walkability characteristics. It's chock full of useful features, including an orthotic insole, grippy rubber tread, armor and padding protection for the sides, ankles and toes.
The Shr-Alp comes in a White/Silver color scheme, full Euro sizes from 40 through 48 (no half) and retails for $179.95.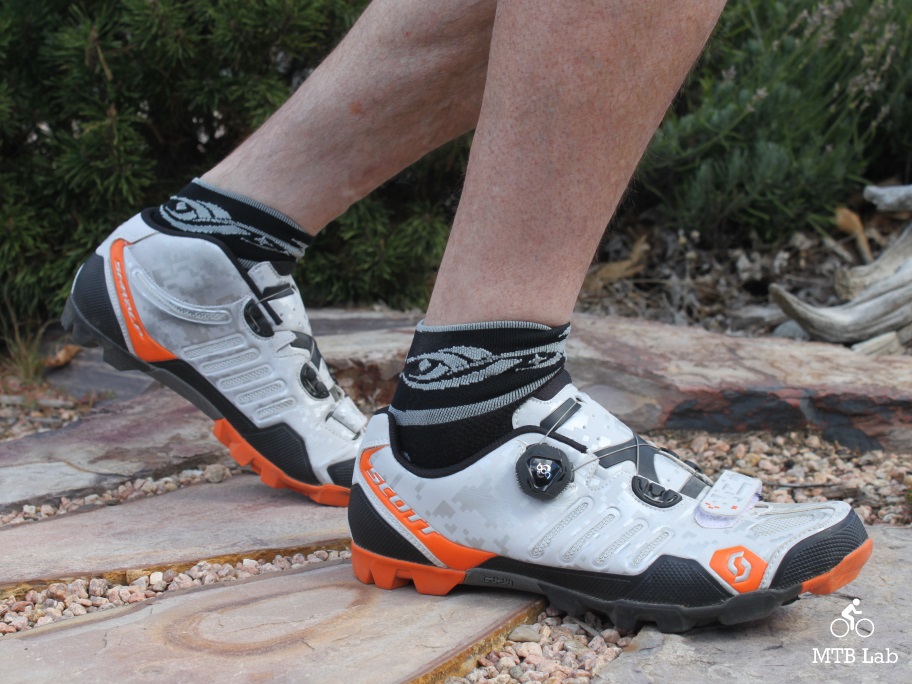 Features
The BOA closure system along with a lower anatomic hook-and-loop strap offers a performance fit and easy and secure adjustment. The uppers use a combination of microfiber and a 3D nylon airmesh over its Wrap Fit construction which incorporates synthetic leather in a two-part construction design that utilizes a structural layer, and the Accu-form butted seams, which offer support, comfort, and no pressure points. The adaptive fit upper offers ankle and forefoot protection along with welded armor around the edges and toe box for durability in punishing conditions. They feature a stiff fiberglass reinforced coinjected Sole with Sticki rubber compound for traction and grip in any conditions and had 2-bolt cleat compatibility and two toe threadable spikes for additional traction in muddy conditions. The ErgoLogic Insole features an adjustable arch support and Metatarsal button for comfort and optimal Orthotics.
Specs
Closure: BOA, hook-and-loop strap
Footbed: Adjustable ErgoLogic removable insole
Outsole: Sticki Rubber, Fiberglass reinforced Nylon co-injected, Stiffness Index 7
Upper: Microfiber, 3D Nylon Airmesh
Closure system: BOA IP-1 & anatomic fit strap
Weight: 380g (US 8.5)
Color: white/silver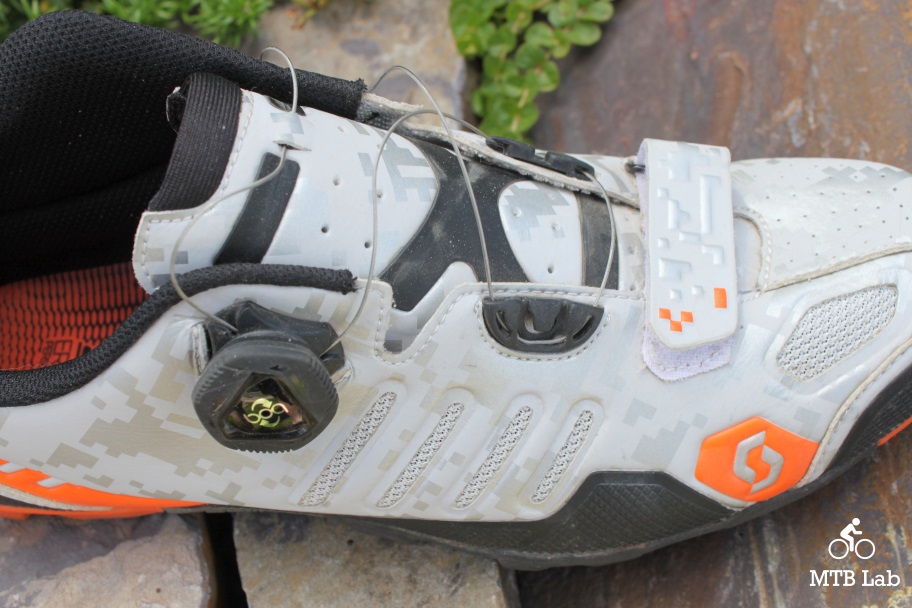 Impressions
I ended up getting a size Euro 42/Us 8.5 which is one size down from my usual 43, and they fit perfect and offered a somewhat wider toe and forefoot section than most high-performance biking shoes. I tend to wear shoes that are more on the All Mountain and hike-a-bike side of things where grippier soles have an optimal compromise of stiffness and walkability characteristics, so I don't wear many pure x-country race shoes.
The BOA closure system was easy to use, and the wires crossed over each other without causing any pinching or hot spot issues, and they glided through the loops and channels without binding. I liked that when I pushed the BOA button and released the wire that I was able to pull the tongue upwards quite a bit which made inserting and extracting my foot much easier. The front Velcro strap was useful for micro fine tuning, but once I set it I rarely ever touched it again. The tongue was light and somewhat thin, but it didn't seem to cause any discomfort, and there was a nice padded portion at the top that prevented it from digging into my foot as my foot flexed within the shoe. Once tightened down properly they felt just about perfect while pedaling, but even with the deep heel pocket I occasionally suffered from some slight heel lift while walking.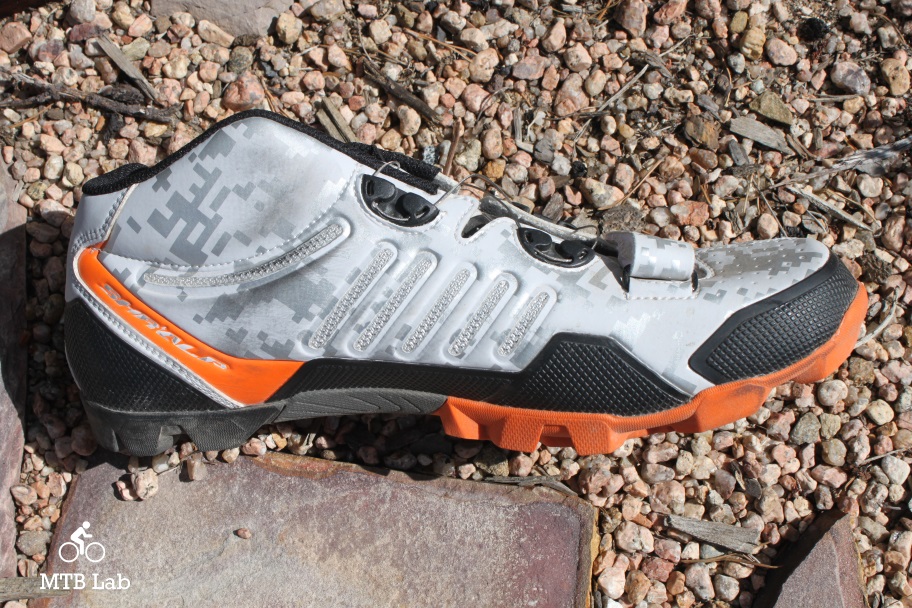 Most of the front portion of the interior of the shoe is thin and lightly padded though I found it was quite comfortable, and there were lot's of ventilation ports in front and along the side for breathability and cooling purposes. The ports do allow water to creep inwards, but it also meant it drained out quickly, and the thinness of the uppers meant they dried in a shorter period. The interior heel and ankle box are plush and heavily padded, and the inner section of the ankle towards the bike is elevated to provide additional protection and support, especially from the crankarms. The ErgoLogic Insole features an adjustable arch support and Metatarsal button for comfort and optimal Orthotics, though my foot didn't need any alteration, so I was okay with the default setup. The arch and Metatarsal pieces are Velcroed in place on the insole, and you can visit a Scott shoe dealer to change out the sections.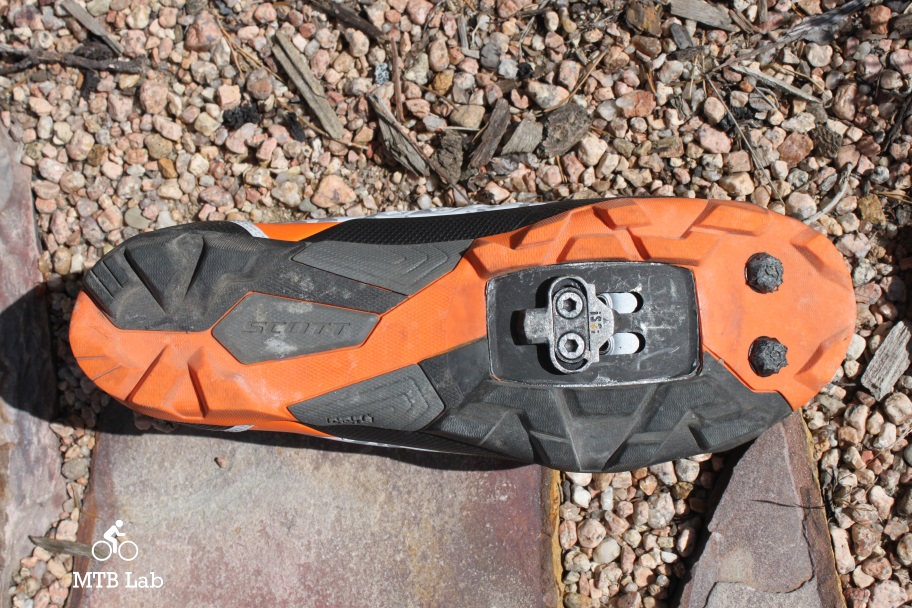 The sole offered plenty of performance and power when I was pedaling, and it's just shy of being a full-on x-country race stiff beast. That stiffness meant it wasn't the best long-distance hike-a-bike companion for significant forays up in the mountains, but I spent plenty of time poking around on normal terrain, and it's more than adequate. There is some minor flex up in front of the rolled up toe section to aid in walking, though the sole is still pretty stiff torsionally and longitudinally to maximize pedaling performance and power to the drivetrain. The Sticki rubber compound offered up pretty decent grip and stickiness on rugged terrain, including rocks, roots, and other trail obstacles. The outer toe and heel box and all around the edges had additional armor sections which provided protection for the foot and sturdiness and durability to the shoe, and I greatly appreciated the protection and safety they offered when my foot was getting banged up in rocky terrain.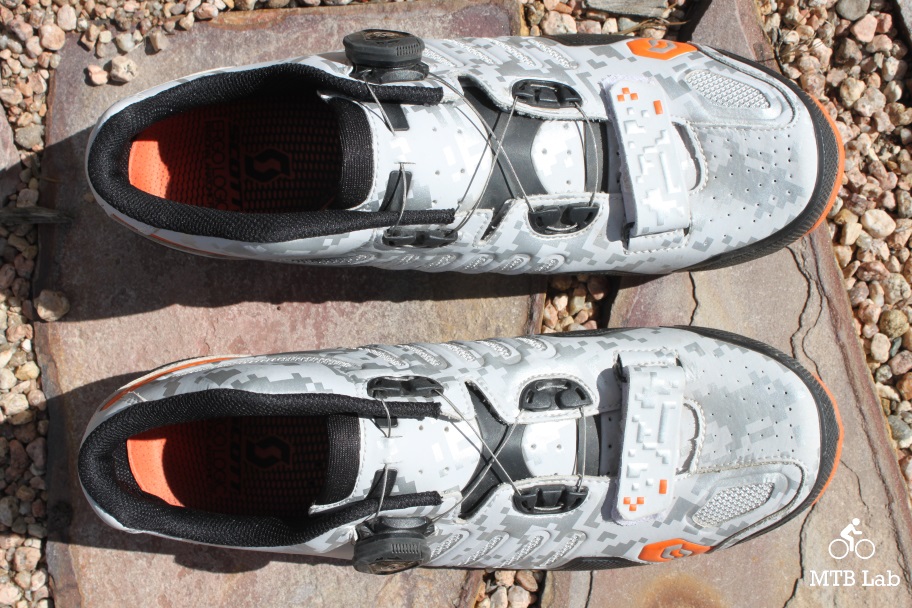 Bottom Line
The Scott Shr-Alp RS is an excellent and comfortable mountain bike with plenty of features, including the highly functional BOA closure system, a sole that offers x-country stiffness with walkability characteristics, an orthotic insole, grippy rubber tread, armor and padding protection for the sides, ankles and toes. The BOA closure made taking the shoe on and off exceptional easy and offered precise fine tuning of the fit, even on the fly. The uppers were comfortable with plenty of mesh ventilation ports for breathability and cooling, though I wish the tongue had a bit more padding. The heel and ankle box were well padded and offered plushness and comfort, and I liked the extended height of the cuff on the inner side to protect the ankle from crankarm and rock bashes. The outer armor on the toe and heel box and around the edges provided lots of protection from trail obstacles, which was always welcome when hiking and banging through rock gardens. The sole offered lots of stiffness for optimal pedaling performance and still had a hint of flex for hiking and the sticky tread compound provided enough grip to get around on any terrain.
Pros
Grippy rubber sole
Protective toe box, sides, and heel
Lots of stiffness with a decent amount of flex
BOA closure system
Nice heel cup and padded cuff
Cons
Tongue needs extra padding
A bit too stiff for long hike-a-bike
Some heel lift