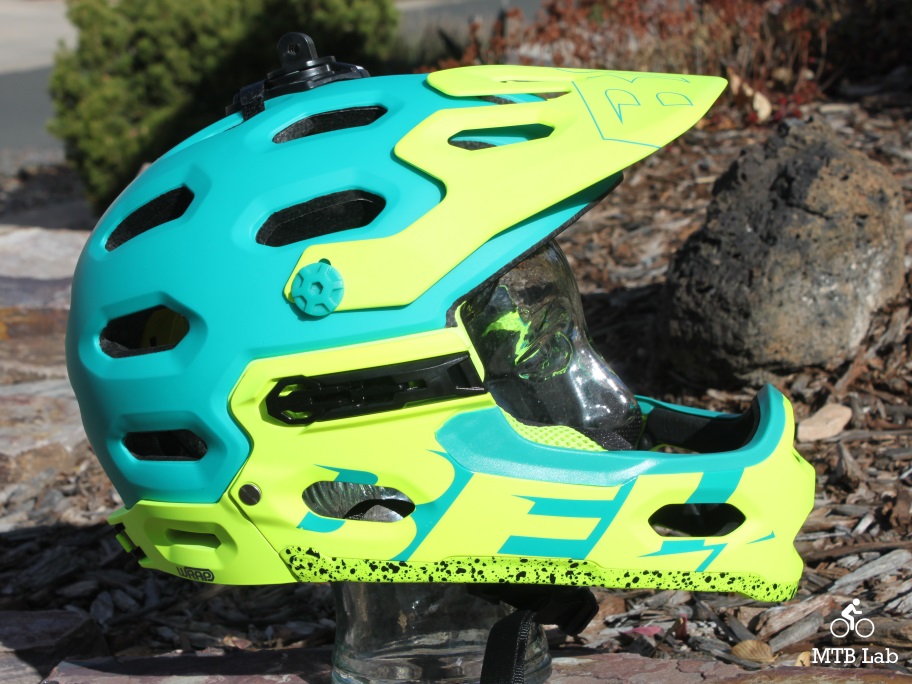 For safety and protection while riding here is the Bell Super 3R helmet with a removable and protective chin bar and the innovative Kali Protectives Maya helmet. For body impact protection here is some soft armor, including the Slytech ElbowPro/KneePro NoShock XT Lite, Slytech ElbowPro/KneePro NoShock XT and the comfy Leatt AirFlex Pro knee guard.
Bell Super 3R
The new Bell Super 3R is an All Mountain helmet that has a removable and protective chin bar that can be easily attached and detached during a riding session. It follows in the footsteps of its 2R brethren, but they've added the new Float Fit retention system, MIPS protection on all models and utilized a different mold for an improved fit and an adjustable thickness system for the cheek pads on the chin bar. You can detach the chin bar and enjoy the comfort and ventilation of a regular helmet or add the chin bar and get the versatility and protection of a full-face helmet.
It comes in six colors, three sizes and retails for $230.
The comfortable Bell Super 3R offers an exceptional one helmet system, in which you can wear a regular full coverage All Mountain helmet for climbs and mellow terrain, and then switch to a full-face helmet for downhill's, all of which provides a greater margin of safety, security, protection and versatility. It's not a downhill full-face helmet, but it's more comfortable and lighter and cooler and has enough safety and protection for almost any activity. Although the $230 price isn't cheap, having the ability to switch between a standard and full-face with one helmet system makes it a worthwhile package. The new Float Fit retention system and revamped mold shape of the shell offered a more uniform and roomier fit, especially with its integration with the MIPS protection. It has great features, including the functional venting system, the breakaway GoPro mount, decent padding, lot's of comfort and of course the useful helmet and chin bar system.
For further information refer to bellhelmets.com and a full review at Bell Super 3R Helmet Review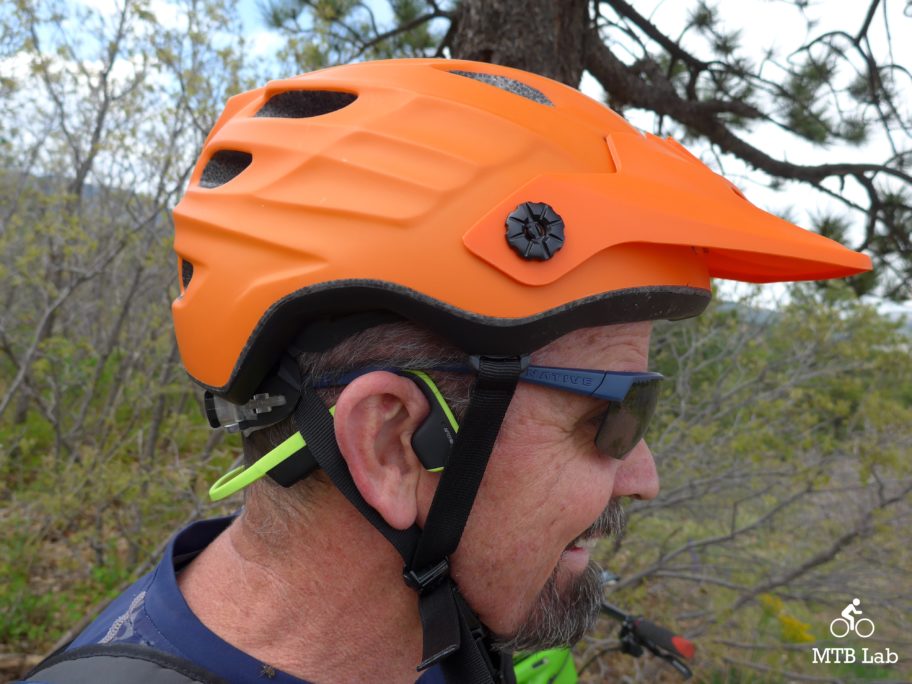 Kali Protectives Maya
The Enduro-styled helmet is constructed with their proprietary in-molded Composite Fusion Plus dual-density EPS liner and features 12 vents, anti-microbial padding, a bug liner and a flexible visor with an integrated camera/light mounting system. The retention system utilizes a rear-mounted floating locking buckle and sliders system and a buckled chin strap with adjusters below the ear. It comes in two sizes (S/M, L/XL), and Matte Black, Matte Blue, Matte Orange and Matte Black/White colors and retails for $99. The Composite Fusion Plus is an interesting and innovative dual-density liner system in which a layer of EPS foam with conical spikes are molded up into a softer EPS foam; this design helps dissipate and spread the crash energy laterally upon impact.
I have enjoyed my wearing with the Kali Protectives Maya while riding, with highlights to its comfort and weight.
For further information http://www.kaliprotectives.com/ and a review at Just In – Kali Protectives Maya Helmet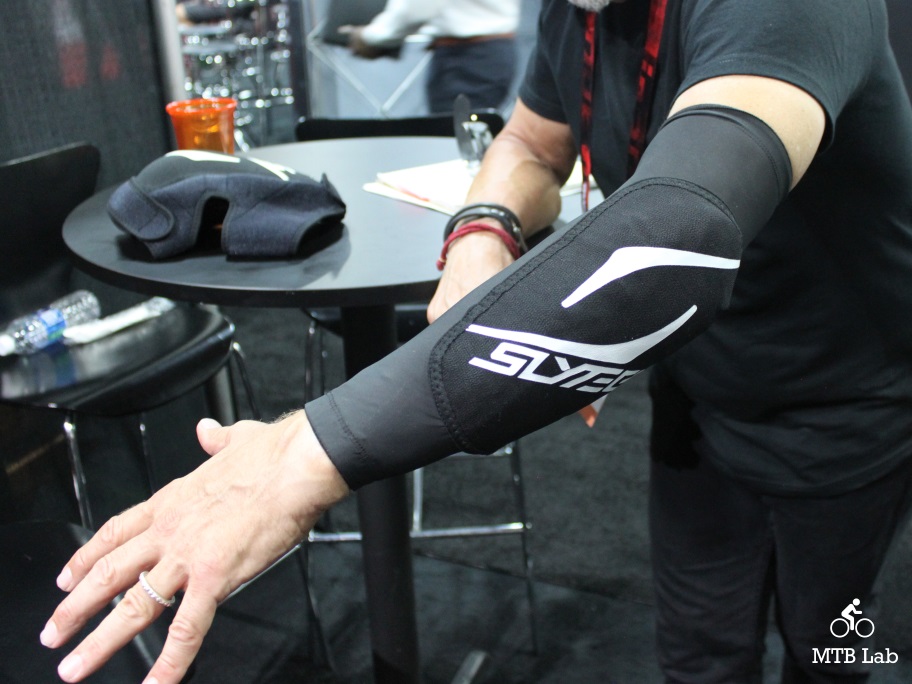 Slytech ElbowPro/KneePro NoShock XT Lite
The ElbowPro and KneePro NoShock XT Lite is their upscale soft armor for your elbow and knee, and it utilizes their 2nd Skin XT material molded into the NoShock honeycomb cone structure which dissipates impact forces multi-directionally. It features a stretchy mesh fabric body with excellent ventilation and comfort, silicone bands on the cuffs for secure positioning and an Armortex abrasion resistant panel on the front for durability and puncture protection. The armor has a good fit without any excessive movement or being overly constrictive and provides all day comfort, even while pedaling. I can see a set of the knee and elbow being perfect for all day sessions in most any terrain, offering great protection for a soft and comfortable armor that provides excellent pedaling characteristics.
The slip-on armor is EN 1621-1 Level 1 certified, comes in two sizes and retails for $94.99 for the elbow and $99.99 for the knee.
For further information refer to Slytech Protection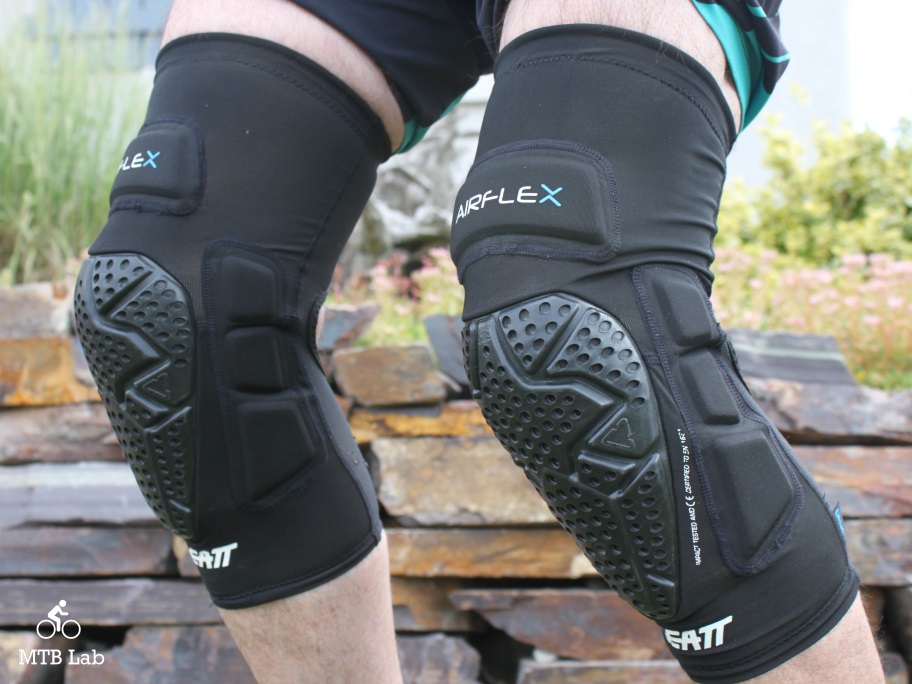 AirFlex Pro Knee Guard
The soft armor AirFlex Pro knee guard is comfortable and flexible and offers enhanced ventilation and freedom of movement while still providing the utmost in safety and impact protection. It has a slim fit and utilizes their ultra thin 6mm ArmorGel knee pad that is EN1621-2 certified. The knee pad retails for $79 and comes in S, M, L, XL and XXL sizes. They also offer an AirFlex Elbow guard for $59 and it comes in S, M, L, XL and XXL sizes.
The Leatt Airflex Pro Knee Guards offered excellent protection and shock absorption, flexibility and comfort and was fine during all-day pedaling sessions. The pre-bent shape of the knee cup and it's internal silicone grippers keep them solidly in place, even during nasty crashes and while pedaling. The top and side foam padding was functional and was greatly appreciated when it was needed. I was very satisfied with their crash worthiness and impact absorption during my tumbles and fall over's and crashes, and I didn't suffer any unnecessary injuries, which highlights their effective protection. The only small gripe was the skinny elastic cord on the lower cuff, and I found it sometimes caused mild pinching, so I'd prefer to see the top cuff replicated on the bottom.
For additional information refer to www.leatt.com and a full review at Leatt Airflex Pro Knee Guard Review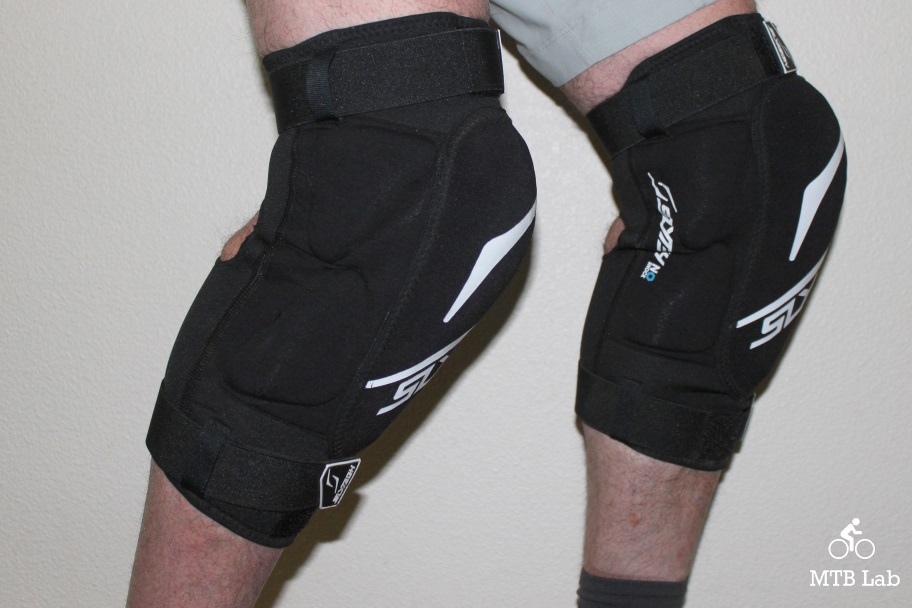 Slytech ElbowPro/KneePro NoShock XT
The new KneePro and ElbowPro XT Kevlar pads are their upscale and more protective soft armor for your elbow and knee, and the paddings are removable for washing. The slip-on design features Kevlar abrasion material on the front for protection and durability, have integrated Velcro straps that wrap around the leg for a comfortable slip-free and snug fit. In front, they utilize the 2nd Skin XT material molded into the NoShock honeycomb cone structure for protection along with side foams padding. They come in two sizes, and the knee retails for $120 and the elbow for $110. These are pretty stout beasts and are just shy of their plastic brethren protection levels, so they're better suited to downhill duties with some moderate pedaling sessions, though they're simple to take on and off for between downhill and pedaling pursuits.
For further information refer to Slytech Protection