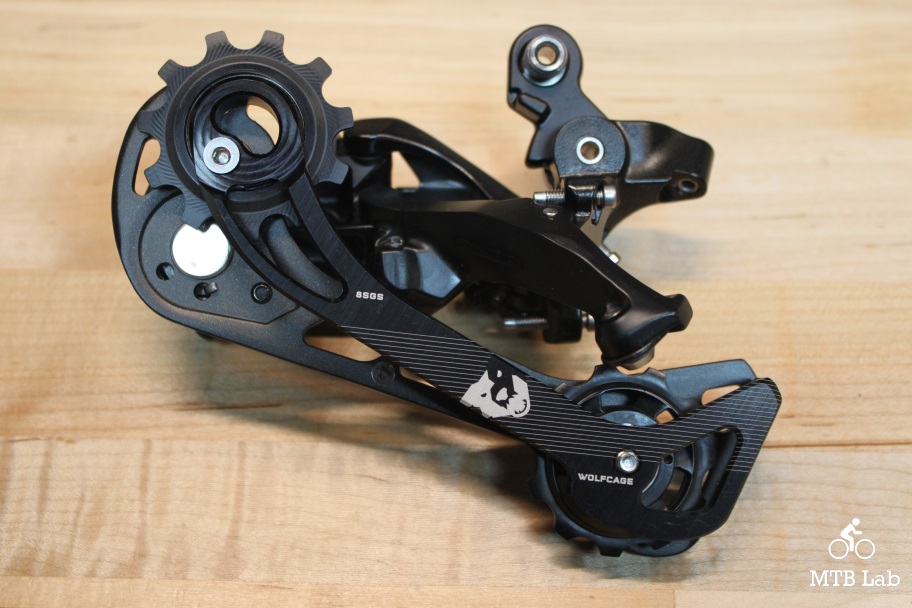 The most innovative bike component for 2016 is the Wolf Tooth Components WolfCage Derailleur Cage. Not only does it allow 49-tooth cogs to function with Shimano 11-speed derailleurs, but it's an extremely affordable system.
Although SRAM has their new Eagle 12-speed system with the 10-50T extended range drivetrain, the almost $800 cost for a chain, cassette, rear derailleur and shifter is cost prohibitive for most riders. If you already own a Shimano 11-speed system the WolfCage system provides the functionality for the Shimano derailleurs to accommodate a 49-tooth cog, and when combined with the Wolf Tooth GC49 cassette extender cog kit you can build an 11-49T drivetrain.
Ignoring hub bodies costs, a cassette/derailleur/shifter/chain for Eagle is $800, a XT 11 is $293, add a Wolf Tooth 49T/WolfCage for XT for 11-49T gearing is $418. SRAM has not offered me an Eagle to test/review, and doubtful they will, so I can't comment on its performance, but I assume it would be excellent.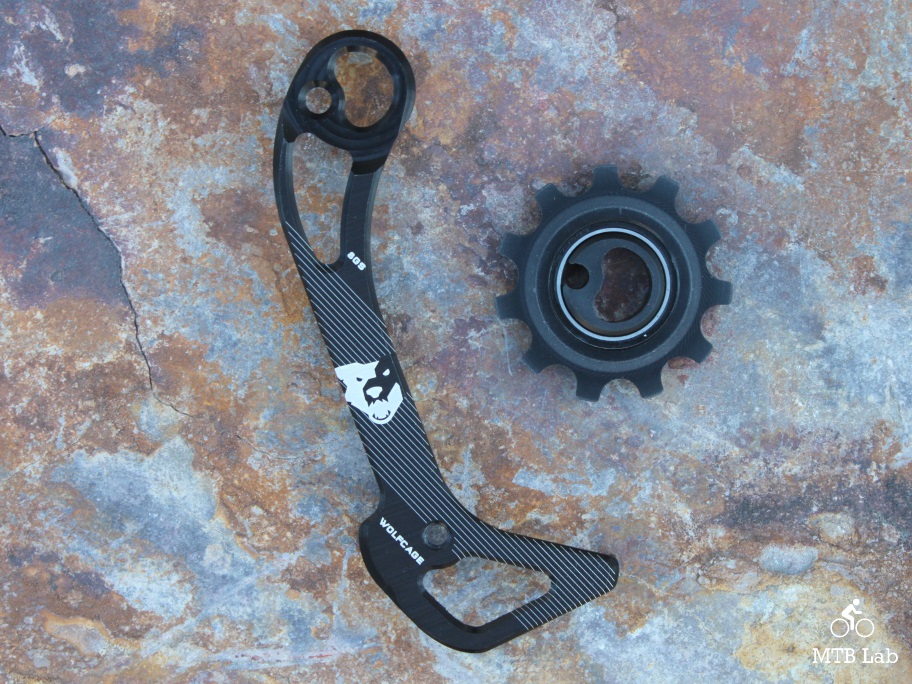 WolfCage Derailleur Cage
The WolfCage is a modified derailleur cage with an eccentric pulley that replaces the stock 11-speed Shimano inner cage and its upper jockey wheel, and the system improves chain wrap and derailleur capacity for the extended 11-49T range setup. It comes in a variety of colors in XT and XTR models in either medium cage GS or long cage SGS versions and retails for $39.95 and is also available as part of the '49T GC Cog and WolfCage Kit for Shimano 11-speed' for $124.95. The WolfCage is made from 6061-T6 aluminum and is only compatible with mechanical (no Di2) Shimano 11-speed rear derailleurs, including SLX, XT, and XTR.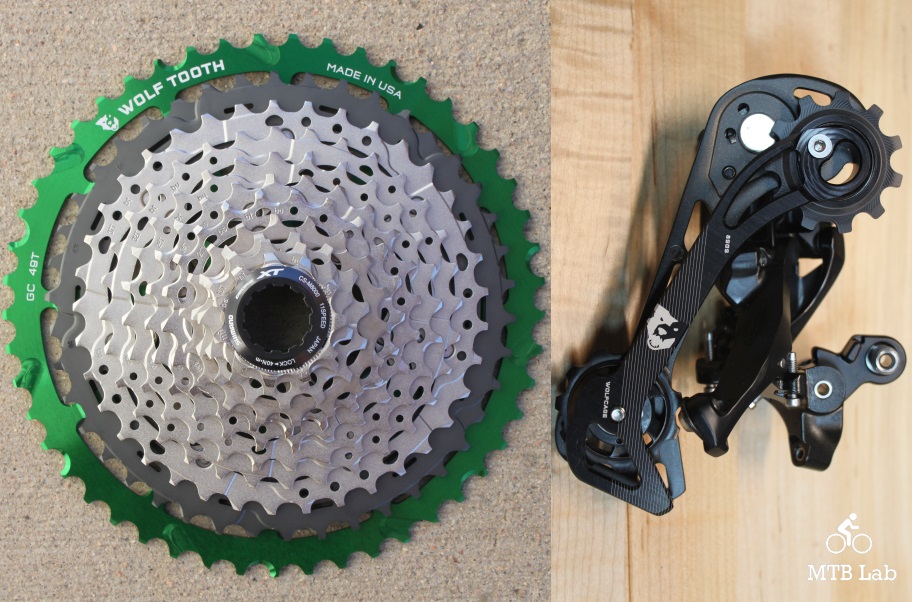 Wolf Tooth Components GC 49T Cog and WolfCage Kit for Shimano 11-speed
The Wolf Tooth GC49 cassette extender cog allows you to modify your existing Shimano 11-speed 11-42T cassette to create an ultra-wide range 11-49T cassette system, which is close to mimicking the gearing offered by the uber expensive SRAM Eagle 12-speed 10-50T drivetrain. It was optimized and works with various standard freehub body compatible 11-speed 11-42T cassettes, including Shimano XT, XTR and SLX, SRAM NX and SunRace. All Shimano derailleurs require their WolfCage derailleur cage kit to function with the GC49 cog, while SRAM 11-speed derailleurs will work in a stock form with the 11-49T cassette stack with only a few minor tuning alterations. The GC49 and WolfCage kit retails for $124.95.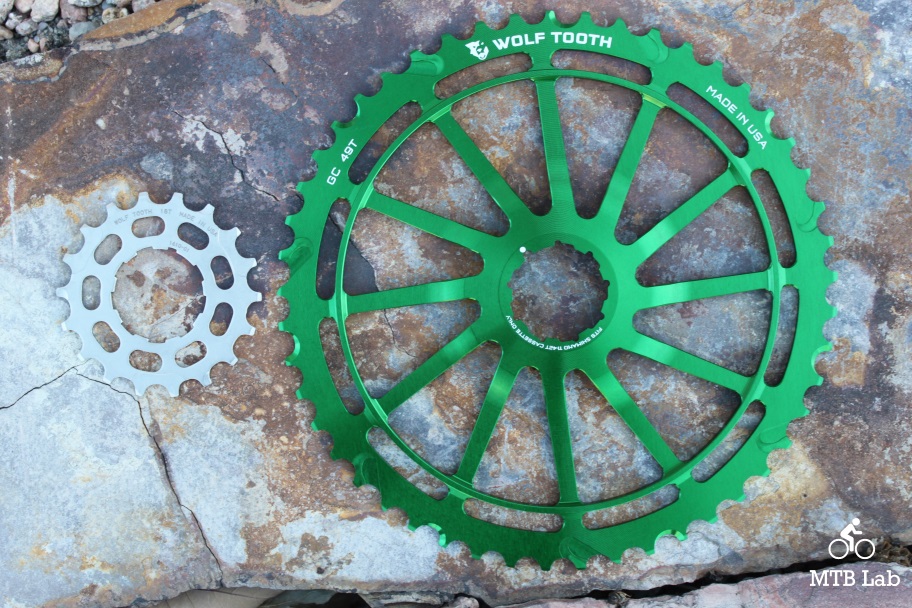 GC49 Cog
The GC49 kit retails for $89.95 and provides a 49-tooth extended range cog and an 18T replacement cog, and comes in a slew of colors in either a Shimano or SRAM/SunRace version. The Wolf Tooth 49T cog is made from 7075-T6 aluminum and weighs 110 grams and fits at the end of the cassettes and you remove the current cassettes inner 17T and 19T cogs and replace them with the kits included steel 18T cog to create an 11-speed 11-49T system. Wolf Tooth made the decision to use a 49T cog instead of 50T because it allowed them to nearly double the number of shift gates from 4 on a 50t to 7 on a 49t for faster shifting, and the 2% difference between them isn't significant enough to lose the improved shifting characteristics.
For further information refer to www.wolftoothcomponents.com and a full review at Wolf Tooth Components GC 49T Cog and WolfCage Kit for Shimano 11-speed