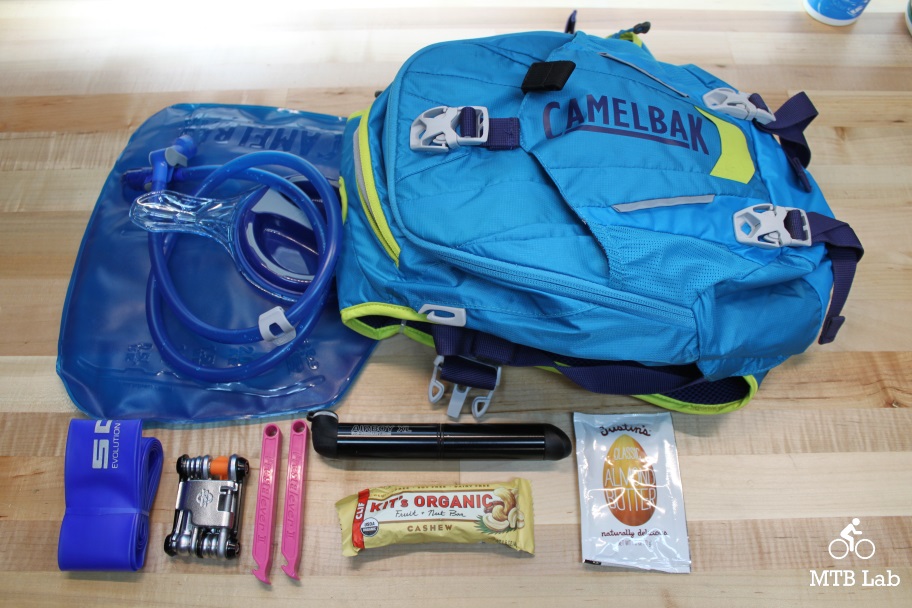 What's in your pack?
It's an open-ended question since much of it depends on the distance and length of your ride, time of year, weather conditions, your comfort requirements and what you consider essential for any mishaps, emergencies, and maintenance that might be required out on the trail. I don't bring as much water as others, but I like to carry a lot of functional gear and tools, an extensive first aid kit and extra apparel, the latter is a bit more necessary with the fickle weather in Colorado.
If you're using a small saddle bag or waist pack then the number of items you can carry is significantly reduced, so you'll need to be more focused on the absolute bare minimum of essential gear. A full-fledged pack with 6-liter and greater of storage space, not counting the hydration reservoir, will allow you to carry a vast assortment of equipment and apparel and larger sized packs will be better suited for cooler weather and all day adventures. I prefer a 7-liter pack for most of the season and a 9 to 12-liter for longer rides and off season use.
IMHO, the bare minimum to bring on a bike ride, regardless of the situation is the following:
Spare Tube/Patch Kit
Tire Pump
Tire levers
Multi-tool
Water
Food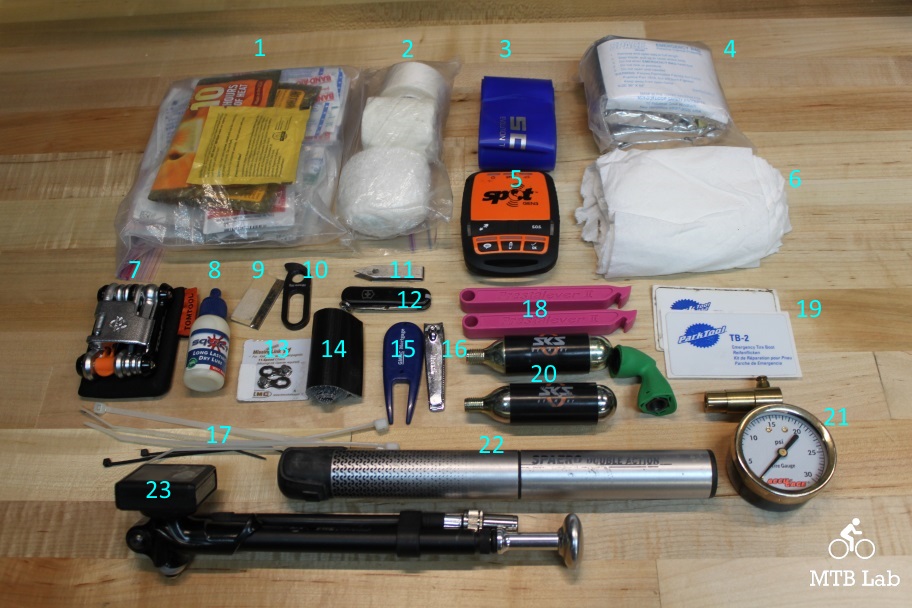 Heavy Duty Kit
1 – First Aid Kit
2 – Tape and Gauze
3 – Spare Tube
4 – Space Blanket
5 – SPOT Tracker
6 – Toilet paper
7 – Multi Tool
8 – Chain Lube
9 – Razor Blade
10 – Derailleur Hanger
11 – Tweezers
12 – Small Multi Knife
13 – Chain Quick Links
14 – Gorilla Tape
15 – Shoe Cleat Cleaner
16 – Fingernail Clippers
17 – Zip Ties
18 – Tire Levers
19 – Sidewall Patches
20 – CO2 Cartridges
21 – Tire Pressure Gauge
22 – Tire Pump
23 – Shock Pump
Main Kit
That is what I carry as my heavy duty kit, though I'll forgo the Shock Pump and Tire Gauge for a shorter ride and when I want to lighten the load of the pack. I usually attach the Tire Pump and one of the CO2 Cartridges to the bike frame, which provides the added benefit that they're always with the bike. I think a well-made Multi-Tool that has most of the required Hex (3,4,6) and TORX (25) bits along with a chain breaker is essential, though I'll sometimes carry little hex keys in the packs hip pocket for quick access to the tools.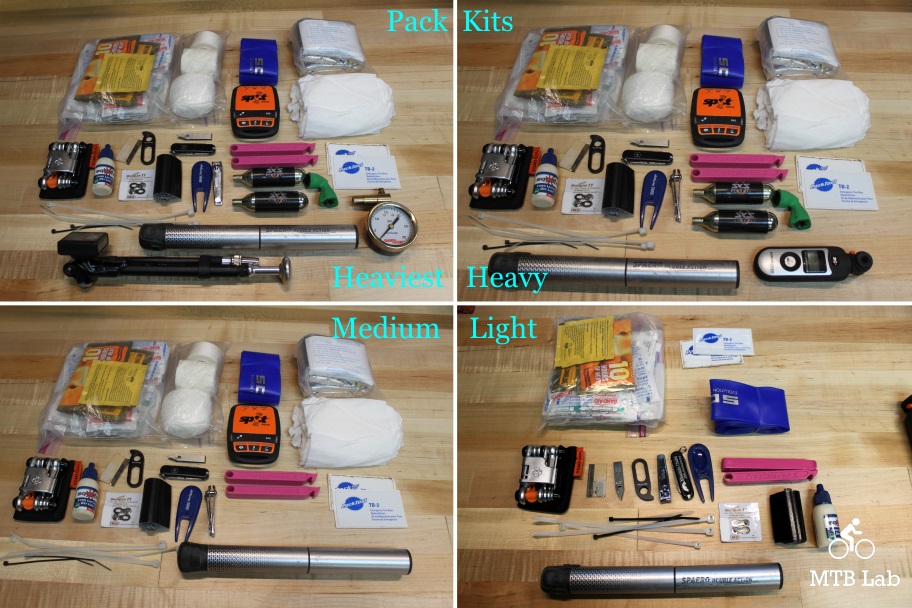 The above shows the breakdown of the various kits I'll bring depending on the length of the ride and distance from civilization, etc. The heaviest is my full blown kit with almost anything I might require on an adventure. The next step down drops the shock pump and fancier tire pressure gauge while the medium kit drops out the CO2 cartridges. The lightest kit tosses out the SPOT tracker, the Space blanket and the First Aid tape and gauze wrap and that works ideally for short rides close to home.
Other sundry items include a phone, a rag or handy wipes for cleanups, sunscreen, lip balm, and extra chainring and shoe cleat bolts. For super long rides I might carry a spare derailleur cable, an extra spare tube, and a small bike light. In buggy locations, you might want to toss in some bug spray.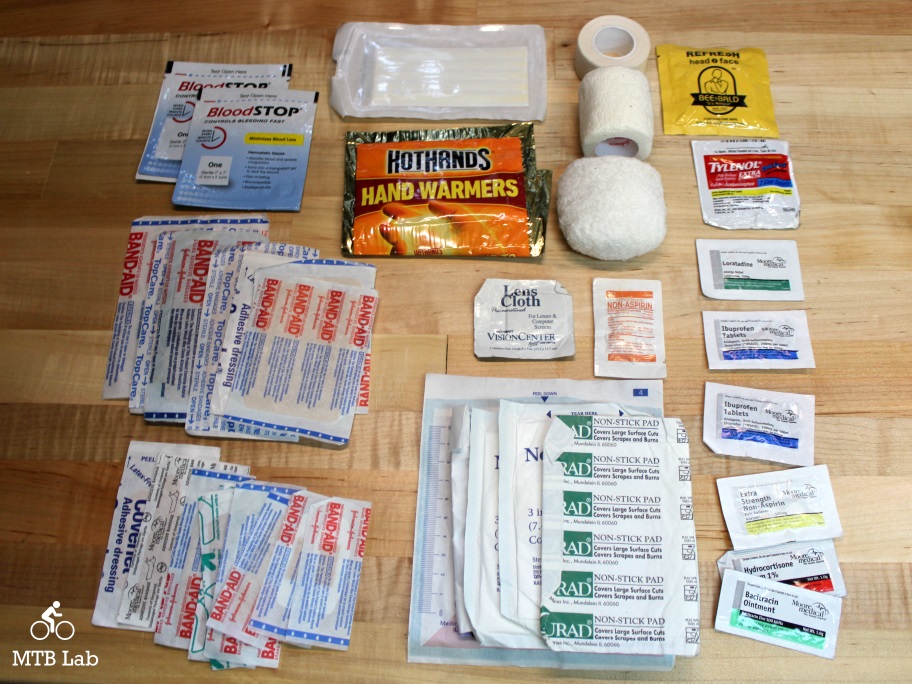 First Aid Kit
I have a somewhat overblown First Aid Kit since I always like to be prepared for any accident that might occur, though I do need to add a SAM splint and a Maxi Pad for bleeding wounds. My kit contains lot's of different sized and shaped band-aids, blood-clotting gauze pads, various gauze and non-stick pads, Steri-Strips, hand warmers, wipes, tape, wrapping gauze and different medications. The medicines include Bacitracin Ointment, Acetaminophen, Ibuprofen, Hydrocortisone Cream and Antihistamine.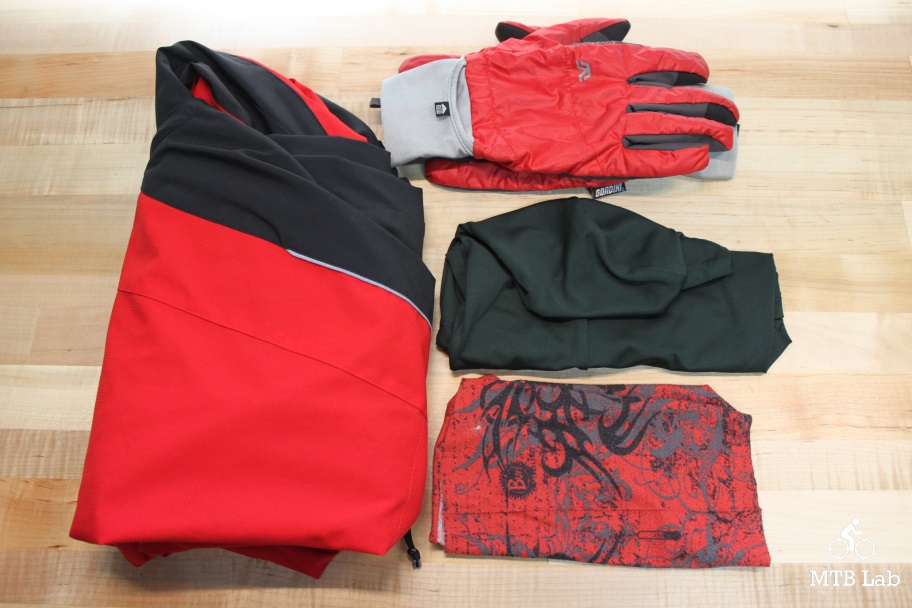 Apparel
For almost any of my rides, I bring a light rain jacket or a windbreaker, which can get you through most of the on season inclement weather. A light ear warmer and balaclava helps keep the head warm while some thin windproof insulated gloves keep the hands toasty in cooler temps.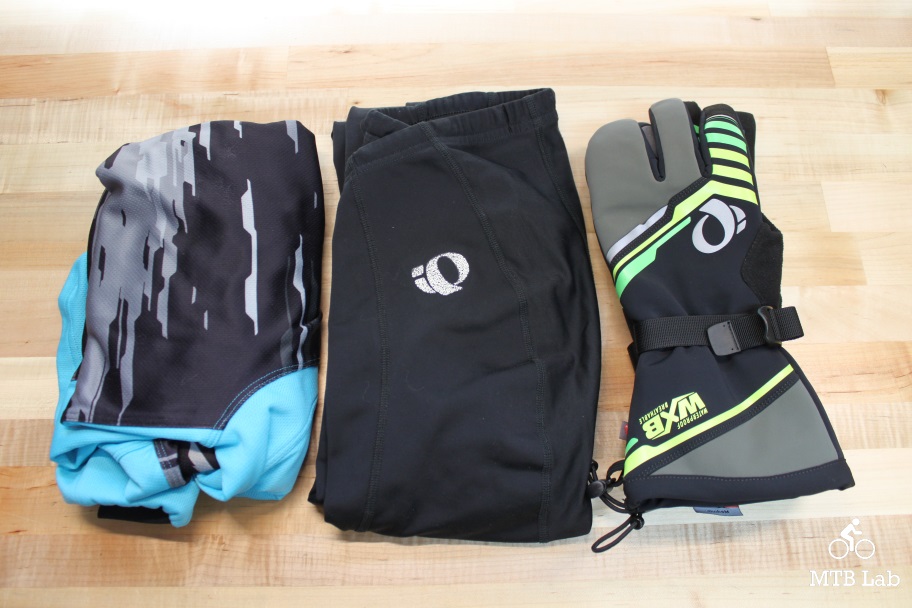 For off season rides and those up in the mountains, I'll bring a heavier backup jersey, warmer gloves, and tights. The thickness of the gloves is dependent on the temperatures that you might encounter, but it's always best to over prepare than to be stuck out there being too cold. Shoe gaiters or covers are nice for those bitter cold days out on the trail.