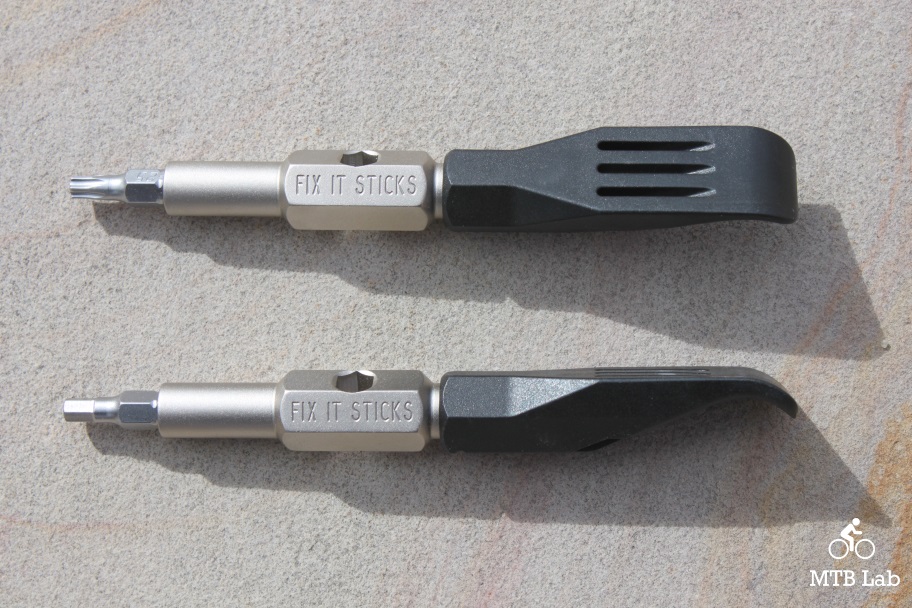 Fix It Sticks has just introduced an optional tire lever that fits on The Replaceable Fix It Sticks, and they're sold in pairs and retail for $9.99. Designed as a bit, the Fix It Sticks tire lever reduces space in your pack and lets you customize your tool selection by using their innovative and highly functional system. They're made from specially engineered plastic materials, and the Replaceable Edition Fix It Stick with tire lever combines low friction, high wear resistance, and durability for an extremely practical tool.
The new Tire Levers and The Replaceable Fix It Sticks are available at fixitsticks.com and at local bike shops via distributors.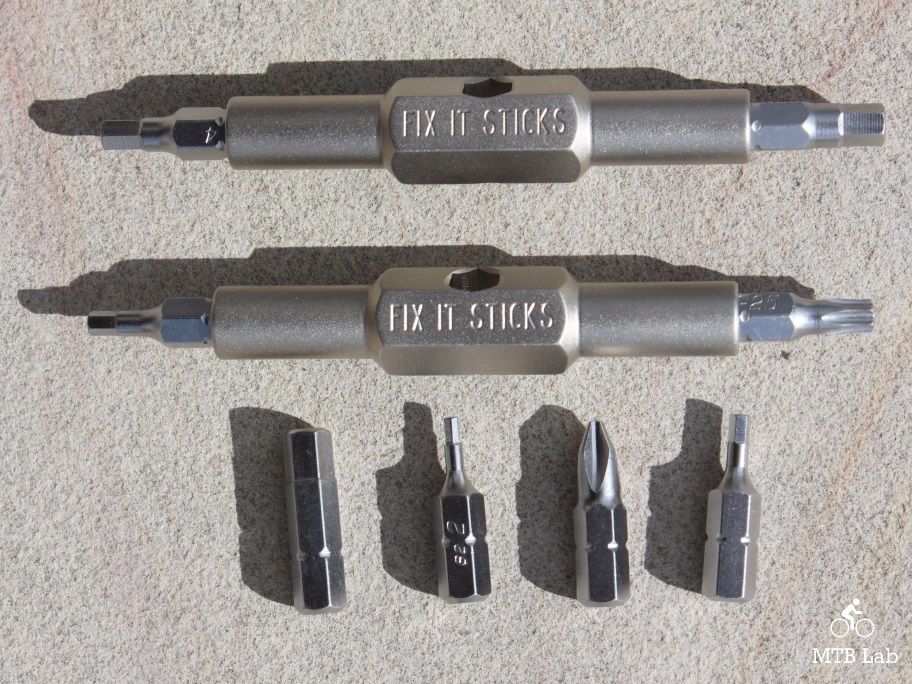 The Replaceable Fix It Sticks
FixIt Sticks is an innovative bike tool that is a modular two-piece design that can accept four stainless steel bits on each of their magnetized ends, and you mesh the pieces together to form a dual T-handle wrench. They're crafted from an all steel construction, weigh 118 grams for the pair and can apply up to 55 Nm of torque to fasteners. It utilizes Neodymium magnets in the end slots to hold generic 1/4″ steel bits securely in place. The Replaceable Edition Fix It Sticks kit retails for $29.99 and includes a carrying case and 8 bits; 2,  2.5, 3, 4, 5, 6mm hex, T-25 and #2 Phillips sizes which should cover almost any bicycle maintenance activity.
Measured Specs:
Replaceable Fix It Sticks – 88 grams
8 Steel Bits -41 grams
Case – 28 grams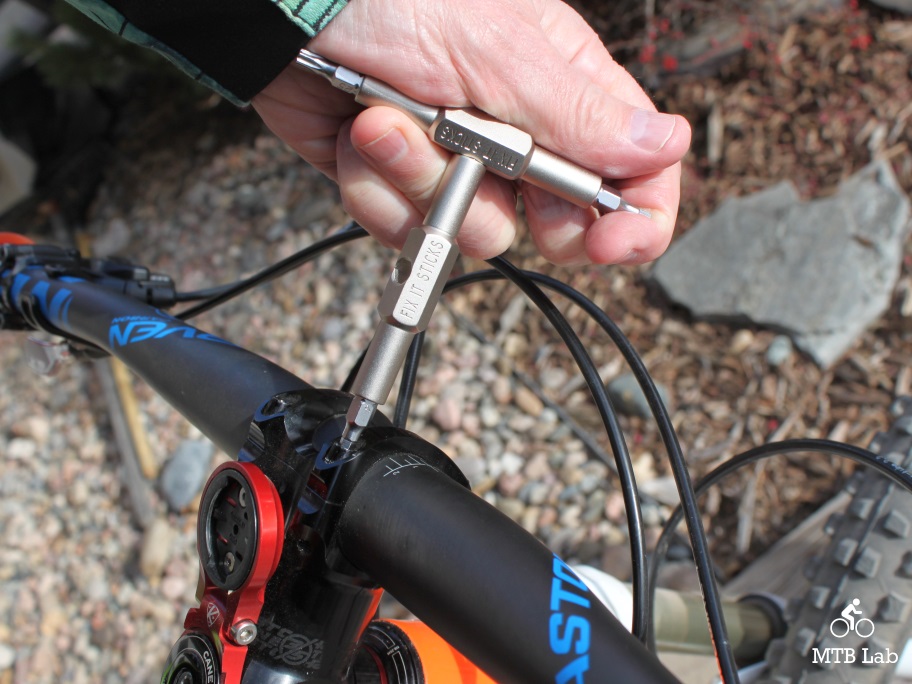 The unique design of Replaceable Fix It Sticks allows the sticks to travel flat for compactness, but then snap together to form a T-wrench for fastening applications. By adding replaceable bit capability to the original design, custom bit combinations can be created for on-bike or other uses.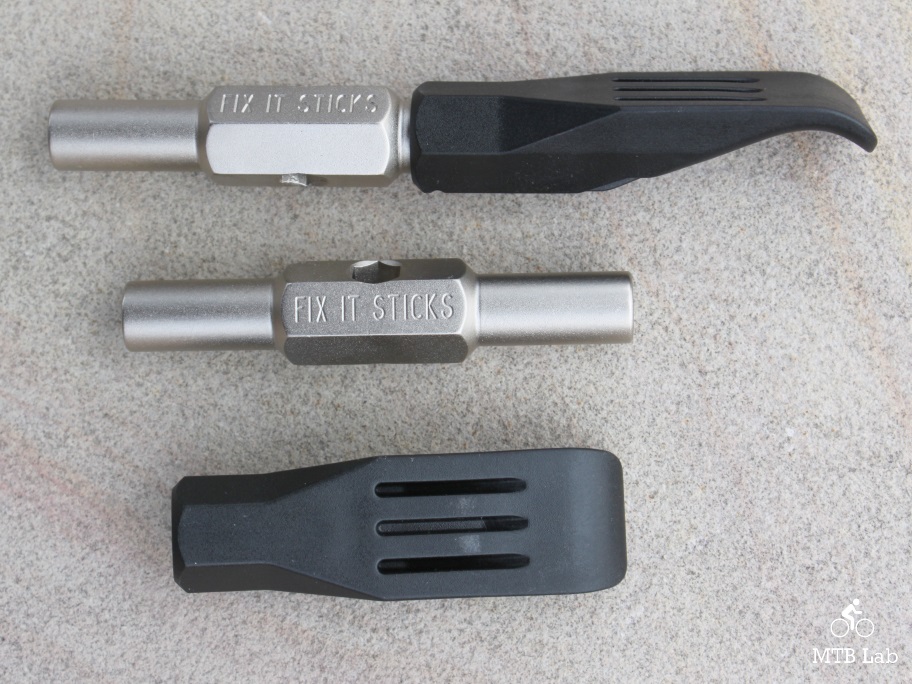 Fix It Sticks Tire Lever
The new plastic tire levers simply slip over the top of the Replaceable Edition Fix It Sticks and are magnetized securely in place through the use of a steel bit that is molded inside the tire lever. The lever pops on with a satisfying click and fits somewhat snugly with just a bit of play at the tip. They're shaped with an extra wide scoop to reach under and extract the tire bead efficiently.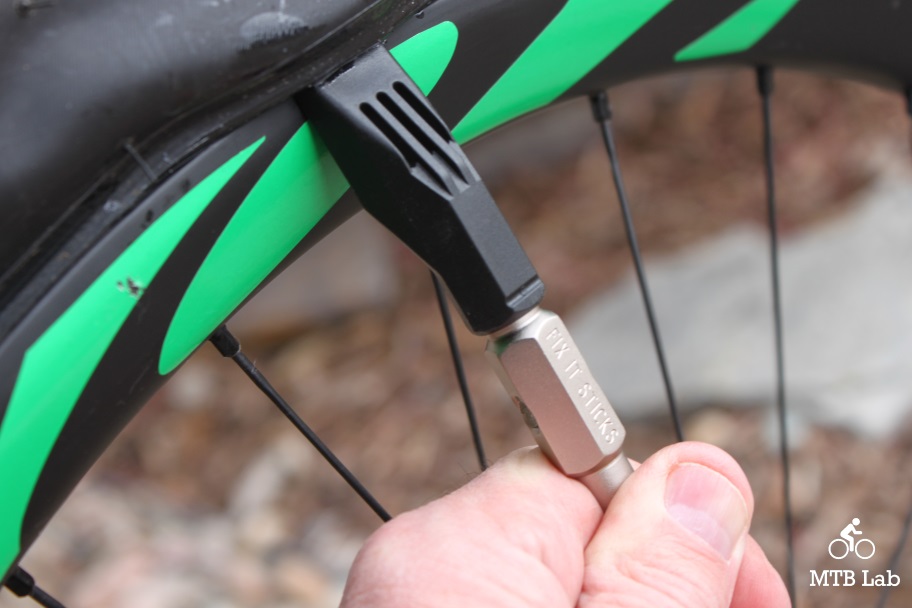 When taking a tire off, it's best to leave a bit on the other end of the Fix It Sticks since it provides additional leverage and hand space when pushing the lever. The tip of the lever curls up somewhat and isn't super sharp, so it can be tough to pull up the tire bead on thick mountain bike tires, especially when coated with tubeless sealant. On the other hand, it does help protect bike tubes from being harmed.
Measured Specs: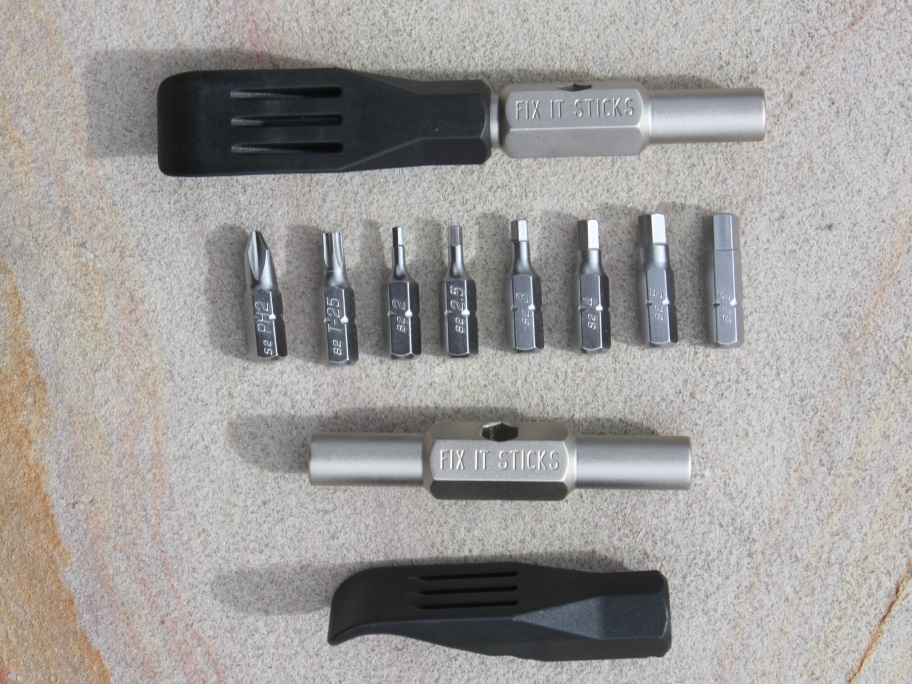 Bottom Line
I appreciated that the Fix It Sticks are customizable, and it was nice to be able to choose almost any combination of the four bits on the tools ends to match my particular bike's requirements. The Replaceable Fix It Sticks kit was extremely versatile with its magnetized bit system, and the addition of the new Tire Levers added some excellent functionality to an already useful tool system.
Replaceable Fix It Sticks, 8 Bits, Tire Levers and Case – 182 grams