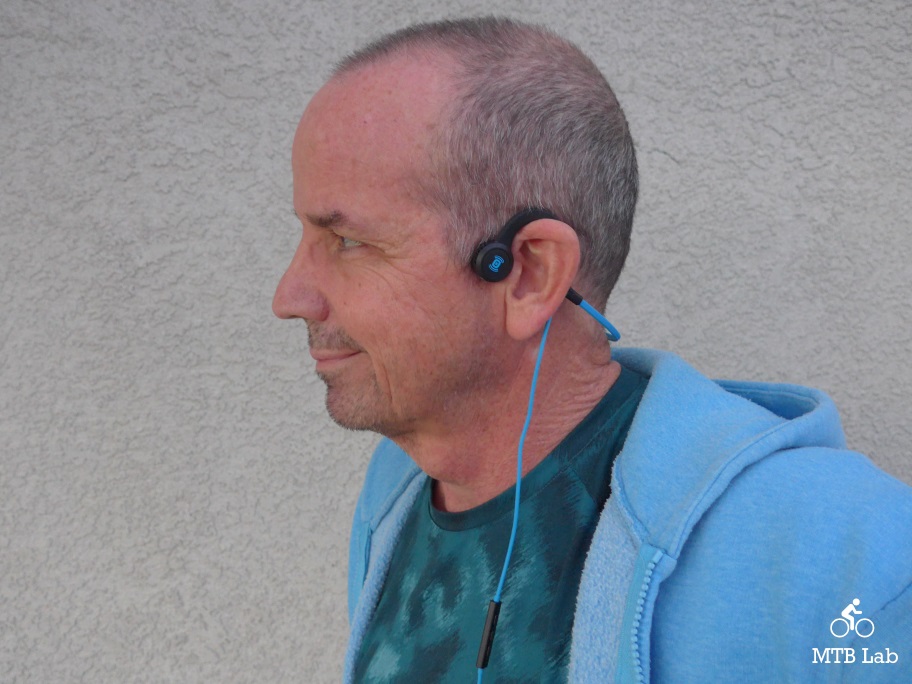 The AfterShokz Sportz Titanium wired headphones use the bone conduction technology to transmit great fidelity sound through the listener's cheekbones to the inner ear, bypassing the eardrum completely along with a rubberized, thin and flexible titanium frame that offers extreme comfort, strength, and durability. The new wired Sportz Titanium and Sportz Titanium with mic headphones offer the wireless Trekz Titanium headphone features and technology at a lower price point ($49.95/$59.95 vs. $129.95).
AfterShokz makes open ear sports headphones, which are lightweight, sweat and water resistant. Their design uses bone conduction technology, which allows the user to listen to music and still safely hears the external ambient noise. Headphones and earbuds block out most of the exterior noise from the world, which is fine when you are in a safe environment and just want to immerse yourself in your music. In the world of sports, whether it's running, hiking, walking, or biking, you need to pick up the ambient sounds and spatial cues in the world around you. For safety reasons, you want to be fully cognizant of your surroundings so you can hear cars, traffic, dogs, wild animals, and other trail and road users.
The Sportz Titanium and Sportz Titanium with mic are available in three colors – Ocean (blue/black), Onyx (all black) and Lava (red/black) for $49.95 and $59.95 respectively.
For additional information refer to aftershokz.com.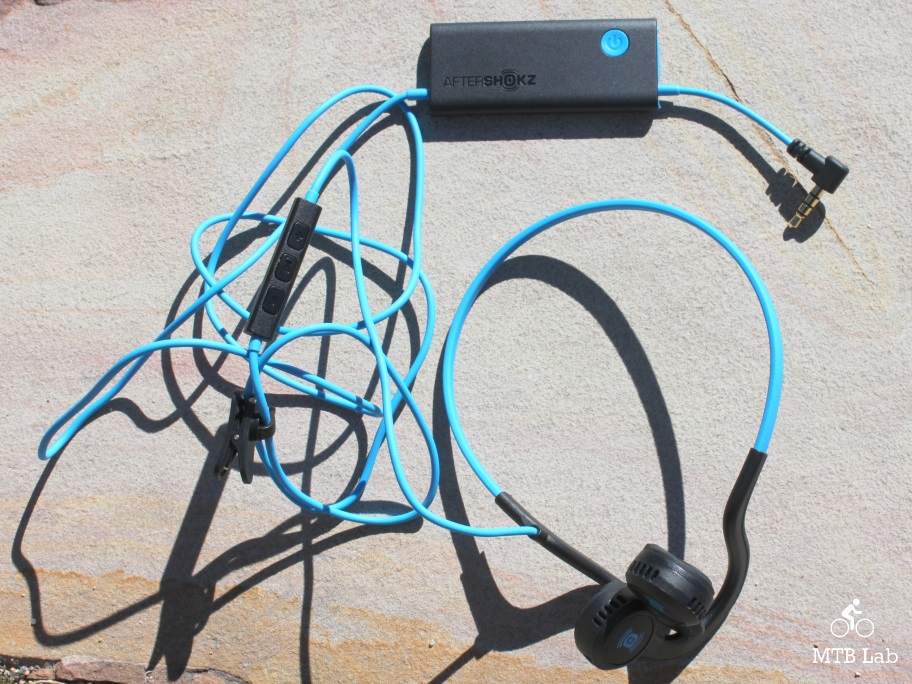 Impressions
The Sportz Titanium uses a rubberized, thin and flexible titanium frame that offers maximum comfort, portability, and bendability. I noticed a significant improvement in comfort due to the flexibility and gave in the frame by the ears. On top of the improved comfort, they fit better under a helmet and interfaced slightly better with sunglasses with the titanium frame.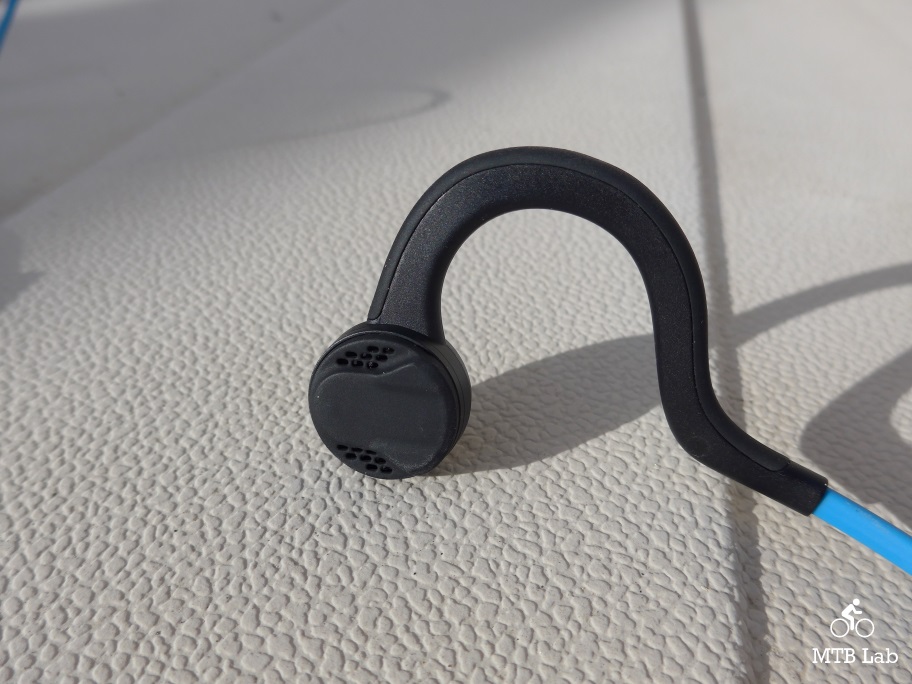 The bone conduction technology uses transducer pads to transmits sound by creating vibrations through the listener's cheekbones to the inner ear, bypassing the eardrum. To use the Sportz Titanium, you spread the frame open and hook the headphones over your ears and place the transducer pads on your cheekbone, cradling them just in front of your ear. The music comes through loud and clear from the rubberized pads, and the fidelity is more than adequate, and it's improved from its predecessors.
I was surprised at the decent volume level and clarity of the music, and because of the design, I could easily hold a short conversation with someone and hear my bike tires grinding along the trail and birds chirping in the background. Since the music gets piped directly to your inner ears, wind noise didn't alter the sound, which was a nice design aspect. The treble and bass were fine, though one odd sensation was that bass notes would sometimes vibrate on your cheekbone, I got over that tingling feeling pretty quickly and rarely noticed it much. They sounded the best at moderate listening volumes, especially since the vibrating bass notes issues weren't being exacerbated.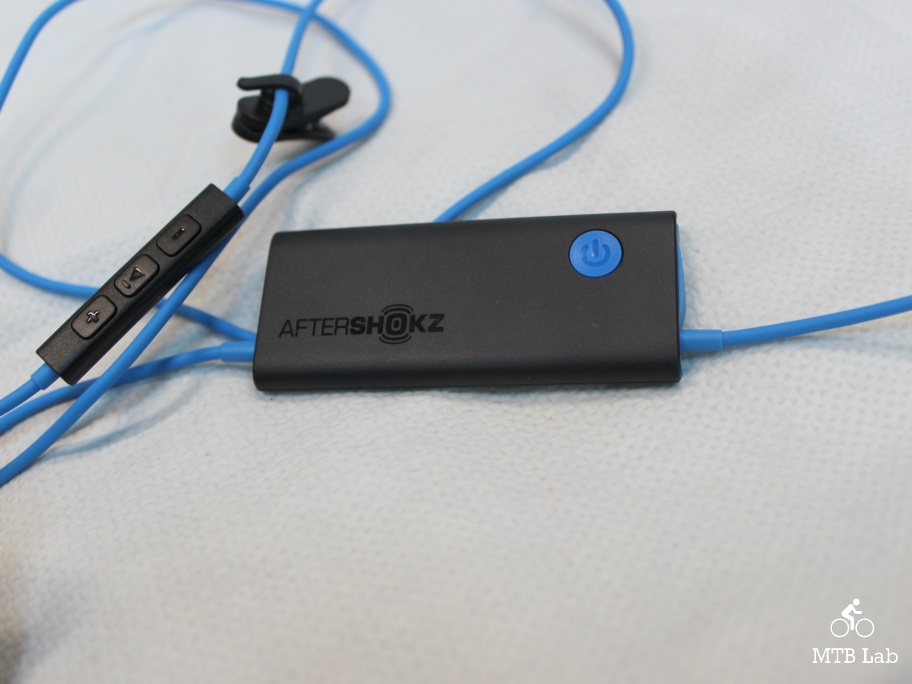 Down by the headphone plug is the slim battery pack with an on/off power switch. The control box sits up by the transducer and has three operational buttons; increase volume, skip song/stop song/take a call, and decrease volume. The control unit sat up too high on the wire, and it was hard to see and use the buttons. I haven't yet tapped the storage life of the battery, so I'm not sure how long it will last with each charge.
In direct comparison to the wireless Trekz Titanium the Sportz Titanium felt more comfortable and was lighter. In regards to the sound, the highs were about the same, with a nod to better midrange on the Sportz, but improved mid-bass and bass on the Trekz.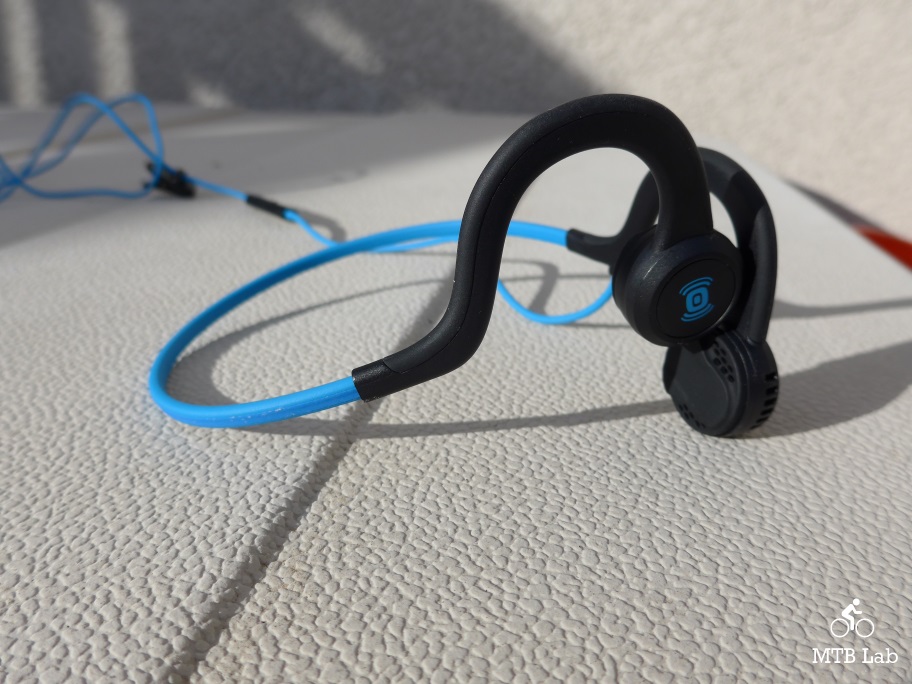 Specs:
The small, in-line control box is strategically positioned to provide easy access to complete functionality so users can keep mobile devices safely tucked away during activity—power on/off, adjust volume levels, play/pause/advance music and make/take phone calls (Sportz Titanium with mic only) seamlessly. Finally, a water-resistant drawstring pouch protects the headphones when not in use and stores the charger and other small personal items. The only difference between Sportz Titanium and Sportz Titanium with Mic is the latter has a premium noise canceling microphone that allows users to make/take calls.
OpenFit: Promising uncompromised situational awareness and extended comfort in a revolutionary open ear design. That means you can tune into your music or a call (Sportz Titanium with mic) without tuning out the world around you — vital for staying safe and alert as you move through the day.
PremiumPitch+ Sound: Bone conduction audio has earned its bad reputation due to a blend of natural sound leakage and weak bass. PremiumPitch+ technology optimizes the sound and includes additional features like LeakSlayer technology, which ensures music is directed exactly where it should be.
Titanium Frame: The backbone of the industrial design is a premium titanium frame, an element chosen not only for its strength and durability but also for its infinite flexibility, which will deliver maximum comfort and portability.
Sweat Resistant: Built to power through daily sweat sessions and wicked weather.
Twelve Hours of Music and Calls: A single charge will reliably deliver twelve hours of music play and talk time (Sportz Titanium with mic only). You can charge fully in 2 hours, but a quick 15-minute charge provides enough boost to get you through a long workout or marathon call.
Noise Canceling Mic (Sportz Titanium with mic only): Noise canceling microphone excludes surrounding noise, actually enhancing speech.