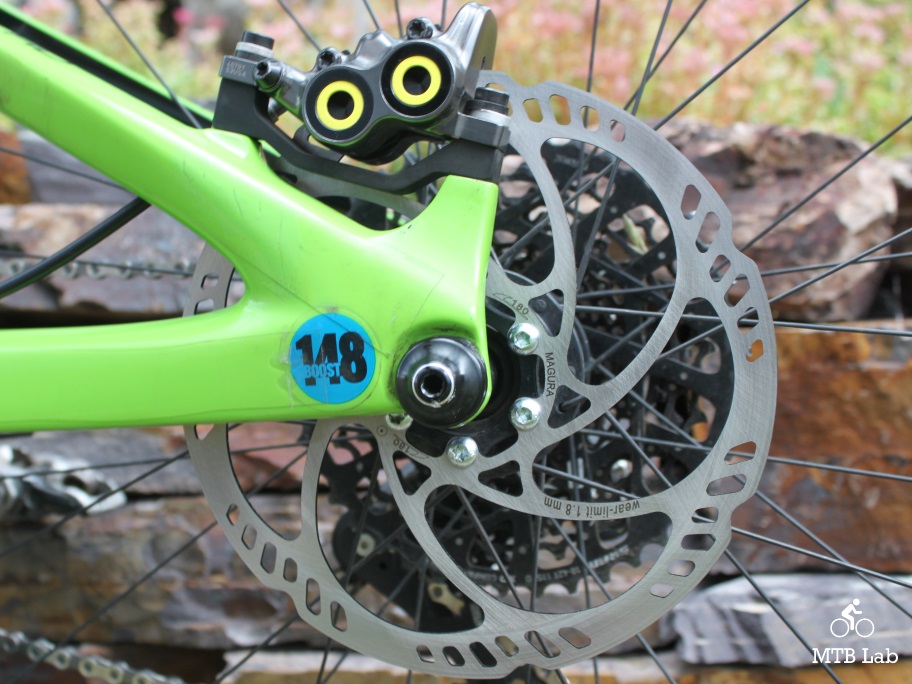 The Magura Storm HC rotor is stiffer and stronger than it's brethren and offers well-modulated deceleration, enhanced cooling properties, fade resistance, improved durability, and optimized friction performance for superb brake power.
The new Storm HC rotor was designed for extreme use for exceptional braking performance under high braking forces, and they're ideal for heavy duty use, including All-Mountain, Enduro, and Freeride. The 2mm thick laser cut steel rotor offers a higher stability and mechanical stiffness, has an optimized wear and noise ratio, maximized performance characteristics and enhanced cooling performance in multiple conditions all of which work in synergy for a prodigious amount of brake power.
To cover the new Storm HC properly, I am also providing my findings of Magura's Storm and Storm SL rotors for a cross-comparison of all of their current rotor lineup. Each of the rotors has distinct characteristics, though none of them will overtly improve braking, make it easier or magically perform stopping, etc. The brakes themselves are still the primary component of the system. The rotors just have different flavors that offer surprisingly profound differences, each with unique properties that can provide the user functional and beneficial aspects during braking.
Testing methodology: I rode each of the rotors for hundreds of hours each and kept mental track of each of their characteristics. I was using both the Magura MT5 and MT7 brakes which are mirror images of each other for performance and feel, so I had a base level to evaluate them from. I tend to ride the same local terrain regularly so I was able to ascertain minute differences between each of the rotors over a period of time.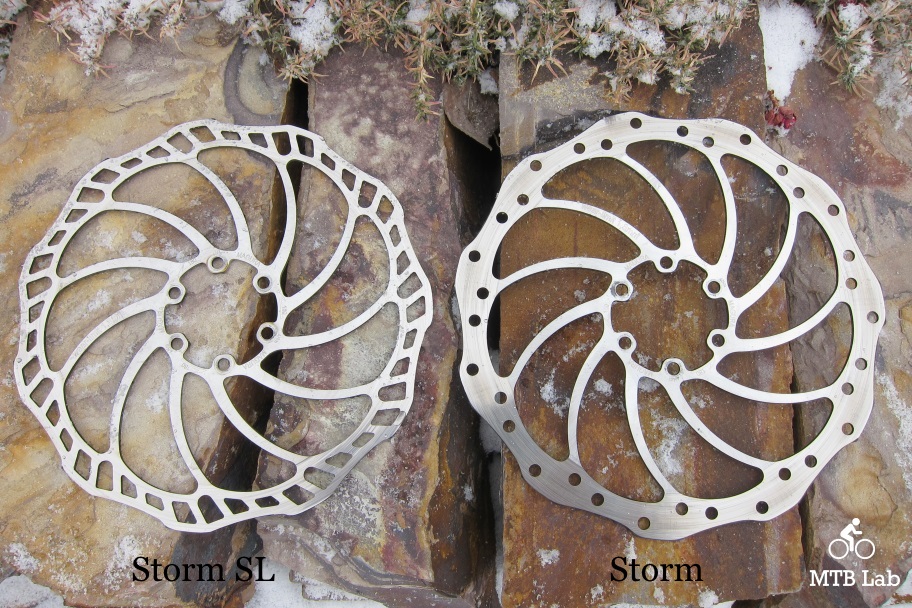 Technology
The Storm HC and Storm come in 160mm, 180mm, and 203mm sizes while the lightweight Storm SL comes in 140mm, 160mm, 180mm, and 203mm sizes with the ubiquitous IS 6 holes (centerlock adapter is available). The Laser cut high-grade steel rotors are 2mm thick for strength and rigidity. The Storm HC and Storm have a larger braking zone or greater surface area, for stability, power, and reduced pad wear, while the Storm SL has an increased number of perforations that are more open for weight savings and feel. Extensive finite element analysis was performed, for optimized geometry and modulation, for better heat absorption and its dispersion (heat management), braking power, stiffness, durability and weight savings, without warping, noise, and juddering issues.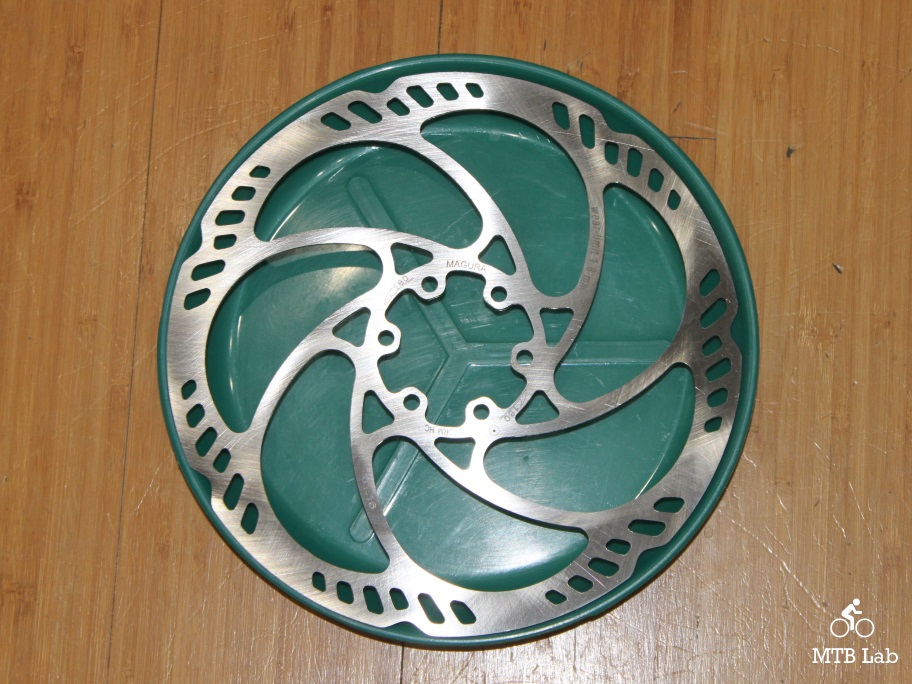 Storm HC
The Storm HC is made out of X30Cr12 steel and has many of the properties of the Storm SL and the Storm rotors, borrowing a bit of each of their positive characteristics without some of their downfalls. The Storm HC have an excellent bite without any grabbiness and the moderately sized ovalized cutouts offer just enough tactile feel to provide precise hand control. The increase in braking surface compared to the Storm SL's means they provide superb power and excellent fade resistance and cooling power. They dried out relatively quickly when wet, though not as fast as the Storm SL's, taking a tad longer to come up to temperature. They provided some decent feathering characteristics, though not on par with the SL's excellent feel, due significantly to the SL's larger cutouts. You could grab a handful of brake almost anywhere and feel the increased power from the rotor, and they never faded, even on long steep descents. Like the Storm's, the lack of large cutouts significantly improved the rotors and pads durability and longevity. Although the Storm HC will work with any of the Magura brakes, I think they'll be the most ideal on the more powerful four-piston MT5 and MT7, and their new MT Trail.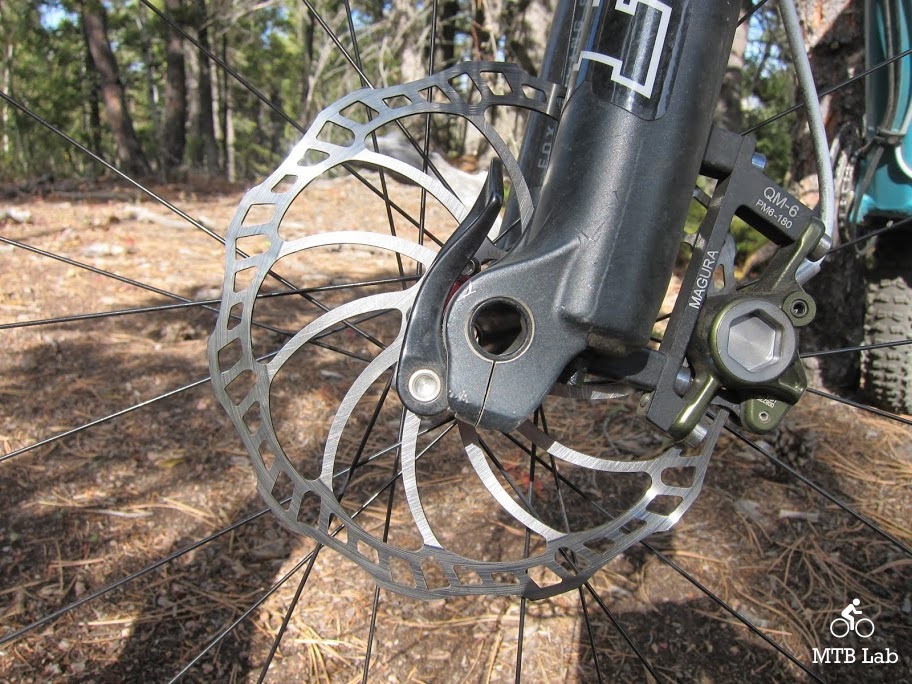 Storm SL
The Storm SL have a great bite to themselves, with good fade resistance and cooling power, though a slight loss of power compared to the Storm and Storm HC, both of which have greater braking surface due to fewer and smaller cutouts. The bite provided an excellent tactile feel in the lever and gave rise to fantastic precision and control. The Storm SL has been relatively quiet, though they do make a slight ticking noise from the interaction of the cutouts and pads. They dried out quickly when wet (rain or snow), and quietly squeaked until they came up to temperature. The open slots of the Storm SL give the ability to do some nice feathering, which is useful in slow technical terrain, or when some speed needs to be drawn down with a small dab of the lever. On long extremely steep downhills, more throttling and hand strength with the levers was required to keep the speed down compared to it's brethren, but they never felt as though they were fading or were weak.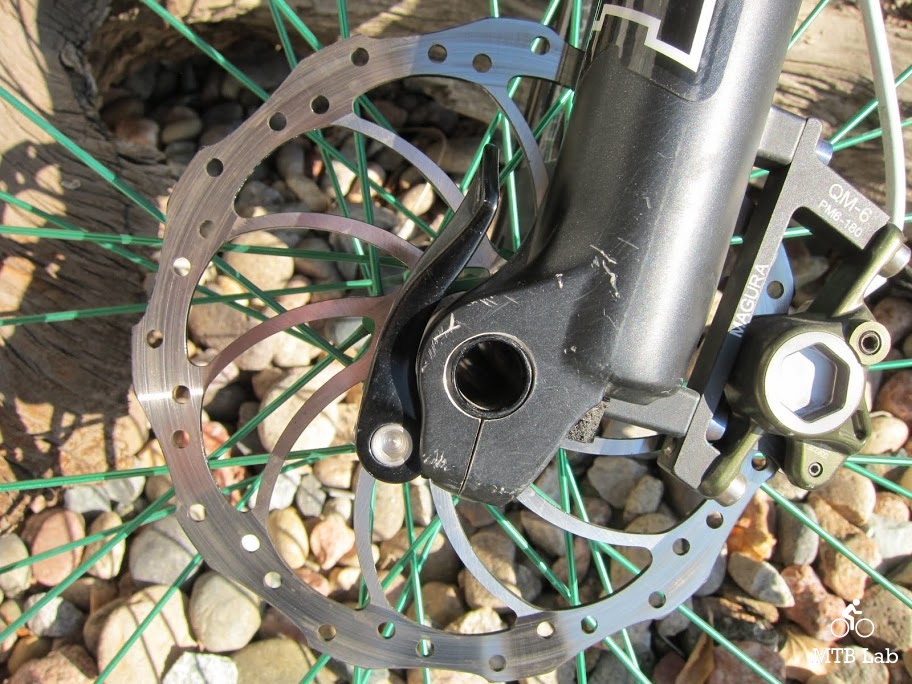 Storm
I think the Storm felt slightly grabby to me at slow speeds, though it was in direct comparison to the feathering characteristics of the Storm SL, and it was easily remedied by hand control. When you need to grab a hand full of brake, they were more powerful, and were usually silent, no matter hard you pulled or how steep, and long the downhills were. I did find that they sometimes started to squeal, and a good brake pad cleaning and sanding tended to alleviate the issue. They were very durable, and vastly increased the pad's longevity. When they got wet, they took a bit longer to dry and quiet down than the Storm SL, but they still created massive power reserves even when drenched. The Storm provides excellent fade resistance, and never belayed a loss of composure on any terrain.
Measured Specs:
Storm SL

160mm – 92 grams
180mm – 114 grams

Storm

160mm – 114 grams
180mm – 140 grams

Storm HC
Bottom Line
The Storm HC is stiffer and stronger than it's brethren and offers well-modulated deceleration, enhanced cooling properties, fade resistance, improved durability, and optimized friction performance for superb brake power. It combines the positive characteristics of the Storm SL and Storm, without as many of their deficient.
The Storm SL is a supremely enjoyable rotor, that has some excellent characteristics, such as feathering, modulation, fade resistance, lightweight, and they look kind of cool. The additional control they offered in technical terrain was greatly appreciated, which has been particularly noticeable on steep rollers and rock ramps, where they tended not to lock up. Like any of the cutout rotor types, they do wear pads quicker, and make a slight tick noise, albeit it's subtle.
The Storm is a great all-around rotor that is powerful, fade resistant and offers improved longevity. They can skate down any terrain, no matter how steep or long, and never suffer any weaknesses nor do they judder, though on occasion they squealed.
MSRP:
Storm HC $32
Storm SL $38
Storm $32