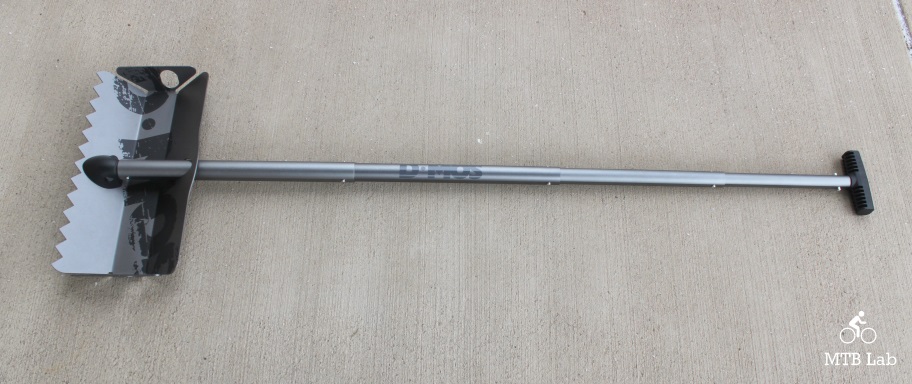 The Stealth Shovel
The 2-in-1 tool was designed for moving snow and grooming a jump to make picture-perfect corduroy conditions. Also, it makes a great snow shovel for clearing the driveway and walks and digging out a stuck or buried vehicle. I can see it being useful for the garden and trail maintenance. It offers full-sized leverage, is indestructible, and imminently packable and weighs 3.2 lbs.
It's near twice the thickness of an avalanche shovel, and it won't bend or deform. The shovel head is made of 2.5 mm thick T-6 6061 aluminum and packs down to 18" x 9" x 3" size. The adjustable length 1.6 mm 6061 aluminum alloy shaft extends from 18″ to 56.5" to provide plenty of reach and leverage. It was stress tested in laboratory and field conditions in temps ranging from -40 to 110 degrees Fahrenheit.
It comes in four colors and retails for $99. For further information refer to dmoscollective.com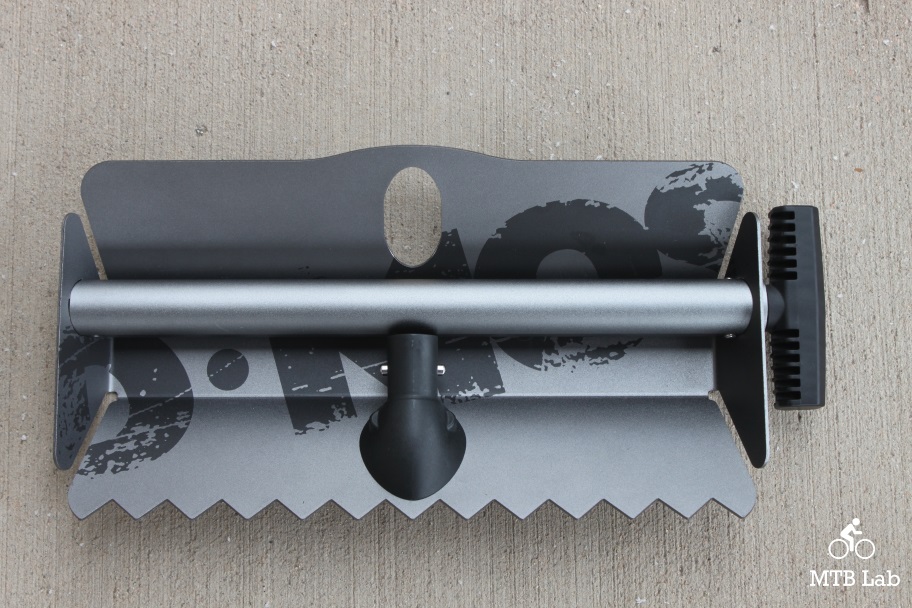 For the Backcountry

The Stealth Shovel has been engineered to be the highest performing tool for shaping terrain and building backcountry features. In the backcountry, its packability, leverage and block cutting abilities shine. The Stealth Shovel is the tool your riding deserves. Get out there and build it!

For the Backyard

You already know it; you don't need the mountains to get creative in the snow. Give your creative mind the shovel it deserves and unlocks your building potential. From technical urban set-ups to the back yard pump track, even a snowman, the Stealth Shovel lets you build it better with less effort.

For the Car

Whether you're commuting or overlanding sometimes the road gets rough! The strong and stashable Stealth Shovel is a great tool to keep in the trunk for whatever life throws at you. Providing leverage and excellent shovel utility in any condition, the shovel will help get your vehicle unstuck quickly so you can get back on the road.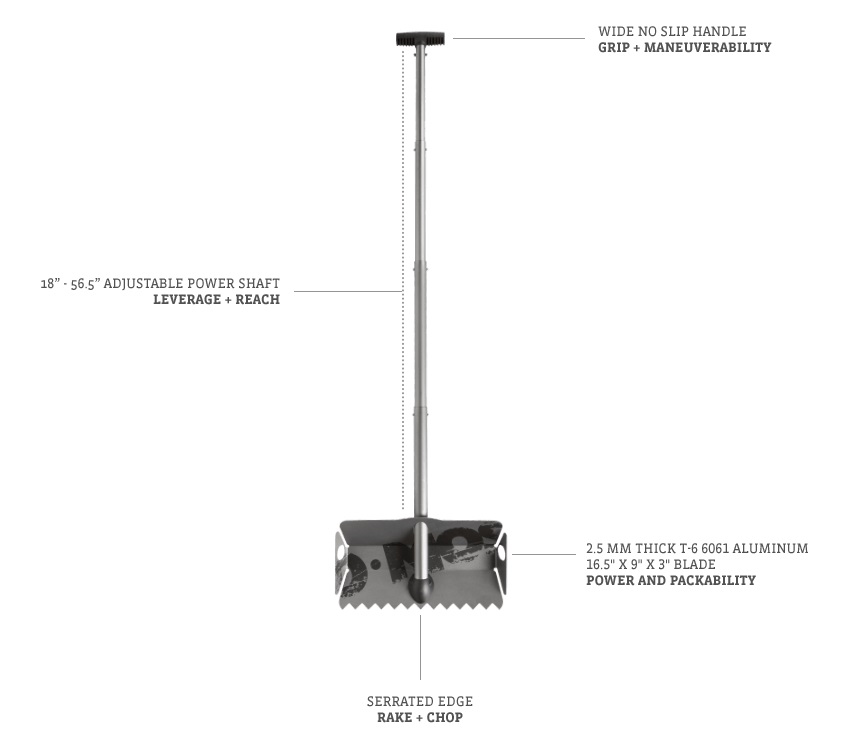 Features
interchangeable shaft
terrain grooming and sculpting
terrain moving and digging
2-in-1 tool
Colors – Stealth Black, Lime, Grizz Brown, Gun Metal and Orange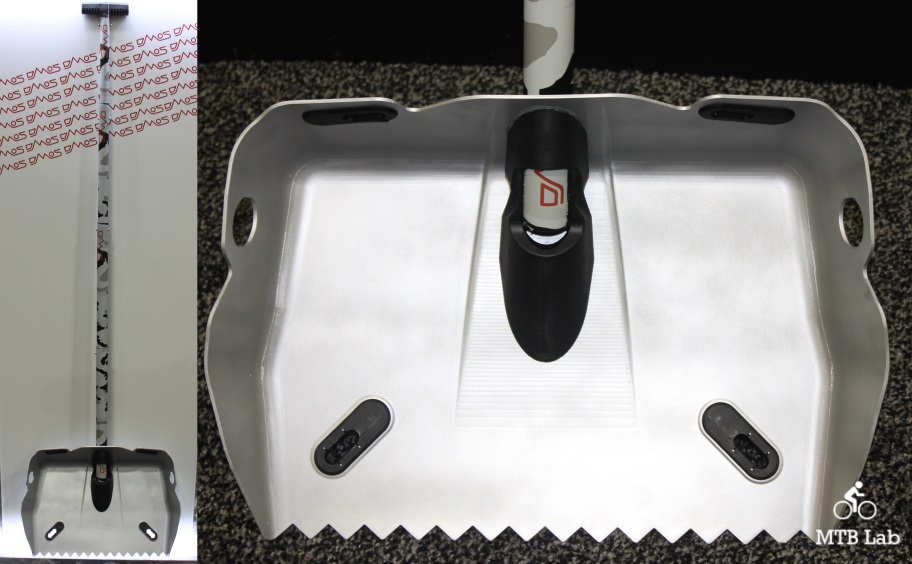 The Alpha Shovel
You talked. We listened. You said you loved the full-size leverage of the Stealth Shovel and its indestructible blade. But, you wanted more. A larger blade that could move more snow. For expeditions. For driveways. For massive road gap jumps. For when it doesn't have just snow, but for when it pukes. Introducing the Alpha Shovel. One big bad dog. The Alpha Shovel is an innovative tool for BOTH shoveling and cutting through hard surfaces. Quality, indestructible, built for life. I saw a prototype of this beast at the SIA show and this thing is massive and will allow prodigious amounts of snow to be moved around.
Whether your adventure is a basecamp at Denali or your driveway, you need the right tool. Never has there been such a thoughtfully designed shovel that is built to last and as cleverly designed.
They reached their DMOS Alpha Shovel Kickstarter Campaign goal, and as of uccessfully raised $177,496 with 1,166 backers. Congrats!
[vimeo width="800″ height="450″]https://vimeo.com/195551023[/vimeo]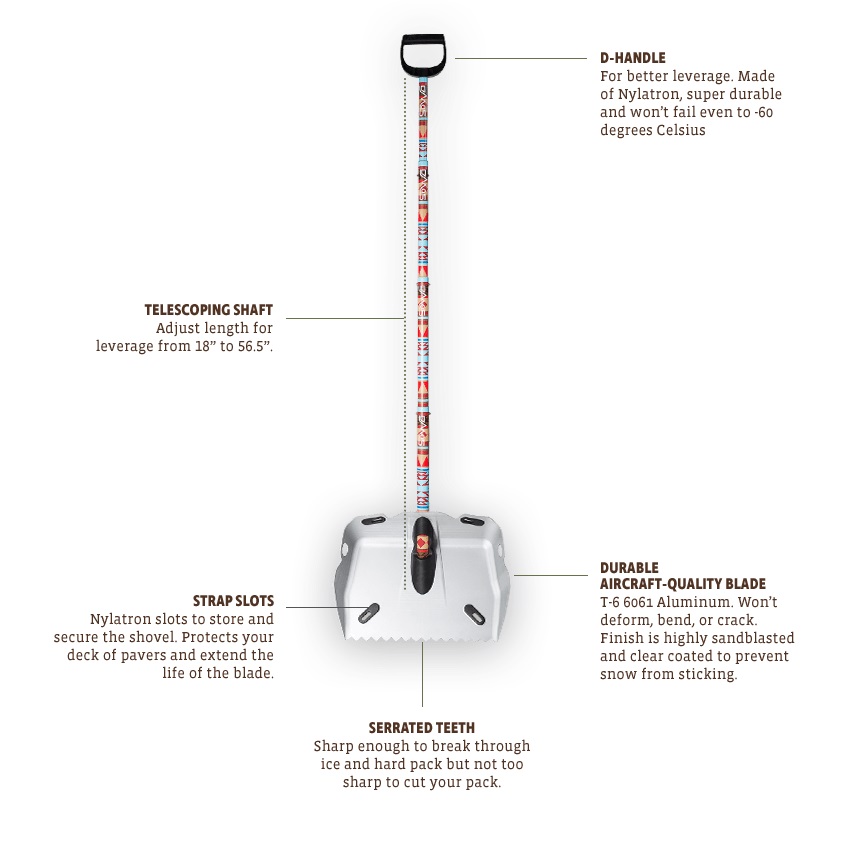 Features
Interchangeable shaft
Massive terrain grooming and shoveling
Powerful ice & crud breaking
2-in-1 tool
About DMOS
From the beginning, DMOS has been a brand of the people. Founded by Susan Pieper in 2015, we began with a simple desire to innovate the tools that we carry into the backcountry, including making them smaller and stronger. Our first shovel, the Kicker Tool (now The Stealth Shovel), was the product of a crowdfunding campaign and unique co-creation process that enlisted some of the biggest names in action sports to help us design, refine and push the possibilities of our prototype until it was something they couldn't live without. It was a process that turned our small, novel idea into a mountain necessity and inspired our journey with our customers to be a shared one ever since. We don't believe innovation is a solo sport so nothing we do is created without the influence or validation of the people we serve.