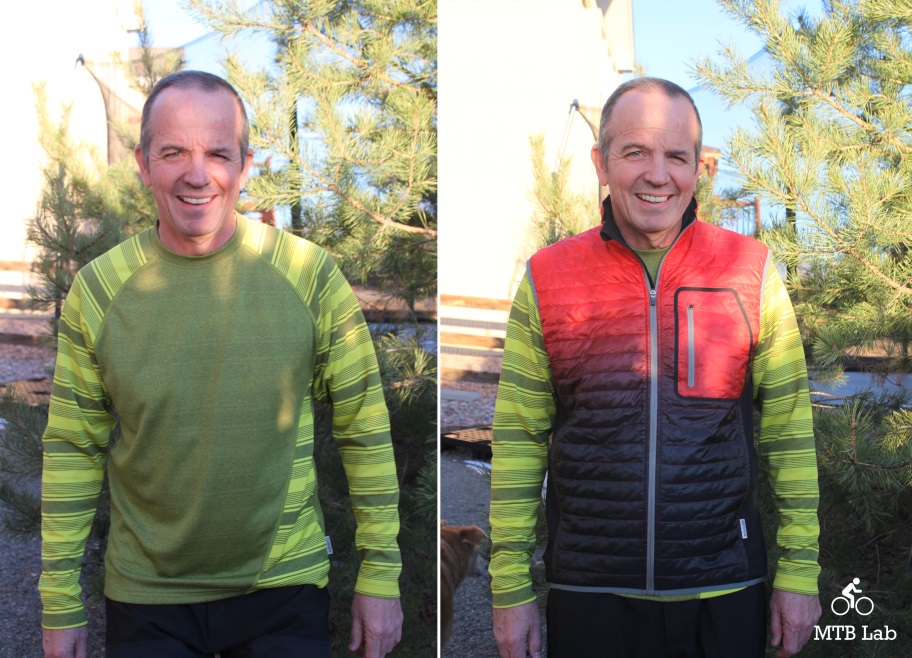 Club Ride sent along a set of their Winter collection, including the Baron Jersey, the Blaze Vest, and the Fat Jack pants. The Baron is a long sleeved pullover jersey that uses a midweight polyester knit fabric and has a fun cross pattern prints up and down the sleeves and has one zippered pocket. The Blazer Vest has a lightweight polyester woven rip-stop fabric face with an insulated synthetic filled front for warmth and a midweight brushed-back polyester knit back for breathability and wicking purposes. The Fat Jack are technical and rugged pants that use a stretchy and water resistant double weave fabric with durable canvas leg patches.
For further information: www.clubrideapparel.com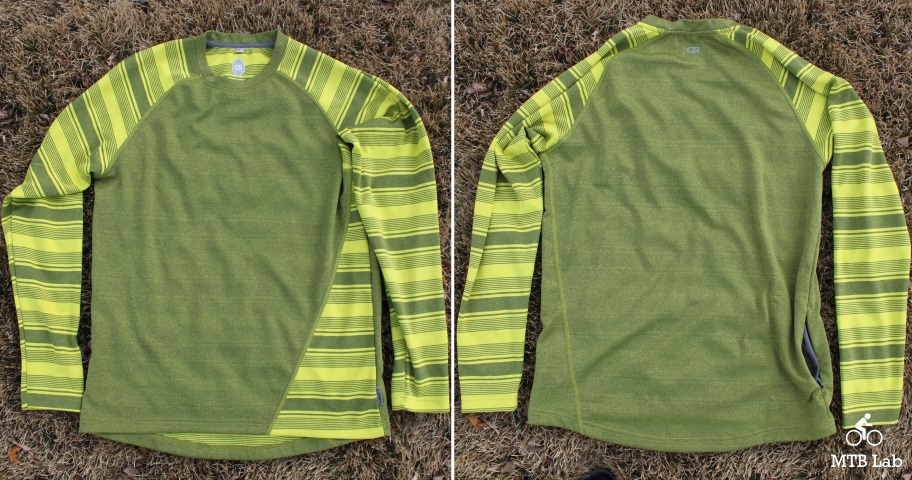 Baron
The Baron is a cool weather pullover long sleeve mountain bike jersey that is warm, comfortable and breathable. It has a fun color scheme and pattern with a granite-faced body with complimenting striped sleeves and stylish asymmetric design, and it utilizes their midweight polyester knit fabric for warmth and moisture transfer. It has a relaxed and comfortable fit with long sleeves which provide sun and armor protection and help retain heat. It has a small zippered media pocket on one side that holds all your goodies and keeps them safe and sound.
The Baron retails for $69.95, comes in Saphire and Sulphur color schemes and S, M, L and XL sizes.
Impressions
I have worn the Baron fairly often this winter, and it makes for a great jersey for those cooler and chillier days, yet the material isn't so overly thick or heavy that you perspire when you're cranking up a climb. The fabric has a tight enough weave that it provides some blockage during windy days, so you don't get chilled to the bone. I could wear my soft elbow armor without any issues, and I never felt as though the cut was restrictive while riding and maneuvering around on the bike. The material has been rugged and hasn't torn, pilled or show excessive signs of wear and tear. When it gets colder, you can wear it as a base layer underneath a parka or jacket.
It will be a great jersey for the cooler days of fall, winter, and spring and would be a useful item to bring on high mountain adventures when encountering foul weather.
Specs:
Midweight polyester knit fabric
1 rear zip pocket
Media port
RideLight reflective accents
Comfort fit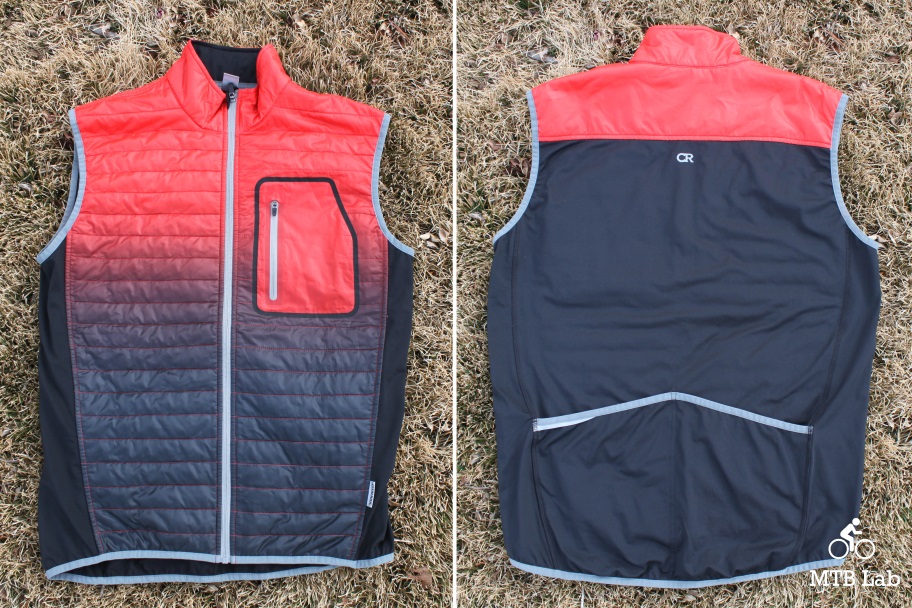 Blaze Vest
The Blaze Vest uses a woven wind resistant fabric in the front that's integrated with a lightweight synthetic insulation fill for warmth. On the back is a breathable and stretchy mid-weight brushed knit fabric for comfort and moisture management. It has a small zippered breast pocket and two large rear drop-in pockets for holding water, tools, tubes and food. It has a snug 'Sport Fit' so it doesn't flop around while riding, especially at speed, but it's not tight enough to be uncomfortable.
The Blaze Vest retails for $89.95, comes in a Radiant Orange color scheme and S, M, L and XL sizes.
Impressions
The Blaze Vest is an ideal jacket that's compactable and lightweight and offers up an apparel item which provides just enough core warmth to get you through colder days without having to resort to a full sleeved jacket which can be bulky, sweaty and too hot. The front material provides significant wind resistance, and the insulation thickness is perfect for anything short of a bitterly cold day. The rear section has some functional stretchy fabric that makes the vest comfortable and offers up excellent ventilation and breathability.
Specs:
Lightweight polyester is woven rip-stop fabric (front)
Midweight brushed-back polyester knit (back)
Lightweight synthetic thermal fill quilted insulation (inside)
Weather resistant finish on front | Water-resistant, wind-resistant
1 zippered chest & 2 rear drop-in pockets
RideLight reflective accents
Sport fit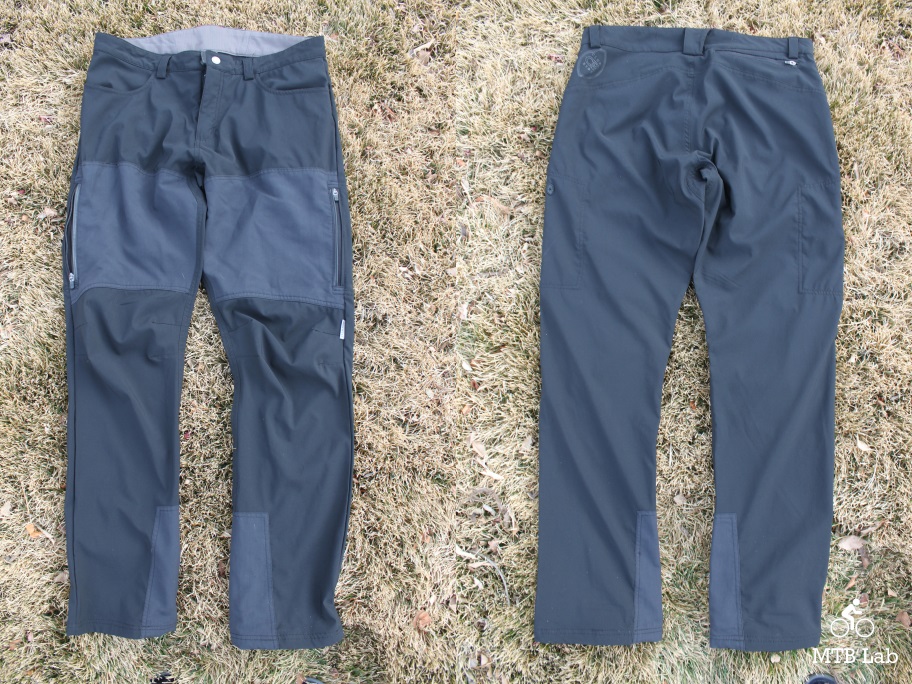 Fat Jack
The Fat Jack is a technical and robust pair of pants that's functional on the bike, at home and the campsite. It uses a stretchy and water resistant double weave fabric with durable canvas leg patches. It has two zippered side pockets on the thigh for small gear or ventilation ports, two large hand pockets, and a rear zippered pocket. The Fat Jack has a loose and comfortable fit, making it ideal for any activity.
The Fat Jack retails for $119.95, comes in Black and S, M, L and XL sizes.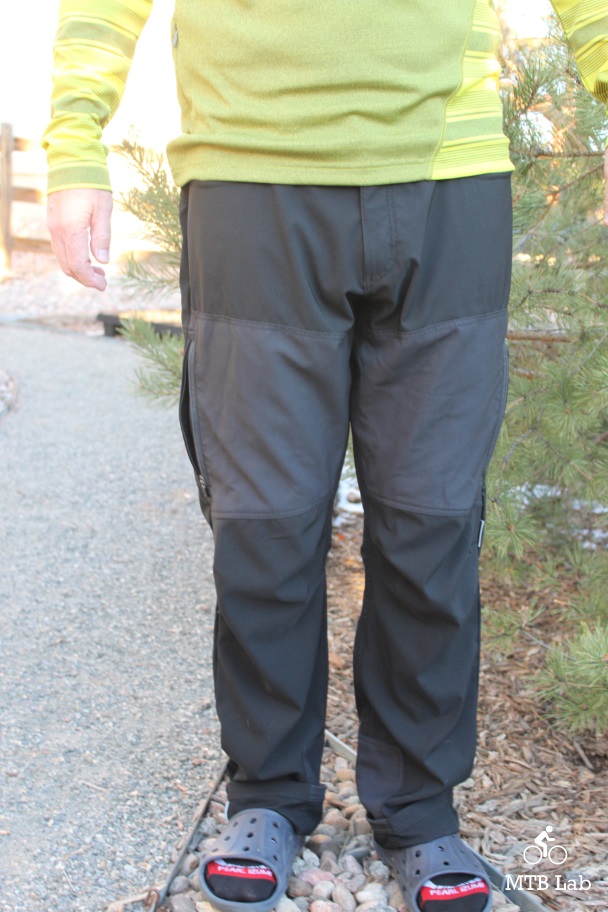 Impressions
I have worn these pants on and off the bike, and I have enjoyed them for pre and post-rides as they are extremely comfortable, warm and easy to take on and off. They do have an extended cut, but it was easy to roll the cuffs up to fit my inseam length. They're made with a robust material and haven't shown any sign of wear and tear even when doing trail work. They have a functional stretch where it's needed, and the water and the wind resistant fabric is superior in inclement conditions. I liked the large hand pocket and the extra tough material sections on the upper thigh and the lower inner leg, the latter for drivetrain protection.
Specs:
StretchRide10 | Midweight polyester-blend double woven fabric
DWR Finish | Water-resistant, wind-resistant
NoCrackBack
Pockets – 3 Zippered & 2 Hand
Venting | 2 Side Leg
Media Port
RideLight Reflective Accents
Fit | Comfort
230 g/m2
Inseam: S-M=33″ | L-XL: 34″