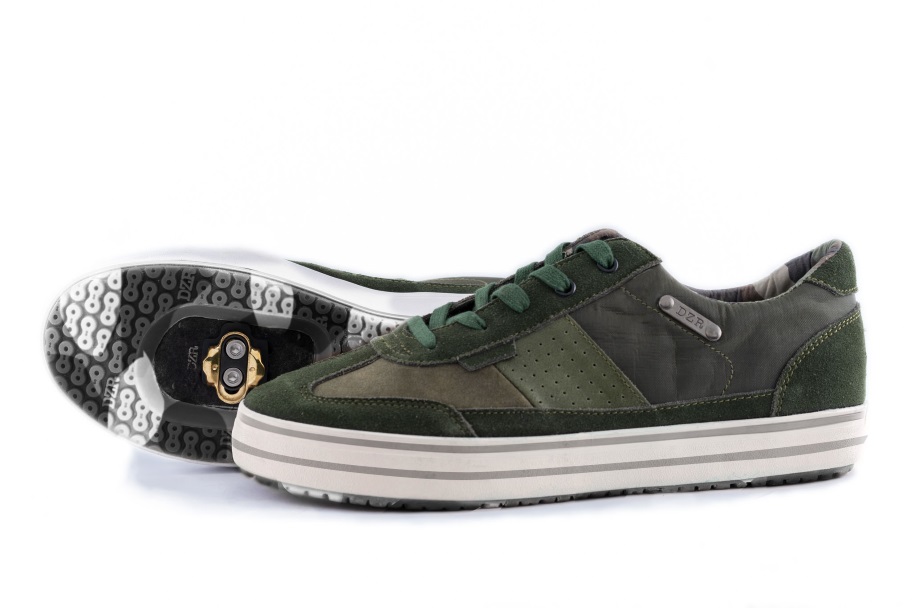 DZR has the two new Limited Edition shoes the Minna Mist and Minna Cadet, while Showers Pass is releasing the short sleeve Bamboo-Merino Henley base layer shirt, and Adidas has their Zonyk Pro Sunglasses in new colorways and LST/VARiO lenses.
DZR Minna LTD Shoes
DZR Shoes, known for their innovative line of unique urban cycling footwear, introduces two Limited Edition models, The $119 Minna Mist and Minna Cadet; which feature printed poplin lining for subtle texture, made from full grain leather and offer a more roomier fit. DZR Shoes are the best tool for on and off the bike.
Inspired by the fog of San Francisco, these LTD models were created to personify the overcast. Much like the original Minna, The Minna Mist and Minna Cadet are made from a variety of materials, including suede, full grain leather, ballistic nylon, and synthetic leather giving it a stylish look that's made to withstand any adventure. Features also include printed poplin lining to create a rich combination of materials that gives texture to a subtle shoe. Made on a slightly wider last, these LTD models offer a more roomier fit than previous DZR shoes.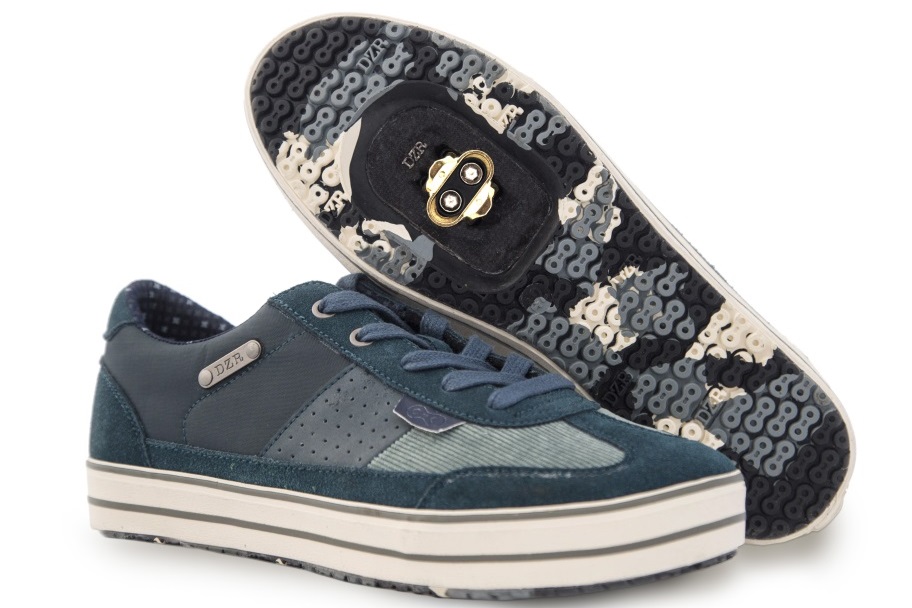 A reflection of street style and urban culture the Minna brings understated hues but delivers performance with Variable Flex Shank, elastic lace catch, and reflective heel badge. The Minna is like the black belt in the closet it's a staple of urban living.
The Minna look like comfortable shoes that will be great on a bike, whether in flat pedal or clipped mode, yet they're understated enough that you can wear them anywhere.
Minna Features:
Full grain leather: unrivaled strength and vigor
Printed Poplin lining: texture and style
Wide Last: roomier, more comfortable fit
Natural gum rubber: sticky, durable and provides optimum grip on a variety of surfaces
Reflective Heel Badge: highly visible 600 luminosity reflective badge sewn into the heel for rear visibility
Variable flex shank technology: full-length nylon mid-sole/shank designed with strategically mapped stiffness for a combination of power transfer while pedaling and flexibility for walking.
Minna Cadet (Blue) – Size range: 37-47
Minna Mist  (Green) – Size range: 37-47
For further information refer to https://dzrshoes.com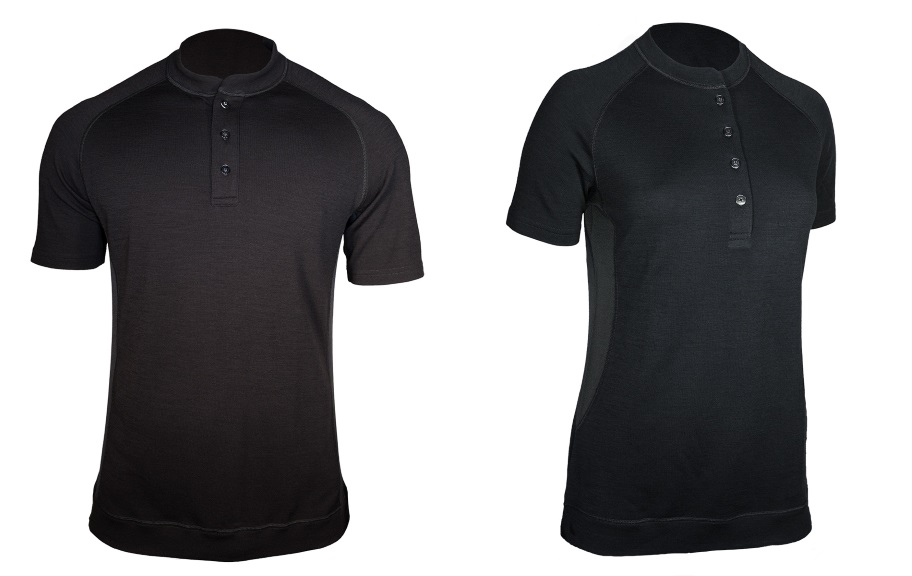 Showers Pass Short Sleeve Bamboo-Merino Henley Baselayer
Showers Pass has introduced a new short sleeve edition of their Bamboo-Merino Henley shirts to compliment their full line of clothing designed for an active lifestyle. This baselayer has combined the benefits of two natural fibers, designed for bike commuting and active outdoor lifestyles both on and off the bike.
Fine Bamboo fibers offer a soft and cool-to-the-touch feel inside the garment providing maximum comfort. Also, Merino wool fibers on the face of the shirt provide warmth and prevent odors through high output outdoor activities. These two natural fibers are knitted together to form Showers Pass' exclusive Bamboo-Merino Cool Tech fabric.
Similar to the long sleeve Henley, the short sleeve Henley provides a perfect fit with a long torso design, seamless underarms, raglan sleeves, and flatlock stitching to prevent chafing. Bamboo fibers offer the same moisture wicking benefits as wool but our bamboo knit is ridiculously soft against the skin.
I always wear a baselayer shirt, it helps keep the mositure from directly contacting you body, keeping you warmer in the winter and cooler in the summer.
Features:
Antibacterial properties – cool feel, soft touch
Durable
Moisture Wicking
Raglan sleeve
Flat lock stitching
Button down Henley styling
UPF 50+ sun protection
Men's and Women's styles are available in S, M, L, XL in color black and retail for $75.  Now available at https://www.showerspass.com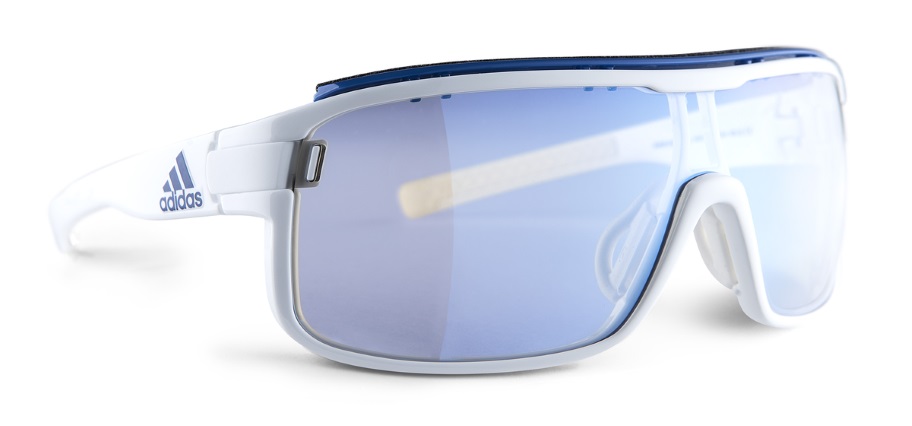 Zonyk Pro White Shiny/VARiO Blue
Adidas Sport Eyewear Zonyk Pro Sunglasses – White and Coal w/ LST & VARiO Lens
In order to create the most advanced and functional eyewear possible, the Zonyk Pro has been specially developed in close cooperation with and for athletes. The Zonyk Pro has been engineered and designed to amplify performance – as well as appearance – and takes full advantage of the Adidas Sport eyewear lens range.
There are polarized, mirror, LST and VARiO options to ensure that perfect vision can be achieved whatever the weather or lighting conditions.
The new Zonyk Pro colorways look great and the new LST/VARiO lenses combination should offer some exceptional technologies to sports eyewear.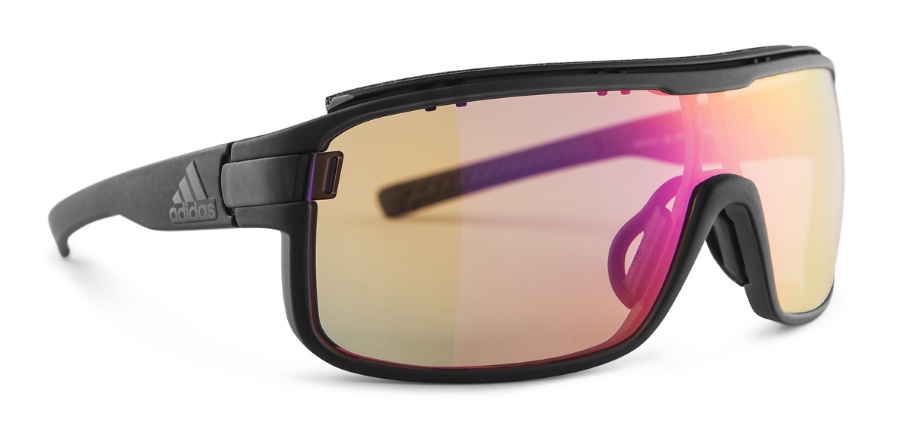 Zonyk Pro Coal/VARiO Purple with LST and VARiO Tuned Lens
VARiO technology allows for the lenses to automatically change from light to dark tint within seconds. Light Stabilizing Technology intensifies contrasts and harmonizes light fluctuations, leading to reduced eye fatigue and improved concentration. By combining VARiO and LST, athletes get the best of both worlds in one lens. A brand new Lens Lock-System makes it possible to exchange lenses quickly and easily. Furthermore, the sweeping lens contour creates a wide peripheral vision and enhances protection against sun, wind, and impact. The lightweight yet durable SPX frame with integrated Climacool ventilation system is available in two sizes.
The climacool system of the Zonyk Pro is intensified by a detachable foam sweat bar, which is shaped to maintain a cooling flow of air while keeping sweat out of the eyes. The Double-Snap Nose Bridge helps to achieve a customized fit and the adjustable TRI.FIT temples with Flex Zones increase grip when on the move.
Also available is the Zonyk without sweat bar and in exclusive frame colors, bridging the gap between performance and style. A selection of polarized, mirror, LST and even VARiO-equipped lenses ensure perfect vision under all circumstances.
       Vision Advantage polycarbonate lens
       Lens Lock System
       TRI.FIT temples
       Double-Snap Nose Bridge
       Detachable foam bar
       Compatible with prescription lenses
The new Zonyk Pro by Adidas Sport eyewear is available in four different color and filter combinations, starting at $209.00. The Zonyk is available in three different color and filter combinations, starting at $159.00. For further information refer to https://www.adidassporteyewear.com