Wolf Tooth Components has released the GCX46 extended range cog for SRAM XX1 and X01 cassettes, the GnarWolf braze-on chainguide for CX and roadies, along with 76 BCD and 64 BCD chainrings, the latter providing 26T and 28T sizes.
GCX46
The Wolf Tooth GCX46 cassette extender cog allows you to modify your existing SRAM's XX1 and X01 cassettes 11-speed cassette to create an ultra-wide range 10-46T cassette system, which is decently close to mimicking the gearing offered by the uber expensive SRAM Eagle 12-speed 10-50T drivetrain. The GCX 46T sprocket replaces the stock 42T on the XX1 or X01 cassette for the 10-42T gearing. This is roughly equivalent to changing your current front chainring to a 3T smaller chainring. Shifting performance and durability matches the stock 42T cog, but you will have a 10% lower gear.  The cog retails for $89.95 and comes in black, red, blue, green, silver, purple, gold and orange.
Replaces the 42 tooth cog on SRAM's XX1 and X01 cassettes with a 46 tooth cog for a massive 10-46 range
The 46t offers a true bail out gear, within ½ of a shift of SRAMs Eagle, and crisp shifting all while keeping the same tighter gear spacing further down the cassette
Going from the stock 42 tooth biggest cog to the GCX46 has the same effect as reducing your chainring size by 3 teeth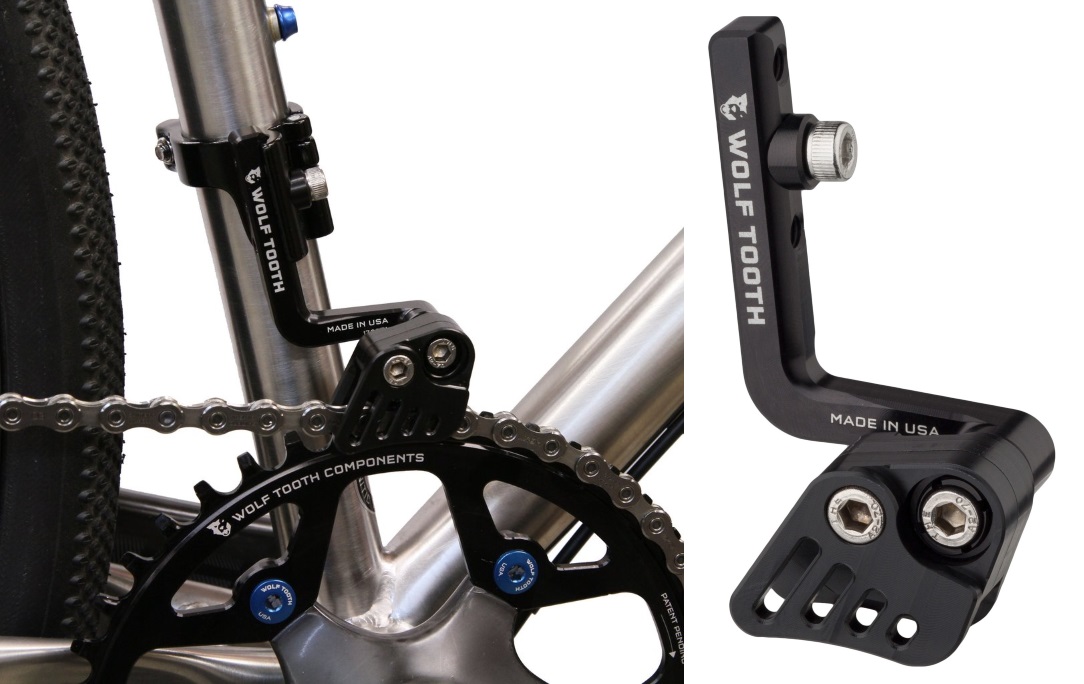 GnarWolf Chainguide
The updated GnarWolf braze-on chainguide is for 1X CX or road rider and was designed to work with both oval and round chainrings, keeping your chain secure even as the elliptical chainring radius oscillates up and down while pedaling. Even with chainrings that have the narrow wide teeth profile that offers excellent chain retention, sometimes things can go wrong, and a chain can come off. Whether it's due to riding on the rough and bumpy trails or when a chain gets jammed up with debris and mud, a chain guide provides extra security to keep the things in place. Their compact chain guide has an innovative design that requires no shims for chainline adjustment and works with 48 mm to 54 mm chainlines and standard and Boost bikes. The designed and made in the US guide is CNC machined from 7075-T6 aluminum and uses stainless steel hardware, and all adjustments can be made with a 4mm hex key. Retail for the chainguide is $69.96.
Braze-on, High Direct Mount, and Seat Tube Mount.
Previously only available in ISCG05 mount, now available in 3 other common mounts for road, gravel, CX, and mountain bikes with no ISCG mounts.
Gnarwolf is the easiest guide to set up with no shims needed for chainline adjustment.  We accomplish this by an expanding elliptical collet that allows the guide to slide in and out during setup with low torque locking it in place.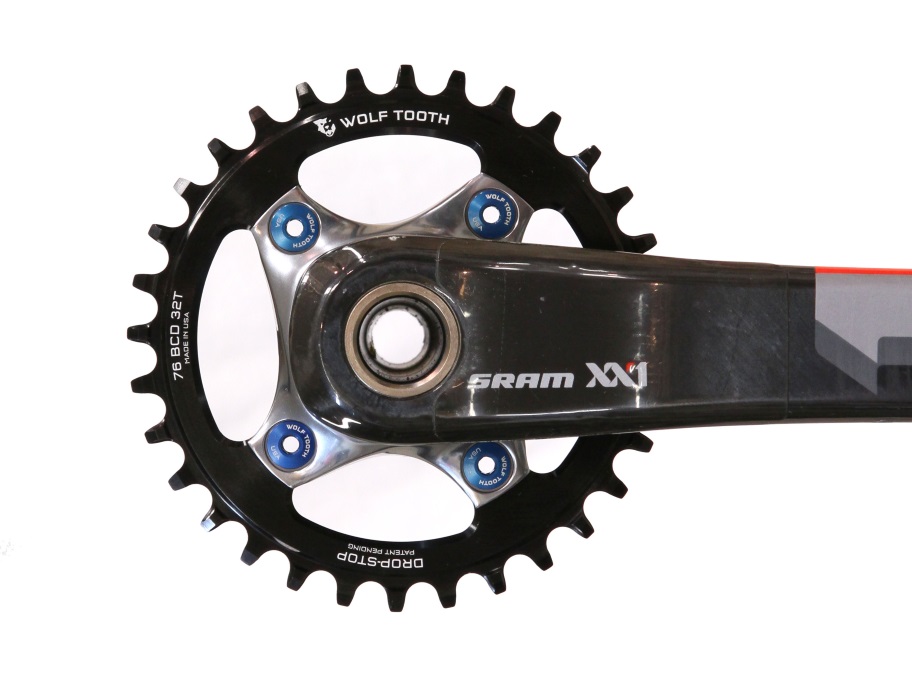 76 BCD Chainrings
The Wolf Tooth 76 BCD chainrings work great on any 76 BCD spider or crankset. These will replace the more expensive rings used on SRAM XX1 spiders or other manufacturer's spiders such as Cannondale. Also a great fit on the Specialized Stout crankset. Retail is $59.95 and comes in 30T and 32T sizes.
Replacement chainrings for SRAM's XX1 cranks and other OEM 76 BCD cranks (like Specialized Stout).  Note that the SRAM XX1 chainrings as is don't fit up to some of these OEM cranks due to the ring shaping.
Uses standard M8 chainring bolts so it compatible with ALL 76 BCD cranks (noting that the SRAM XX1 rings use an uncommon M8.5)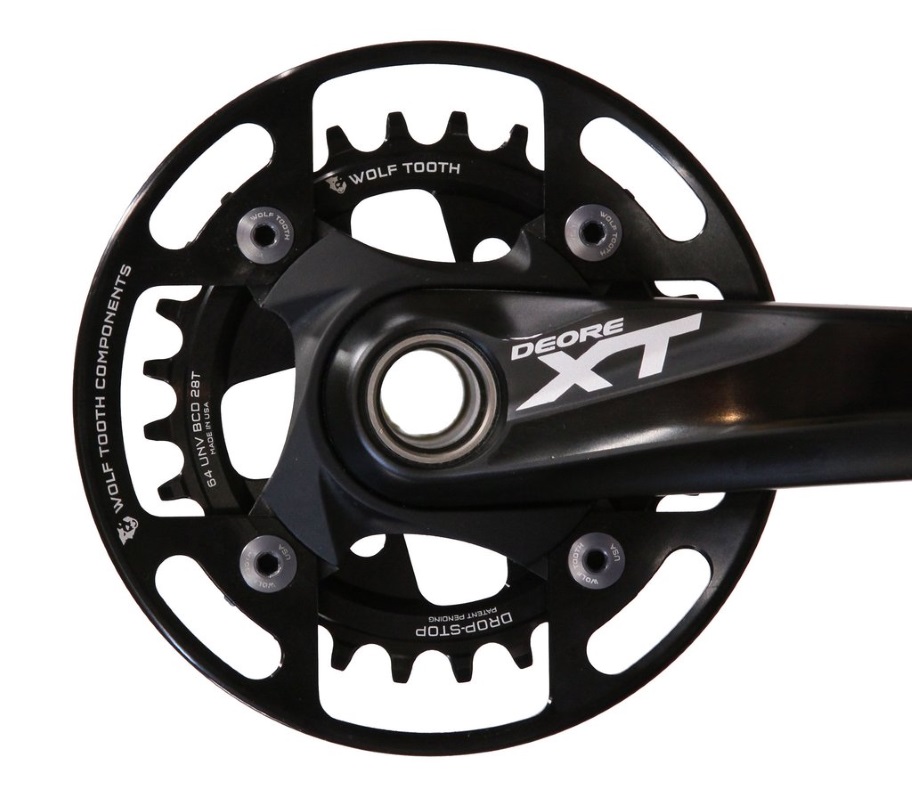 64 BCD Universal
The perfect solution when you need something smaller than a 30t on your 104/64 BCD or your 11-speed Shimano 96/64 BCD cranks.  Also, the look great when paired with our 104 BCD bash ring on a 104/64 BCD crankset! Retail is $63.95 and comes in 26T and 28T sizes.
An update to our 64 BCD chainring, so it works with the new Shimano 11 speed cranks in addition to the standard 104/64 BCD cranks.
 Previously, 30t was the smallest 1x chainring for the Shimano 11-speed cranks, but now riders can use 26t or 28t!
For additional information refer to wolftoothcomponents.com