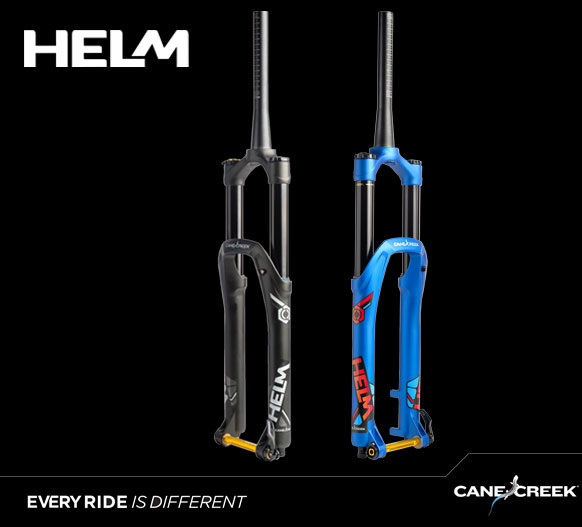 Cane Creek has just announced the release of the HELM fork. It's their first foray into the fork market, and the $1,100 component was designed for Trail, All-Mountain, and Enduro use. The HELM will initially only come in a 27.5″ size and can be internally adjusted between 100 to 170mm of travel by utilizing 10mm spacers. The air-sprung HELM weighs 2070 grams, has a closed cartridge mono-tube damper, 35mm Stanchions, a D-Loc 15mm axle and has 7-way external adjustments.
Cane Creek has not released any press information as yet, so scant information was available from their website for this post, so when more is available it will be updated.
Specs:
WEIGHT 2070 grams
DAMPING High-Speed Compression, Low-Speed Compression, Low-Speed Rebound
ADJUSTMENTS – 7-way adjustable suspension fork

High-speed compression
Low-speed compression
Low-speed rebound
Air volume adjust (8-position Internal indexed system)
Independent positive air spring
Independent negative air spring
Indexed travel adjust system

SPRING High volume positive and negative air springs
STANCHION DIAMETER 35mm
TRAVEL Positioned at 160mm from the factory. Optimized for 140-170mm of travel
TRAVEL ADJUSTMENTS Internal, 10mm Increments (170mm down to 100mm)
AXLE / SPACING / OFFSET "D-Loc" 15mm thru axle system / 15mm x 110 BOOST spacing / 44mm

Air Spring Technology
Give your bike the advantage it has always wanted. HELM's unique air spring system provides unmatched ride quality, traction, and accessory-free adjustability. The high volume air chambers allow for instantaneous off the top suppleness, superior mid-stroke support and unbelievable tracking.
Staying true to Cane Creek's ideology: #EveryRideIsDifferent. Our engineering team isolated both the positive and negative air springs; enabling the rider to independently control the air pressures and feel throughout the entire stroke of their fork.

Damper Control
With predictable control as the main goal of any rider's suspension setup, Cane Creek gives riders the ability to take the HELM. With 10 clicks of High-Speed Compression, 20 clicks of Low-Speed Compression, and 15 clicks of Low Speed Rebound no rock garden is too big or rut too deep. The HELM's damper system is a true closed cartridge mono-tube design, eliminating additional weight, providing excellent actuation, and designed around robust internal seals. Critically tested for the abuse today's top enduro racers consistently dish-out.
But Cane Creek, why isn't your Double Barrel technology applied to the HELM?
Helm is a completely new product from Cane Creek and therefore has a different approach to damping relative to our Double Barrel technology. Due to the leverage ratio of your bikes frame design, a rear shock can experience around 3 times the amount of force the rear wheel experiences. Whereas the forces applied to the front fork are not amplified by a linkage or pivoting system, the fork and wheel movement are directly connected by a 1:1 ratio.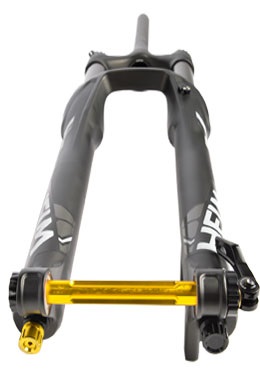 D-LOC Axle
HELM'S "D-LOC" axle system is unique to Cane Creek and a critical component for achieving the ride characteristics our engineering and test rider teams demand.  Through a key and lock design, the D-LOC axle maintains the course ahead while eliminating unwanted rotational and torsional forces that are normally transmitted to a fork's bushing and sealing surfaces.  On traditional axle systems, these forces create excessive stiction and binding which can lead to diminished performance during aggressive riding. Precision machining is used to shave weight, maintain strength, and ensure specified tolerances.  The preload adjusting nut, cam lever, and lock latch allow for simple adjustment and axle removal.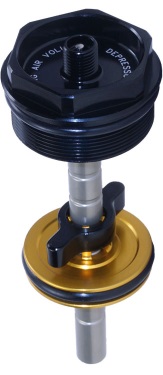 Volume Adjust
Ramp it up and "huck to flat" or keep calm and ride along; the choice is in your hands.  Or better yet the choice is in your HELM: with Cane Creek's indexed volume adjustment system.  No "bottom-out" spacers or volume adjusting bands to keep track of.  With an accessory-free, 8-position static piston the HELM can be DIALED in to handle any trail and any rider.
The versatility of Cane Creek's air spring does not end at the tuning process.  Cane Creek's engineers and product development team implemented pneumatic spring technology that allows riders to internally adjust the HELM's travel without the need to replace the air shaft assembly.  Helm forks are set from the Cane Creek Factory at 160mm of travel but are optimized for travel settings between 170mm and 140mm. Internal 10mm travel adjustment spacers (2x) are included with every Helm.