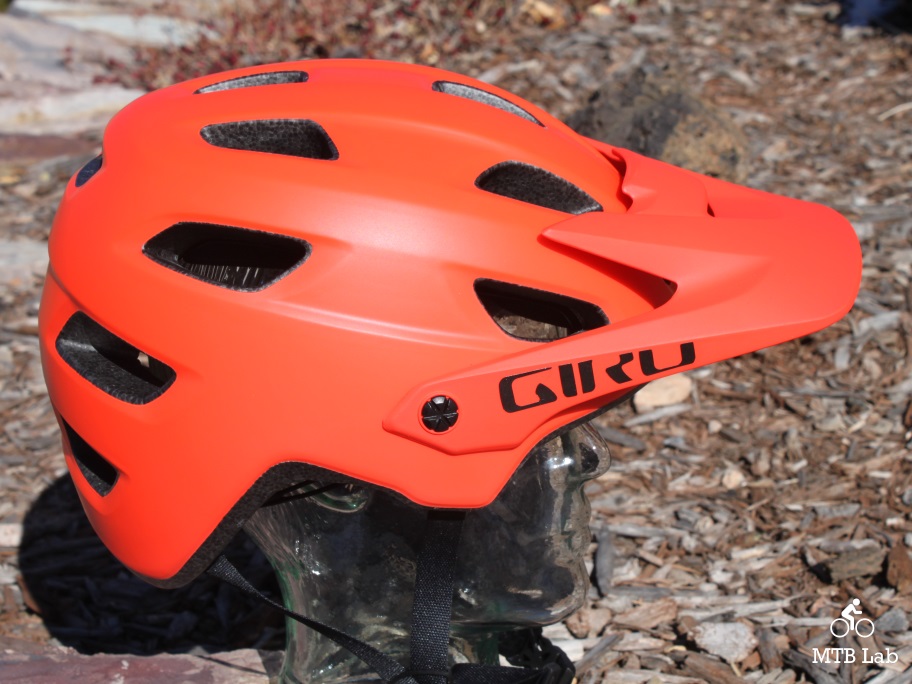 Giro released the new Chronicle MIPS helmet late last year and its light, comfortable and had a sweet $100 price point. The SHRED Soaza goggle is comfortable and fully featured and offers a slew of the interchangeable tinted lens. The impressive Bollé Aeromax comes with the crystal clear B-Clear lenses and a slew of unique features including the B-Max Extra Large Field of view technology.
Giro Chronicle MIPS
When your trail rides include technical descents and challenging climbs, the Chronicle MIPS provides all the essential performance and protection you need in an affordable package. It drafts off the design language of our premium Montaro MIPS helmet and offers many of our core features. Its compact shape provides broad, confident coverage, and the Roc Loc 5 fit system allows you to easily dial-in both fit tension and adjust vertical position with a single hand. The Chronicle MIPS is designed for goggle compatibility, and the P.O.V. Plus visor allows you to lift the visor and place your goggles on the front of the helmet. The Coolmax padding has great wicking properties, and it's extra plush to provide all-day comfort on the trail. The helmet was designed with MIPS, which redirects impact energy to give more protection in certain impacts.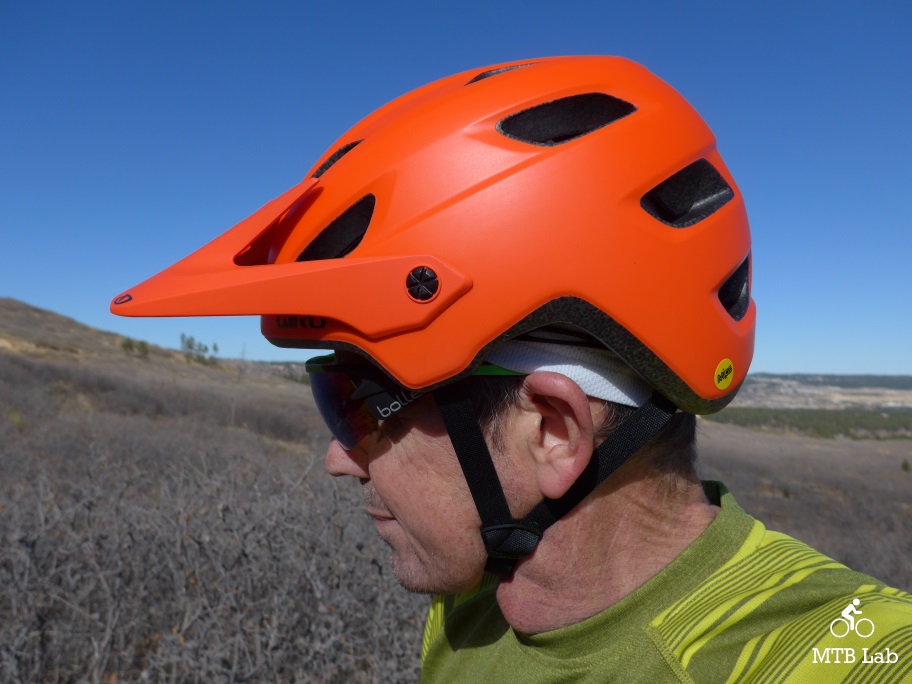 First Impressions
The affordable Chronicle is an All Mountain helmet integrated with the MIPS rotational protection system. The helmet offers excellent coverage over the ears and down over the neck, and the interior padding was soft and plush, though it lacked adequate padding on the rear retention system. The 14 vents did a decent job porting the air straight through, but it wasn't the best at cross ventilation, so I sometimes found the helmet got just a bit warm. The Roc Loc 5 rear floating retention system with its ratchet wheel design worked well and provided a secure and stable platform for the back of your head. The small wheel and its tucked in design made it difficult to adjust on the fly, but it wasn't needed since I tended to tighten or loosen the system before drastic terrain changes. The chin straps sliding adjustment system by the ear was stable and never loosened on me, and the rear strap nicely tucked behind my ears, so it was unobtrusive. The chin strap system utilizes a quick release buckle and locking clasp for the strap, and although it took a little effort to get adjusted properly and snake out the strap to the required length, it stayed in place one it was closed down and never moved. I did find that the buckle was hard against my skin and caused a minor amount on irritation and annoyance, though it wasn't so aggravating that I had to loosen the straps (add some padding?). The P.O.V. Plus visor offered an enormous amount of coverage blocking the sun, and it had notched adjustable positions to change its viewing angle.
Features

Deep coverage
P.O.V. Plus visor
Extra plush Coolmax padding
MIPS equipped

Construction – In-mold polycarbonate shell with EPS liner
Fit System – Roc Loc 5
Ventilation – 14 Wind Tunnel vents with internal channeling
Six Matte colors – Olive, Grey, Blue, Black, Lime, Vermillion
Three sizes- S, M, L
MSRP – $100
For further information refer to giro.com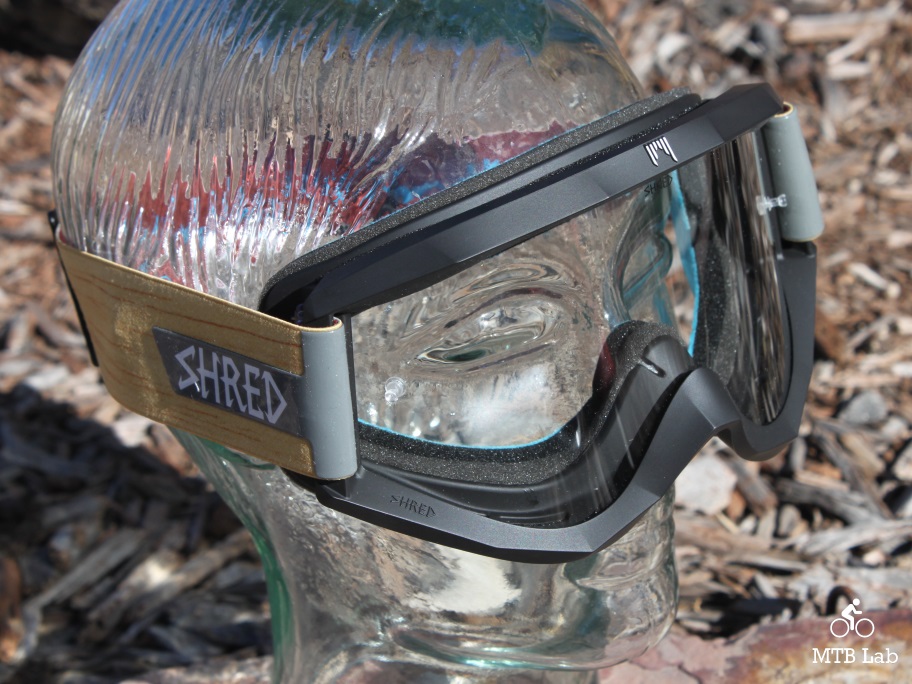 SHRED Soaza Goggles
The SHRED Soaza frame is the mother of all of our technological progression. Wide lenses with built-in tear-off pins inside flexible frames provide optical precision and easy-to-change lenses for optimal performance in varying light conditions. Soaza frames are comfortable, tough and made of the highest quality thermoplastics. Select Soaza models are equipped with patented NODISTORTION lens technology to enhance performance during drastic changes in altitude, and all base lenses are pre-treated with Premium ANTI-FOG solution for long lasting performance tested in the harshest winter conditions, as well as SHRED NOCLOG technology.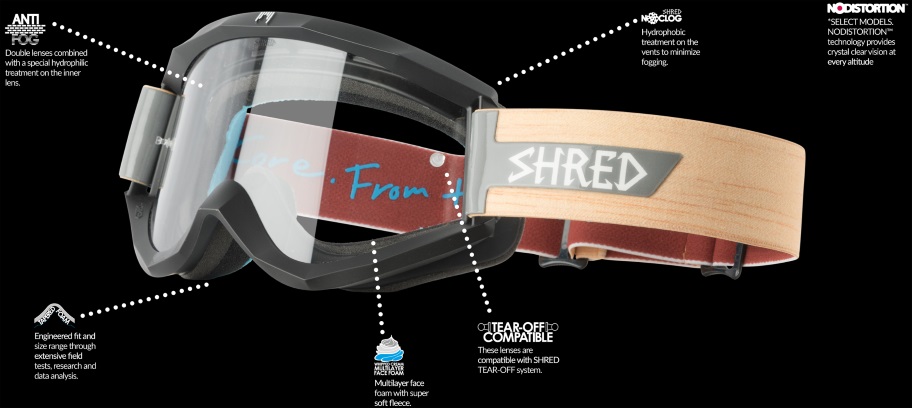 First Impressions
The Soaza are an exceptionally comfortable goggle and offer up an excellent panoramic viewpoint, especially on the outmost portion of your peripheral vision. I am looking forward to using these goggles a bit more during the Spring. Besides the single clear lenses that came as a default with the goggles, I got double lenses in a Platinum Reflect Caramel/Silver Mirror which offer medium bright light coverage.
Additional Features
Universal helmet compatibility
Ergonomic frame design
Grip on straps
100% UVA UVB UVC protection
For further information refer to shredoptics.com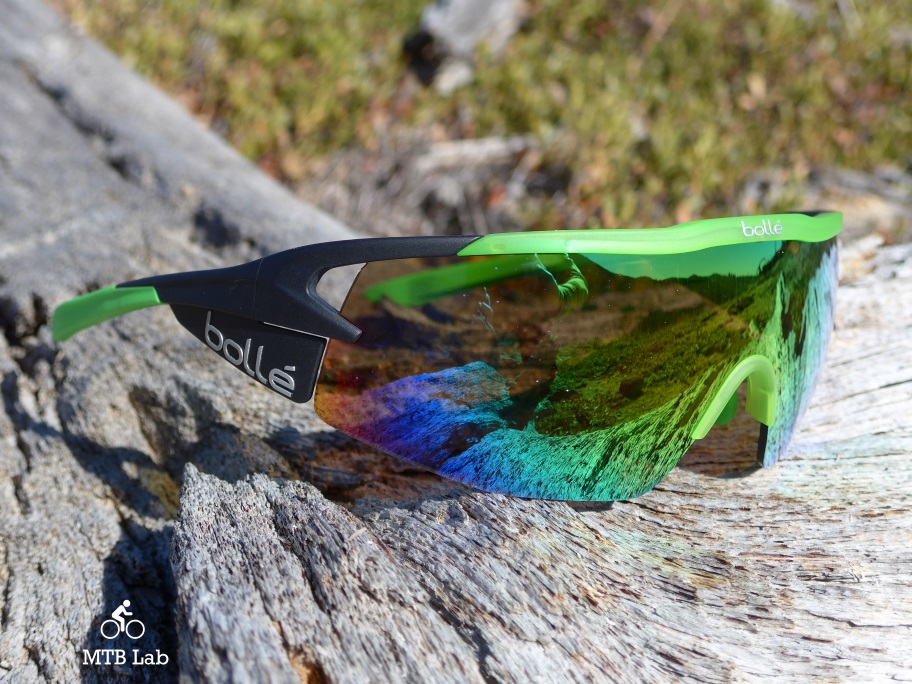 Bollé Aeromax Sunglasses
Featuring B-Max technology for wide horizontal and vertical fields of vision, AEROMAX sunglasses maximize comfort and airflow providing unique vision. The Thermogrip temples and adjustable nose pads offer a perfect fit and stability on the face. This new model is also equipped with Bollé B-Clear lenses based on a Trivex NXT structure for exceptional optical quality, featherweight lightness and maximum resistance to impact and the lens also offers hydrophobic and oleophobic coatings so that drops of water are dispersed, and dirt and smudging are virtually eliminated.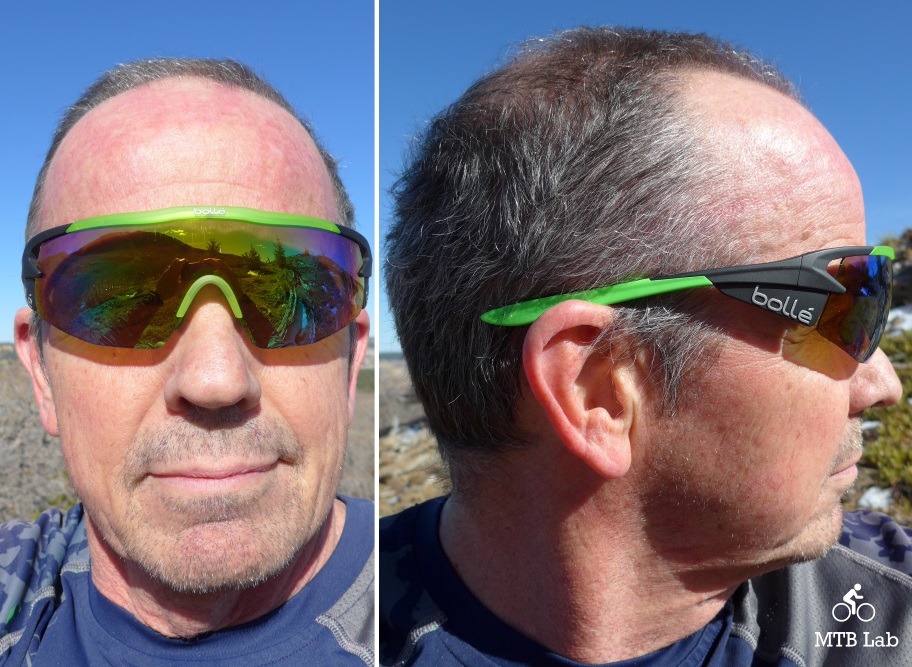 First Impressions
The Aeromax is an excellent pair of sunglasses, and they're comfortable, fog free, durable, light and offer exceptional optical clarity. The lens shape and size provides full coverage and an excellent field of vision, and the built in side shields provide sun and wind protection while the frame is comfortable and has an anti-slip ear and nose pieces. The wind protection was adequate but wasn't on par with their superb 5th Element. The curve of the temples and the Thermogrip anti-slip rubber shock absorbing nose and ear coverings, keep the sunglasses stuck to my head no matter how rough the terrain tossed at me. They're lightweight and comfortable, with a great fit and feel, and the soft nose and ear pieces are adjustable so they can be easily fine tuned. The Brown Emerald lens of the model I tested offers high-contrast brown photochromic lenses with a multilayer blue-green mirror that reduces dazzle in high luminosity conditions. I found it an excellent coloration and lens out in the open and on bright days, but it was a bit too dark in the thick trees.
B-MAX Extra Large Field of view
B-CLEAR lenses
B-SHAPE Temples
B-THIN Active Design RX
Interchangeable lenses
Adjustable nosepiece and temples
Optical precision
Remarkable impact resistance and protection
For additional information www.bolle.com