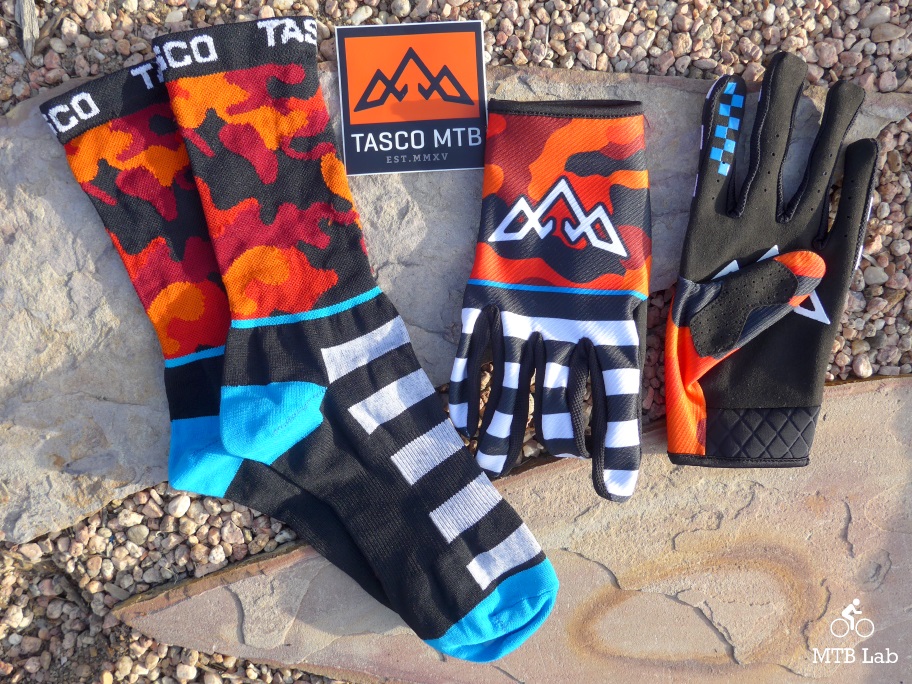 The wild new Tasco Double Digits Collection offers functional and comfortable socks and gloves, while the long sleeved Pearl Izumi Big Air Jersey provides the sun and arm protection. The Funkier Bike Policoro Shorts have an integrated chamois liner and a long Enduro cut.
TASCO Double Digits Collection
TASCO has been busy lately, and they're proud to release the bold new Double Digits Collection which consists of a matching set of gloves and socks. Not only do the kits have fun wild color schemes, but they utilize high-quality materials and highly functional features. The collection covers all 20 of your digits with comfort and performance and technology. The gloves have a great blend of fit, breathability, comfort and style along with good durability. The socks utilize COOLMAX and Lycra to offer excellent wicking properties along with a reinforced outer layer of nylon to make them tough. The Double Digits Collection comes in four colors, Red Camo, Black Flag, Blue Check Mate and Blue Bike Bits, and retails for $44.98.
For further information refer to tasco-mtb.com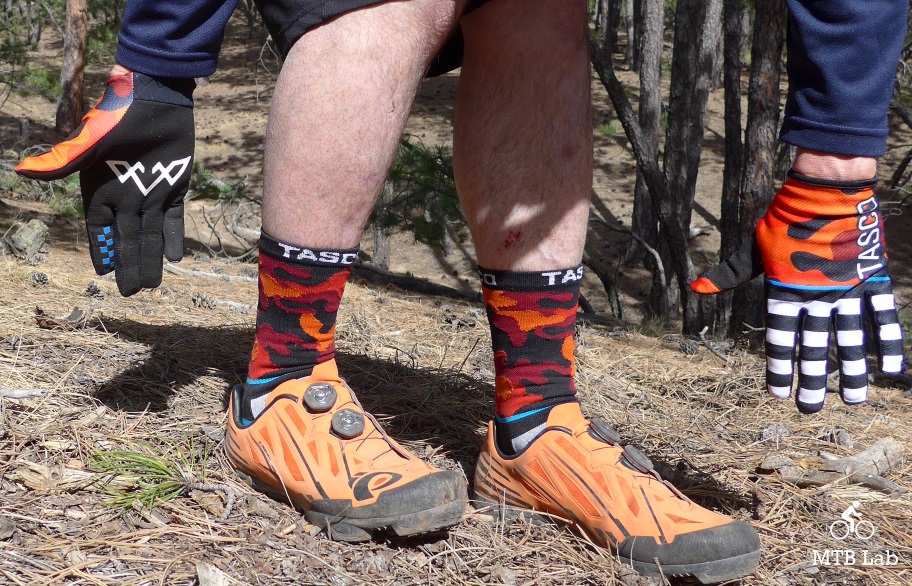 Thoughts => The slip-on gloves are extremely comfortable and are thin enough for good tactile feel, with a nice silicone tip on the control finger. The stretchy mesh back offers excellent bendability and breathability, so I never felt like my hands got sweaty, even on hot days. I have picked up rocks and tree branches and have taken a few diggers, and so far they've been durable. The socks are comfortable and stretched in all the needful places without any bagginess.  I loved the wild boldness of the Red Camo color scheme to go along with such an incredibly comfortable and functional pair of gloves and socks.
Gloves
Lightweight 4-way stretch construction making you think your hand is naked!
Velcro-free neoprene enclosure leaving you no excuse for not washing them after every ride
Conductive material throughout the glove to ensure you don't miss that trail-side photo
Better contact with your controls from the single layer synthetic leather palm
Increased control from silicone printed accents on the finger tips and palms
Large pore mesh panel on the side of each finger for better ventilation
Micro-fiber handkerchief wipe on both thumbs for removal of those pesky snot rockets
Last but certainly not least…BOLD new graphics that are in sync with your Double Digit socks, to keep you grinning all ride long!
Men's Sizing (XS-XXL)
Socks
Blend of COOLMAX, nylon, and LYCRA to keep feet dry, comfortable, and cool
Upgraded sole-support holds the sock in place eliminating slippage-induced blisters
Super strong nylon knitting in high-wear zones for lasting durability
Air-sole-mesh for maximum breathability
Flex-zone mesh panels to ventilate high movement areas of the foot
Last but certainly not least…BOLD new graphics that are in sync with your Double Digit gloves, to keep you grinning all ride long!
Sizing (S/M & L/XL)

Pearl Izumi Big Air Jersey
For the rider who always goes big, the Men's Big Air Jersey is an eye-catching mountain bike jersey that boasts comfort and performance.
The Big Air Jersey was a new item for them last year, and it's pushing them from their cross country roots to the Enduro and All-Mountain world. The long sleeved jersey offers excellent sun protection, and the open mesh design has great ventilation. It uses a 100% Polyester Transfer fabric for increased moisture management, so you stay drier and includes a small functional sunglass wipe. The jersey is cut with a roomy and relaxed fit, making it comfortable to wear during any riding. It comes in xs, s, m, l, xl and xxl sizes, Blue Mist/Eclipse Blue and Avocado/Citron colors schemes and retails for $60.
Thoughts => I like the cut of the Big Air Jersey as it feels relaxing without being too baggy. The material offers lots of ventilation and has excellent wicking properties. I appreciate the sun and abrasion protection long sleeved design offers, plus the colors and patterns are cool.
Specs
Transfer fabric provides optimal moisture management
Screen printed graphics
V-neck collar design
100% polyester
For further information refer to pearlizumi.com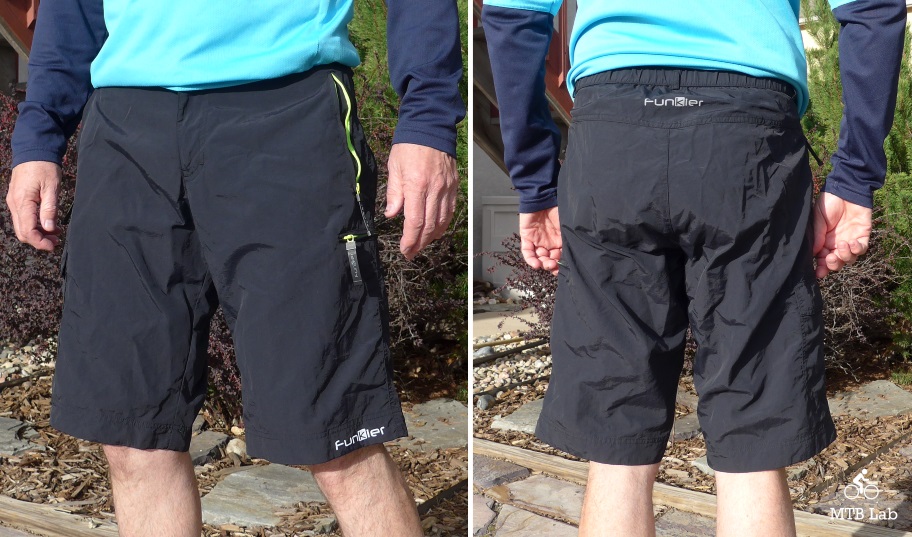 Funkier Bike Policoro Shorts
From bike to desk……the Policorco is a fabulous, understated lined baggy short that takes you from your morning commute or trail straight to your desk. Constructed from a breathable, water-resistant nylon weave, these shorts have a comfortable off bike style that stays with you long after your morning spin. It comes in Black, and s, m, l, xl, 2xl and 3xl sizes and retails for $49.95.
Thoughts => The shorts have a nice long cut that comes down over the knees, which provides light protection and helps them work with armor. The multiple zippered pockets offered lots of storage and security so items didn't accidently pop out. The chamois liner is permanently attached to the shorts which made it work in synergy so it never felt like things became sloppy. Although the button waist closure was secure, I did find it annoying to use, making it frustrating sometimes to take them on and off. 
Specs
100% Teslon nylon
2 mesh lined zippered front pockets, one mesh lined side zippered pocket, one side cargo pocket
Mesh liner with chamois
Elasticized waist with built in lacing
Reflective neon trim on hem underside folds up for added visibility
SG6 loose fitted (liner) leg gripper