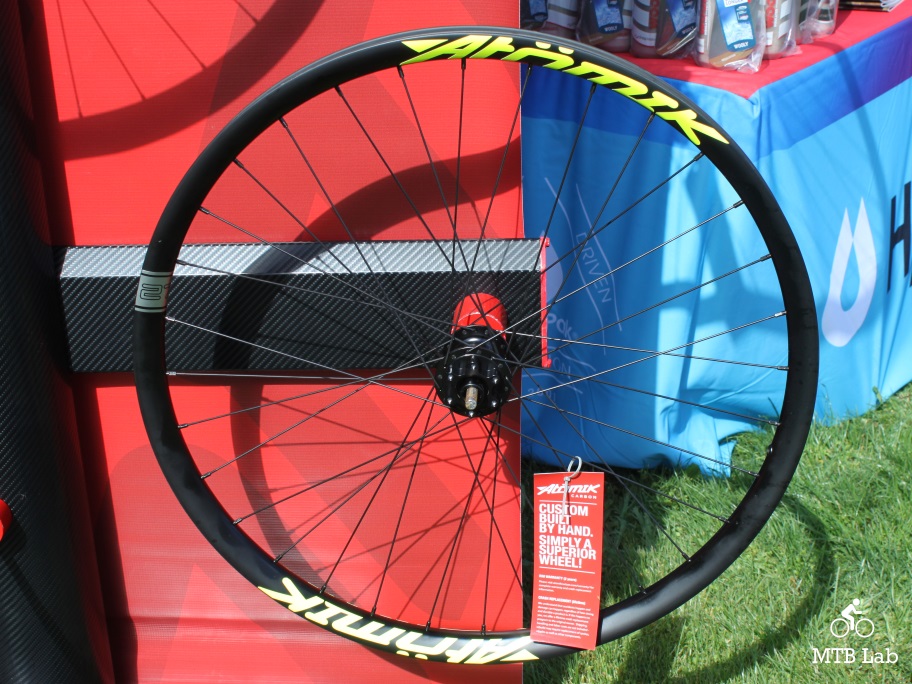 Atomik Carbon was showing off their new burly AM 35 carbon rim, their foam cored carbon Phatty 85 and Chubby 43 rims, their carbon bars, and the Magnadrive Hub, which is a magnetized freehub featuring virtually zero drag. All of the rims are available separately or as handbuilt wheel builds.
AM 35
The new AM 35 is Atomik Carbon's burliest All Mountain and Enduro rim that they have designed and it's perfect for the hammering rugged terrain on mid-travel to long-travel bikes. Atomik's trusted hookless profile featuring oversized 3.5-millimeter sidewalls has been stretched to a 35-millimeter rim design boasting an interior width of 28 millimeters to accommodate high-volume and WT tires for optimal footprint and traction and crafted from an entirely new layup that favors strength and stiffness over shaving grams. Directional drilling aids in alleviating the additional stress placed on the nipple/spoke bed interface.
The rims retail for $435 each and a variety of wheel builds start at $1350 in 27.5″ and 29″ sizes.
Specs
Sizes: 27.5, 29
Depth 24mm
Width – O.D. 35mm
Width – I.D. 28mm
Hookless Sidewall 3.5mmWeight 460g +/- 20g
Spoke Drilling 32 – Directionally Drilled

PHATTY 85 and CHUBBY 43
These are the only rims on the market featuring an aerospace grade foam core, which utilizes their HDP Foamcore Solowall tech. Atomik Carbon's fat and plus offerings couple an incredibly low profile (16.2mm and 15mm respectively) with low weight and high strength. Carbon's natural damping qualities combined with the foam core also results in unmatched ride quality and impact resistance.
Foam Core Technology
The Chubby rims feature an aerospace foam core wrapped in a layer of composite material that is molded into the structure, creating a pseudo-semi wall rim that boasts increased impact strength, energy dissipation, and stiffness (illustrated above) while adding additional damping characteristics. The rim exterior is skinned with a custom blended impact-resistant layer of 12k weave carbon for additional protection and strength. An added benefit of the extremely low profile of the rim is a greatly reduced surface area. This ultra low profile reduces the amount of rim surface that is exposed to sidewall impacts and trail debris, therefore limiting the exposure of the rim to damage.

I love the weave pattern on the rims. I'd love to try a set of the Chubby's on the rear of my Mojo HD3 27.5 Plus bike!
Specs
Chubby 43

Depth 15mm
Width – O.D. 43mm
Width – I.D. 36mm
Bead Width 3.5mm
Weight 470g +/- 15g

Phatty 85

Depth 16.2mm
Width – O.D. 85mm
Width – I.D. 77mm
Bead Width 3.5mm
Weight 590g +/- 15g
Magnadrive Hub
Looking to further the performance and innovation of its wheel line, Atomik Carbon is introducing its very own magnetized freehub featuring virtually zero drag coupled with smooth, quiet operation, and durable, low-maintenance, easy to service internals. It was evident seeing how low the drag was when I spun them at the show. It uses a common ratchet system like DT Swiss hubs but the ratchets are engaged using magnetic force instead of a spring, which is supposed to reduce drag compared to traditional designs.
About Atomik Carbon
Atomik Carbon represents the latest technological advances in carbon-fiber bicycle performance products. Engineered from the ground up to be stronger, lighter and faster, Atomik Carbon wheels and components are engineered for precise handling, exceptional strength and superior ride quality that simply must be experienced. We live for the ride, and we believe no single upgrade can improve your ride like a premium wheelset, so we set out to make the best you can buy at a price you can afford. Learn more at AtomikCarbon.com