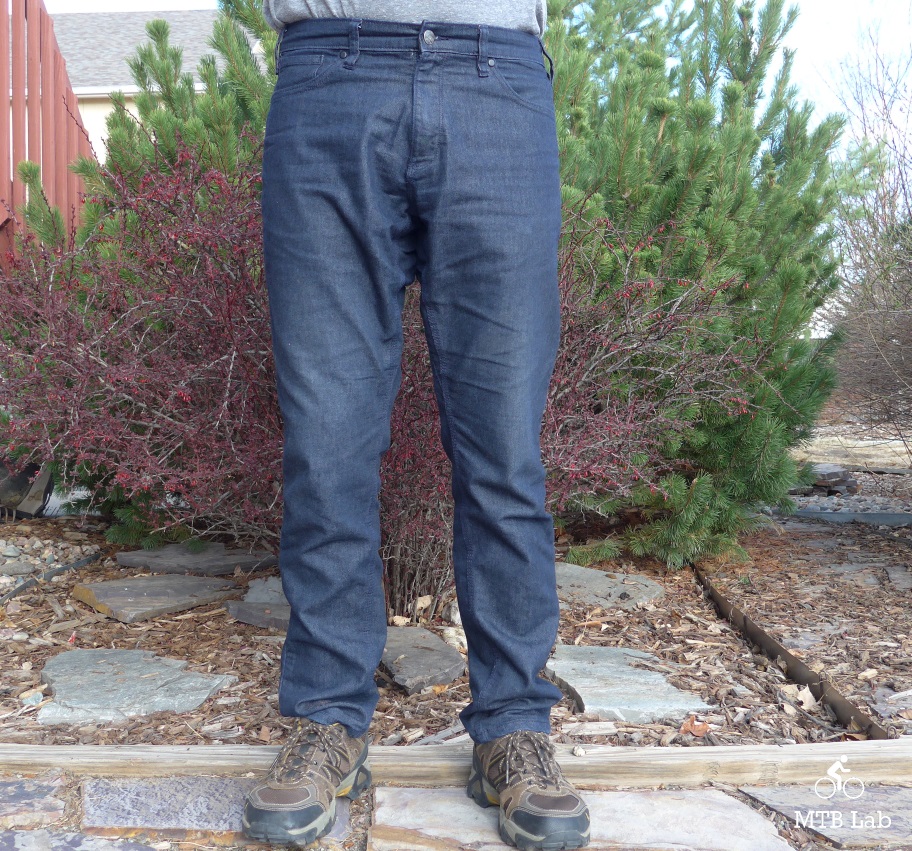 Swrve makes a variety of apparel products, but their claim to fame is their active lifestyle Cordura jeans. The comfortable jeans come in skinny, slim and regular cuts and the fabric is rugged and stretchy. The clean looking jeans offers up durability, performance, functionality and style making them perfect to withstand the active lifestyle, such as bike commuting. The CORDURA fibers woven into the fabric makes the denim super durable and along with oodles of stretch it offers an ease of movement, and the soft feel of cotton next to skin provides plenty of creature comforts.
The Slim Fit Cordura Jean I tested retails for $100 and come in Indigo and Black colors and a slew of sizes. For further information refer to swrve.us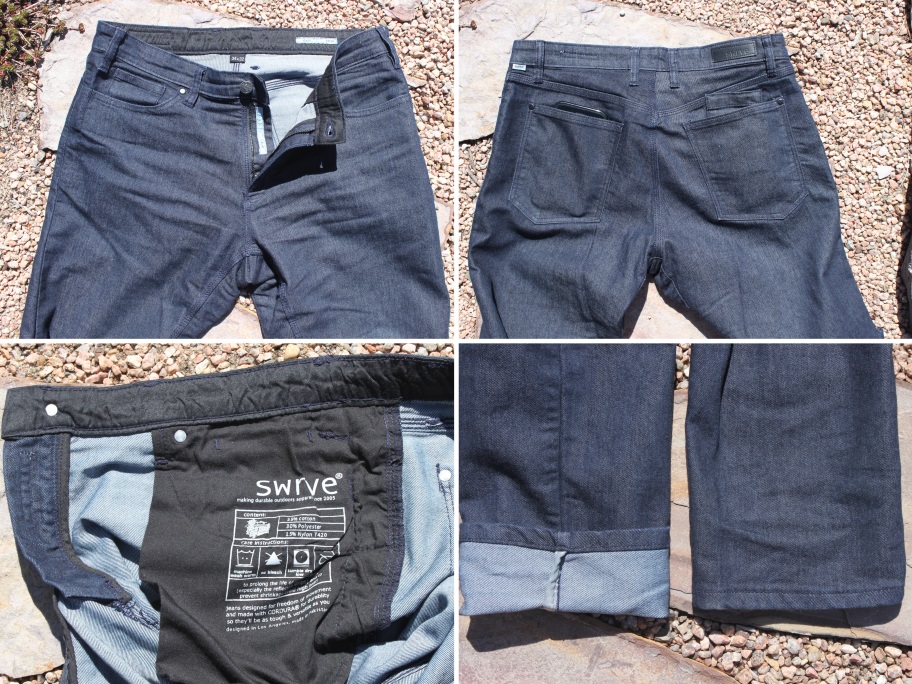 Features
It's made with Cordura Denim which is extremely durable, and it held up to more than 250,000 abrasions rubs vs. regular 100% cotton denim held up to between 25,000 to 75,000 rubbings. Comprised of 55% cotton, 30% polyester, and 15% nylon T420, they utilize a triple chain stitch on high-stress areas of the jeans for increased strength and durability. For biking functionality, they feature a seamless diamond gusset in the crotch for comfort and maneuverability, have a low front waist to avoid digging into your stomach and have a high back for coverage and warmth. The legs taper down at the bottom, and when the hem is turned up, they have an outer reflective strip for safety. It has two front hand pockets and two large rear pockets, and the right side front and back have smaller inner accessory pockets, along with two pen/pencil pockets on each hip. They use a high-quality YKK metal zipper and a button fly and have rivets at high-stress locations for reinforcement.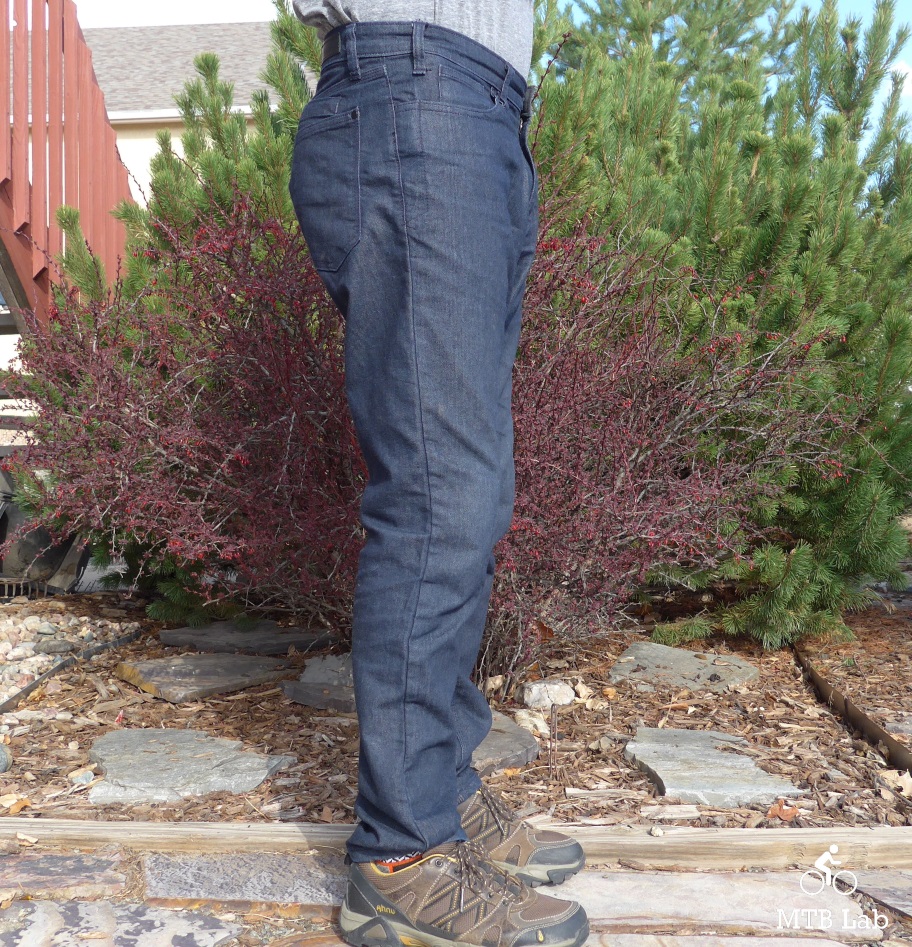 Impressions
The Slim Fit Cordura are a darn comfy pair of jeans with plenty of stretch in the proper places for the utmost in movement. Along with the stretchiness and seamless gusset in the crotch they provided a great fit when sitting on the saddle, squatting and doing high maneuverability activities. The slim fit and taper down the leg offered up interference free issues while pedaling and if needed they roll up nicely and include a 3M Scotchlite Reflective material sewn on the inner seam.
I never had any problems with the hem getting grabbed by the chainrings or brushing along the crank arms. Even though the knees didn't have any articulation points, the cut of the jeans and the stretch of the fabric didn't restrict movement and never caused any binding issue while pedaling and bending my knees. The lower cut at the front felt odd at first, but it makes sense when hunched over on a bike since it prevents them from poking you in the tummy. The extended back was welcome since it not only covered things, but it kept you warmer in cooler weather and prevented errant drafts.
Even after an extended period of use, multiple washings, heavy bike use, working in my home shop, doing yard work and performing other outdoor activities the jeans haven't shown any signs of wear and tear. The addition of Cordura made for a more robust and durable pair of jeans, yet the standard cotton content still offered up softness and comfort against the skin. The addition of the Cordura means they're a bit thinner and lighter than most standard cotton denim jeans.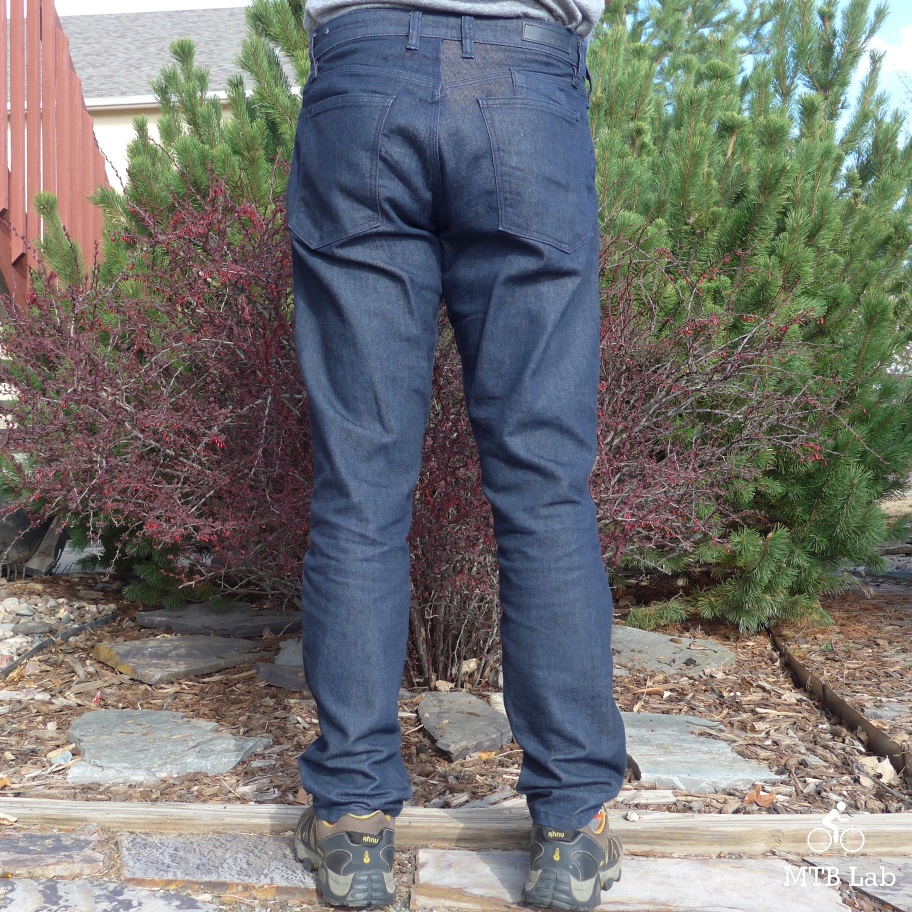 One of the odd things is that for some reason the front of the jeans have a sort of baggy cut like it's made for an enormously significant groin, and I am not sure if it has some function for biking or comfort? The butt is also baggy while standing up, but once you're bent over on a bike then everything stretches correctly into place, so the design makes perfect sense.
I liked the deep and wide back pockets, and they even fit my huge iPhone 7 Plus smartphone! The small accessory and pens pockets seem a bit superfluous to me, and I never used them at all, in fact, I tended to catch my fingers when reaching into the back pocket. It has eight belt loops which help keep a belt consistently wrapped around the waist without any droopy sections.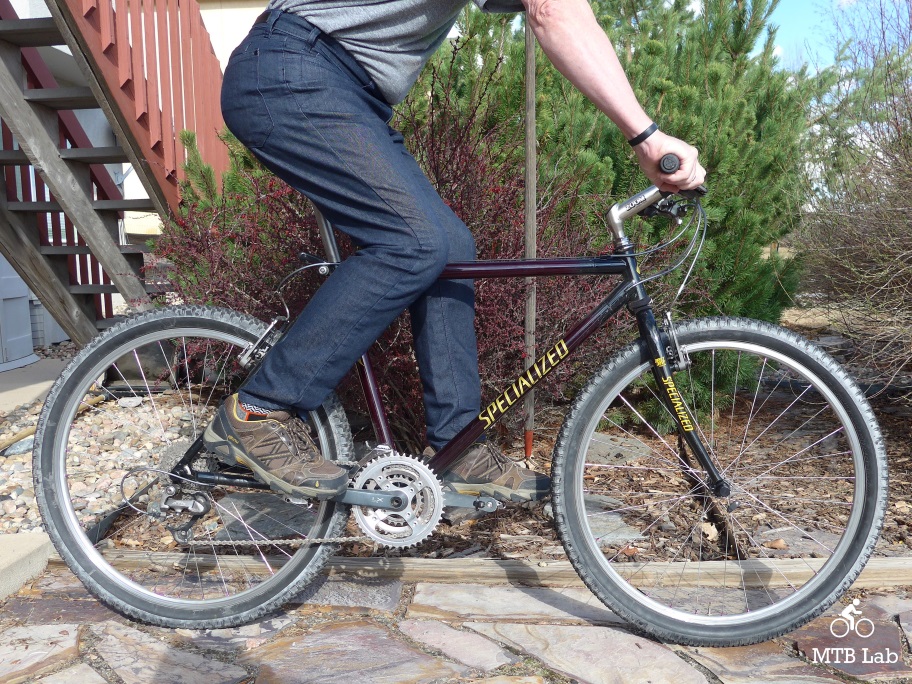 Bottom Line
The Swrve Slim Fit Cordura jeans are stylish, comfortable and durable. The stretchy fabric and gusseted crotch along with the tapered legs make for an ideal bike commuting pair of jeans. They're perfect for biking, hiking, yard work and any outdoor activity where abrasion resistance and unrestricted movement are paramount. The combination of Cordura with its robust nylon and the soft against the skin cotton make for a long wearing pair of apparel that is uber comfy.