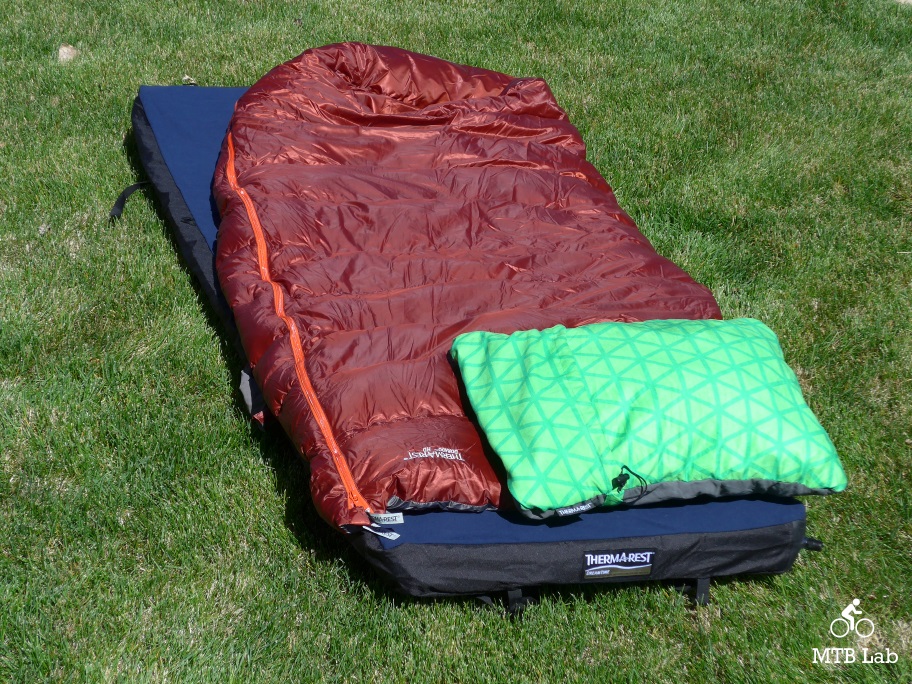 Therm-a-Rest Sleep Systems: Rest Better For Every Adventure
Therm-a-Rest offers an array of mattresses, sleeping bags, blankets, quilts, sheets, and pillows that are designed to work together to create a more efficient sleep system. The pieces can be mixed and matched for different scenarios, whether you're thru-hiking, winter camping, or out to party.
You can focus on Camp & Comfort (Party Camping) with the thicker mattresses and wider bags, the Ultralight Backpacking (The Ultralight/Thru-Hiker) with lightweight and compact gear and for the intrepid Winter camper the warmest mattresses and bags. Pick and choose what fits your lifestyle and activity use! For this test and review, I tried out the luxurious DreamTime mattress, the Dorado Duo HD sleeping bag with a full cut, and the Compressible Pillow.
For further information refer to thermarest.com
Sleep System Suggestions:
The Ultralight/Thru-Hiker

NeoAir XLite (R) + Synergy Sheet (R) + Corus HD Quilt (R) + Down Pillow
2 lbs 13 oz (without pillow + sheet = 2 lbs 5 oz)

The Winter Camper

RidgeRest SOLite + NeoAir XTherm + Altair HD + Corus HD + Down Pillow

Party Camping

Alone

MondoKing 3D + Dorado Duo HD + Compressible Pillow

With Company

2 x MondoKing 3D + 1 x Dorado Duo Coupler + 1 x Dorado Duo HD + 2 x Compressible Pillow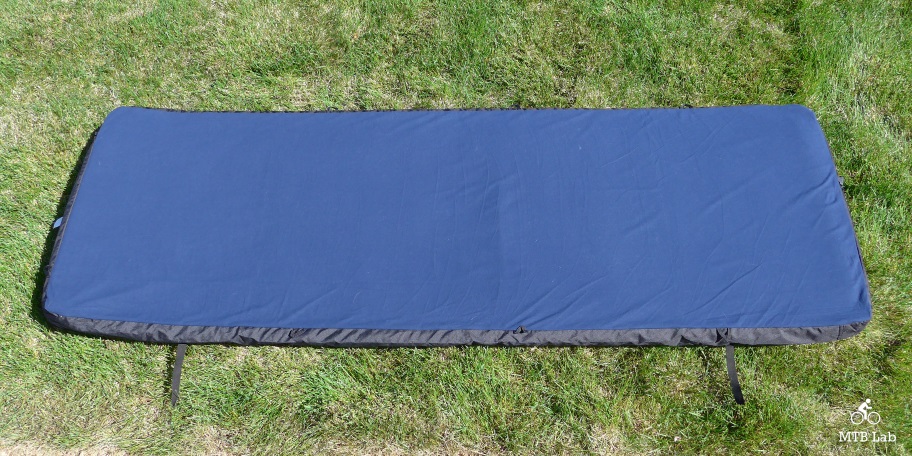 DreamTime
The ultimate in outdoor sleep comfort.
DreamTime is back! This tried and true favorite is adored by many for its superior comfort, great stability, and ease of inflation. A great pick for skeptics who are looking to ease into the idea of sleeping outdoors, the plush comfort of the DreamTime will get you hooked! On the outside, a machine washable cover features a soft, microfiber top that makes it easy to brush off pine needles and other debris while providing superior next-to-skin comfort. Inside is an internal pillow topper with contour-hugging foam providing an additional inch of loft, and a 2.5-in thick self-inflating mattress core, providing the ultimate night's rest away from home. Whether you're decking out the back of a pick-up for a road trip, or just living large on a weekend outdoors, the DreamTime mattress system delivers portable comfort like nothing else.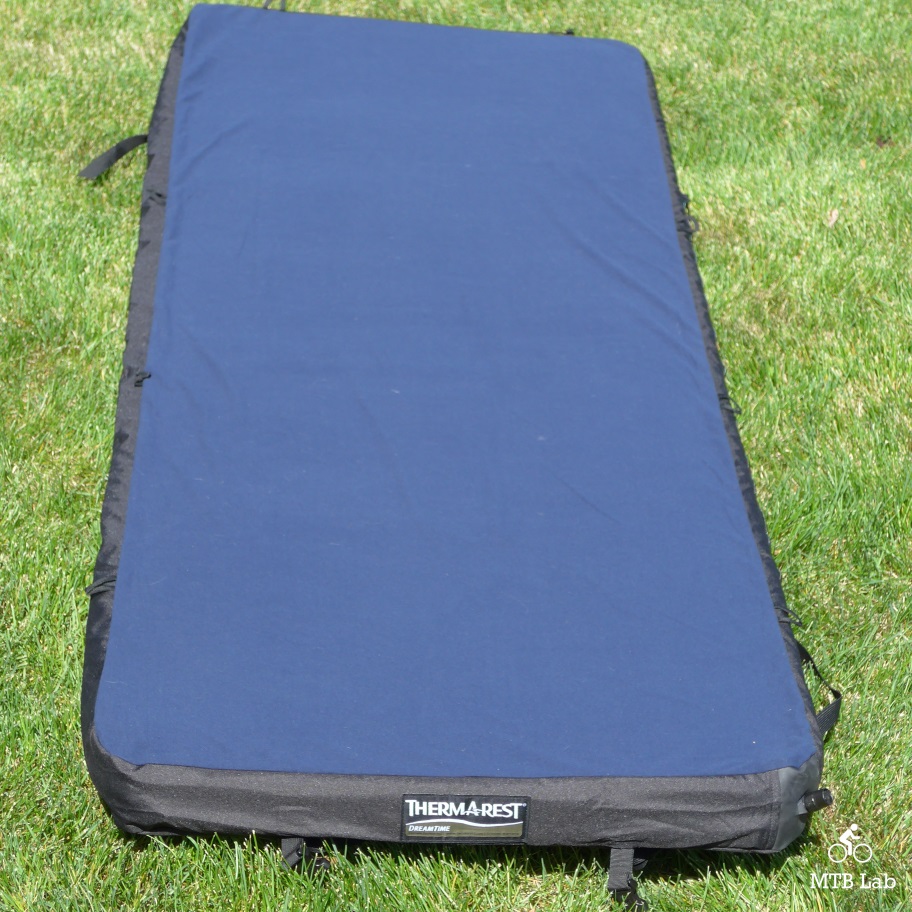 Thoughts => I slept on this for a couple of nights at my house, and this is a highly comfortable mattress. I slept well throughout the nights and never felt like I was on an inflatable mattress system. The design of the fleece cover, foam pillow top, and the underlying inflatable mattress worked in synergy to offer maximum comfort. I did find I had to add a lot more breaths then their instructions stated, but it was much less than my old CampRest required. I am looking forward to using this out camping, whether that's in the back of my truck or at a campsite. I found it to be darn luxurious!
Specs
Luxurious 3-Layer System: Self-inflating mattress, foam pillow top, and plush fleece cover.
Premium Comfort: Foam core offers premium stability, warmth, and support.
Self-Inflating: Compressible foam core expands to inflate; add just a few breaths for your desired firmness.
Modular: Protective cover is removable/washable, and interior mattress can be used separately. Mattress core is 2.5in thick with an R-Value of 6.
Connect Two: Integrated straps mate with another DreamTime mattress for double-wide luxury.
Sizes: Large $199.95 and X-Large $229.95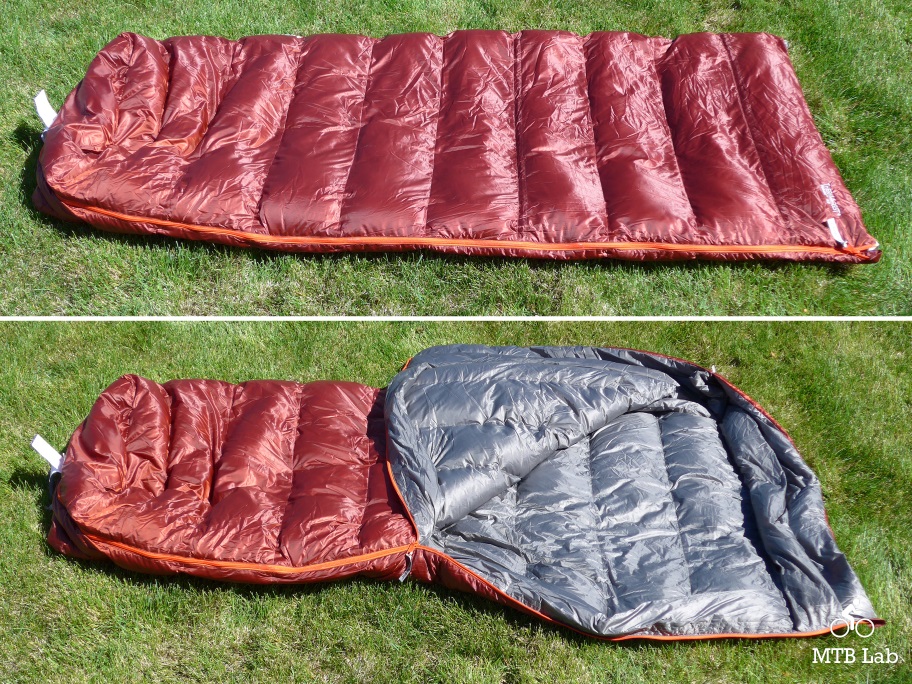 Dorado Duo HD
Versatile, semi-rectangular bag or quilt for solo or two-person use.
Whether going for a summertime sail and hike, or yurt camping with your favorite travel companion, the Dorado Duo HD has you both covered in comfy warmth. Part of our Camp & Comfort Series, the Dorado is a great warm weather sleeping bag that uses traditional semi-rectangular shaping to create extra room and added comfort while its versatile design offers double use as a bag or as a quilt when unzipped completely. Nikwax Hydrophobic Down provides added loft without bulk, and ThermaCapture seams capture warmth.
Thoughts => I slept in this for a couple of nights at my house using it with the DreamTime mattress. I found it roomy, and it provided comfortable space in all the proper locations, so I never felt cramped, even when turning over during the night. It was plenty warm, and I am looking forward to trying it out in colder temps while camping outdoors. The bag packed down small, and the Nikwax Hydrophobic Down didn't seem to absorb any body perspiration from nightly usage.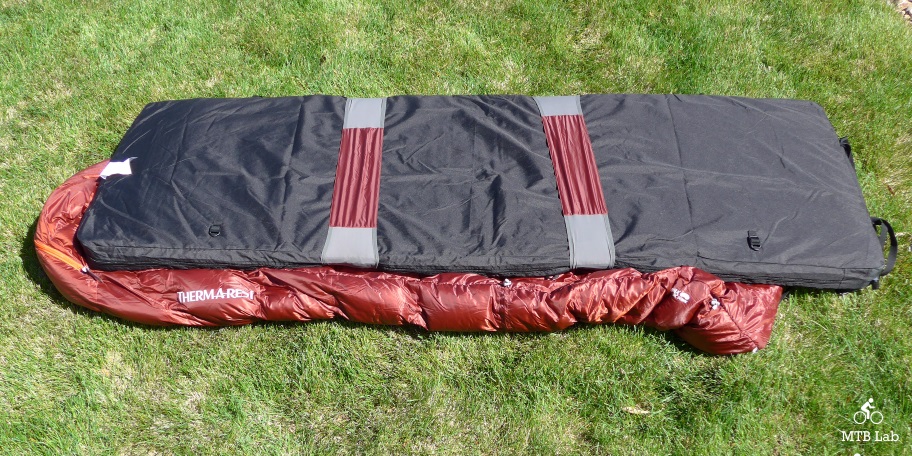 Specs
Versatile: Use as a bag or unzip completely flat for use as a two-person quilt.
Mateable: Mates with another Dorado HD using outside zippers (versus a center seam zipper) for easy entrance/exit when setting up in the two-person configuration.
Reliable Insulation: Lightweight, 650 fill Nikwax Hydrophobic Down packs small and stays dry longer and dries faster than regular down; ThermaCapture seams help trap radiant heat for added warmth.
Removable SynergyLink Straps: Connect with your mattress to keep you on it all night, or remove them when mating with another bag.
$289.95
Compressible Pillow 
Comfortable, compact travel and camping pillow.
Our popular Compressible Pillow is perfect for everyone from international travelers to car campers. It's soft, foam filling packs small and expands big, with the XL size measuring a generous 16.5 x 27 in. (42 x 67 cm) for home-like comfort wherever you are.
Thoughts => The pillow feels lumpy, but once I placed my head on it I never noticed any issues. It was comfortable and offered support for the head, so I didn't wake up with a back or neck ache.
Specs
Sizes: Small $19.95, Medium $22.95, Large $27.95, X-Large $34.95
Six Color Schemes
About Therm-a-Rest
Seattle-based Therm-a-Rest has been the market leader in premium outdoor comfort since its invention of the world's first self-inflating mattress in 1972. For people who explore the outdoors, Therm-a-Rest mattresses, sleeping bags, tents and camp furniture provide the perfect way to rest and recharge for any adventure. The majority of Therm-a-Rest gear is made in our Seattle, WA, Reno, NV and Cork, Ireland manufacturing facilities. For more information, visit www.thermarest.com.