Cane Creek was showing off their sweet new HELM fork, their lightweight AER headsets with aluminum cartridge bearings, the eeCycleworks eeNut preload assembly for carbon steerer tubes and finally the DBAir [IL] Rear Shock.
HELM Fork
Cane Creek was displaying their brand new HELM fork at their booth. It's their first foray into the fork market, and the $1,100 component was designed for Trail, All-Mountain, and Enduro use. The HELM will initially only come in a 27.5″ size and can be internally adjusted between 100 to 170mm of travel by utilizing 10mm spacers. The air-sprung HELM weighs 2070 grams, has a closed cartridge monotube damper, 35mm Stanchions, a D-Loc 15mm axle and has 7-way external adjustments.
The HELM draws upon Cane Creek's knowledge, expertise, and engineering from years of building the fine DoubleBarrel line of shocks.
Specs:
WEIGHT 2070 grams
DAMPING High-Speed Compression, Low-Speed Compression, Low-Speed Rebound
ADJUSTMENTS – 7-way adjustable suspension fork

High-speed compression
Low-speed compression
Low-speed rebound
Air volume adjust (8-position Internal indexed system)
Independent positive air spring
Independent negative air spring
Indexed travel adjust system

SPRING High volume positive and negative air springs
STANCHION DIAMETER 35mm
TRAVEL Positioned at 160mm from the factory. Optimized for 140-170mm of travel
TRAVEL ADJUSTMENTS Internal, 10mm Increments (170mm down to 100mm)
AXLE / SPACING / OFFSET "D-Loc" 15mm thru axle system / 15mm x 110 BOOST spacing / 44mm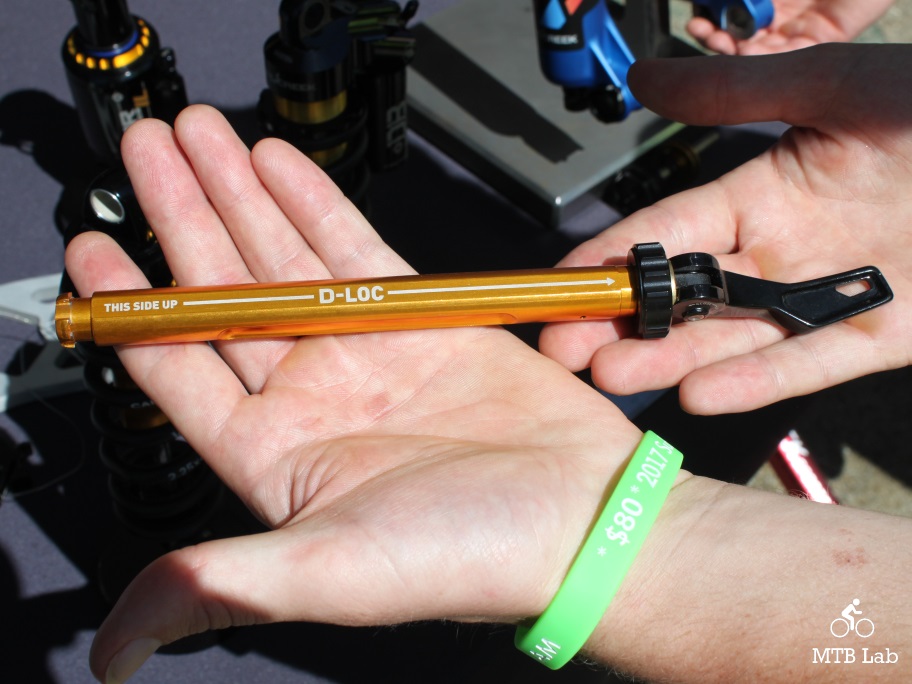 HELM'S "D-LOC" axle system is unique to Cane Creek and a critical component for achieving the ride characteristics our engineering and test rider teams demand.  Through a key and lock design, the D-LOC axle maintains the course ahead while eliminating unwanted rotational and torsional forces that are normally transmitted to a fork's bushing and sealing surfaces.  On traditional axle systems, these forces create excessive stiction and binding which can lead to diminished performance during aggressive riding. Precision machining is used to shave weight, maintain strength, and ensure specified tolerances.  The preload adjusting nut, cam lever, and lock latch allow for simple adjustment and axle removal.
The D-LOC is a pretty trick and the innovative key and lock down design that provides a rigid system and decreases rotational and torsional forces, offering an improved ride and increased longevity.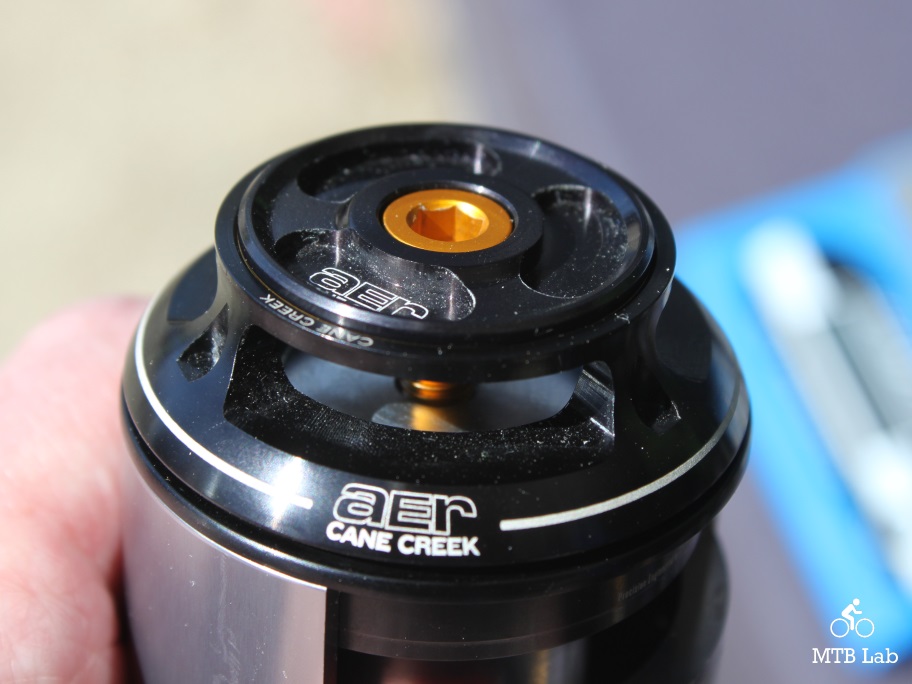 AER Headset
For 2017 all of the AER series headsets are now equipped with Cane Creek's new AER aluminum cartridge bearings, with the Norglide T composite bearings only available upon request. This gives all AER Series headsets both a considerable weight reduction over a standard headset and now increased bearing longevity. The AER series aluminum bearings also can be used in an 110-Series or 40-Series for weight reduction over the black oxide and stainless steel bearings. Five additional lower headset assemblies have been added to the AER Series (IS47, IS52, ZS56, EC44/33, EC44/40), allowing the AER Series headsets to not only be used in road and cyclocross, but also on mountain bike applications. An AER Series headset assembly can save up to 50 grams off a 40-Series or 110- Series headset. The 2017 AER series is available now.
The new AER stuff looks sweet and would be an excellent way to save some weight and still get the great Cane Creek headset and bearing quality and craftsmanship. The headset cover with its cutouts looks trick!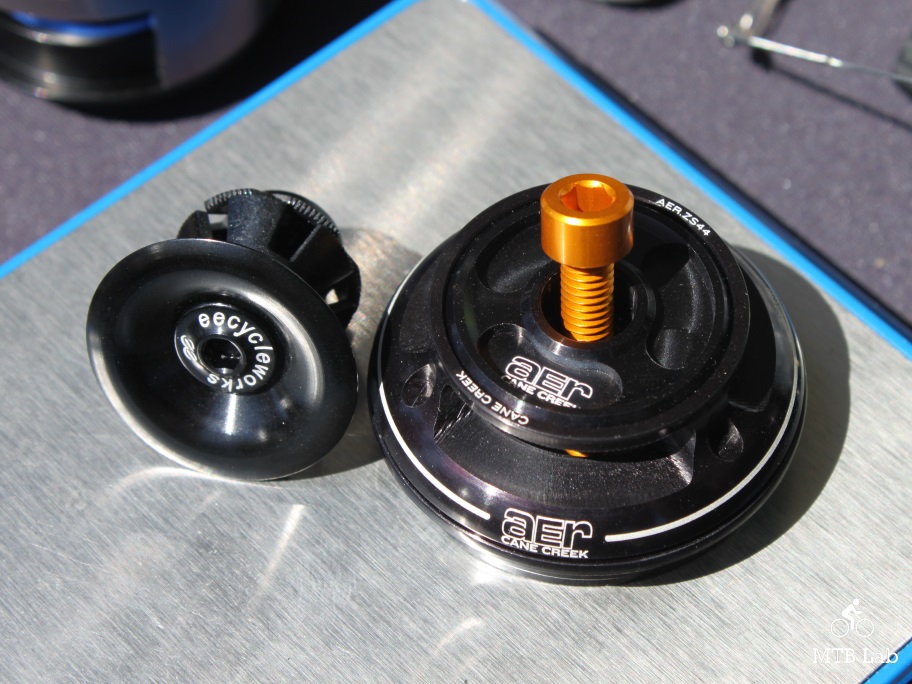 eeCycleworks eeNut
In addition to the lightweight offerings of the AER Series, the eeCycleworks eeNut preload assembly (above on the left side) is also now available through Cane Creek. Designed for carbon steerer tubes, the eeNut preload assembly offers a beautifully functional new concept for an extremely lightweight preload assembly. A total weight of only 9.6 grams for the full assembly, saves 30 grams over the typical top cap and preload. The eeNut is a unique and patent pending design providing ultra light weight, solid locking action and ease of installation in one package. The recessed cone shape provides greater tensile stiffness. This increased stiffness facilitates precise headset adjustment and sets it apart from other lightweight caps. To learn more about eeNut preload assembly, please refer to the product information below. The eeNut preload assembly is available now.
Reminds me of some of the German weight weenie stuff but this has a lot better technology, strength, and durability. The nut should be a great item for the roadie with a carbon steerer on their bike.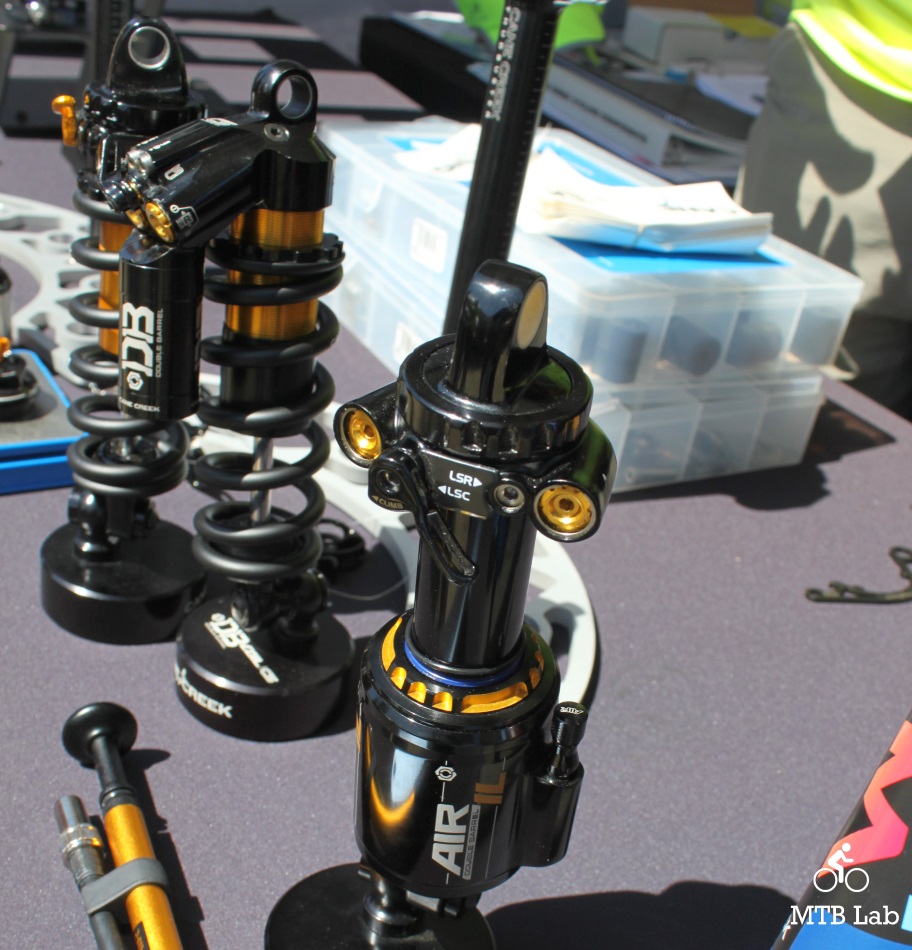 DBAir [IL] Rear Shock
Cane Creek released the new DBAir [IL] rear shock back in January, and it prominently features their new LinEair Air Spring along with an Oil Seal Head Redesign and Reconfigured Air Piston for improved reliability and more consistent performance. The shock will utilize their Twin Tube damping, 4-way independent adjustments including high and low-speed compression, high and low-speed rebound along with their fantastic and highly functional Climb Switch technology. The DBcoil [IL], short for Inline, is intended for mid-travel bikes in the 140-160mm travel range.
Specs
Weight – 397 grams (216 mm x 63mm no hardware)
Damping – Twin-tube independent compression and rebound in two high-speed and four low-speed damping circuits
Adjustments

4-way independent adjustment:

High-speed compression
Low-speed compression
High-speed rebound
Low-speed rebound

Climb Switch on/off

Air Spring – LinEair Air Spring
Lengths

165 x 38mm (6.5″ x 1.5″), 184 x 44mm (7.25″ x 1.73″), 190 x 50mm (7.5″ x 2.0″), 200 x 50mm (7.87″ x 2.0″), 200 x 57mm (7.87 x 2.25″), 216 x 63mm (8.5″ x 2.5″)
Metric – 170 x 30mm, 170 x 35mm, 190 x 40mm, 190 x 45mm, 210 x 50mm, 210 x 55mm
For additional information refer to canecreek.com