GE1 Factory
The GE1 Factory and GE1 Slim Factory now get the same sticky custom rubber compound that was first seen on their downhill specific GD1 grips.
The new grip of the Enduro World Series elite! The new and unique rubber compound, 100% made in Germany, creates previously unknown grip and rebound characteristics. The feel is soft, yet very defined and precise. The surface profile ensures maximum grip while reducing gripping forces needed by the hands. The angle-optimized grip surface matches the natural riding position of the hands and arms. The GE1 Factory shape supports the correct upper body / lower arm position during aggressive riding. Simply by turning the handlebar axis by 8%, the elbows are automatically lifted outwards when gripping. Compatible with carbon bars.
It comes in a Slim version for smaller hands or those wanting a slimmer grip.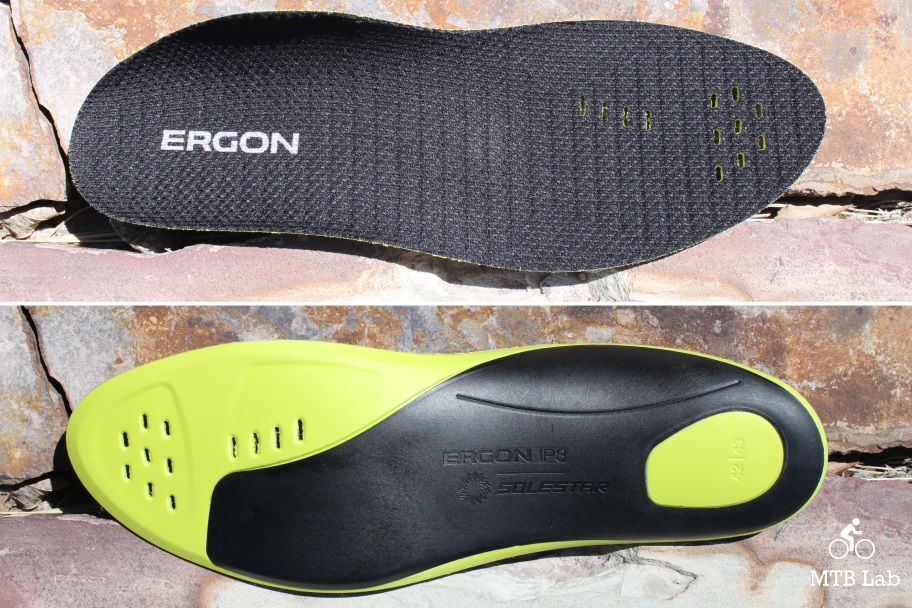 IP3 Solestar
The new IP3 ergonomic insole offers improved stability, comfort, and performance along with decreased fatigue while pedaling on a bike. Ergon partnered with the German Solestar insole company that has an innovative patented design called Stabilization-Delta that proves a lowering of the metatarsophalangeal joint, increasing the forefoot footrest and ankle joint support (wow). The three layer sole structure has a robust antibacterial cotton top, an EVA foam padding with a fiber reinforced bottom shell for stabilization. The insoles come in one color, six sizes and retail for $59.95.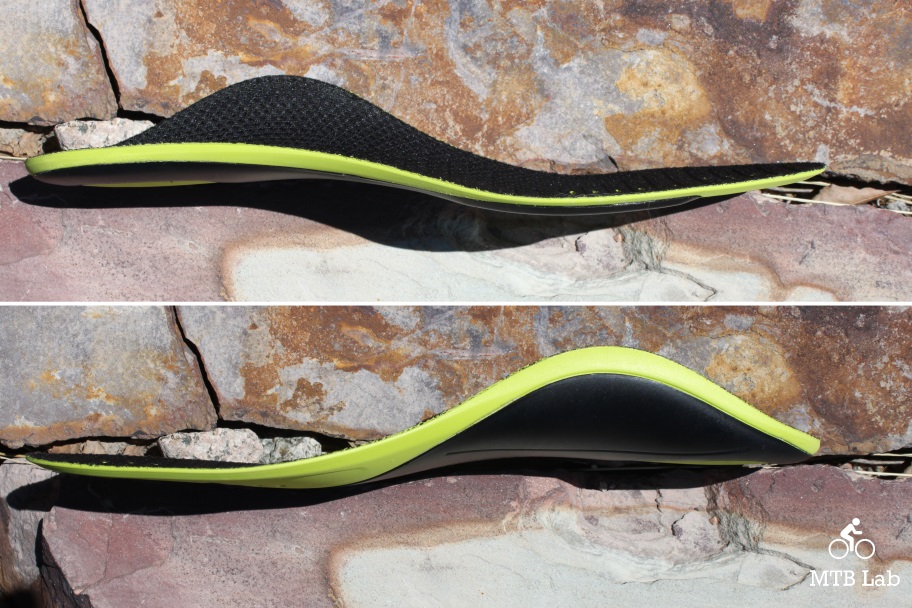 For the optimal impact of your performance on the bike, the leg power needs to be effectively converted into propulsion. IP3 insoles support and stabilize the power flow from the legs along the feet straight to the pedals. Due to the patented stabilization Delta, a natural position of the foot is achieved through three points resulting in an efficient and comfortable motion sequence while pedaling.
Three layers:
Top Layer – Robust surface of antibacterial carbon fabric
The middle is 3D-Padding – Made of closed-cell EVA foam for optimized damping.
Bottom is a Stabilization Shell – Made of fiber reinforced synthetic for an effective power transfer