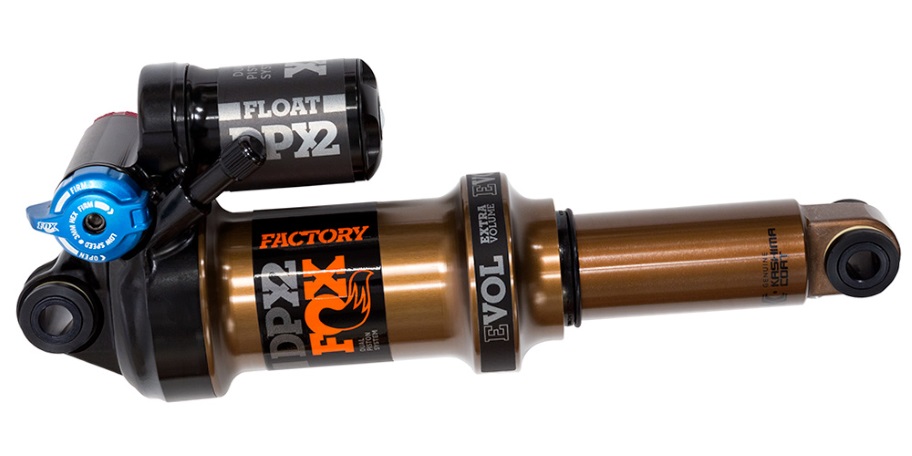 The new 2018 FOX DPX2 rear shock combines technologies from their trail oriented Dual Piston System (DPS) with their downhill  X2 downhill dampers. The DPX2 is a piggyback style and air-sprung shock that is ideally suited for the aggressive All Mountain rider. It utilizes a twin-tube damper configuration with independent rebound and compression adjustments, their Extra Volume (EVOL) negative air spring, and will come in both metric and imperial sizes.  The top of the line Factory Float DPX2 version will retail for $549 and weigh in around 500 grams.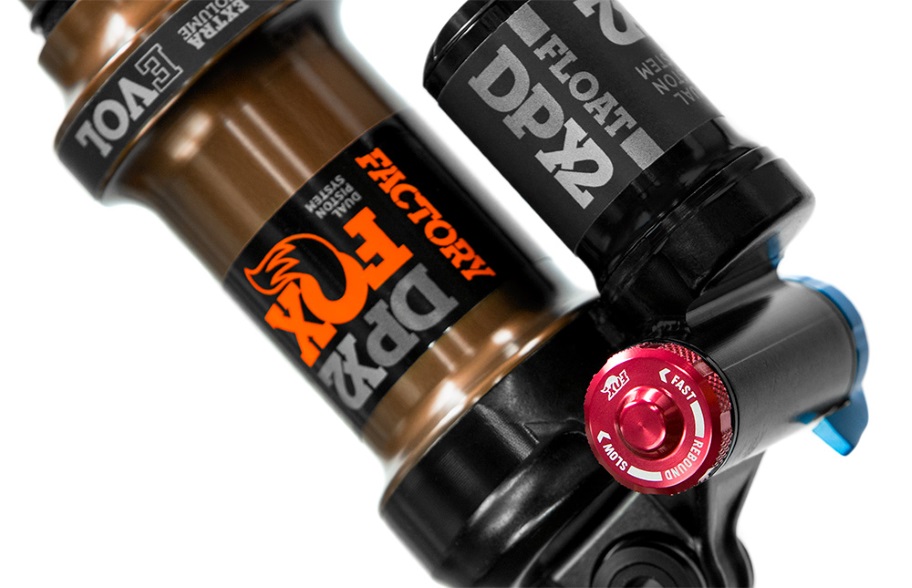 It has three compression damping positions, Open, Medium, and Firm, and the Factory model have ten clicks of additional adjustment to fine tune the Open positions feel. The rebound damping has 14 clicks of adjustment, and it comes with five volume spacers ranging from 0.2 to 1.02 in2 for additional fine tuning of the shock.
The ultimate trail shock: the brand-new DPX2
X2 small bump sensitivity meets an improved DPS adjustment range
Recirculating oil damper design gives riders better control
One-piece EVOL air sleeve improves responsiveness and sensitivity
Three position lever with adjustable Open mode offers ten clicks to fine-tune compression
Available in both imperial and metric sizes
Factory Series models feature Genuine Kashima Coat
Combining DPS XC efficiency and X2 DH performance, the DPX2 is the ultimate trail shock. The Dual Piston Base Valve has dedicated compression and lockout circuits for each of the three modes—Open, Medium, and Firm. It also features a recirculating damper design found in X2 shocks, creating excellent small bump sensitivity, great mid-stroke damping support, and better control in transitions.
For further information refer to ridefox.com

Sizes

7.25 x 1.75
7.5 x 2
7.875 x 2
7.875 x 2.25
8.5 x 2.5

Adjustments

Lever actuated Open, Medium, Firm modes
Open mode adjust tuning range (10 clicks)
Rebound
Air spring pressure

Air Sleeve and Body Finish
Technology

DUAL PISTON SYSTEM
Dual Piston System (DPS) features three on-the-fly settings—Open, Medium, and Firm—to allow riders to adapt to a wide variety of terrain. The valve design provides full lockout without compromising bump compliance, ride control, and efficiency. Factory Series DPX2 shocks feature an additional ten clicks of compression adjustability in the Open mode.
X2 ARCHITECTURE
Taking the oil flow architecture from the FLOAT X2 and DHX2 designs, the DPX2 is the X2's little brother. This system creates low hysteresis, quick hydraulic response, better sensitivity and improved heat dissipation. It also provides a wide, usable tuning range and checked low-speed compression and rebound flow paths for better tuning and consistent performance.

EVOL HAS EVOLVED
A more linear spring curve gives EVOL forks and shocks plushness off the top, extra mid-stroke support, and more tunable bottom-out progression, allowing riders to tap into the ideal pairing of the front, and rear-end feel. The new lighter one-piece EVOL air sleeve was designed for each shock size (imperial and metric) to balance internal forces and has maximized bushing overlap to reduce friction during "real world" forces like side-loading and twisting.
GENUINE KASHIMA COAT
Buttery smooth
Kashima's distinctive gold color is backed by its high performance attributes—properties that provide an exceptionally smooth feel and extreme durability.