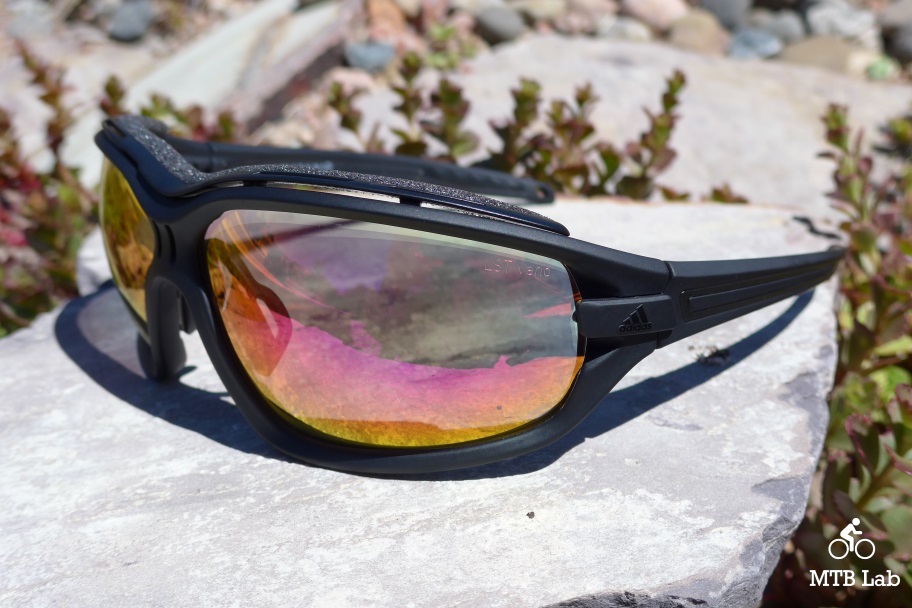 We have the high-tech Adidas Sport Evil Eye Evo Pro sunglasses with a vast field of view, the roomy carry-on travel Douchebags Hugger 30L Pack and some fun summer styles and Father's day gifts from the SockGuy.
Adidas Sport Eyewear
The Adidas Sport Evil Eye Evo Pro sunglasses are comfortable performance shades equipped with a detachable foam bar to keep sweat out of the eyes and LST technology that improves color perception and high contrast vision. Whatever obstacle the trail throws at you, the Evil Eye Evo Pro can handle it. No-nonsense riding requires no-nonsense gear. Mountain biking requires eyewear that not only blocks out the glare and harmful rays, but also the ability for visual enhancement to the subtle obstacles on the trail (from thick roots to larger rocks) — all while protecting your eyes against swarms of bugs, branches, and airborne debris from other riders.
Evil Eye Evo Pro is for the mountain biker that wants lightweight performance eye protection that works as an advantage when flying down the singletrack. This eyewear provides premium optics without compromising the protection required for such an action sport.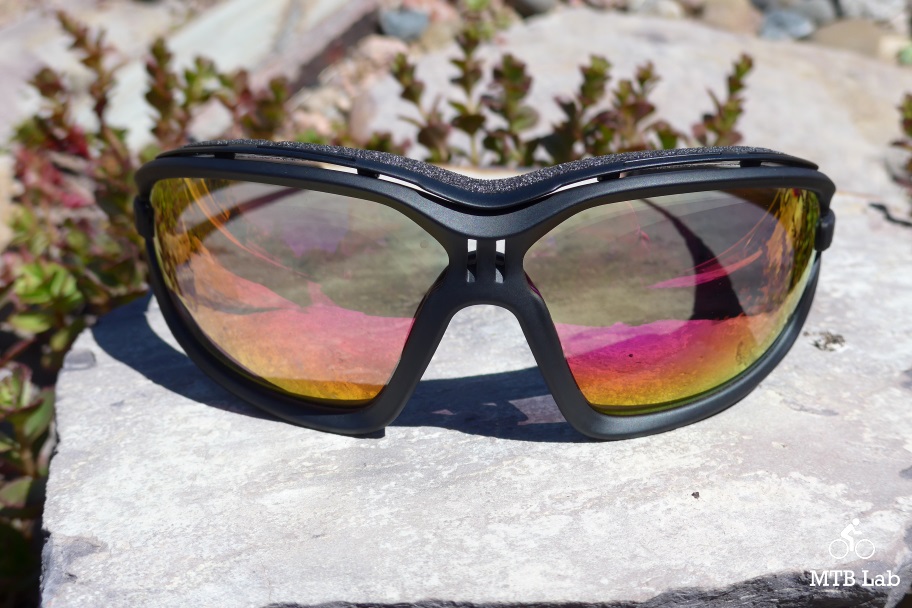 Thoughts => I enjoyed wearing the sunglasses, they are comfortable, have a spacious viewpoint, and the LST technology offered high perception and color contrast. I took off the removable foam bar that's supposed to help with sweat issues since I found it protruded too close to my eyebrows.  The lenses seem dark, but they worked well in bright sun and the shade, making them ideal for any conditions.
For more information refer to adidassporteyewear.com
Features:
wrap-around design
detachable foam bar
hydrophobic lens
Climacool dynamic ventilation
Lens Lock System
Compatible with prescription lenses
MSRP: $249.00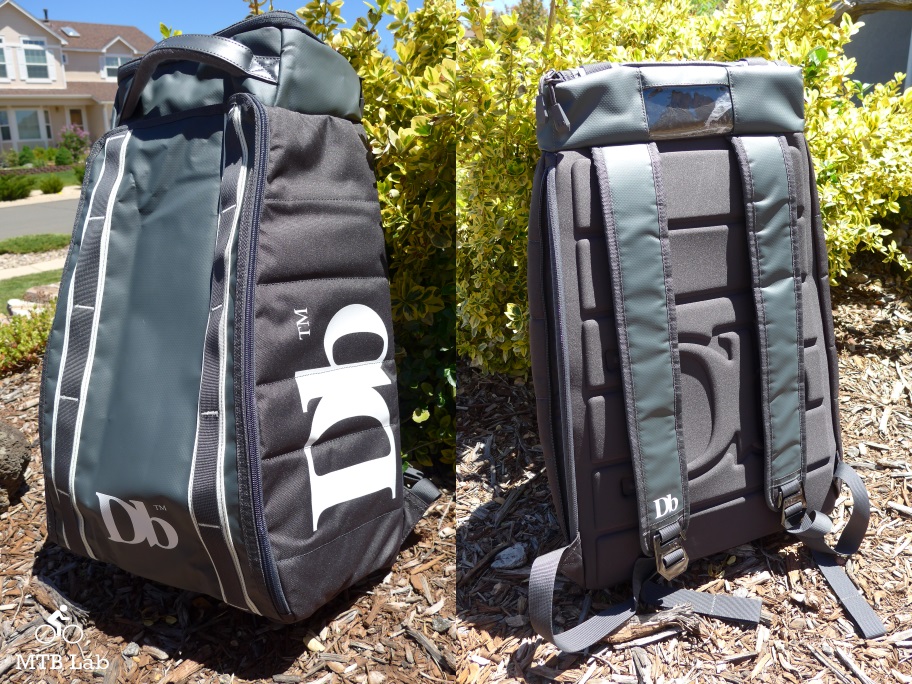 Douchebags 
Travel season is here; the perfect excuse to escape the rat race and embark on an adventure. That said, a good bag requires the durability to withstand the rigor of travel, the space to hold all of the essentials, and an aesthetically sound design you want to show off at the airport. Thanks to disruptive travel gear brand, Douchebags (DB Equipment Don't let the name fool you) and their latest in hybrid construction travel bags called the 15L Base, a daily urban backpack and the 30L Hugger, a smart carry-on; both featuring multiple pockets, laptop compartment and their signature hookup system which connects the bags together for easy travel.
For the jet-setters whose active lifestyles demand more from their gear, these innovative gear bags are outfitted with plenty of storage for effortless travel without sacrificing style. Designed to accommodate any and all last-minute trips and weekend escapes, DB Equipment bags offer durability with plenty of space all wrapped in a stylish aesthetic. Whether it's to the gym or out of town, the 15L Base and 30L Hugger are crafted with both small and large compartments designed to quickly secure all travel essentials. The ribcage system keeps it all protected, and it's even more amazing to hook up the hugger with the camera. Whether you're off to the gym or next adventure, DB Equipment offers hassle-free trips in sophisticated style.
Born from the love of the sport and the desire to reinvent how adventurers travel, DB Equipment has quickly established themselves as leaders in hybrid construction adventure travel gear. Combining classic style with high performance, their passion for creating the best in adventure-ready gear have brought them to the top with their highly coveted travel bags.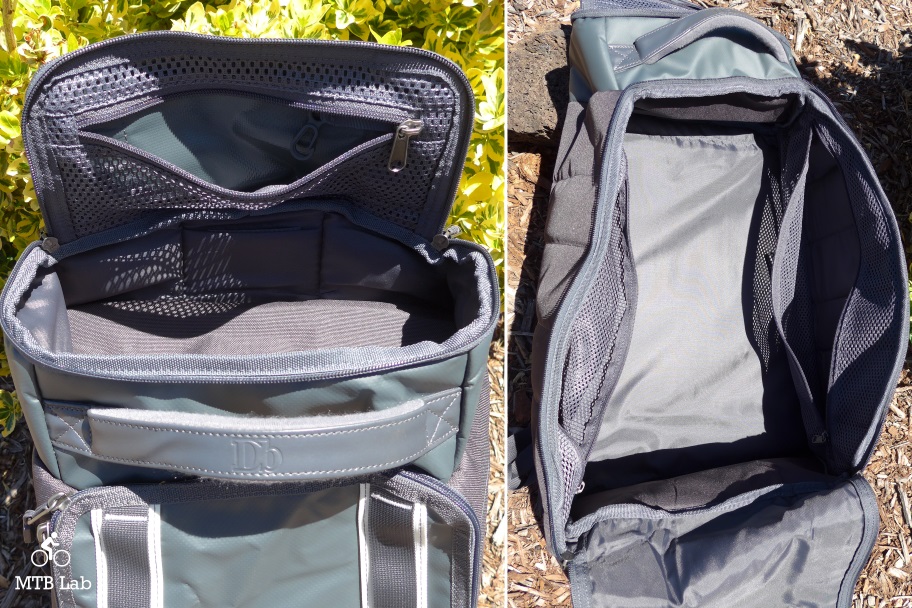 Thoughts => You can really stuff a lot of things into this cavernous bag and it's just the right size to use as a carry-on item. I would use this to carry my essentials for a bike trip, helmets, shoes, apparel and then use my large bag to carry the rest of the stuff. It's a tough well-made bag with no superfluous features that aren't needed.
Hugger 30L Details:
Laptop pocket fits a 15″ MacBook Pro with ease.
Laptop pocket dimensions: 39 x 28.5 cm
Dimensions: Width: 28.5cm / 11.2in x Height: 17.3cm / 6.8in x Length: 55cm / 21.7in
Weight: 1.4kg / 3.1 lbs. Volume: 28+2 liters
Material: Polyester 600D / TEP 500Dx Inner Lining: Polyester 300D x Polyethylene back-protection plate
ABS protection ribs
Outer Shell: PU- Leather instead of TPE
Webbing: PU-Leather and Suede
MSRP: $159.00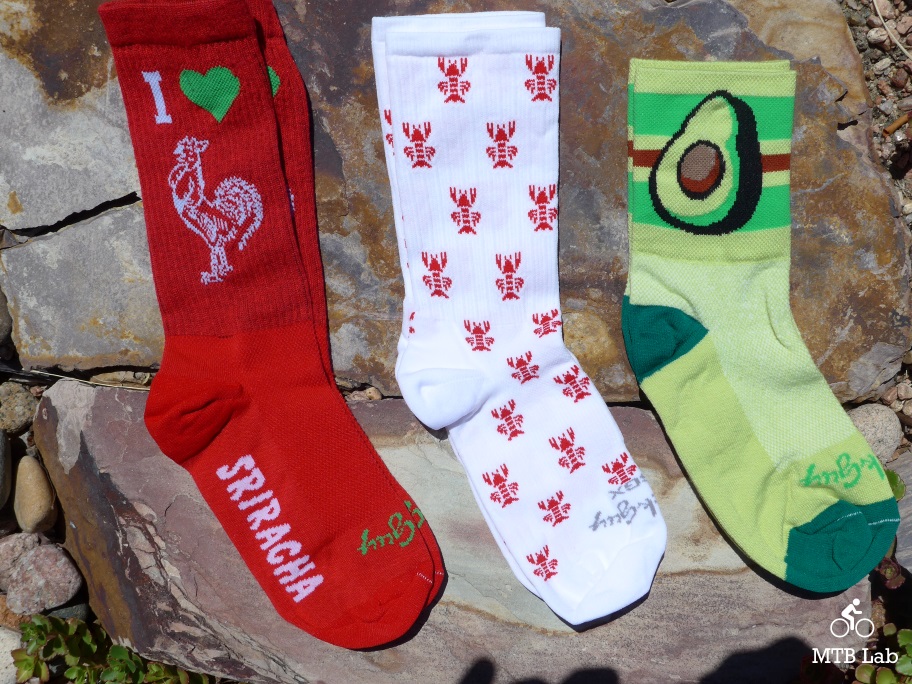 SockGuy
SockGuy has some fun new styles for the Summer and some funky cool patterns and color schemes that will be excellent as Father's Day gifts. From the SGX collection, there is the Tallboy for the beer aficionado, the Sriracha for the Hot Sauce lover, and the Rock Lobster for tasty Lobster or the B-52's song (take your pick). From the Classic collection, we have the food themed  Avocado. All of SockGuy's performance socks are made in the U.S.A. and feature enhanced ventilation which is ideal for those warm summer months, superior comfort-fit, fresh designs and exceptional durability.
You can check out everything new with SockGuy sockguy.com/what-s-new
Thoughts => These are comfortable and easy to wear socks and work well in all weather conditions, especially as we get into the warmer temps. They wick moisture well and provide comfort for your feet while biking long distances. And who doesn't like some fun colors and patterns while biking! Perfect Father's day gift!
SGX – Sriracha and Rock Lobster
SockGuy's SGX socks are designed with the elite athlete in mind and feature our exclusive Elite Performance Formula, a blend of polypropylene, nylon, and spandex. The new SGX sock line provides a compression fit, performance ribbing, enhanced ventilation and a reduced friction profile. These socks feel great, look great, and with SockGuy's signature Stretch-to-Fit sizing and reinforced toe & heel, SGX socks perform like no other. Guaranteed to be the most comfortable performance socks you'll ever wear.
Our SGX socks feature:
Compression ribbing cuff helps prevent fatigue by increasing blood flow
Mesh upper for maximum airflow ventilation
Snug arch support hugs foot for maximum comfort and virtually zero-slip
Streamlined friction-free sole: go longer and play harder with no pain
Cuff Height: 6″
Made with: Polypropylene
Style: SGX
$12.95
Classic – Avocado
Our most popular Classic socks feature off-beat, original designs that appeal to a broad range of athletes, from professionals to weekend warriors to multi-sport enthusiasts who like to have unique socks to match their personality and attitude.
Our Classic socks feature:
Mesh upper for supreme air flow
Double-stitched heel and toe for strength and durability
 Avocado 

4″, Hamburger and Chains 3

Made with: Micro Denier Acrylic
Style: Flat-knit; Standard