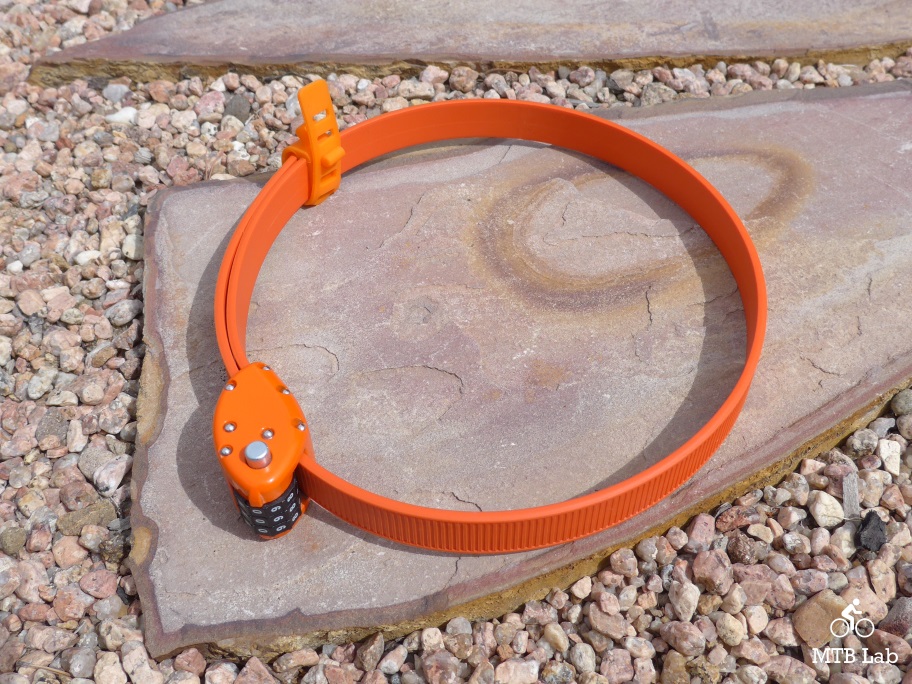 This week we're looking at the innovative OTTOLOCK cinch lock, the functional Abbey Tools Whip-It Chain Whip, and the tasty B-Line Natural Energy Gel.
OTTOLOCK
OTTOLOCK is an all-new cinch lock for both cyclists and outdoor enthusiasts who value their gear and need a small, safe, and lightweight solution. It's designed for short-stay security and protecting against theft opportunists. It's more secure than a cable lock and much lighter than a U-lock. With a starting weight of just 120g and coiling to a compact 3-inch diameter, it's truly portable and always there when you need it.
Note: I think this is an ideal lock for when you quickly go into the coffee shop, grocery store or bank, and it will stop the nonprofessional bike thief from snatching your prized bike. I think the cinch system is ideal for tightly locking things down, and when combined with a U-Lock on the main frame it could help with theft of the wheels. It will also be useful for locking many other items, such as coolers, skis, etc. 

OTTOLOCK is extremely cut-resistant because of an engineered design that uses multiple layers of high-temper, 18mm-wide stainless steel bands coated in Santoprene (a highly durable plastic) combined with a Kevlar band. Conventional theft tools like wire or bolt cutters are just not enough to cut the OTTOLOCK. They designed it with three resettable combination wheels with detented action, custom locking pawls, and a durable aluminum head.
Note: I tried cutting it with some large bolt cutters, and I was unable to do anything. Between the Kevlar which made the blades slip and the steel band, it was not going to be cut without something more substantial, such as a noisy battery operated grinder.
The OTTOLOCK  is proudly designed and manufactured in the USA, and comes an 18″ Cinch Lock for $55, a 30″ for $60 and a long 60″ for $75, and is available in Black, Green, and Orange colors.
For further information refer to ottodesignworks.com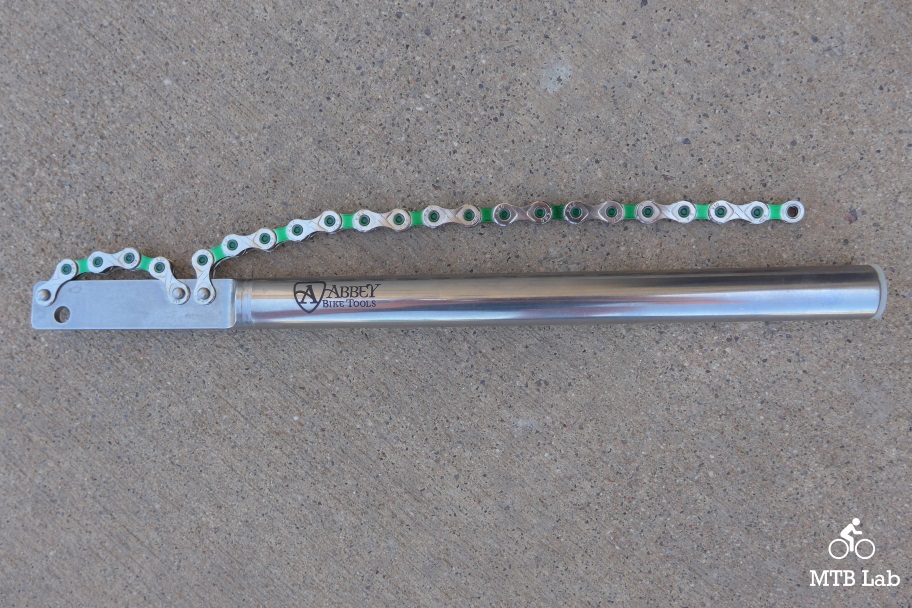 Abbey Tools
A chain whip is a pretty simple tool, but the Whip-It maximizes function and simplicity. The Whip-It is made from a 12″ length of stainless steel to give you enough leverage to loosen even the most stubborn cassettes. The Whip-it's round handle provides comfort surpassing other flat bar style chain whips on the market. The icing on the cake is that Abbey's signature tool, the Crombie, stores inside the handle of the Whip-It! This means the two tools you use together, get stored together, and travel together, giving you less clutter in your tool box.
The Whip-It comes in two versions, one for single sided Crombie tools that use a 3/8″ handle and one for the 1/2″ handle of the dual sided and team issue Crombie tools.
For further information refer to abbeybiketools.com
Thoughts => Although you can fit their Crombie cassette removal tool into the hollow end of the Whip-It, the one I was sent for a test and review was for the 1/2″ Team version, not the 3/8″ Single Sided one that I have, so I wasn't able to test out that functionality. The 12-inch stainless steel handle feels nice in the hands, and the long KMC chain worked well on all of my mountain bike cassettes, and there is a small hole on the top to hang the tool in my shop. The length of the handle provided plenty of leverage to remove stubborn and stuck cassettes, and I never felt like I had to overpower things. Like all of their tools, the Whip-It has a nice polished finish, and the welds and rivets holding the chain are beefy.
Whip-It Chain Whip Specs
12in stainless handle
Comfortable handle
Store your Crombie tool inside the Chain Whip's handle
MSRP – $45.00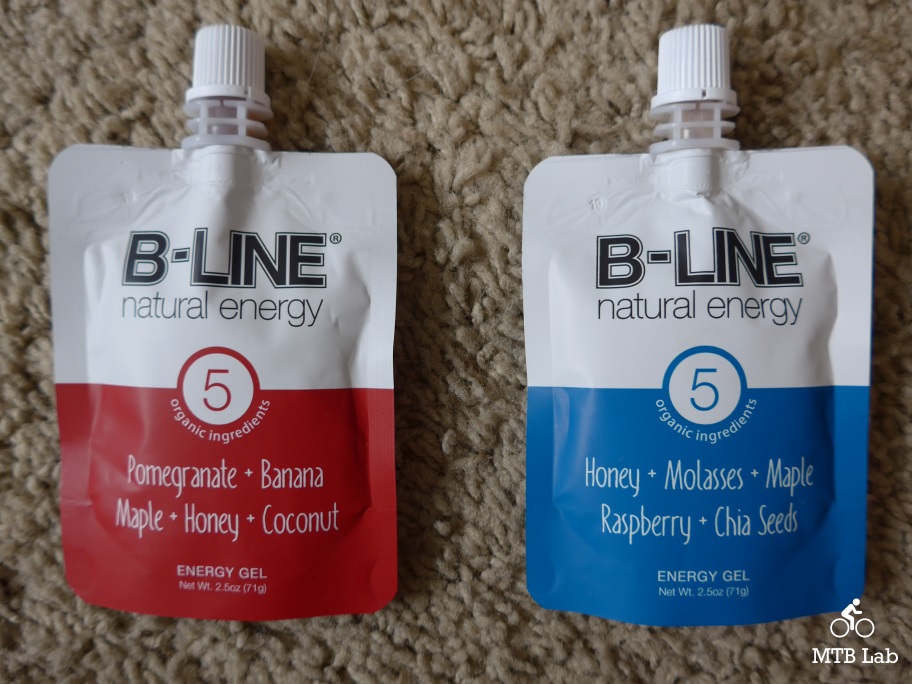 B-Line Natural Energy
Made With 100% Organic Ingredients, B-Line Boosts Energy Via Fast Absorbing Carbohydrates, Delays Muscle Fatigue And Promotes Recovery During Strenuous Physical Activity
B-Line Natural Energy is an all-natural, organic energy gel that keeps you fueled for any endurance endeavor. Made with 100% organic ingredients, B-Line boosts energy via fast-absorbing carbohydrates, delays muscle fatigue, and promotes recovery during strenuous physical activity. On top of that, it's easy to digest and tastes great.
The Pomegranate flavor features these five ingredients: Freeze dried pomegranate powder, freeze dried banana powder, maple syrup, light amber honey, and unsweetened shredded coconut. It's comprised of pomegranate (rich in Vitamin C and Manganese to support the immune system and energy production), bananas (high in potassium which helps to alleviate muscle cramping), maple syrup (high in anti-oxidants), honey (1:1 fructose to glucose ratio is ideal fuel for optimizing blood sugar metabolism), and coconuts (fatty acid make up helps enhance muscular endurance).
The Honey Molasses flavor features these five ingredients: Light amber honey, blackstrap molasses, maple syrup, freeze dried raspberry powder, and chia seeds.  It's comprised of honey (1:1 fructose to glucose ratio is ideal fuel for optimizing blood sugar metabolism), molasses (contains quickly assimilating carbohydrates to replenish muscle glycogen), maple syrup (high in anti-oxidants), raspberries (packed with anti-inflammatory compounds to help prevent cell damage), and chia seeds (Omega-rich super food that aids in digestion).
It comes in a box of 5 gel packets (each packet is 2.5oz) for $17.50.
Note: I found both of the flavors incredibly tasty, and they weren't too sweet and offered a satisfying and useful replenishment of energy and nourishment. I liked that they were 100% organic gels and that the ingredients were functional for your body and digestive system. 
Pomegranate, Banana, Maple, Honey, Coconut
Honey with its 1:1 fructose to glucose ratio is the ideal fuel for optimizing blood sugar metabolism
Molasses contain quickly assimilating carbohydrates helping to replenish muscle glycogen
Maple Syrup is high in antioxidants, which helps to reduce the number of free radicals in the body
Raspberries are packed with anti-inflammatory compounds that help prevent cell damage
Chia Seeds the Omega rich super food, aid in digestion preserving glycogen stores
Honey, Blackstrap Molasses, Maple Syrup, Raspberry and Chia Seeds
Pomegranate rich in Vitamin C and Manganese supports the immune system and energy production
Bananas are high in potassium which helps to alleviate muscle cramping
Maple Syrup is high in antioxidants, which helps to reduce the number of free radicals in the body
Honey with its 1:1 fructose to glucose ratio, is the ideal fuel for optimizing blood sugar metabolism
Coconut's thermogenic effect, due to its fatty acid makeup, helps enhance muscular endurance
For further information refer to blinenaturalenergy.com