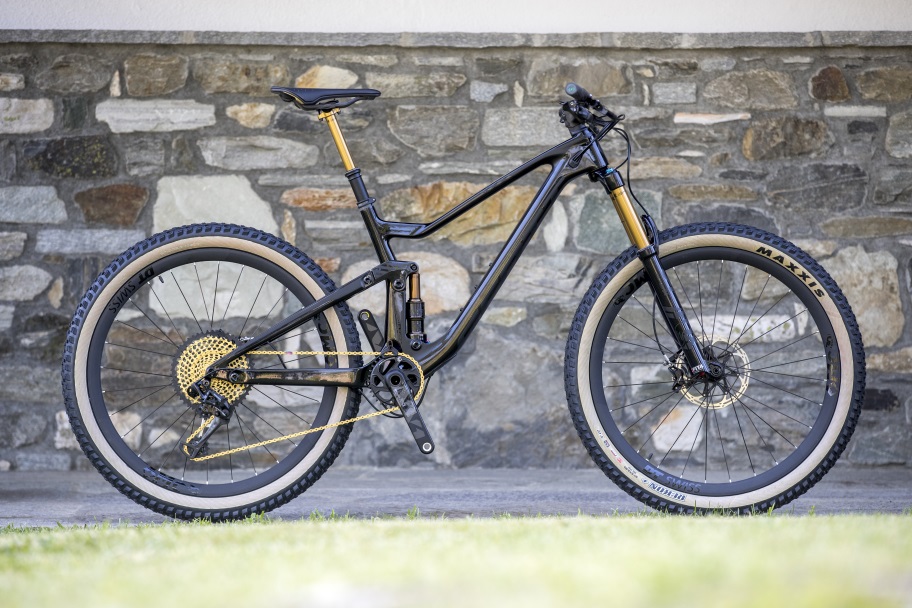 For 2018 Scott has updated the Genius lineup with a redesigned suspension and the ability to run either 27.5″ or 29″ wheels with a flip chip switch. The 150mm travel bike uses a four-bar linkage design with their TwinLoc suspension system, a lightweight carbon frame with a new lay-up design (2250g), modern geometry and a suspension kinematic that offers balance and control.
It comes in seven build versions, including the top of the line Genius 700 Ultimate, the Genius 900/700 Tuned, the Genius 710, the Genius 920/720, Genius 930/730, the Genius 940/740 and the Genius 750. The '7' designates a 27.5″ build while the '9' is a 29″ wheel size. They'll be available in September, though no pricing was given on any of the models as yet. All the kits include the FOX NUDE EVOL rear shock with 150 – 110 – Lockout of travel which is integrated to the front fork with their TwinLoc suspension system. The tricked out Genius 700 Ultimate (27 lbs) includes a DT carbon wheelset, XX1 Eagle drivetrain, FOX Transfer seatpost, FOX 34 Float Factory fork, Syncros Hixon carbon bar/stem and Maxxis Rekon 2.8″ tires.
For further information refer to scott-sports.com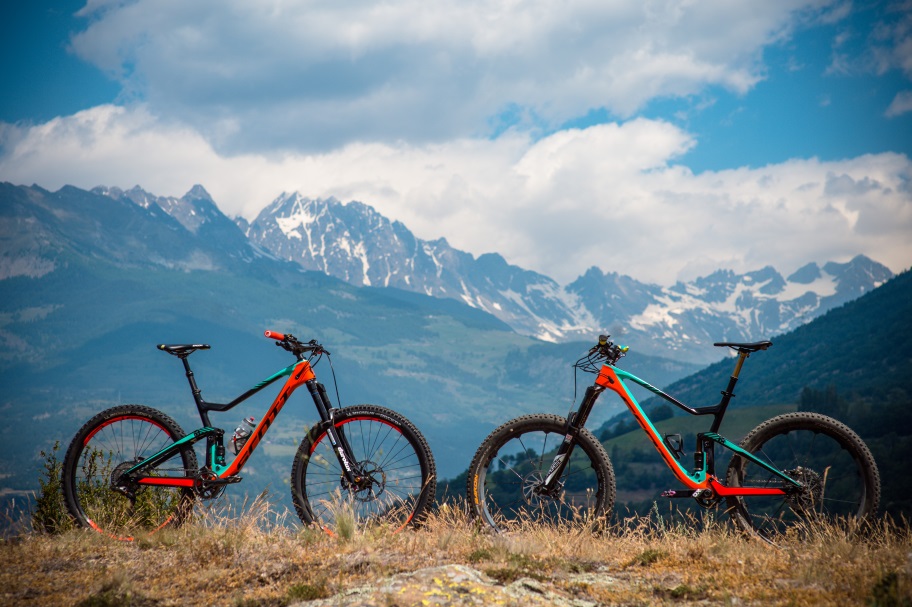 27+ or 29er
The new Genius can switch from 27.5″ to 29″ wheels with nothing more than the flip of a chip. No need to change the fork, all you need to do is flip a shock mount chip, change your wheels and off you go. The flip chip allows the bike to maintain a similar BB height when switching from one wheel size to the other which is key to keeping handling similar for both wheel sizes. With 27.5″ wheels, you can run either 2.5″, 2.6″ or 2.8″ tires. For the 29er, anywhere from 2.4″-2.6″.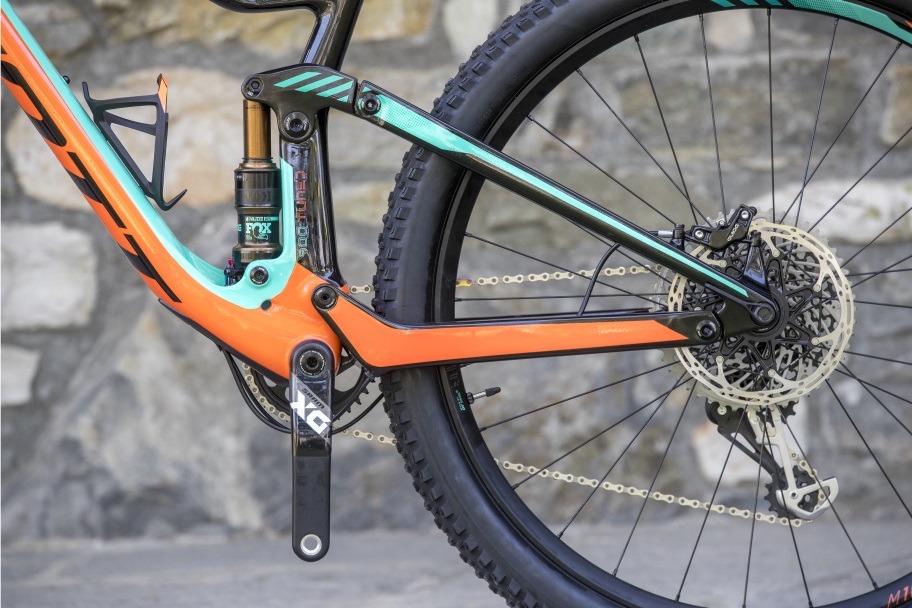 Suspension Kinematic
Their suspension kinematic brings perfect balance and control to the Genius platform. Continuing their research from their successful Spark program, they've honed their suspension feel, pedaling and braking response to work with maximum efficiency and in harmony with their TwinLoc system. Their kinematic suspension curve gives supple small bump sensitivity and therefore exceptional traction characteristics, perfect support in the mid-stroke and a controlled deep stroke for predictable and comfortable bottom outs. Their specific pivot placement ensures efficient pedaling that drives the bike forwards like a startled greyhound and neutral braking that strikes a perfect balance between rider comfort and control, chassis stability and rear wheel traction. From the XC racer to the downhill enthusiast, the new Genius kinematic brings improvements and advantages in all areas and gives a solid fundamental basis for a bike for all riders and all conditions.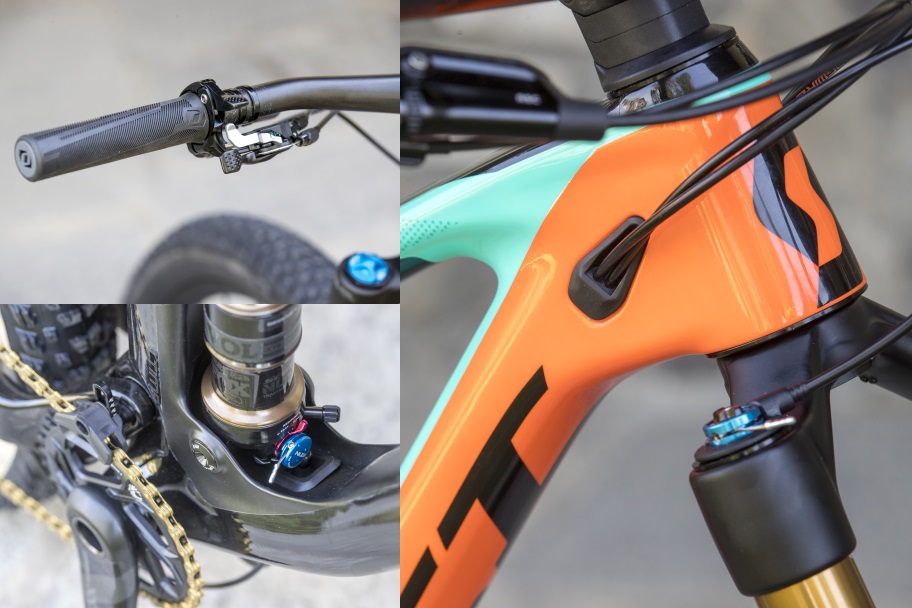 TwinLoc
Imagine having the perfect bike waiting for you at the beginning of every section of trail. The all new Genius was developed as a system with this concept in mind. An SCOTT-exclusive FOX NUDE Evol shock, paired with their patented TwinLoc remote system, allowed them to create a bike that climbs effortlessly and efficiently, yet slays on the way down. The unique TwinLoc lever makes the climb for the descent experience unique in the industry.
With TwinLoc, a rider can effectively control the complete frame, fork, and shock as a system. Why does this matter? A bike with 150mm of suspension travel, correctly set up, has more sag than a bike with 130mm. It's that extra travel that makes it more fun to ride and more capable on the descents, but the greater sag has an oversized effect on the bike's geometry and climbing performance. That's where TwinLoc matters.
Geometry
The Genius has always been a bike designed to go up as well as it went down, and vice a versa. For 2018, they wanted to re-emphasize this point. They designed the Genius specifically in search of balance. Compared to the previous iteration, this one is slacker, has a longer reach, shorter chainstays, and a steeper seat angle.
Seat Angle

27.5″ – 75.3°
29″ – 74.7°

Head Angle
Chainstay

27.5″ – 436mm
29″ – 438mm
They wanted geometry figures that would balance out the long front end for more stable descending. And what they ended up with is a bike that climbs like a bat out of hell and gets you down the mountain faster than you can say "dropping!" After years of testing different options, these numbers are a result of taking everything we want out of a bike for the trails we ride and building it.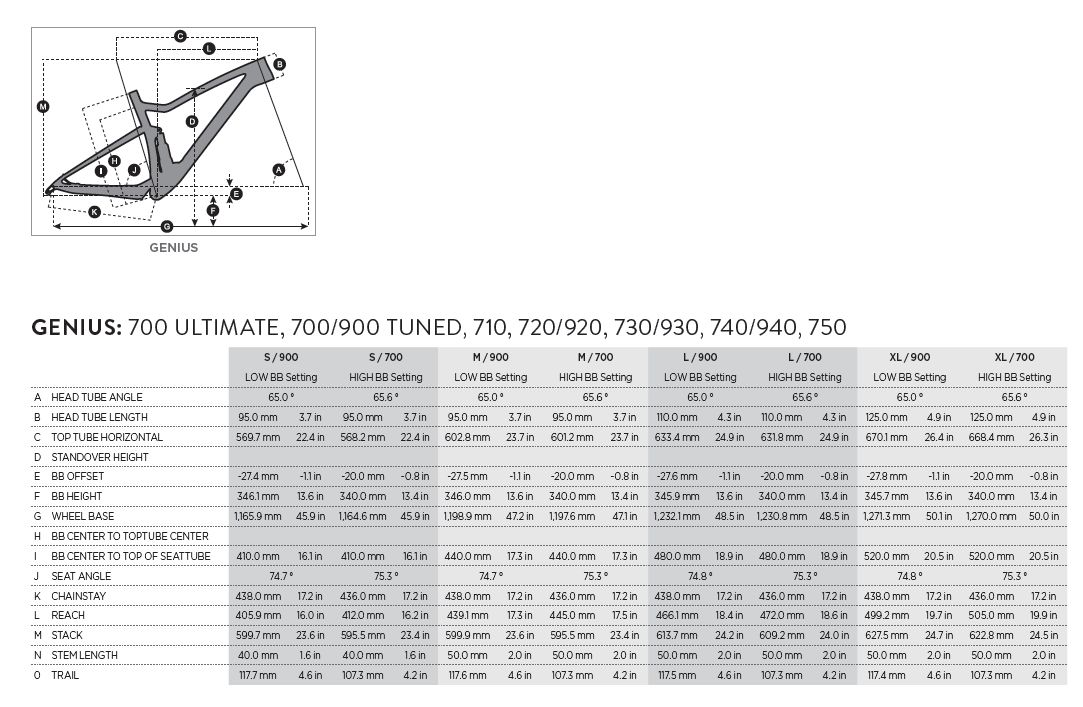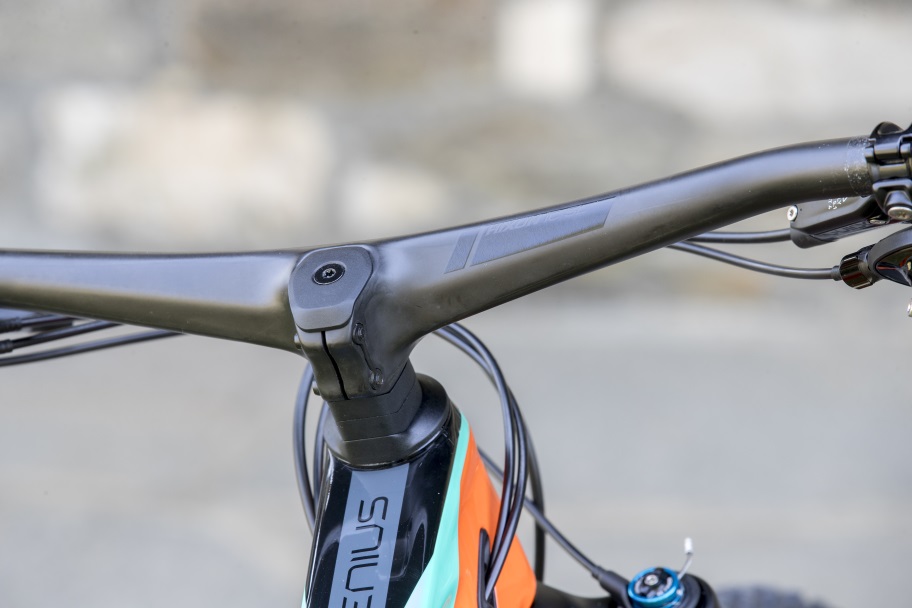 Hixon iC Bar/Stem
The next evolution of their Integrated Cockpit concept, the Syncros Hixon iC is a truly revolutionary product. Thanks to a unique new construction method and high-quality carbon they have created a bar-stem combo designed for trail riding that weighs a scant 290g. It comes on the Ultimate and Tuned models and is optionally available for the others.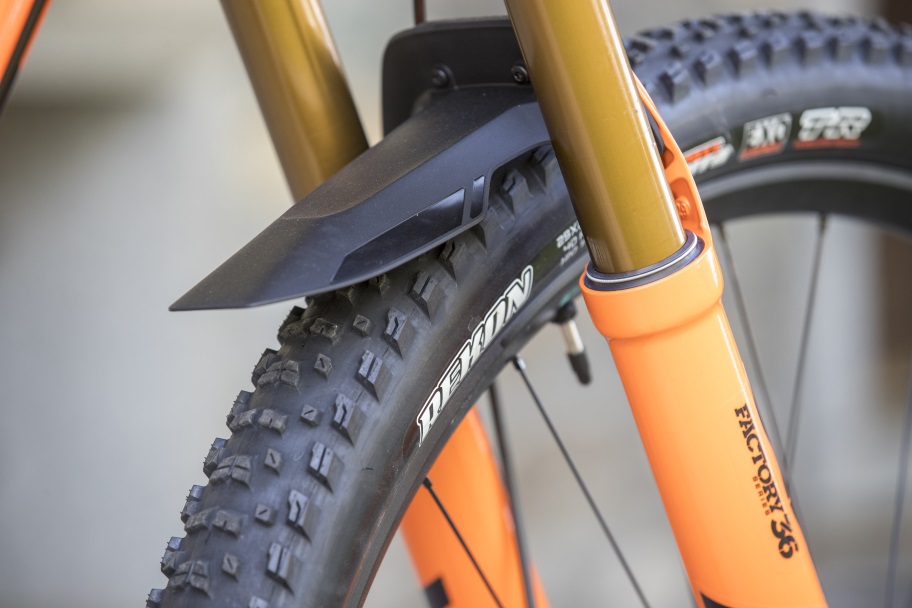 Trail Fender
The Syncros Trail Fender is made from a high-quality Impact PP that balances stiffness and durability. Designed to work specifically with FOX 34 & 36 Boost forks, the Trail Fender features a 2-bolt direct mount. This means a clean and reliable mount that is easily removable.