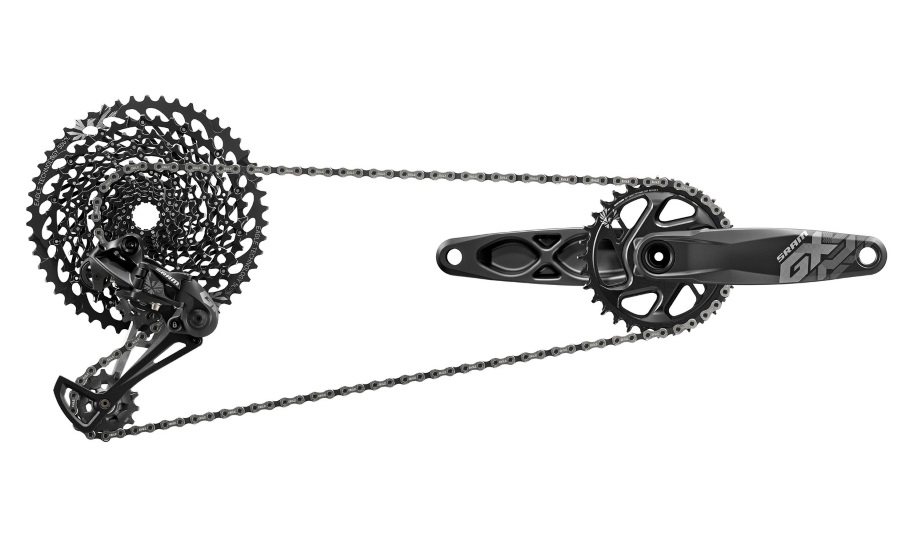 The new SRAM GX Eagle has landed, and it brings their 12-speed 1x drivetrain technology to a wallet-friendly $495 price point. The trickle down of the Eagle Technology from the XX1 and X01 groups has been brought down to the GX Eagle pricing, so shifting and performance should feel the same. All the GX Eagle parts are compatible with any other Eagle system, so you could mix and match things as desired. The affordable GX Eagle will make a lot of people convert their bikes to a 12-speed drivetrain this year, and if you skip installing a new crankset, you can drop another $100 from the price.
The new SRAM GX Eagle drivetrain comes in at a much more affordable $495:
Cassette: $195
Derailleur: $110
Shifter: $40
Crank: $120
Chain: $30
Total: $495
To keep the costs down on the new GX Eagle, the parts are not as nicely finished, use different materials and manufacturing methods, so the weight bumps up almost 1/2 pound heavier than the X01 and XX1 Eagle groups:
Cassette: 455 grams
Derailleur: 290 grams
Shifter: 122 grams
Crank: 610 grams
Chain: 270 grams
Total: 1717 grams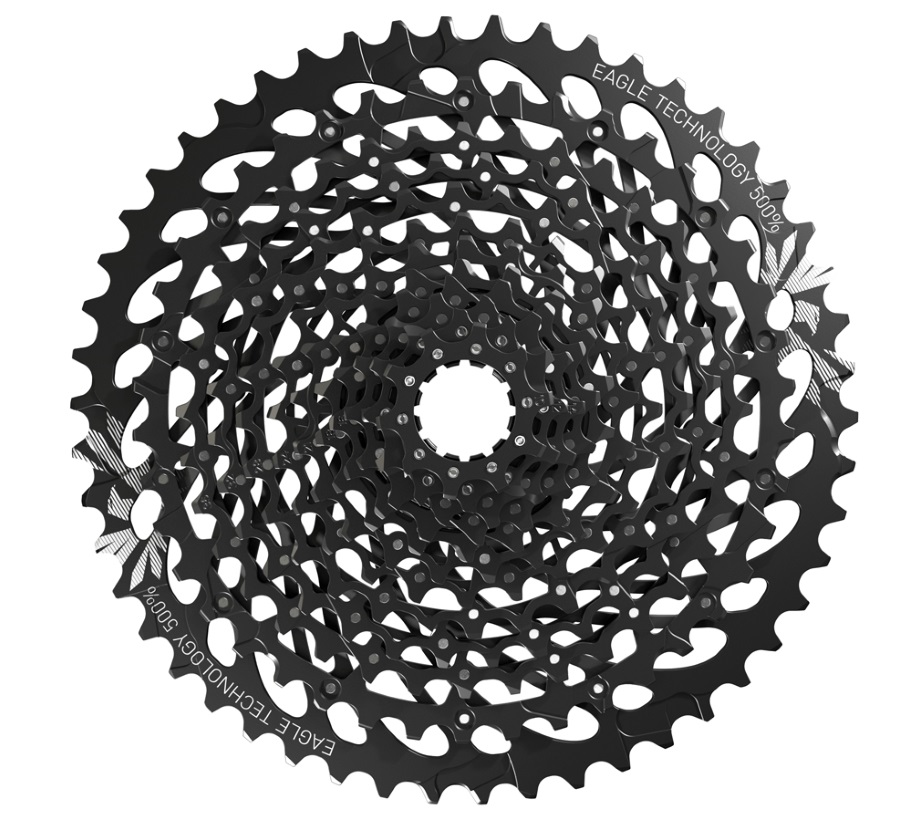 XG-1275 Eagle Cassette
Ride anywhere with this wide range XG-1275, 10- to 50-tooth Eagle cassette that provides the right gear. Fast on the flats. Control on the climbs. Dictate your own pace, anywhere. Only Eagle technology is the 1x drivetrain engineered for infinite freedom. FULL PIN technology uses lightweight, stamped steel cogs held together with high-strength stainless steel pins. The result: a cassette that's light and strong. The open design similar to our X-DOME cassette aids in mud clearance, giving you cleaner shifting performance and longer component life. New X-GLIDE 2 improves both inboard and outboard shifting, as well as chain retention.
MSRP
| | |
| --- | --- |
| WEIGHT | 450g |
| MATERIAL | Stamped steel |
| SPEEDS | 12 |
| COLORS | Black |
| RECOMMENDED CHAIN | Eagle chain only |
| SPROCKETS ON SPIDER | 12 |
| RECOMMENDED GROUP | GX Eagle |
| COGS | 10-50t: 10t, 12t, 14t, 16t, 18t, 21t, 24t, 28t, 32t, 36t, 42t, 50t |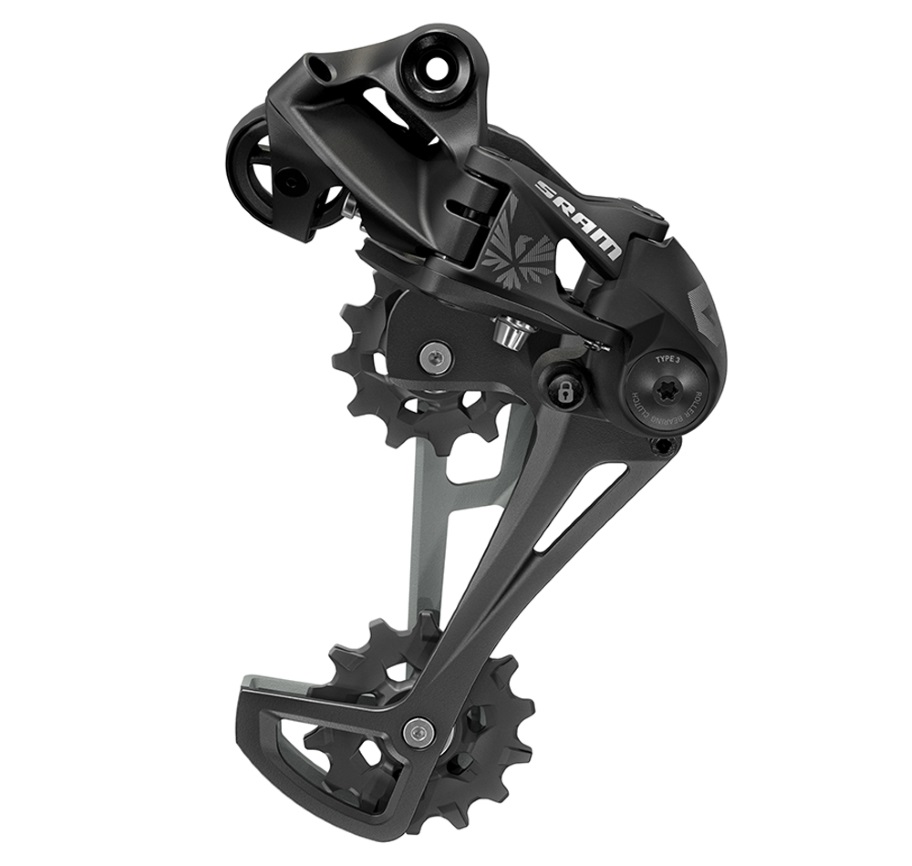 GX Eagle Rear Derailleur
This new GX derailleur not only answers the Eagle drivetrain's need for greater capacity, but it's also the next evolution of our proven, 1x-specific X-HORIZON design. The larger, 14-tooth X-SYNC lower pulley allows 10- to 50-tooth cassette, and also adds to Eagle's overall smooth-pedaling feel. Our new, Type-3 ROLLER BEARING CLUTCH features a smoother torque curve for a quieter, more consistent operation and feel. CAGE LOCK has been moved back and out of the way, protecting it from trail debris. And a redesigned, robust mounting system further improves the Eagle derailleur's performance and overall durability.
MSRP
| | |
| --- | --- |
| SPEEDS | 12s |
| MATERIAL | Aluminum, Steel pulley |
| WEIGHT | 290g |
| COLORS | Black |
| OUTER CAGE | Aluminum |
| INNER CAGE | Aluminum |
| SPRING | Steel |
| CAGE SIZES | Long |
| MAX TOOTH | 50t |
| PULL | X-ACTUATION |
| TECHNOLOGY HIGHLIGHT(S) | X-HORIZON, X-ACTUATION, X-SYNC, ROLLER BEARING CLUTCH, CAGE LOCK |
| HARDWARE | Stainless steel, Black |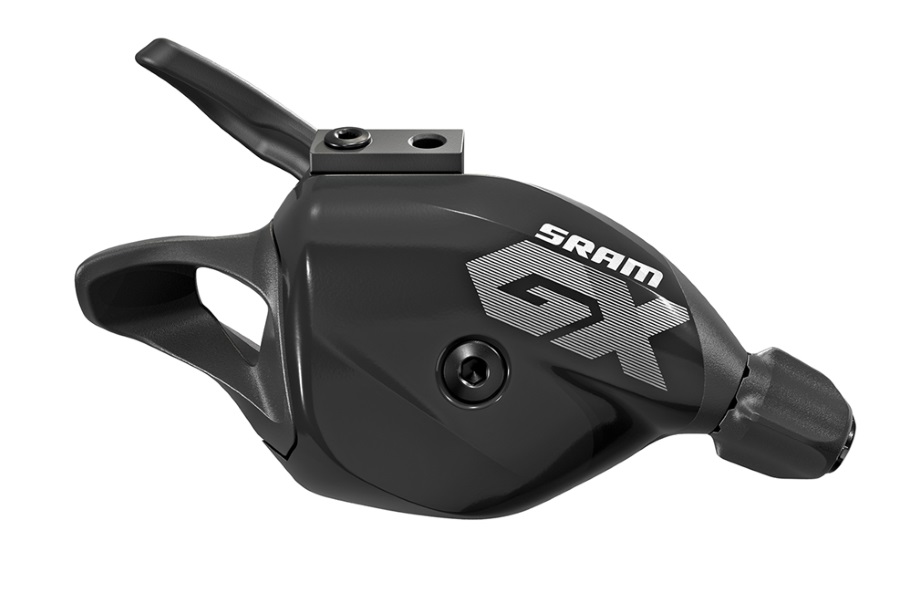 GX Eagle Trigger Shifter
The challenges of riding a mountain bike should be kept to roots, rocks, mud, trees, jumps, drops and breathing. Putting total control of your gear selection into the thumb of one hand, it's simple to find the right gear, right now. The GX Eagle trigger shifter is the control center of the Eagle drivetrain. Its internal works have been updated to include a 12th gear, and improved to enhance trigger feel, precision, and durability.
MSRP
| | |
| --- | --- |
| WEIGHT | 122g |
| SPEEDS | 12 |
| RECOMMENDED GROUP | GX Eagle |
| MATERIAL | Forged aluminum trigger |
| COLORS | Back |
| GEAR INDICATION | No |

GX Eagle Chain
The GX Eagle chain is designed with SRAM's Eagle™ geometry, the GX Eagle chain features solid pin construction, Eagle PowerLock and smooth, efficient shifting that you can count on every time out.
MSRP
| | |
| --- | --- |
| CLOSING LINK | PowerLock® |
| OUTER PLATE | Silver |
| INNER PLATE | Black |
| PIN TREATMENT | Chrome |
| WEIGHT | 258g (114 links) |
| MATERIAL | Outer link finish Nickel |
| RIVET TYPE | Solid pin |
| RECOMMENDED GROUP | GX Eagle™ |
| SPEEDS | 12s |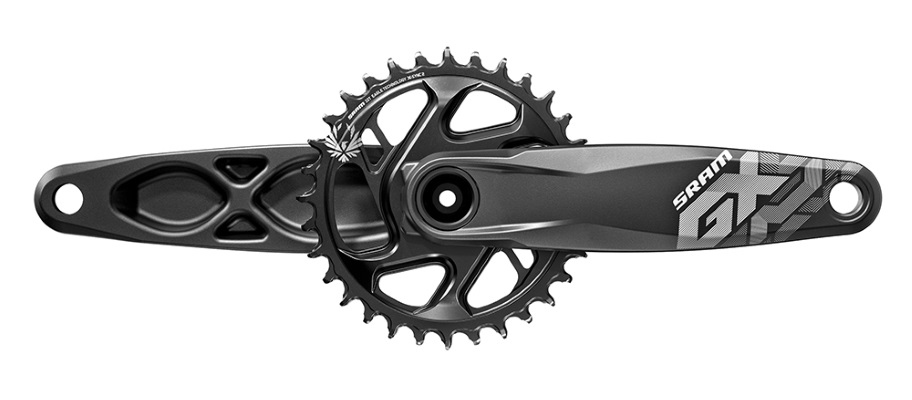 GX Eagle Crankset
The SRAM GX Eagle crankset delivers consistent performance every time out. Featuring SRAM's X-SYNC 2 tooth profile chainring, the GX crankset is engineered for complete chain control. Each tooth's thickness is precisely toleranced and controlled to work seamlessly with the chain's inner and outer links.
MSRP
USD: $120 – $170
Euro: €125 – €175
| | |
| --- | --- |
| ARM MATERIAL | Optimized 7000 series forged aluminum arms |
| CHAINRING MATERIAL | Aluminum |
| WEIGHT | 610g – 662g |
| AVAILABLE ARM LENGTHS | 165mm, 170mm, 175mm |
| COLORS | Black |
| BOLTS | Direct mount (DM) |
| BOTTOM BRACKET | BB30/PF30-68/73mm, GXP 100mm/PF GXP 121mm, GXP/PF GXP 68/73mm |
| CHAINRINGS | 30, 32, 34 |
| RECOMMENDED CHAIN | GX Eagle™ |
| INTERFACE | 24mm, 30mm |
| OTHER | Chainline: 49.0mm, 52.0mm, 66.5mm, 76.5mm |
| RETAIL AVAILABILITY | July 2017 |