All Good offers a collection of skincare products made from simple plant-based ingredients. From mineral based zinc sunscreens and sore muscle recovery spray to silky smooth lip balms, lotions and coconut oils, All Good supports an active, healthy lifestyle with their organically grown formulas.
Sunscreens 101
Active ingredients in sunscreens come in two forms, Physical and Chemical Filters or Blockers. Physical sunscreens work by sitting on top of the skin to deflect and scatter damaging UV rays away from the skin, while their counterpart Chemical or Organic Absorbers contain organic (carbon-based) compounds which create a chemical reaction and work by changing UV rays into heat, then releasing that heat from the skin.
Physical includes zinc oxide and titanium dioxide, while their counterpart covers the gamut of Oxybenzone, Octinoxate, Homosalate, Octisalate, Octocrylene, and Avobenzone. I think using a sunscreen that doesn't include the real baddies is the most important: Oxybenzone and Octinoxate, the next in line is Homosalate, Octisalate, Octocrylene. The safest are Mineral sunscreens made with zinc oxide and titanium dioxide, and the other is Avobenzone.
Reef Friendly?
I cannot vouch for the validity of the following statement from All Good – "All Good aims to educate consumers on the dangers of oxybenzone, a chemical found in sunscreen and personal care products known to damage and kill coral reefs. With a greater understanding of the impacts of Oxybenzone on marine ecosystems and, specifically, coral reef environments, All Good is developing a set of criteria for manufacturers, businesses and consumers to consider when making or purchasing sun care products. Every year we unknowingly shed thousands of tons of toxic, chemically laden sunscreen into our oceans threatening these same natural wonders — the reefs, the turtles, the seahorses — and together we can do something about it."
Recent reef damage research by a large international team of scientists might be inconclusive, and reefs have far bigger threats than sunscreen toxins, such as stresses from climate change, overfishing, and pollution. When I go swimming in the ocean, I'll still lather up with a sunscreen that doesn't contain Oxybenzone, but then again, I don't use sunscreens with that ingredient in any of my sunscreens I use for any outdoor activities.
For further information refer to allgoodproducts.com
First Impressions
I first used the SPF 30 Sport Sunscreen Lotion, and I liked how just a dab spread evenly and smoothly onto my face. Like any sunscreen that uses Zinc as its active ingredient, you need to rub it in a bit more vigorously in some spots to get rid of any residual whiteness, such as on your eyebrows or five-o'clock shadow. I didn't have any issues with sunscreen running into my eyes even when sweating profusely during a hard bike ride. It did its primary job, protecting me from the sun during a multi hour ride and I liked how it didn't leave an oily residue on my face. Next up I tried the Herbal Freeze on my thumb and hand arthritis. I just sprayed it on the sore spots and rubbed it in, and the Methonal and Arnica ingredients did their trick and helped ease the pain. I am looking forward to trying out the Sport Sunscreen Butter Stick, the SunStick, and the two lip balms, though I quickly tried the Coconut lip balm and I liked the pleasant smell and flavor.
All Good SPF 30 Sport Sunscreen Lotion, Water Resistant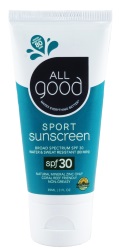 SPF 30 UVA/UVB Broad Spectrum Protection
3 oz. $15.99
80 Minute Water Resistant
Non-Nano Zinc Only
Lightweight formula, non-greasy
Sport — organic green tea, rose hips and buriti oil for repairing damaged skin
Kid's — organic chamomile for gently soothing sensitive skin
Active Ingredient: Zinc Oxide 12% (Non-nanoparticle)
Inactive Ingredients: Aloe Barbadensis (Aloe) Leaf Juice*, Bentonite, Calendula Of cinalis (Calendula) Flower*, Camellia Sinensis (Green Tea) Leaf Extract*, Caprylhydroxamic Acid, Caprylyl Glycol, Carthamus Tinctorius (Saf ower) Seed Oil*, Cellulose Gum, Cetearyl Alcohol, Cetyl Alcohol, Coco-Glucoside, Glycerin, Helianthus Annuus (Sun ower) Seed Oil*, Heptyl Undecylenate, Jojoba Esters, Mauritia Flexuosa (Buriti) Fruit Oil*, Methyl Dihydroabietate, Microcrystalline Cellulose, Octyldodecyl Oleate, Olea Europaea (Olive) Oil*, Rosa Canina Fruit Oil*, Rubus Idaeus (Raspberry) Fruit Extract*, Water (Aqua).
All Good SPF 50+ Sport Sunscreen Butter Stick, Water Resistant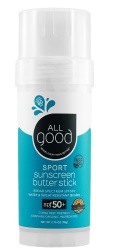 Sunscreen Butter in a stick! SPF 50+ Maximum UVA/UVB Protection
2.75 oz. $15.99
Easy wide mouth sunscreen butter stick for no-mess direct application
80 Minute Water Resistant
Great for use in extreme environments and water's edge relaxing
Smooth and creamy organic coconut oil base moisturizes while creating strong sun and wind barrier
Non-Nano Zinc Only
Kid's — organic chamomile for gently soothing sensitive skin
Active Ingredient: Zinc Oxide 25% (Non-nanoparticle)
Inactive Ingredients: Organic Cocos Nucifera (Coconut) Oil, Organic Cera Alba (Beeswax), Organic Calendula Of cinalis (Calendula) Flowers infused in Organic Simmondsia Chinensis (Jojoba) Seed Oil, Non-GMO Tocopherol (Vitamin E).
Sunstick SPF30 – Unscented

Grab your gear, your board, and a sun stick. It's all you need for lasting, effective protection from the sun when you're out in the great out-there. All Good Sunstick is ideal for the face, nose, ears and more. In addition to the non-nano Zinc Oxide, our formula incorporates rich, skin-saving certified organic oils, including jojoba, coconut, and avocado.
Active Ingredient: Zinc Oxide 20% (Non-nanoparticle)
Other Ingredients: Simmondsia chinensis (Jojoba Seed) Oil*, Cera alba (Beeswax)*, Sesame indicum (Sesame Seed) Oil*, Copernicia cerifera (Carnauba) Wax*, Persea americana (Avocado) Oil*, Theobroma cacao (Cocoa) Seed Butter*, Cocos nucifera (Coconut) Oil*, Tapioca Starch*, Butyrospermum Parkii (Shea Butter)*, Mauritia flexuosa (Buriti) Fruit Oil*, Non GMO Tocopherol (Vitamin E).
Herbal Freeze with Arnica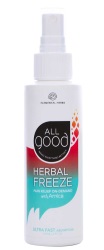 Herbal Freeze is the first and only all-natural muscle pain relief sprays proven to provide fast pain relief for sore muscles and achy joints through a carefully formulated blend of herbs and medicinal plants. It goes on cool and warms up fast. Whether you're sore from a workout, suffering from chronic pain or getting your muscles warmed up for a race, you can use Herbal Freeze to take the edge off for muscle pain relief. Don't forget to hydrate, stretch, get bodywork and eat well for optimal health!  – 4oz $19.99
Herbal Freeze Provides Temporary Symptom Relief From:
Strains
Sprains
Cramps
Arthritis
Sore Backs
Joints
Muscles
Active Ingredients: Menthol (peppermint derived) USP 6%
Inactive Ingredients:
Arnica*, Balsam Poplar*, Deionized Water, Organic Alcohol, St. John's Wort*, Vegetable Glycerin. *Ethically Wildcrafted, Extracted with Certified Organic Sugarcane Alcohol.
All Good Lips SPF15 – The Original and  All Good Lips – Coconut SPF20