Press Release
Beyond Coastal, a manufacturer of premium sun care products, announced it received top ratings, for the sixth consecutive year, in the recently published 2017 Environmental Working Group's (EWG) annual sunscreen guide. In the non- mineral sunscreen category, Beyond Coastal is the only brand to receive three out of the eight top rankings in the category with a total of 512 product submissions.  Refer to ewg.org/sunscreen
"In a very saturated market, where safety should always be top of mind when selecting which sun care protection is best for your skin and the environment, Beyond Coastal is proud to be recognized by the EWG as one of the safest options on the shelves and in your homes," said Beyond Coastal Director of Marketing, Colleen Gilligan. "The yearly affirmation by the distinguished EWG Annual sunscreen guide reinforces our commitment to using only the best quality and healthiest ingredients in our formulas to make the best and the safest sun care protection for our customers and their families."
EWG is an independent non-profit consumer resource group that provides consumers with ratings on protection levels and ingredient safety. Consumers are faced with thousands of sun care options on the market and having a third-party verify the overall safety of the products for your body and the environment is extremely important.
The annual EWG sunscreen guide tests over 1,000 products and rates them on a scale of 1-10, 1- 2 being "Low Hazard," 3-6 being "Moderate Hazard" and "7-10" being "High Hazard."  All nine of Beyond Coastal's sunscreen and lip balm products received top rankings, indicating a low hazard and thus being recognized among the safest brands the market.
All sunscreen formulas, regardless of brand, are comprised of about 80% inactive ingredients. Beyond Coastal's water-resistant and broad spectrum UVA/UVB protecting formulas are distinguished by the premium anti-oxidant rich, inactive ingredients used such as grape seed extract, jojoba oil, and coconut oil, which works to nourish, repair and hydrate the skin.
The MTB Lab's Impressions
Beyond Coastal makes some of the best sunscreens on the market. I have used it for years, and it not only works well to protect you from the sun, but the ingredients that are used are safe and don't irritate the skin. Multiple agencies, press outlets, green related site and various Mom blogs all agree on this fantastic product. 
I spend a lot of time outdoors, mountain biking, rock climbing, hiking, working in the yard, watching outdoor concerts, etc. To keep the sun damage to a minimum, and just plain keep the hot sun from frying my body, I like to wear hats, sunglasses, long-sleeved jerseys and utilize sunscreen. I've had two small bouts with skin cancer, a Squamous Cell Carcinoma skin on my neck and a Basal Cell Carcinoma on my forearm, both of which I've had removed. While most skin cancers are almost always curable when detected and treated early, it is best to prevent them in the first place. Proper sun safety habits are paramount and include not getting a burn, using sunscreen, wearing a wide-brimmed hat and sunglasses, covering up with clothing and having regular professional skin exams.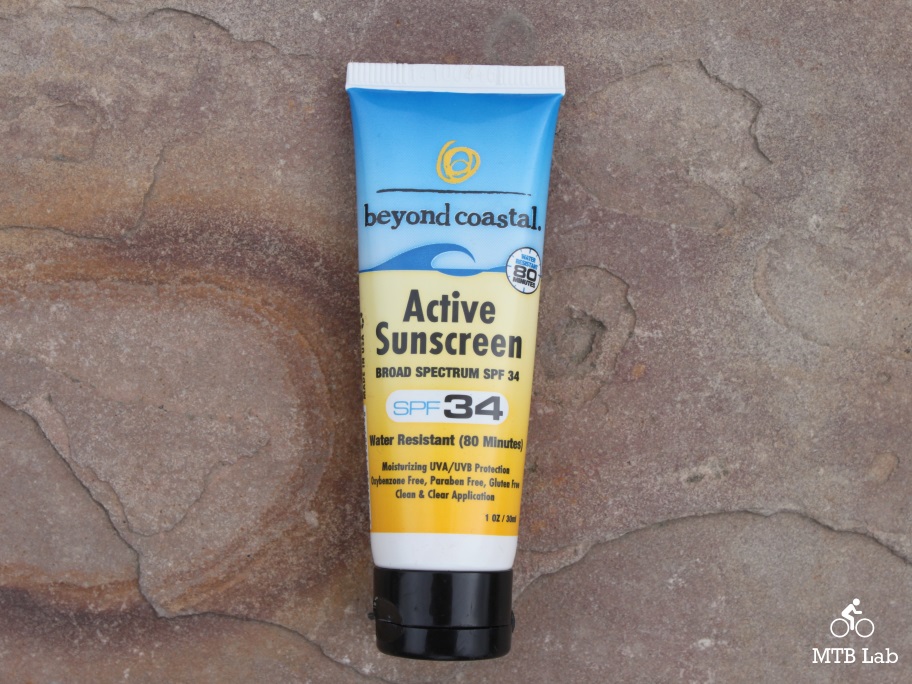 Features
I was initially drawn to Beyond Coastal products due to the clean and safe ingredients they utilize in their sunscreens. I obviously want a sunscreen that protects my skin from the brunt of the sun's dangerous rays, so it needs to be absorbed deeply into my the skin pores, but I don't want it to leave me looking like a pale white ghost. Additionally, it shouldn't drip into my eyes when I start to sweat, and it should stay on if I take a dip into the water, meaning it requires excellent water resistance.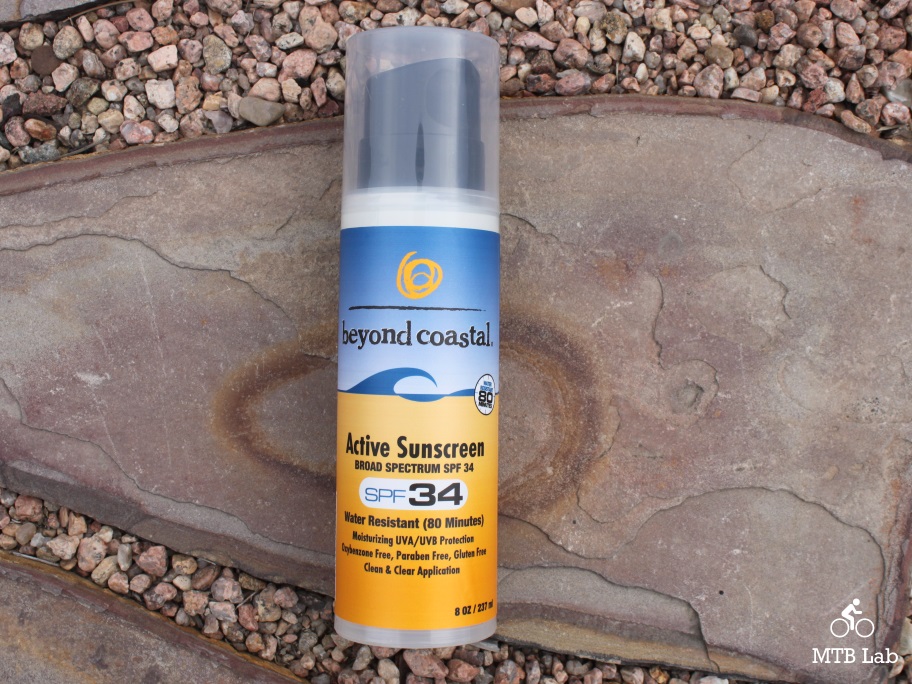 The Active Sunscreen is their traditional sports sunscreen and provides protection from UVA rays by utilizing Avobenzone Octinoxate, Octisalate, and Octocrylene as active ingredients instead of the common nasty and dangerous Oxybenzone and Parabens chemicals. It's SPF 34 rating means it effectively blocks 97% of UVB rays, which cause sunburn. This ultimate skin care product for the outdoor athlete is moisturizing, water resistant, and rubs in clear. The inactive ingredients nourish, repair, and hydrate your skin with aloe vera, shea butter, and vitamins C and E.
I have tried both Beyond Coastal's Active Sunscreen and their Natural Sunscreen ( zinc oxide and titanium dioxide-based) and prefer the Active for its non-greasy feeling on the skin and the invisibility of the coating.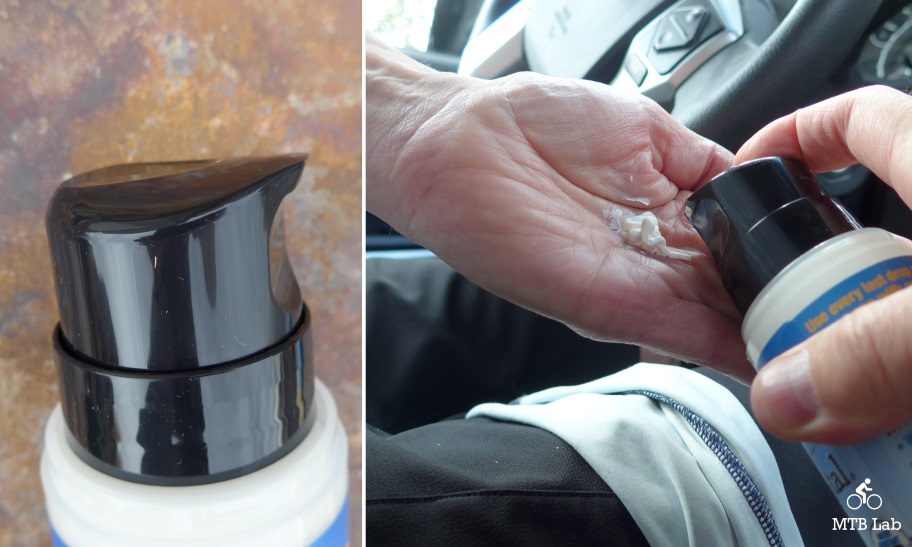 Impressions
The lotion's texture is somewhat thick, but it goes onto the skin smoothly and flows deeply into the pores and recesses for excellent absorption, without leaving a white film behind when rubbed in properly. It doesn't feel too greasy and is light on the face and skin, and I didn't have much trouble cleaning off any excess residue from my hands afterward. It doesn't have any real scent other than a mild sunscreen smell and doesn't leave any lingering chemical odor. Even after long days in the saddle and during profuse sweating I never had any issues with it stinging eyes or irritating my skin.
I have used all the different sizes of the Active product over the years, and prefer the newer 8oz Airless Pump. The Airless Pump is the easiest to use, the least wasteful and longest lasting, meaning the best price per ounce.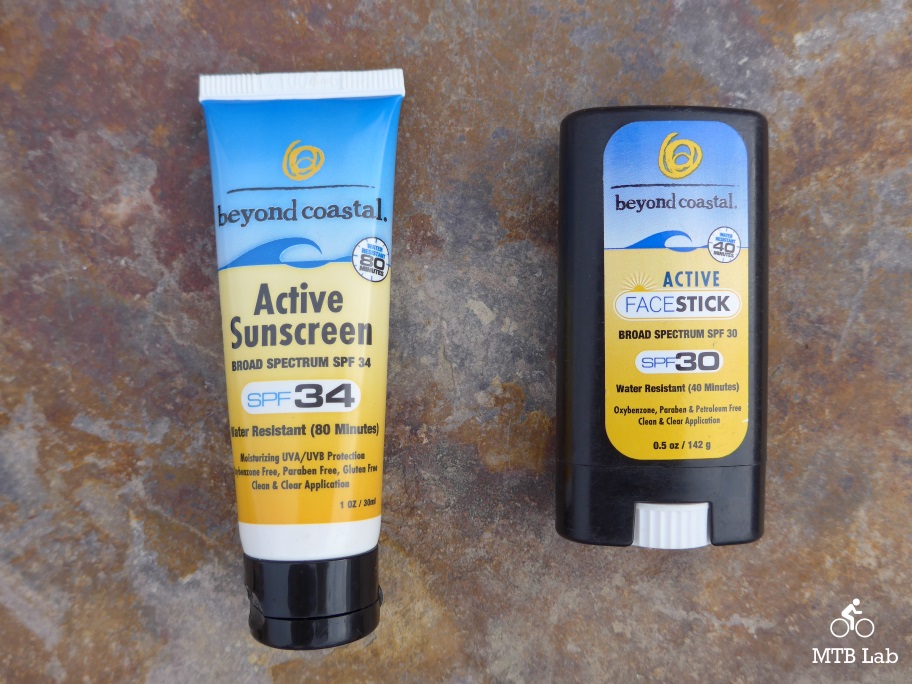 If I am going to be hiking or biking for longer than a few hours and need a re-application of the product, I'll carry one of the smaller tubes., such as the 1oz or 2.5oz. They also make an Active Face Stick, which is a deodorant like roll-on of SPF 30 and although it had a greasier texture than the regular Active it was perfect for cold day application to the nose and face (especially skiing).
An application of the Active Sunscreen should give you around 80 minutes of sun protection before a re-application is required, though those with fairer skin and those not out in the sun much might want to do it more frequently.
The Beyond Coastal Active Sunscreen comes in four sizes: 1oz for $5.99, 2.5oz for $9.99, 4oz for $14.99 and the 8oz for $29.99. The Active Face Stick is .5oz for $6.99.
Specs
Broad spectrum UVA/UVB protection stops 97% of UVB rays
Non-greasy and quick-absorbing for a clean, light, dry feeling
Nourishes your skin with green tea extract, yerba mate, and B5 panthenol
Rubs in clear and smooth
Water resistant
Great sunscreen for keeping tattoos from fading
Gluten Free, Cruelty-Free and Fragrance-Free
Oxybenzone Free, Paraben Free
For further information refer to beyondcoastal.com