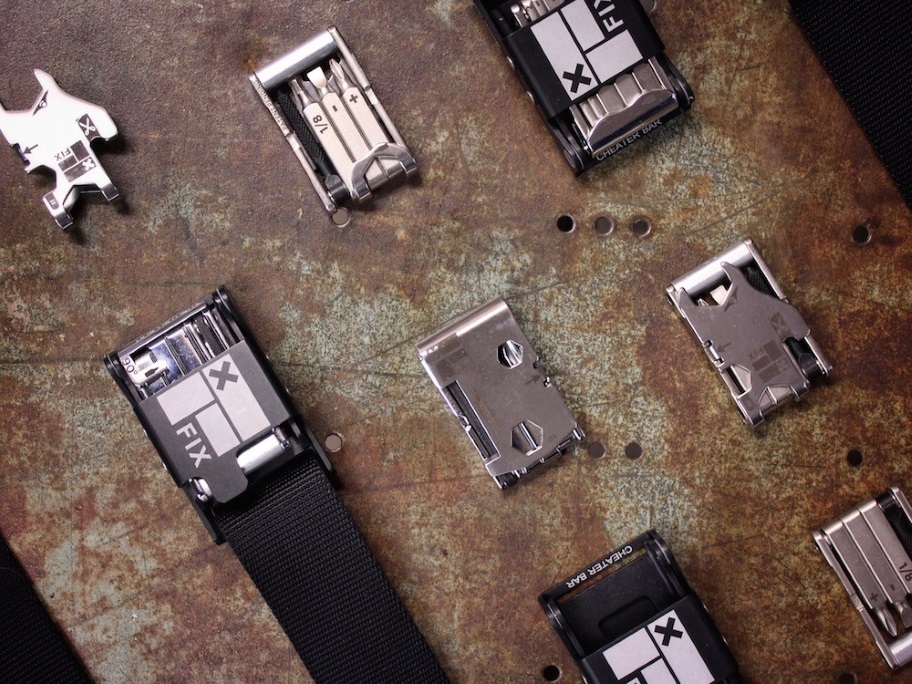 FIX Manufacturing: Multi-use tools for the modern-day athlete
Laguna Beach, CA – After a successful 2016 Kickstarter campaign, FIX Manufacturing multi-tools are now available for purchase via FIX Mfg website and select specialty retailers nationwide. Born from the desire to revolutionize portable and wearable tools, Fix Manufacturing is raising the bar for innovation in action sports. The brainchild of skate, snow and bike enthusiast and company Founder Tony Zentil, Fix Mfg takes pride in offering a product line of quality tools that boast optimal performance, function and easy accessibility.
Those familiar with extreme sports are well aware of having to build, tune, and repair their equipment on the spot. With functionality in mind, Zentil designed each of the tools in collaboration with athletes such as X Games gold medalist snowboarder Eero Ettala, skateboarding icon Steve Caballero and BMX legend Mike Clark.
FIX debuts four products: The Powder Pliers (snowboard tool), The Board Sword (skate tool), The Wheelie Wrench (bike tool) and the all-time belt: created to fit and carry any of the three tools. Most recently, at Agenda Long Beach trade show Fix debuted their latest addition to their roster, The Kraken (surf tool). Kraken will be available for sale in the coming months.
Thoughts => All their compact tools look ideal to carry around and perform maintenance for your designated sport. Obviously, I am most interested in the Wheel Wrench for mountain biking and its small footprint makes easy to stash in a pocket or pack for on the trail bike repairs and maintenance. If needed you can get the All TimeBelt and carry the tool around on the accessory belt, making for quick access no matter where you are.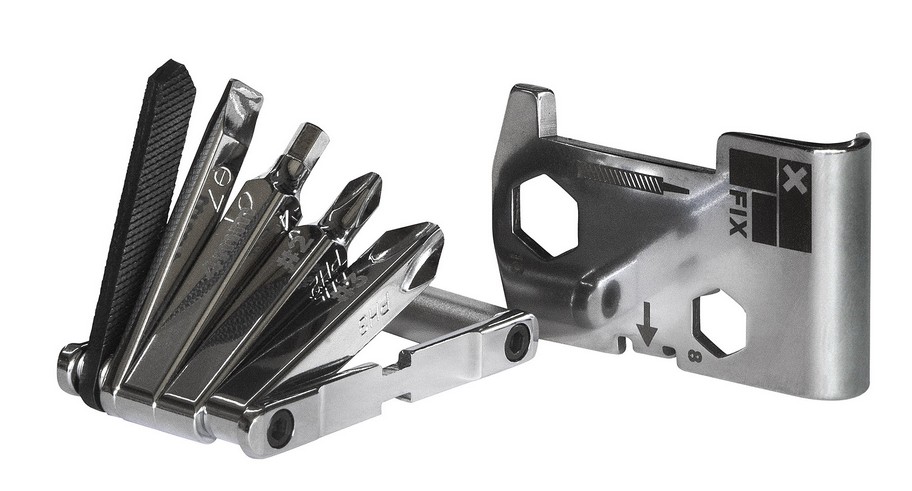 The Powder Pliers
The only all-inclusive snowboard tool on the market. Retail $35
Have you ever crashed in hardpack snow with the point of impact focused squarely on the tool you are carrying? It's not a pretty sight. It's as though the industry has banded together to create the most oddly shaped tools. The exception being our Powder Pliers. The flat and compact design fits nicely into small change pockets or even chest/arm pockets. In addition to having all the essential hardware tools, there is a nice emergency file that sharpens edges at a perfect right angle. Convenient if you nicked a rock or didn't expect icy conditions and need to make critical adjustments on the mountain. Pair it with the All Time Belt and never be without it again.
#3 Phillips screwdriver
#2 Phillips screwdriver
Slotted screwdriver
4mm hex bit
Edge file
8mm box wrench
10mm box wrench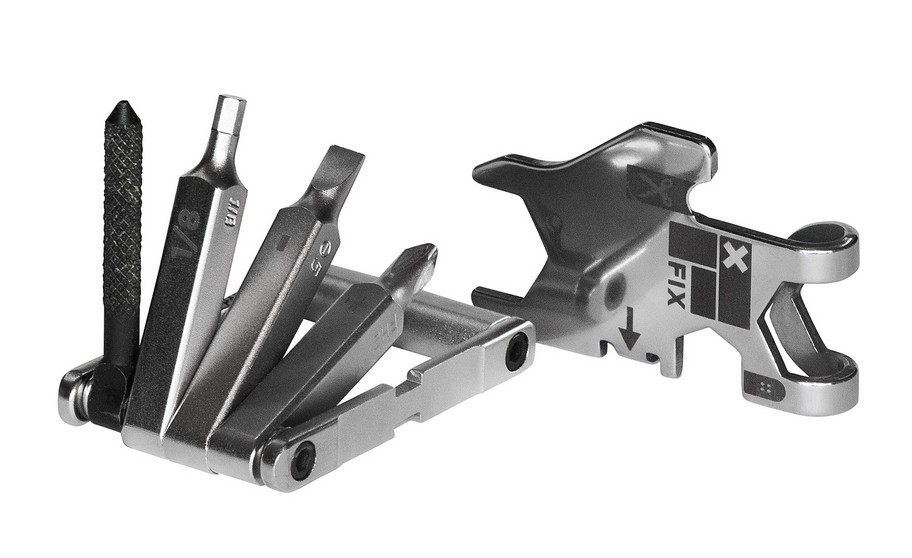 The Board Sword
Not only can you make all the critical adjustments you need to make on a skateboard, you can even score and cut grip tape all with a tool that's a tad bigger than a match box. Retail $25
If compact and easy to carry is what you want, look no further than the Board Sword. At just a tad bigger than a matchbox it can easily fit into the coin pocket of most denim pants. Stainless steel wrenches will cover all your basic hardware and you can even score/cut new grip tape. If you run your trucks tight and need some extra leverage, pair this tool with the All Time Belt to crank your trucks tight.
1/2″ wrench
9/16″ wrench
3/8″ wrench
#2 Phillips screwdriver
Slotted screwdriver
1/8″ hex bit
Round file
Safety blade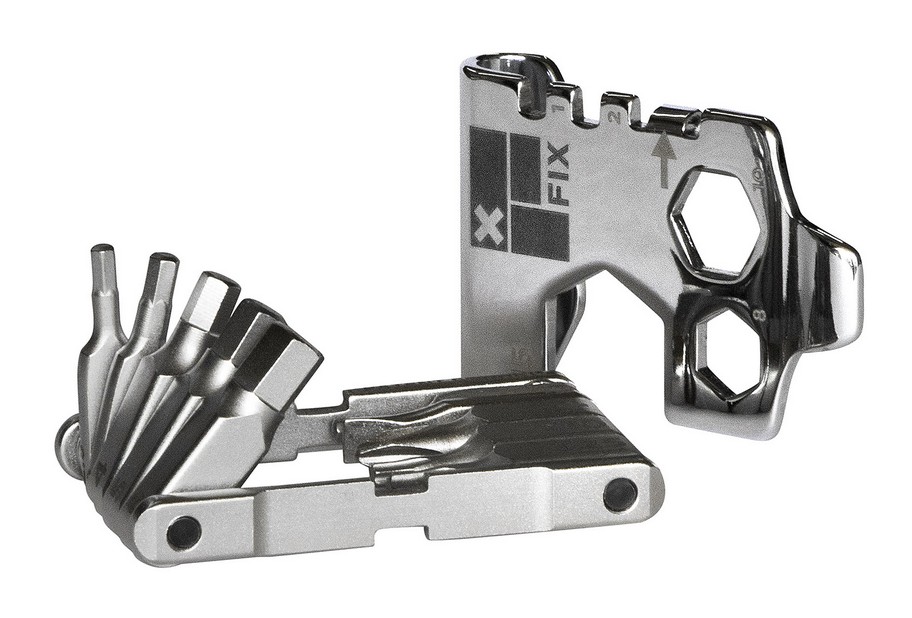 The Wheelie Wrench
One of the most compact bike tools on the market. Retail $30
Tired of carrying bulky tools? The Wheelie Wrench has 17 essential tools in a compact and easy to carry package. At just a tad bigger than a matchbox it can easily fit into the coin pocket of most denim pants. Pair it with the All Time Belt for easy carry around town. Get more leverage on stubborn pedals using the belt and tool together
2mm thru 6mm hex bits (including 2.5mm)
T10 and T25 Torx bits
#2 Phillips screwdriver
Slotted screwdriver
Tire lever
8mm box wrench
10mm box wrench
15mm open ended wrench
Spoke wrenches
The Kraken
The Surf tool can be used as a keychain or with Payload Pocket™ compatible accessories and it has all of the tools you need to get you dialed in before you hit the water. Retail $25
Bottle opener
Easy out – screw remover
#2 Phillips Screwdriver
Wax Comb
Wax Scraper
Leash Cord
Leash Corf Feeder
Hex fin key
Slotted Screwdriver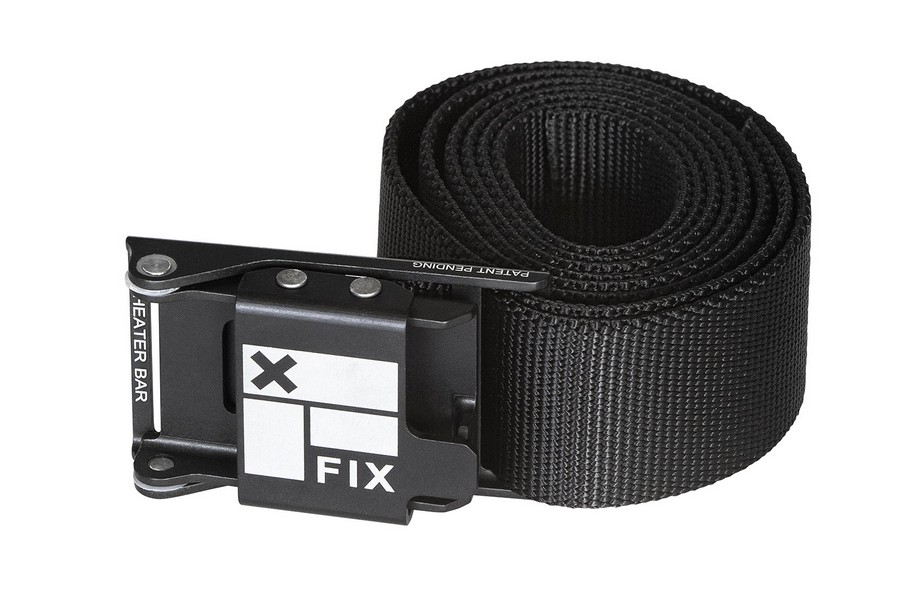 All TimeBelt
To ensure each tool is accessible at the drop of a hat, Fix Manufacturing created the All TimeBelt – a woven accessory belt; available in two sizes and adaptable to house any of the multi-use tools. Retail $50
The All Time Belt carries any of our tools using the unique Payload Pocket.  The tool is inserted/removed by simply sliding it in and out. A patented spring mechanism prevents the tool from ejecting by accident.
About Fix Manufacturing
Fix Manufacturing specializes in wearable and portable tools for actions sports with a lifestyle twist. Our focus is on engineering compact, functional, and innovative tools with an eye for craftsmanship and quality. We are proud to offer unique every day carry solutions for these tools and will continue to revolutionize the meaning of mobility and convenience. Visit our website www.fixmfg.com to see what's coming next.