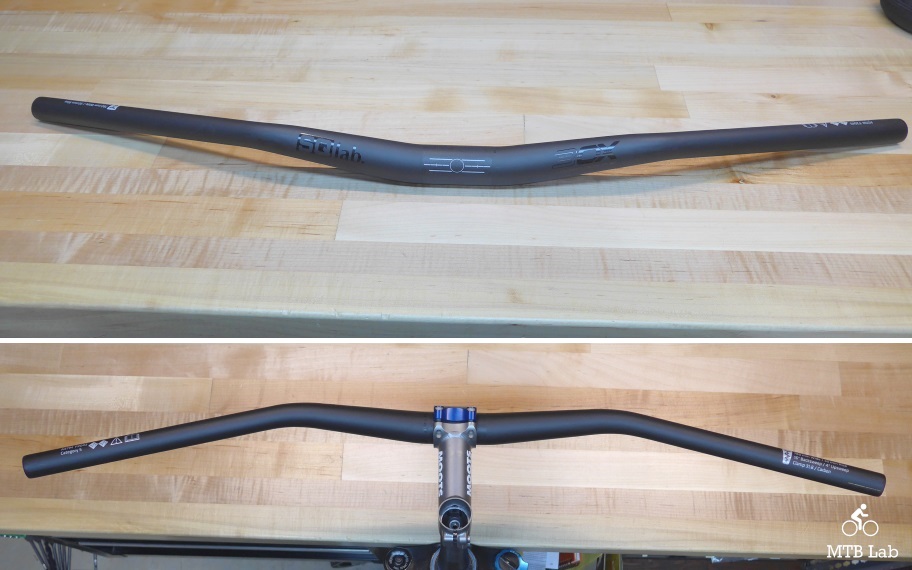 The 30X handlebars offer excellent ergonomics and a comfortable and natural hand orientation, along with a useful combination of backsweep and up sweep, and a soothing blend of rigidity and damping.
SQlab has released their trick new 30X Handlebars for mountain biking which were first seen at the Sea Otter show earlier this year. They come in a Carbon and Aluminum version with two large back sweep options and three rise heights options. The bars have a 4º upsweep, a 15mm or 30mm or 45mm rise and a 12º backsweep or 16º backsweep. The increased backsweep provides improved and more natural ergonomics when riding, which decreases fatigue and injuries. The Aluminum version retails for $89.99 and weighs 325 grams while the Carbon comes in at $189.99 and 235 grams.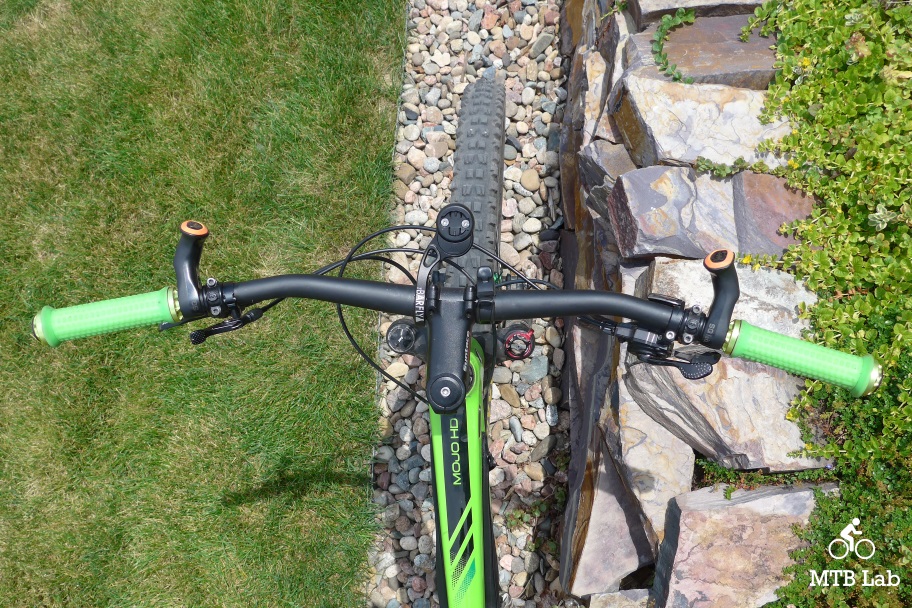 Impressions
The 30X Carbon bars I tested have a prominent 16º backsweep and 30mm rise and 780mm width, a 31.8mm clamping diameter and weigh 238 grams. The backsweep prevents hyperextending the wrists and provides ergonomic hand and forearm and elbow positioning and reduces Carpal Tunnel Syndrome issues and hand numbness. The bars can be shortened to 720mm if desired, and when I get around to it, I'll likely cut them down to 760mm or 740mm since I found them a bit too wide for tight trees and rock slots. I like my bars a bit narrower than the prodigious 780mm, even though that width does offer more leverage in many situations.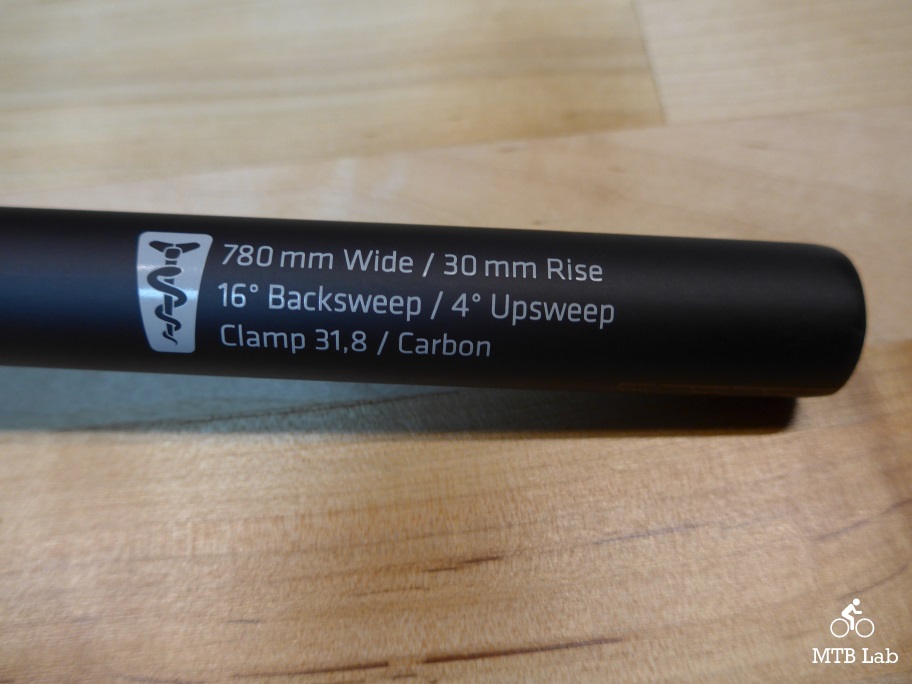 The ergonomic bars utilizes functional sweeps and rise and designs to improve comfort, optimize positioning and decrease hand fatigue and hand related issues and the carbon fiber damping offers a welcome softening to rough trails without feeling sloppy.
The bars have broad sweeps and a high rise so after performing some seated tuning in my home shop; they felt the most comfortable with a slight upwards tilt towards the front of the bike. That rotation created a natural fit for my hands, without any overextension or odd contortions of the wrists.  I found the sweep and rise comfortable and easy to get used to, without any hand or wrist distress, though I would have liked to try the 12º backsweep to see how it feels on more technical gravity type trails.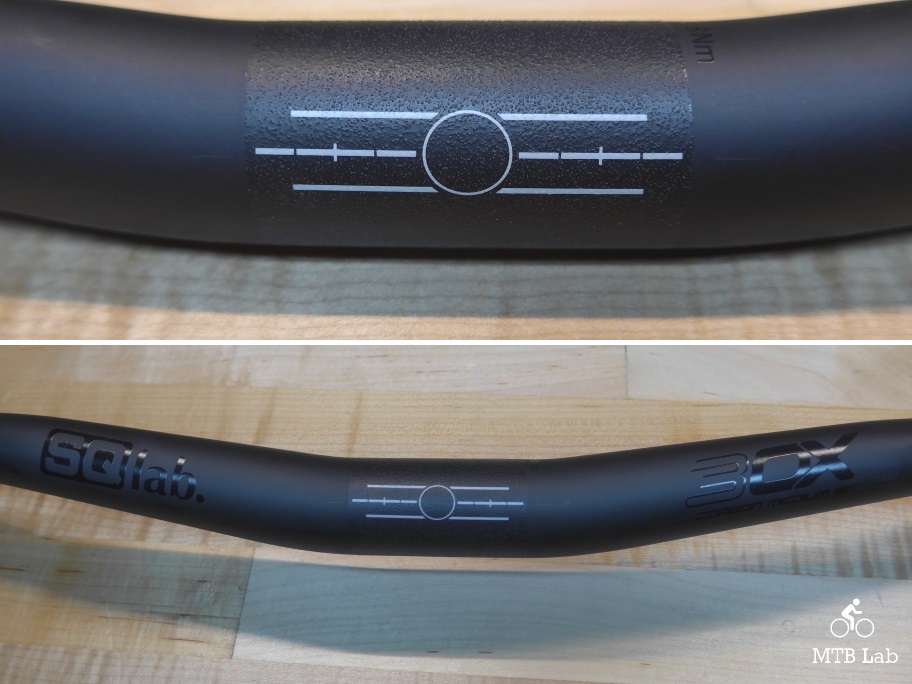 The stem clamp area has an anti-slip zone to prevent the bars from creeping around, making for easier tuning adjustments. The bars have a nice beaded finish and so far don't seem to scratch, even after installing multiple pieces of gear on and off the bikes while doing all the control system setups.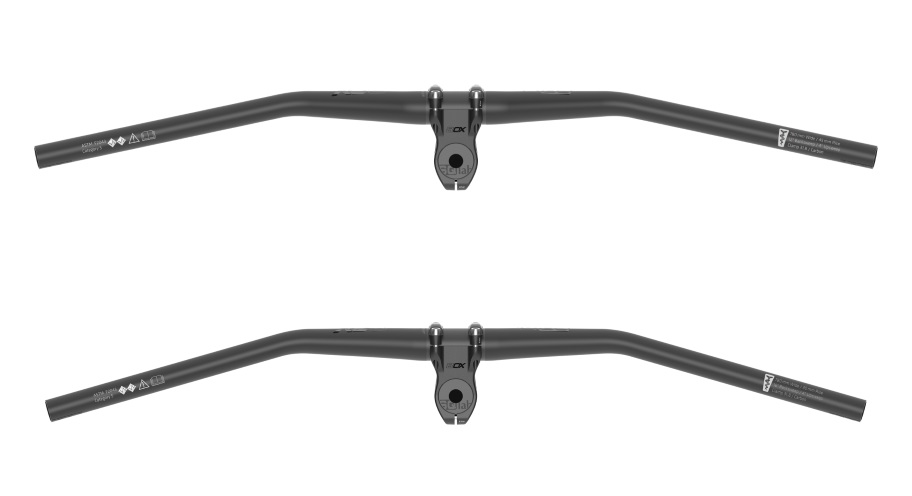 SQlab Press Release
The 30X handlebar bears the clear signature of the SQlab product developer, Tibor Simai. The perfect match of form, flexure, and diameter make the new Gravity handlebar one of the currently most stable and simultaneously lightest handlebars in its range of application. All test bench standards were passed back-to-back using the same handlebar for all testing. In the final test stage – the so-called "Zedler End of Life," which simulates an entire handlebar life cycle under real loads – the test unit was shut off after 100,000 changes in load because, even then, no signs of fatigue or material damage were detected in the handlebar. The handlebar is produced strictly according to German quality guidelines, with absolute perfection at the highest level and with maximum care.
The new 30X handlebar will be available in aluminum and carbon as of May 2017. As can be expected from SQlab, the handlebar comes in six ergonomic designs, including two different backsweeps (12° and 16°) and three different elevations/rises. Depending on the range of application and the seat position, this product lets everyone find the handlebar that fits.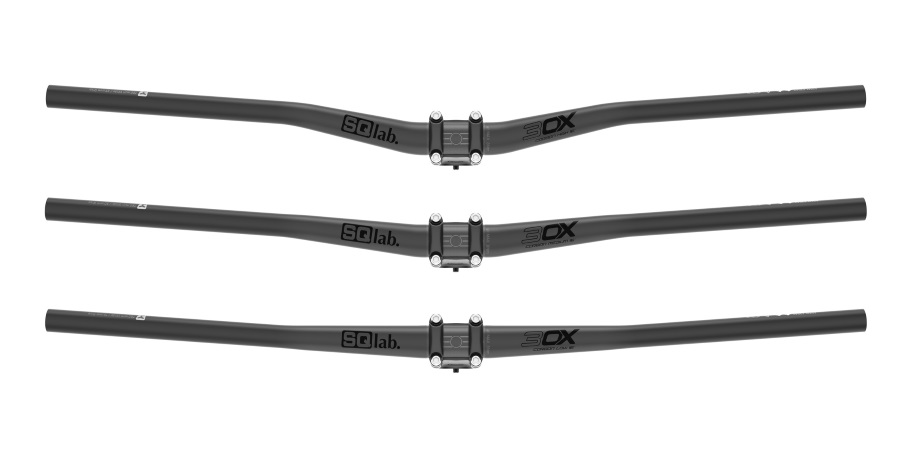 According to Tibor Simai, the 16° design is perfect for E-Bike requirements and long tours on a mountain bike, while the 12° execution plays perfectly into the hands of the Gravity biker. In any case, it is important to keep a straight transition from the forearm to hand in mind, so that the wrist is never overextended under high loads.
More information at sq-lab.com
30X Aluminum Version:
Weight: approx. 325 g
Width: 780 mm (shortened: 720 mm)
Clamping: 31.8 mm
Rise: Low 15 mm/ Med 30 mm/ High 45 mm
Backsweep: 12°/ 16°
Upsweep: 4°
MSRP: $89.95
30X Carbon Version:
Weight: approx. 235 g
Width: 780 mm (shortened: 720 mm)
Clamping: 31.8 mm
Rise: Low 15 mm/ Med 30 mm/ High 45 mm
Backsweep: 12°/ 16°
Upsweep: 4°
MSRP: $189.95