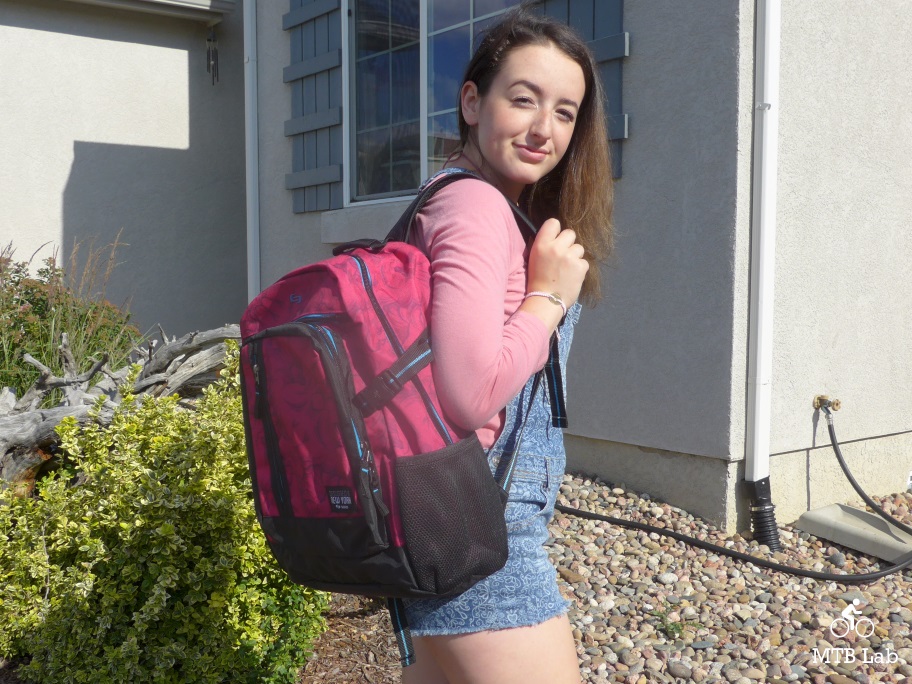 For many of us that have kids, the end of summer means it's back to school preparation time, and that usually entails shopping for school supplies. While many of the items they'll require for the school our requirements from the teachers and are unique to the classroom, their backpacks they'll utilize to carry everything are far more personal items. Even more so if you have a picky student or one that is a fashionista (like mine). Solo has some an amazing of product lineup of backpacks for students, on top of their comprehensive suite of briefcases, tablet cases, laptop sleeves, totes, messenger bags, duffels, and work bags.
"From the beginning of elementary school to the final years of college, Solo has a wide variety of backpacks that meet the needs of every student. Solo's sophisticated styles and abstract patterns are inspired by life in New York City, and will stand out in both design and function."
Whether the backpacks are for students in elementary through high school or college, they need to be able to carry binders, books, laptops, iPads, tablets, pens and pencils and other items within the storage compartments. The main compartments need to be cavernous to carry the large items, and it's always beneficial to have a separate zippered laptop pocket or at least an internal sleeve. Nicely padded shoulder straps and back panels add to comfort levels, especially when carrying heavier loads as does a having a top carrying handle to grab the pack. And lastly, the pack needs to be durable since it will not be well-taken care and will tend to get tossed around, thrown on the floor and into the locker, banged up and mistreated. The shoulder strap can tear where it connects to the bottom of the pack and robust stitching and over construction help prevent premature damage. Solo's backpacks meet all these design and feature criteria, along with exciting and fun color schemes and patterns, making for an excellent synergistic product.
"Designed in New York, available everywhere, Solo is one of the largest and fastest growing urban lifestyle brands. Solo designs bags and cases for people who know what they want and aren't shy about demanding it. You'll find Solo's designs hanging off the shoulders and in the hands of people who live life on their own terms."
For further information refer to solo.net
Pop Backpack
New York Collection
Style SLACV7649
MSRP  $49.99
Style inspired by the city that never sleeps!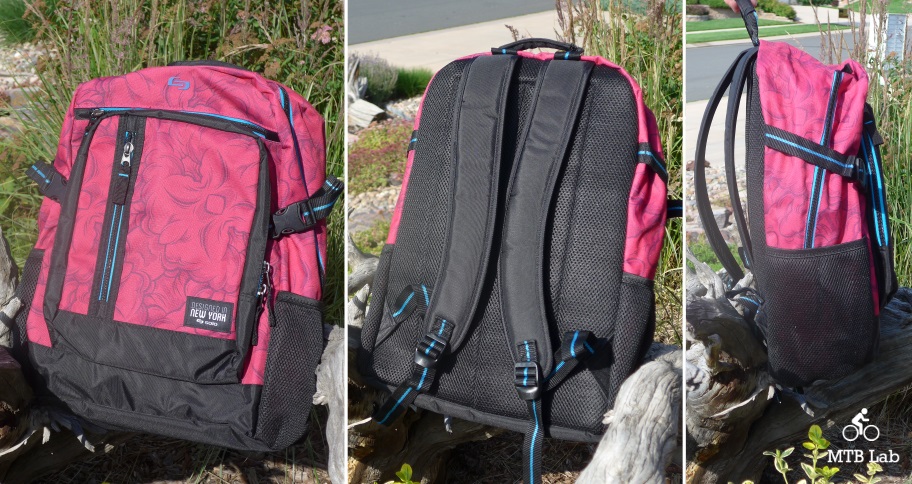 "Vibrant color meets the city. Our bold design gives props to all the graffiti artists who make the city come alive with their daring spirit and creativity."
Thoughts => The Pop has a fun color and a wild graphic pattern making for an interesting combination that should make picky students happy. It has a plush back panel, and shoulder straps and the top carrying strap is robust, though the nylon cover on it isn't the most comfortable padded entity. In the large main compartment, there is a mesh laptop sleeve/pocket that will hold relatively large computers. Externally there are two water bottle pockets, and two side compressions strap to help stabilize the internal load. There is one large outside pocket with a key clip that has several nylon sleeves for pencils/pens and other items and another smaller pocket for small items or phones.
Pop's Specs
Fully padded mesh 15.6″ laptop pocket
Two front pockets
Front zip-down organizer section with key clip
Side mesh pockets fit most water bottles
Padded carry handle
Padded back and backpack straps for added comfort
Lightweight
Body size: 18″ x 12.5″ x 7″
Weight: 1.45 lbs
Endeavor Backpack
Urban Code Collection
Style SLUBN7409
$59.99
The Pulse of the City Meets Coder Cool!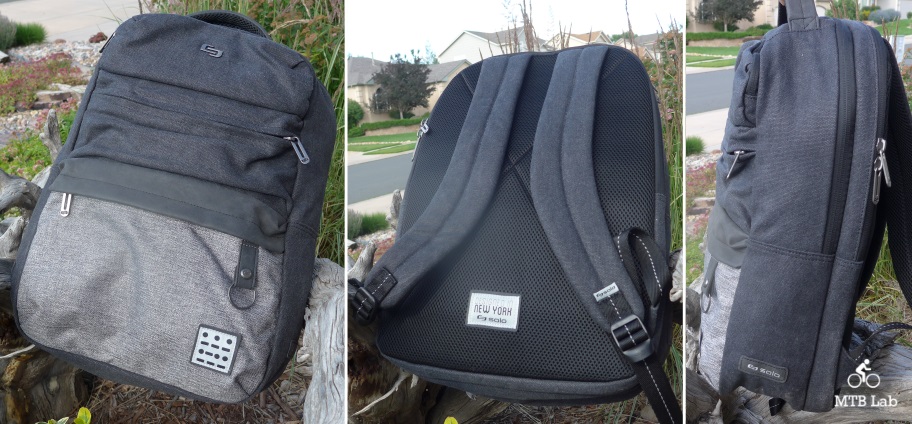 "Styled in a sleek urban palette, Urban Code effortlessly deciphers the everyday frenzy of city life. With the Solo logo written in Morse code, this collection pays tribute to yesterday's digital pioneers, while being distinctly designed for the hyper-connected digital age."
Thoughts => The Endeavor has a more subdued color scheme with some urban charm to itself and utilizes a combination of nylon and suede. It has a plush back panel, and shoulder straps and the top carrying strap is wide and nicely padded, making it comfortable to hold onto the pack. In the large main compartment, there is a padded nylon sleeve/pocket for a tablet/iPad. Behind the main is a separate zippered pocket for laptops, which is a big highlight with the Endeavor 's design. Externally there are three zippered pockets, two smaller ones and a larger one with several nylon sleeves for pencils/pens and other items and another smaller pocket for small items or phones. I did look up the Morse code pattern on the front of the pack, and sure enough, it spells out SOLO!
Specs
Fully padded 15.6″ laptop compartment
Internal iPad®/tablet pocket
Front zippered pocket
Interior organizer section
Padded back and backpack straps for added comfort
Body size: 18″ x 12.25″ x 5″
Weight: 1.5 lbs