Grand Junction Colorado-based MRP is proud to introduce the all new Ribbon Coil fork with Ramp Control, pressure release valves and a bladder free damper. The Ribbon Coil gives you the spring tunability, and stroke control previously found only with air, while giving you the supple linear spring curve, lower friction, longer service life and consistent feel that you get with a coil spring. I have always loved Coil forks as they offer buttery smooth movement through their travel with a functional linear curve.
It ships with three standard spring rates (soft, medium, and firm) and two additional springs (extra-soft and extra-firm) is available separately. The three springs will cover the full gamut of most riders in the 125-250 lbs. weight range, and you can fine-tune the spring rate via the external preload adjustment. The Ribbon Coil weighs 4.6 lb., which is only 203 g (0.45 lbs.) heavier than their air-sprung Ribbon, making for a negligible weight penalty to get the incredible attributes and performance of a coil fork.
"Discerning riders have long sworn by the performance, durability, and consistency of coil suspension. While the industry moved away from coil springs in favor of air for its light weight and simple, broad tunability, these coil aficionados dreamt of a fork that combined coil's advantages with the latest in chassis and damper technology. MRP delivers just that with the new Ribbon Coil."
The new MRP Ribbon Coil fork was designed for Trail, Enduro, and All Mountain use and features a Boost 15×110 axle, 35mm stanchions, a bladder free damper, their Ramp Control system, PSST pressure relief valves and the innovative Outcast arch design. For adjustment, it has a 16-position ramp control, externally adjustable preload, and rebound. The damper side uses a twin-tube design with an IFP (internal floating piston) based system rather than the usual expanding bladder for improved durability and reliability. Included with the Ribbon Coil is MRP's acclaimed Ramp Control system; a speed-sensitive ending-stroke adjustment that allows you quickly and easily isolate and tune your preferred amount of bottom-out support on the fly.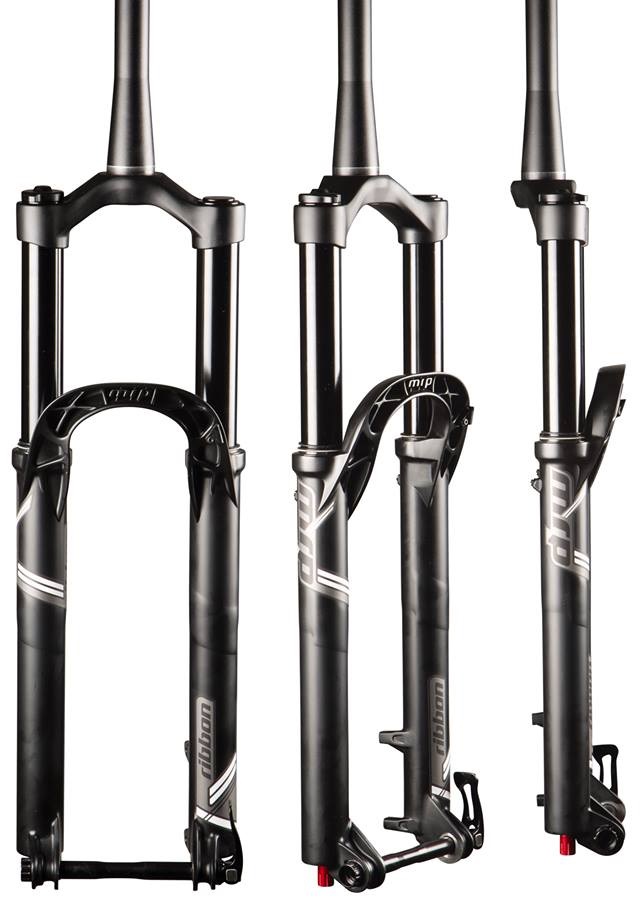 It comes in a 27.5-inch size with 140-170mm of travel and a 27.5+/29-inch with 120-150mm, both of which can be adjusted internally in 5mm increments and they retail for $989. It comes in two offsets, with ten standard decal color options, and with either QR-style or bolt-on 15×110 axles. The 27.5-inch model can fit up to 2.6″ wide tires, while the 29-inch can accommodate up to Plus sized 27.5″x 3″ or 29″x 2.6″. Like all MRP forks, the Ribbon Coil is precisely assembled in MRP's Grand Junction, Colorado factory. All forks undergo a rigorous QC process, which includes individual dyno testing, before arriving in the hands of end users. With the addition of either coil or air-spring and the above options, MRP suspension is truly the suspension of choice for those that demand the best.
Visit www.mrpbike.com for more info on the Ribbon Coil.
Highlights 
MRP's acclaimed Ramp Control system.
Outcast arch design with forward-facing weight reliefs to mitigate mud build up and deliver a distinctive look.
New bladder-free damper utilizing a low-pressure IFP.
PSST pressure-relief valves that quickly and easily bleed off excess pressure in the lowers caused by elevation and temperature changes.
"Boost" spacing and 35mm stanchions.
QR or bolt-on axle.
Ten decal colors
Shipping October 2017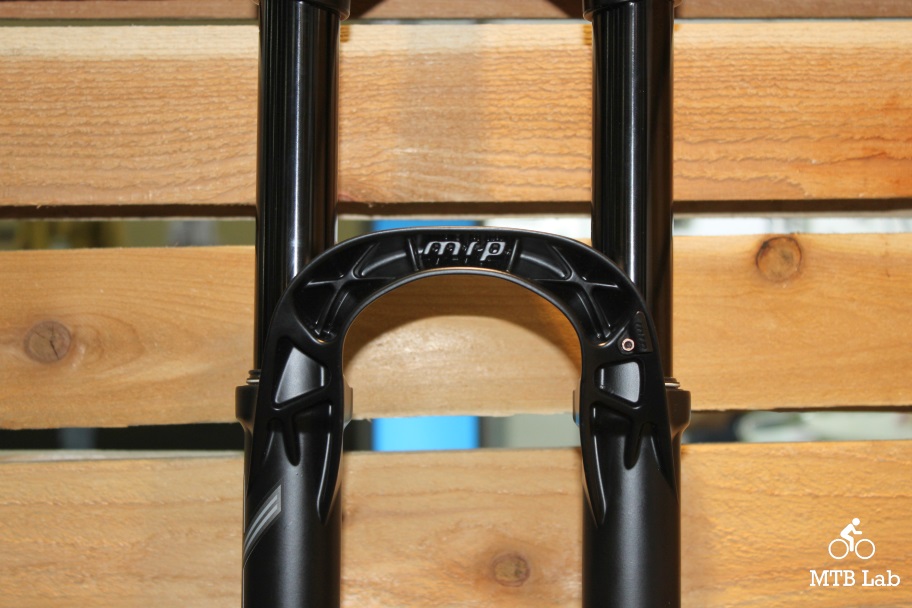 The funky Outcast arch has the cutouts pointing forward, which should help keep mud, dirt, and crud from getting stuck in the latticework.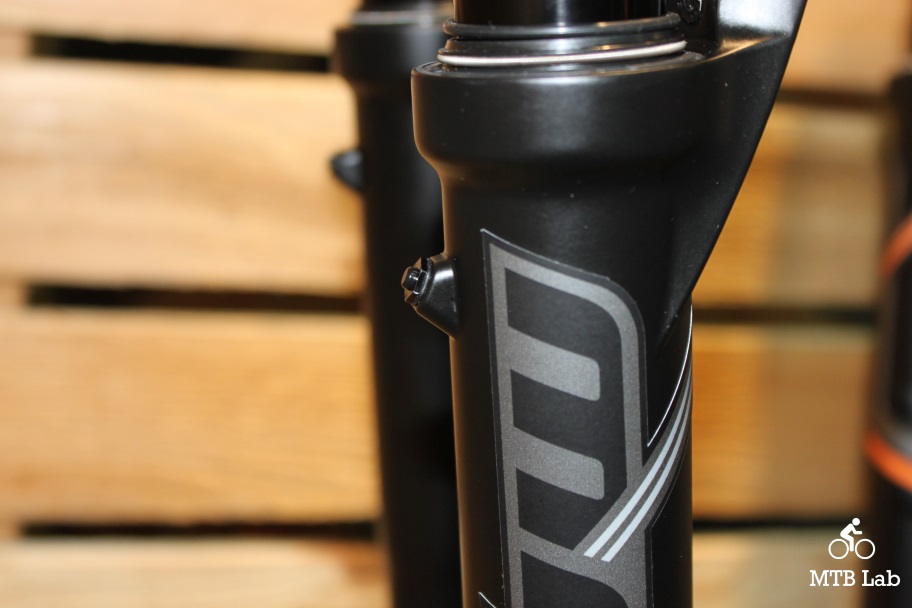 On the back of the upper fork legs are the PSST pressure relief valves which are just air bleeding buttons that allow you to expel pressure build up that is due to elevation changes, temperature changes or heavy use.
Specs
Stanchion Size: 35mm
Travel:

150, 160, or 170mm (27.5″).
140, 150, or 160mm (27.5+ / 29″).

Weight:

4.55 lbs. for 27.5″
4.6 lbs. for 27.5+ / 29″

Spring System: soft, medium & firm springs included. Extra-Soft and extra-firm available separately.
External Adjustments: preload, 8-position low-speed compression, 20-position ramp control, and rebound.
Internal Adjustments: Travel (in 5mm increments)
Steerer Options: tapered only (1.5 – 1.125″)
Colors: all black chassis with nine decal color options.
Offset: 44mm (27.5″), 46 or 51mm (27.5+ / 29″) – (Note 46mm offset 27.5+ / 29 forks only available by special request.)
Brake Mount: 180mm pm (disc only)
Chassis / Wheel Size Options: 27.5″ Or 27.5+ / 29"
Tire Clearance:

27.5″ Chassis:

27.5″ X 2.6″ on 35mm id rim

27.5+ / 29″ Chassis:

27.5″ X 3.0″ on 45mm id rim
29″ X 2.6″ on 35mm id rim

Axle:

"Boost" Spacing – 15X110mm
QR15 Standard, "tooled" bolt-on axle optional

Axle-To-Crown (Length):

27.5″ 170mm : 562mm
27.5+ / 29″ 160mm: 572mm

US MSRP $989