Shimano Expands Off-Road Footwear Line
All-new Multi-Surface series and expanded Mountain Enduro series debut
OSAKA, Japan (August 30, 2017) – Furthering its position as the global leader in cycling technologies while addressing new categories and riding applications, Shimano has unveiled all-new 2018 off-road performance footwear. Specifically designed for gravel and adventure riding, Shimano's new Multi-Surface footwear represents a sharp focus on the rapidly growing category and is the result of extensive R&D from events, riders, and terrain around the globe. Also adding to the Mountain Enduro series, new value-packed models deliver the versatility and performance of the ME footwear to more riders than ever before. The result of over 25 years experience designing and engineering cycling footwear and built upon the SHIMANO PEDALING DYNAMICS (SPD) platform, Shimano footwear and pedals are engineered together as a complete pedaling system. Furthering its partnership with Michelin in the development of technical outsoles for mountain bike footwear for 2018, Shimano has continued to implement the results of their collaborative efforts in their new Multi-Surface footwear series.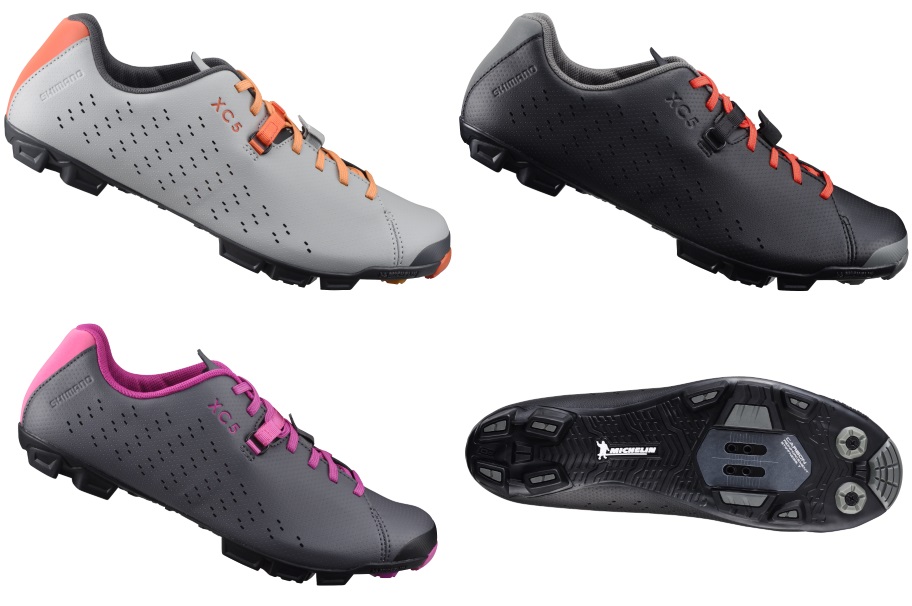 XC5 and XC5W: Comfortable and functional mixed terrain shoes
From gravel racing to off-road adventures, to cyclocross racing, the SH-XC500 and SHXC500 Women's footwear was engineered to excel in the rapidly growing category of mixed-surface riding. Designed for situations where the rider is on and off the bike, the XC5 features an exclusive high-traction Michelin outsole with excellent mud shedding capability and reinforced spike mounts for extreme conditions. Merging composure off the bike with efficiency and comfort on the bike, the supple high-density synthetic leather upper with perforated venting is secured with Mini Power Strap lacing for a secure and highly adjustable fit. The lightweight and rigid carbon fiber reinforced midsole and SHIMANO DYNALAST technology deliver an ideal balance of pedaling efficiency and walking capability. The XC5W delivers the same performance in a women's-specific fit for a more natural, comfortable fit.
SH-XC500 & SH-XC500 Women
Weight: 287g (size 40)
Stiffness: 7
MSRP: $150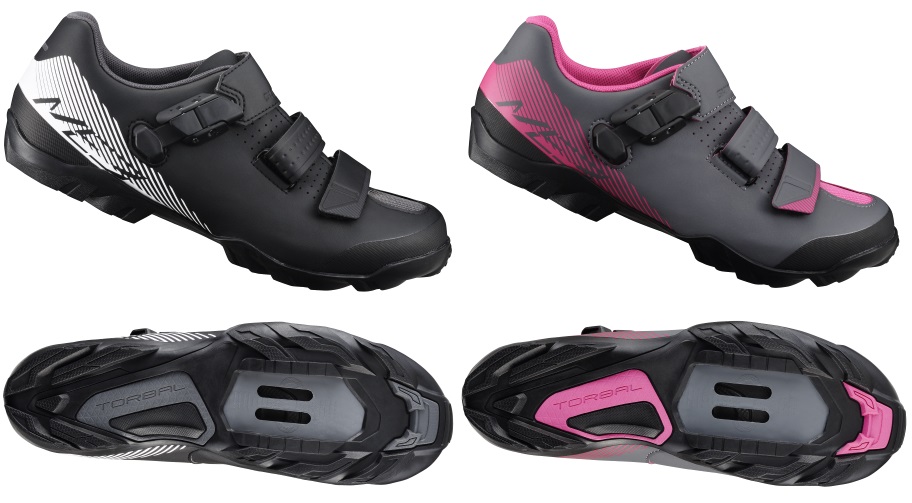 ME3 and ME3W: Versatile off-road shoes designed to perform on and off the bike
The SH-ME300 and SH-ME300 Women's shoes are designed for all-around off-road performance. Featuring SHIMANO'S TORBAL midsole, the shoe is designed to allow for the natural movement of the rider as they maneuver the bike, without adversely affecting pedaling efficiency. Premium features such as the low-profile reverse buckle and Cross X-Strap secure the foot. The lightweight rubber outsole and glass fiber reinforced midsole provide confident performance whether pedaling or walking.
SH-ME300 & SH-ME300 Women
Weight: 381g (size 42)
Stiffness: 5
MSRP: $120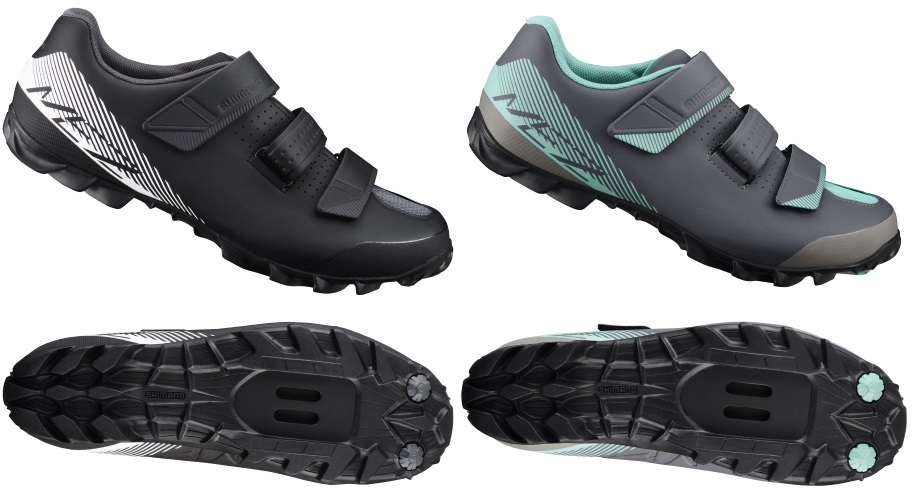 ME2 and ME2W: Exceptional performance, durability, and value
Available in both men's and women's-specific options, the enduro-inspired SH-ME200 and SH-ME200 Women pack durability, versatility and performance into an entry-level mountain bike shoe. Borrowing design and technology cues from rest of the ME series, the ME2 is perfect for new cyclists to intermediate trail riders on a budget.
SH-ME200 & SH-ME200 Women
Weight: 365g (size 42)
Stiffness: 5
MSRP: $90
Shimano Releases New Explorer Footwear for 2018
SHIMANO CLICK'R and Mountain Touring lines expand, empower riders to explore any terrain
OSAKA, Japan (August 30, 2017) – With the introduction of three new models across City and Mountain Touring categories, Shimano continues to expand and evolve its EXPLORER Collection comprised of technology-driven and stylish products for cyclists who commute, tour on- or off-road, or ride for fun and fitness, EXPLORER footwear is engineered to perform equally well on and off the bike. Built upon the SHIMANO PEDALING DYNAMICS (SPD) platform, Shimano footwear and pedals are engineered together as a complete, purpose-built pedaling system; the resulting rider solutions offer ideal pedaling efficiency, comfort and performance for each specific riding condition.

Shimano CT5 and CT5W: Versatile cycling shoes disguised as an urban sneaker
The new SH-CT500 and SH-CT500 Women's footwear are designed for commuters and city riders who want the of performance and SPD pedal compatibility of a cycling shoe with the unassuming aesthetic of a casual sneaker. Equally at home on the bike or on the streets, the CT5 is an ideal companion to SHIMANO'S TRANSIT apparel. The shock-absorbing EVA midsole adds walking comfort while a hidden inner shank plate adds stiffness where needed to efficiently transfer power to the pedals. The outsole is optimized for compatibility with SPD and SHIMANO CLICK'R pedals.
SH-CT500 & SH-CT500 Women
Weight: 342g (size 42, suede)
Stiffness: 2
MSRP: $100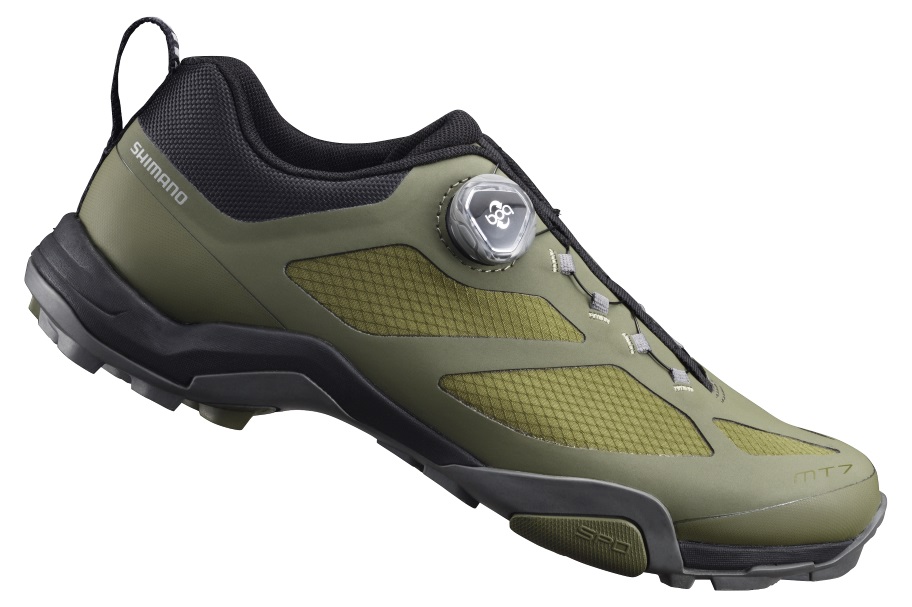 MT7: Hikeable cycling shoe with Boa® closure offers mountain touring versatility
As with other EXPLORER footwear, the new SH-MT700 is designed for on and off bike versatility on a variety of terrain. The MT7 features an upper constructed with synthetic leather and rip-stop mesh for an ideal blend of durability and breathability, while the Boa L6 closure dial allows for quick and precise micro adjustments. Balancing pedaling efficiency and walking comfort, the EVA midsole features a flexible half length shank for just the right level of support on the pedals.
SH-MT700
Shimano Reveals 2018 Spring/Summer Apparel, Bags and Eyewear
Explorer Collection Continues to Expand and Five New Eyewear Models Debut
OSAKA, Japan (August 30, 2017) – For 2018, Shimano has unveiled several new updated and completely redesigned products in its apparel, bags/packs and eyewear
lines for men and women. Across the new product ranges, Shimano continues to utilize proprietary technologies, materials and fit philosophies to benefit riders of various terrain and performance levels. Employing Shimano Fusion Concept to enhance the overall rider experience, system engineering, design, and in-depth knowledge of rider needs combine to create on-the-body products that maximize rider performance, comfort, and efficiency.
Specifically designed for warm weather riding, Shimano's 2018 Performance Collection for roadie's includes the Evolve Jersey, Evolve Bib Shorts and Evolve Gloves while Breakaway Line is comprised of the Breakaway Jersey and Breakaway Bib Shorts. For Women they have the Team Jersey and Team Shorts.

Explorer Collection: New apparel and bags further expand the growing segment
First introduced for Spring/Summer 2017, the Explorer Collection sees new color options across the Transit apparel line as well as an all-new Transit T-Shirt. Featuring cycling functionality with a casual aesthetic and exceptional comfort, the Transit T-Shirt integrates Discreet Reflectivity for low-light visibility as well as UV protection.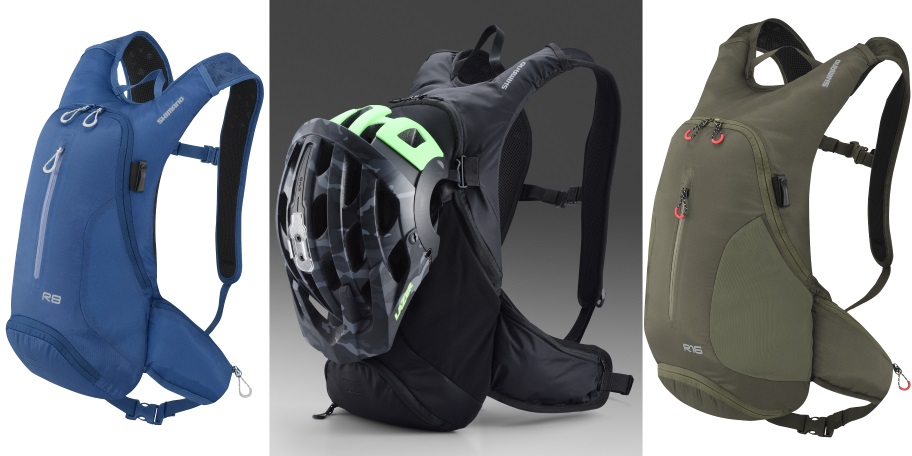 In addition to apparel, the Explorer Collection also features the new Rokko line of All-Round Daypacks. Comprised of 8, 12 and 16 liter configurations, the Rokko is a versatile pack aimed at on- or off-road use. Designed with a sleek, stylish design and featuring ventilated Ergostraps, the Rokko comes with a removable Hydrapak hydration reservoir making it an ideal riding or travel companion.
Eyewear: Five new Models for 2018
Throughout the 2016 season, LottoNL-Jumbo riders worked with Team Shimano product developers to evaluate and update its eyewear offerings. The Eyewear Collection showcases the results of this collaborative process. Focusing design around the requirements of cycling, Shimano's eyewear is purpose-built for the demands of road, mountain, trail, city, and everything in between. Shimano will offer nine eyewear models in North America, including five new models. With numerous lens color options all-new for 2018, consumers can select the best choice depending on the riding conditions. Shimano lenses feature polycarbonate substrates for superior impact resistance, reduced weight, and performance in a wide range of temperatures. All lenses are also de-centered for optical clarity and feature both hydrophobic and anti scratch coatings to outer and inner lens surfaces to increase water-repellency and durability.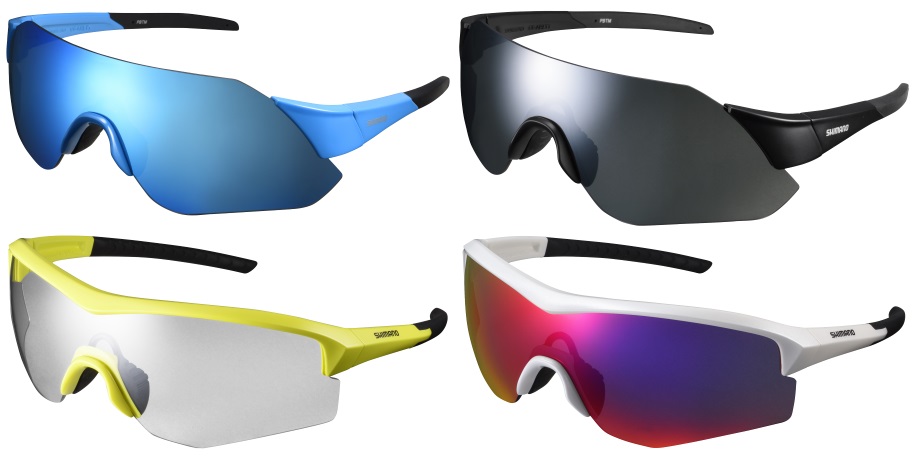 Ridden by Team LottoNL-Jumbo, the new Aerolite and Spark both offer premium road performance. Featuring a minimalist, frameless design, the Aerolite weighs only 28g and delivers a wide range of view. Meanwhile, the Spark features a one-piece lens offering great protection and panoramic, wide view vision.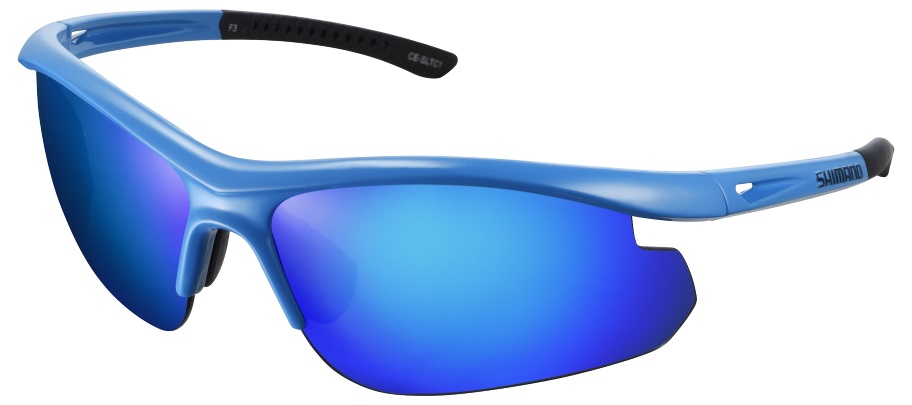 The new Solstice offers pro-level performance with excellent value. Utilizing the same high-quality lenses as Shimano's higher end models, it features a lightweight frame design and excellent field of view.

The new Square and Meteor blend cycling performance with sport and casual designs that are equally at home on the bike or around town. From World Tour performance to urban styling, Shimano's 2018 Eyewear Collection features options for every rider.