Tim Virgil Watkins Nov 17, 1956, to Sept 17, 2017 
For this post, an ode to my friend, I am not going into any of the circumstances of his heinous passing. Instead, this is a celebration of his life. #BeLikeTim
Loveland Ski Area
I first met Tim Watkins when he was a ski patroller at Loveland Ski area, and I was a ski bum from Denver, we didn't have an intimate relationship at the time, it was more of a mutual admiration of our skiing abilities. Tim was mostly an '11' skier, meaning he was a downhill oriented racer, which flew straight down the fall-line leaving 11's in his wake. I, on the other hand, was the most turns per quarter mile, a snappy quick figure eight skier, that thrived in the steep trees and deep powder. We'd talk a little bit, give a wink and a nod from the lift or slope and go about our business.
Criterium Bike Store
One day many years later when I moved to Colorado Springs I was in the downtown Criterium bike store just browsing around when Tim popped his head up while working on a bike and said, 'Hey I know you from Loveland ski area!' We hit it off right away and became great friends, and the store became a favorite hangout during my lunchtime break from work. I was getting heavily into mountain biking and loved talking about bikes, going through vendor catalogs, and watching him work on them. I got deeply into weight weenie or lightweight parts at the time, and I would pour over the catalogs, weighing parts and become obsessively compulsive about the entire affair. As I recall Tim ended up nicknaming me 'Gram,' and everyone else started to use the name as well and it because synonymous for many years, and I even called my first website 'Grams Light Bikes.' Eventually, most people went back to calling me, Brian, but Tim always called me Gram, even 30 years later, and of course, years later I started to call out 'Timmy' during a greeting session (insert South Park reference). Tim was an excellent mechanic that had the skills and expertise, but he also had an almost artist touch to his work. Tim could be extremely mischievous, and he and a co-worker would occasionally stick water and ball bearing in some other stronger and faster mechanics bikes to see if they'd notice. It was also during this time I got to see what a great Dad Tim was, his daughter was a tiny little thing, and his son was still in his Mom's belly, and I loved watching them grow up as young children. Tim exuded love, sweetness, and amicableness and everyone enjoyed his presence, and they were instantly drawn to him as a friend.
Balanced Rock Bike & Ski
We drifted apart for some years while he was raising the kids and I got married and became an obsessive rock climber. Eventually, I got divorced and morphed back into mountain biking after a long period of addictive, and adrenaline junkie rock climbing and whitewater kayaking and Tim and I started to touch base with each other once again. He had recently opened up the Balanced Rock Bike and Ski store in Monument that he co-shared with his partner/girlfriend, and we became best buddies, and I spent far too much of my free time on post bike ride afternoons and evenings hanging out with Tim at his shop. My Wife ended up calling Tim my girlfriend since whenever she wondered where I was and why I was late getting home, I'd answer the phone from Tim's place. And yes, she was a bit jealous until she met him and realized what a sweetheart he was. I was there often enough that many customers thought I worked there, and on occasion, I would help out when he was busy in the back of the shop. Spending those long hours hanging with Tim and watching his skill as a mechanic was fantastic and when I couldn't get a drivetrain tuned Tim in an instant had it purring like a dream. I saw a lot of his parents and his son during that period when he was running BRB. I always got a kick out of his son playing the bagpipes, with its mournful wailing sounds coming out of the parking lot of the shop or in the back garage that adjoined things. That same heritage meant I'd see Tim in a kilt on select occasions, and no I never asked him what was under it! My two kids would sometimes hang out with me at the store, and they both loved to play on the longboards he had for sale, and of course, they gravitated to Tim's warmth and friendly vibes. We had many high jinks at the store, and I loved his laugh and smile, and he always brightened up my day. If I were down he'd bring me up, and if he were down I'd do the same, so we made a great team to keep each other a little more level-headed when dealing with the usual craziness of life. We also hit it off because we were both the same age, although he was 1-year more ancient than I was.
And boy, did that man ever have a head of hair, his red locks were always prominently displayed, usually in a long shaggy hairdo!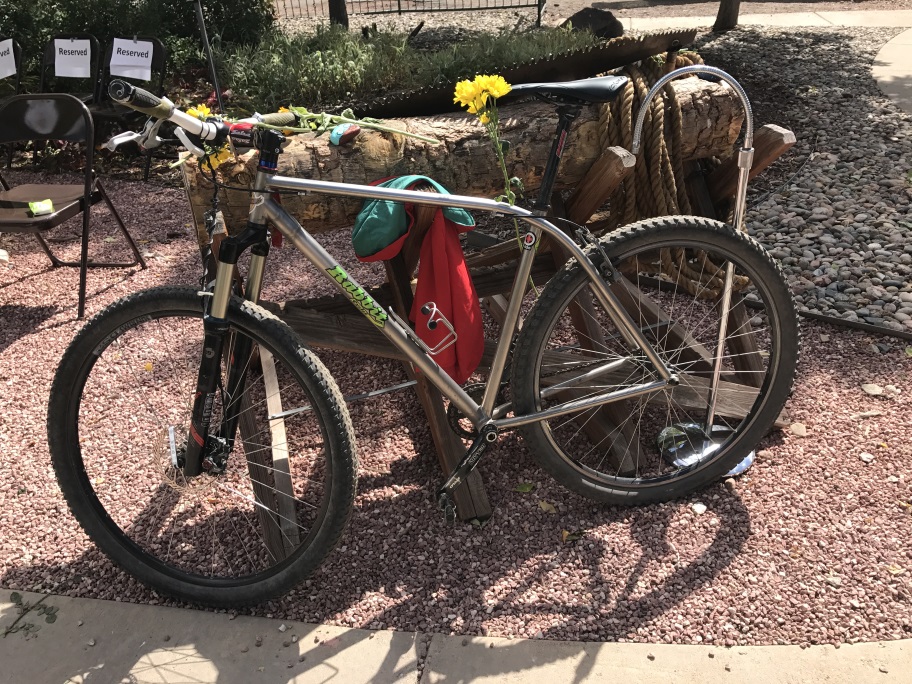 We rode all over the place in Colorado Springs, mostly in the Monument area, and his primary steed at the time was a single speed Rabbit and later a geared Tessier, and he could almost always kick my butt on nearly any trail. We worked on ton's of trail in the Monument work center, primarily Black Pearl, which ended up being my baby when he finished up with the rough design of things. I ended up doing so much trail building and maintenance that I eventually joined the FOMP (Friends Of Monument Preserve) group, and I'm currently on the Board of Directors, all greatly due to Tim's coercion.
Post BRB
Unfortunately, Balanced Rock Bike eventually closed which was a great loss to the community and the biking scene in the Monument and Palmer Lake area. Tim opened up a short-lived satellite of the Criterium bike store and I, of course, hung out there, and he once again was my main mechanic. After it closed, I ended up having to become a better technician myself since I no longer had my main man to work on my bike. Tim continued to delve as a mechanic at various locations around the greater Colorado Springs area and eventually worked as a Special Ed assistant in the Lewis-Palmer school district. Once again we drifted apart after he moved to Crested Butte, got married, worked at a bike/ski shop and did a ton of adventuring. Eventually, he circled back to his hometown of Palmer Lake. He became a grandad when his daughter had a beautiful little girl, and Tim and I would bike together and see each other far too infrequently.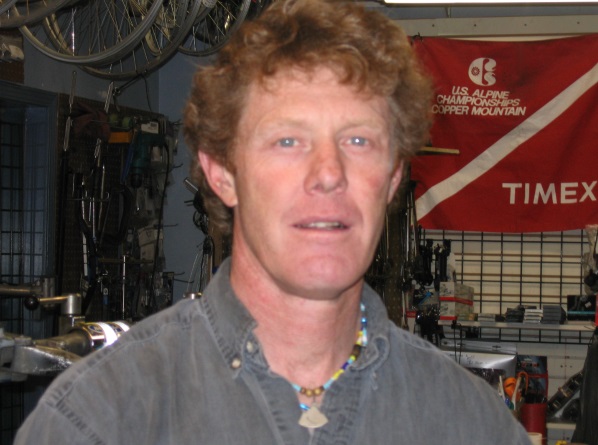 Other Stuff
He was prolific and extremely instrumental in trail building throughout the Monument area, and he constructed many of the existing trails in the work center that a multitude of riders, runners, dog walkers and equestrians enjoy. Tim was heavily involved with his church and the Palmer Lake community. Tim was also an artist and made plenty of his friends, family, and colleagues beaded necklaces and leather work, and the latter was usually designed to be attached to a bike's stem. Throughout his career, he raced mountain bikes locally and all over the west, one of his favorite being the Growler in Gunnison.
Conclusion
I think many people could state, "I was Tim's best friend," but for me, we were Mutual Best Friends, and I gladly shared my buddy with the world. I would not be the person I am today without him in it, and I am a better man, father, husband, and human being.
To Tim Watkins, your smile, laughter, love, friendship, selflessness, sweetness and warmth you brought into my life for 30+ years, thank you, your girlfriend, your buddy forever, Gram.
###
Note – I didn't want to mention anybody names besides Tim's for privacy reasons in this post. I used some pictures that came from family and friends, so I want to acknowledge and thank all of those involved. If you wish to be directly connected to the pictures, please email me at this website so that can be remedied.