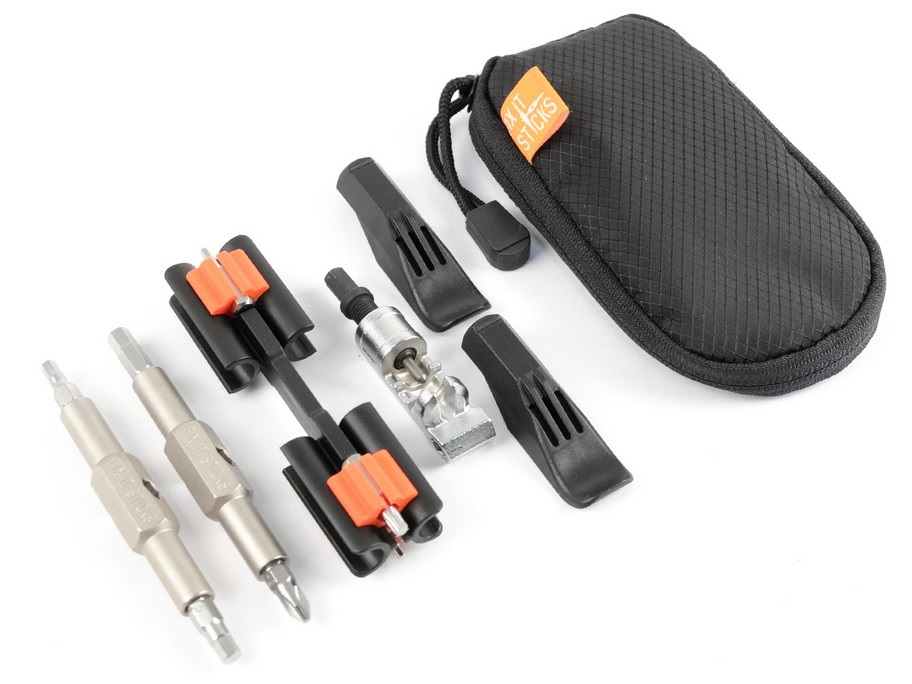 For the coming season Fix It Sticks has some new tools and accessories, including kits for Mountain Bikers and Commuters. They're also releasing the trick Chain Breaker, Tire Levers, and a 15mm Wrench, all of which interface with their innovative and highly functional Fix It Stick tool. For organizational purposes, they have the Cage Clip to hold their Original Tool and the Replaceables Clip that can hold eight bits.
Kits
Currently packaged for commuters and mountain riders. A clamshell style bag designed to carry everything you need on the road or trail (and nothing you don't). Fix It Sticks tools pack up small without sacrificing usability. We created stunning kits for real world use. Users can add their own C02, patch kits, etc. The basics are provided with room to customize (turns out Co2 inflators are very personal).
Thoughts => I like the look of these new kits, since they contain a useful set of tools, and you can keep everything handy and readily available in the bag. The Mountain Bike version provides the excellent Replaceables Tool, Tire Levers, the new Chain Breaker and a Clip all of which make for a complete and functional package.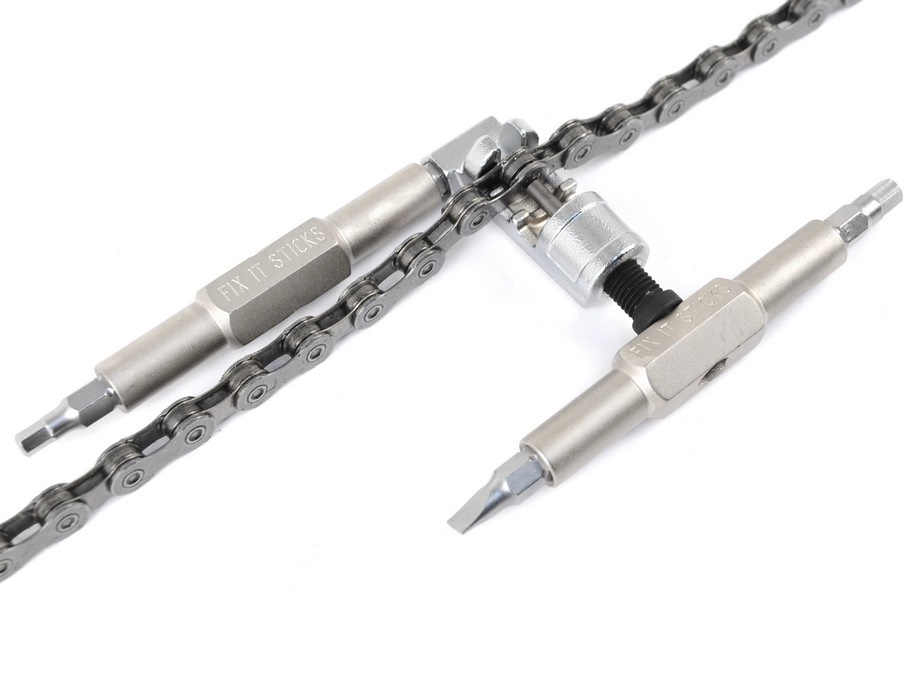 Chain Breaker
A unique design that allows for the chain to be held securely while pushing out the pins. Tested for 9,10,11 and 12 speeds. An extremely compact design furthers our ability to create small, custom tool kits for cyclists of all types. We started from scratch on this design, and like all Fix It Sticks tools, it is small but packs a massive punch regarding real life usage.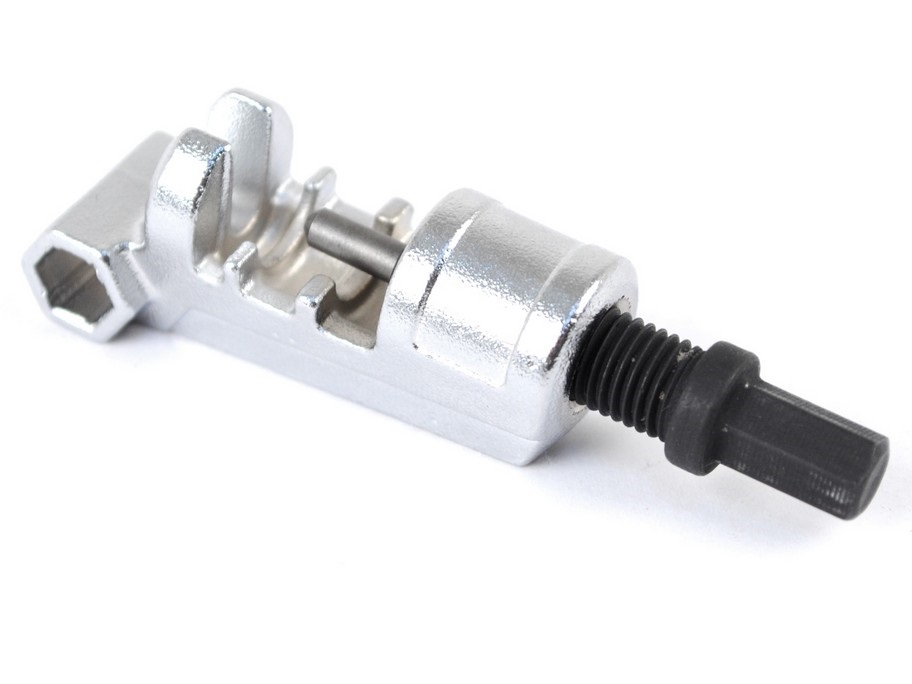 Thoughts => I am looking forward to trying this tool out. I always carry their Replaceables Tool on my bike rides, but I also need to bring along a redundant multi-tool with a chain breaker for emergency purposes. With this new tool, I can drop the other backup entity and just use their product suite entirely, saving some weight and headaches.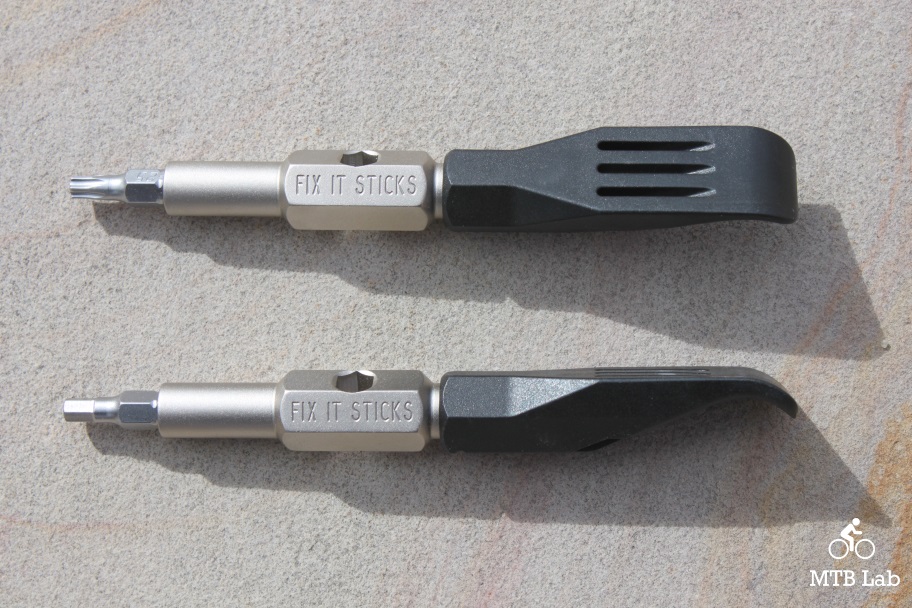 Levers 
Excellent leverage! Composite/carbon friendly body that utilizes the steel shaft of the "Replaceables" and the "T-Way Wrench" for incredible strength. They are SUPER compact too to save space in your kit.
15mm Wrench
The Wrench is perfect for commuters bikes, pedals, etc. It is extremely robust and proven in the field as a life saver. The space saving design is similar to our approach on the Levers, small package delivering big results.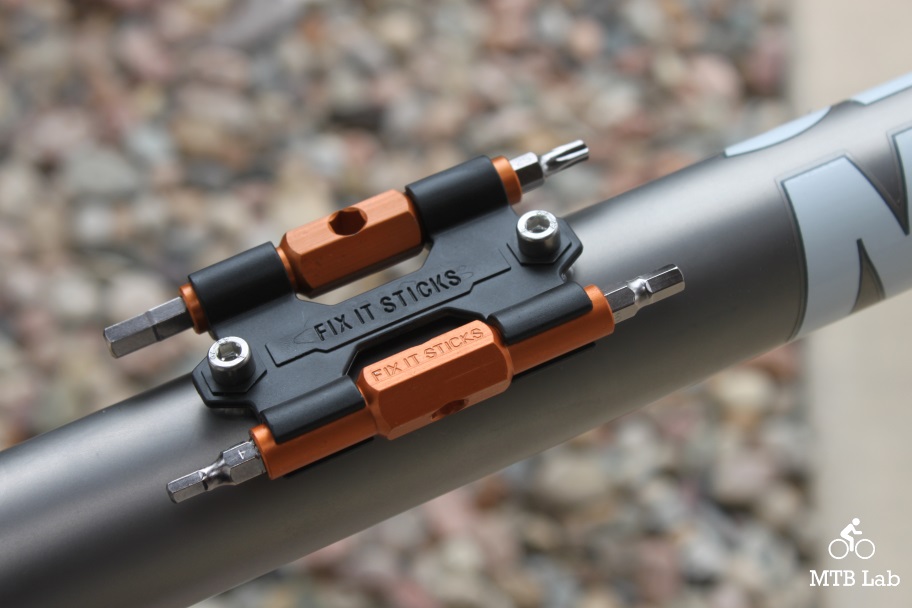 Cage Clip
Released earlier this year this is a massively popular item for us. The Cage Clip is designed for our lightweight orange tools, the Originals. This design allows you to put tools on the bike for high-speed access (this has saved races). The lightest 4 unit tool available. The Originals are designed for the minimalist. Only bringing the basics for races or road rides (anything past these tools I use my iPhone). These tools are a joy to use, unlike every other multi tool you have ever used in your entire life!
Here is what The MTB Lab thought about the bracket:
"Fix It Sticks released The Bracket, which is an 8-gram plastic tool holder that carries two of the original Fix It Sticks, and it's designed to mount under any standard water bottle cage or by itself. This design keeps you from forgetting the tool since it's always on the bike and makes it quicker to grab and easier to carry, no need to stash the tools in a pocket or pack. The Fix It Sticks quickly snap into The Bracket and deploy in seconds for repairs or tuning changes, and it provides security and practical handiness. I haven't had any issues with the tools falling off, even in super rough and gnarly terrain."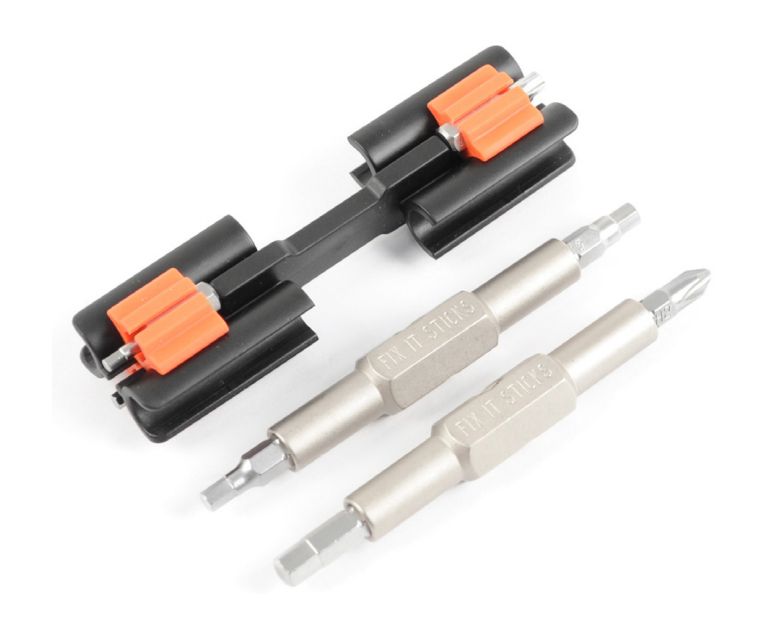 Replaceables Clip (8-bit holder)
Building off the popularity of our Cage Clip, we created a handy storage clip to keep all the bits needed for long days in the saddle in one easy to access spot. A massive space saver, the Replaceable Clip keeps the bits stored securely and quietly in your pack or our kits. Designed to hold 8 bits. In use, it's possible to add even more bits using the magnetized middle of the Replaceable sticks for even more storage of bits (like 8mm bits that are available on our website – see a photo of "bit mania").