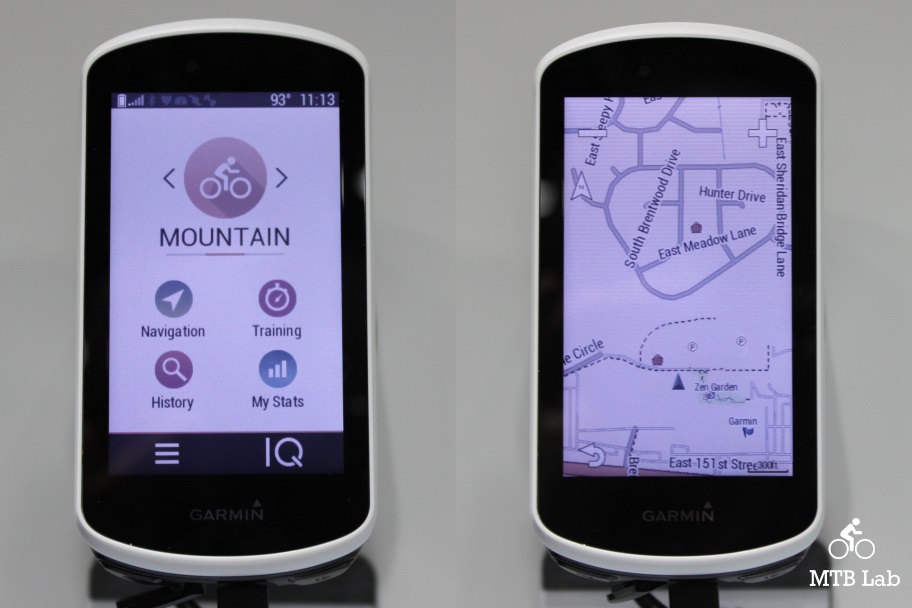 The new Edge 1030 has a larger screen, an improved battery, and new features compared to its predecessor, while the inReach satellite communicators can be used for a rescue and the ability to track and share your location with others, and lastly the trick new VIRB 360 is a 360-degree camera with 5.7K/30fps resolution and 4K Spherical Stabilization.
For further information refer to garmin.com
Garmin Edge 1030
The new Edge 1030 has a 3.5″ color screen, a 20-hour battery life or 44-hours with the optional Charge Battery Pack, the Trendline route finder, rider-to-rider messaging, an accelerometer and the sleek In-line Flush Mount.
The Edge 1030 from Garmin includes all of the advanced features Garmin users have come to expect such as smart connectivity (including notifications) with compatible smartphones, cycling and power dynamics (with compatible power meters), GPS/GLONASS and an altimeter for precise tracking, and Connect IQ compatibility, to name a few, as well as a selection of new features that take training and racing to the next level. In addition to a larger, 3.5-inch screen and a longer lasting battery (up to 20 hours or 40+ hours with an extended battery pack), the Edge 1030 introduces Trendline, a route finding tool that identifies the most popular on- and off-road routes in any given geographical area based on Garmin Connect ride data. Another new feature of the Edge 1030 is rider-to-rider messaging, a safer alternative to texting while riding. Instead of unsteadily texting from a cell phone, rider-to-rider messaging enables "texting" pre-set messages through the Edge 1030 device to other Edge devices. Along with these new, convenient features, the Edge 1030 offers a new In-line Flush Mount that aligns the Edge with the bars for an integrated, sleek look.
Trendline popularity routing.
Rider-to-rider messaging.
Up to 20 hrs of battery life (or 44 hrs w/ extended battery pack).
Smart connectivity (w/ compatible smartphone).
Garmin cycle maps.
Training status.
Cycling/power dynamics (w/ Vector power meter).
VO2/conditions/stress score.
Physiological measurements.
Strava live segments.
Preloaded Strava Routes CIQ App.
Preloaded Training Peaks CIQ App.
Connect IQ compatible.
Varia compatible.
RTR/on-device planner.
Audio prompts.
GPS/GLONASS.
Altimeter.
Incident detection.
Touchscreen.
Computer $599.99 and Bundled Kit $699.99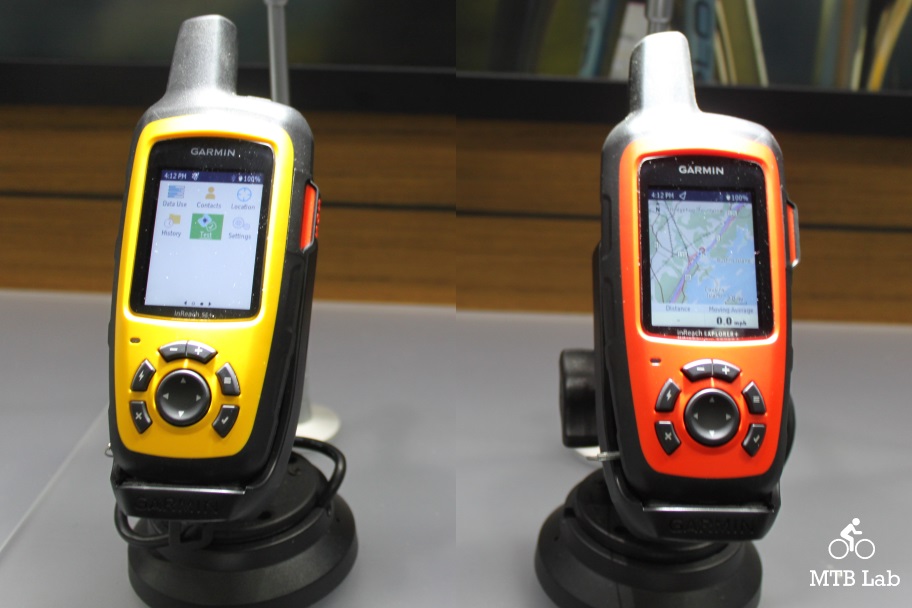 Garmin inReach
When contacting SAR or Search and Rescue when an accident happens in the backcountry, cell phones are only functional with a tower connection, so PLB's (Personal Location Beacons) and SAT's (satellite) messengers are a much safer alternative for being rescued. Although that safety was always a major concern, a recent shooting death of one of my friends while he was mountain biking has made me rethink how important sending messages and breadcrumbs to my family and friends is for everyone's piece of mind.
The inReach devices are handheld Satellite Communicators with GPS Navigation which can be used for both emergency SOS purposes for a rescue and have the ability to track and share your location with family and friends (electronic breadcrumbs). It comes in two versions, the top of the line inReach Explorer+ for $499.99 and the more basic inReach SE+ for $399.99.
The SE+ uses GPS to provide basic grid navigation and allow you to drop waypoints, mark key locations, track your progress, and follow a breadcrumb trail back to base – while the Explorer+ provides a full-fledged GPS on-map guidance with preloaded TOPO mapping and waypoint routings viewable directly on the unit. Plus, a built-in digital compass, barometric altimeter, and accelerometer are included with Explorer+ to help you get and maintain accurate bearings anywhere on or off the beaten path.
Handheld Satellite Communicators with GPS Navigation
100% global Iridium satellite coverage enables 2-way text messaging from anywhere (satellite subscription required)
Trigger an interactive SOS to the 24/7 search and rescue monitoring center
Track and share your location with family and friends
Pair with mobile devices using the free Earthmate app for access to downloadable maps, U.S. NOAA charts, color aerial imagery and more
inReach Explorer+ device adds preloaded DeLorme TOPO maps with onscreen GPS routing plus built-in digital compass, barometric altimeter, and accelerometer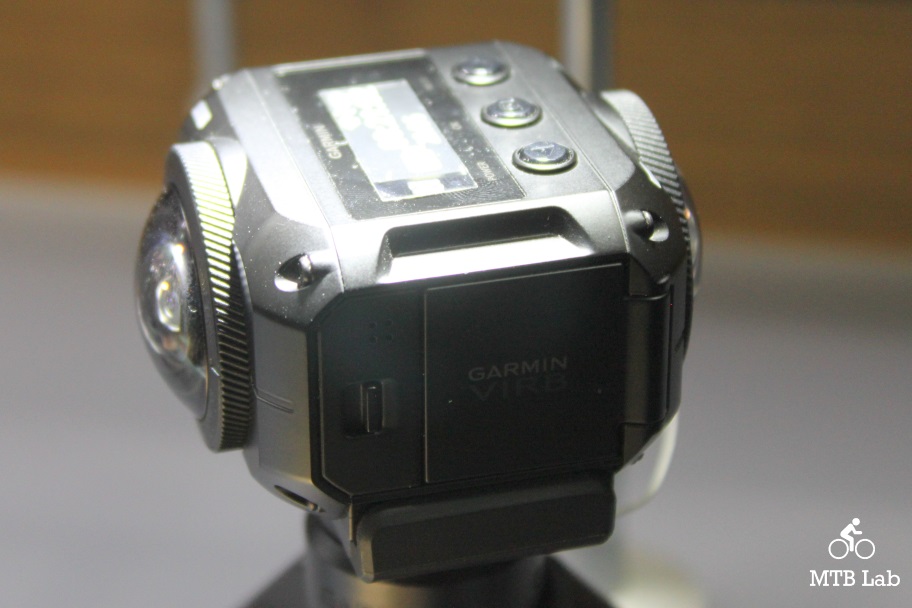 Garmin VIRB 360
Rugged, Waterproof 360-degree Camera with 5.7K/30fps Resolution and 4K Spherical Stabilization
VIRB 360 is the first of its kind, capturing a complete sphere of high-resolution video and audio — even photos. It eliminates the lengthy editing process with unrivaled 1-click video stabilization up to 4K resolution at 30 fps and allows you to instantly livestream any adventure.
Resolution up to 5.7K/30fps with desktop stitching; 4K/30fps auto-stitched in the camera
4 built-in microphones capture 360-degree audio
Spherical stabilization ensures a smooth video regardless of camera movement
Built-in sensors provide G-Metrix data overlays in 360-degree augmented reality
Easy-to-use, free VIRB Mobile app, and VIRB Edit desktop software lets you edit, stabilize, share and add data overlays to videos
Constantly record for more than 1 hour on 1 charge — without overheating
$799.99