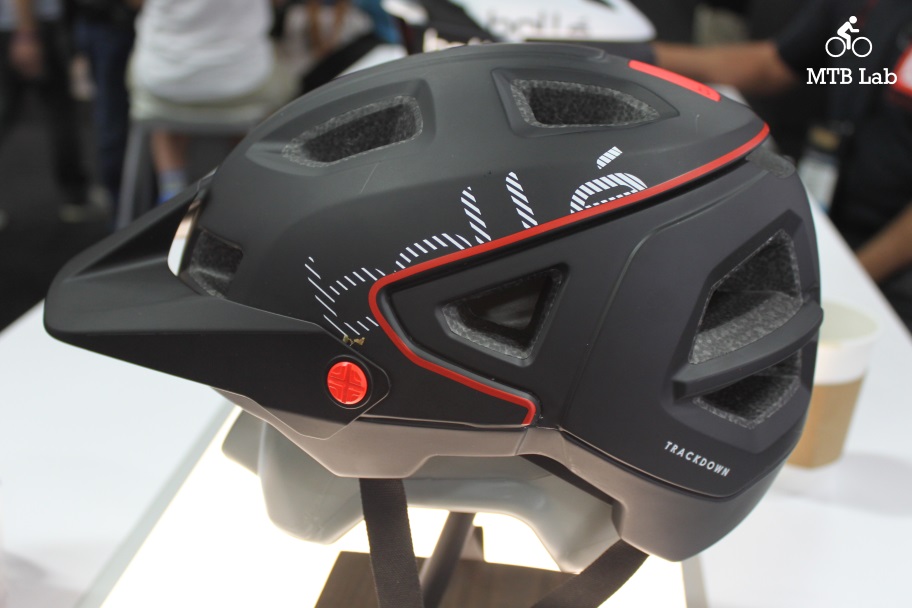 Bollé Trackdown
The new Trackdown is their first full-fledged mountain biking helmet. It uses the AViD liner system borrowed from snow helmets, and the construction technique optimizes with internal ventilation channels to provide excellent airflow, decrease weight and make the EPS at the top of the helmet behave like a lower density material. The result is a lighter, more comfortable helmet with balanced performance across a range of impacts.

Adaptable to a truly all-weather helmet, Trackdown has a vent chimney cap and an optional winter liner to manage airflow and rain infiltration during offseason for inclement weather. It features adjustable visor positioning, CLICK TO FIT 360̊ retention system, and the security and convenience of their Sunglass Garage. The helmet comes in small, medium and large and the base model will retail for $139 while the MIPS version will cost $169.
For further information refer to bolle.com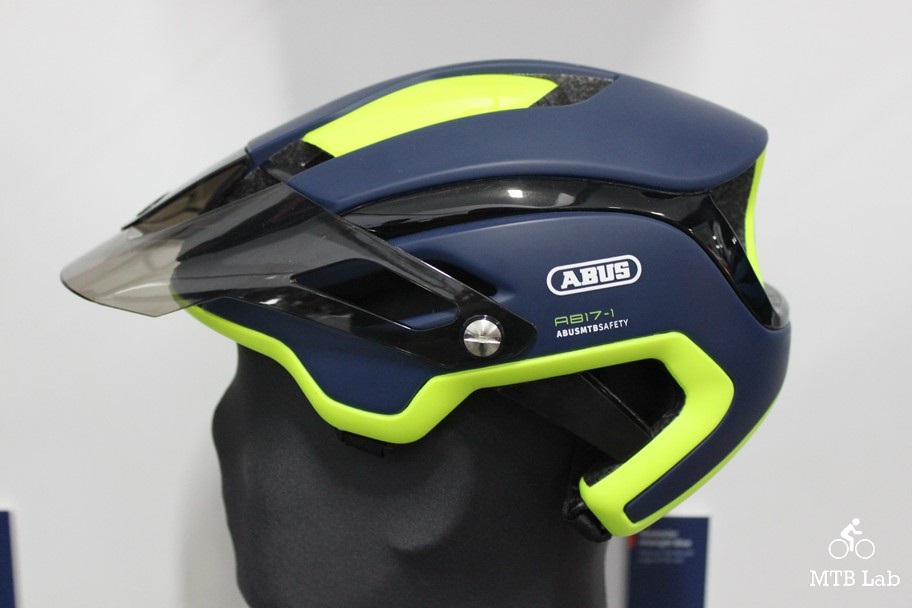 ABUS MonTrailer ACE MIPS
The MonTrailer ACE MIPS helmet utilizes EPS foam in combination with five encasing outer polycarbonate shells, and the ActiCage structural reinforcement system creates a secure and rugged helmet.  The transparent visor allows for excellent all-around vision without taking your eyes off the trail. It's constructed with an In-Mould design for durable fusion of the outer shell and the shock absorbing helmet material (EPS). It features the MIPS liner, 12 vents, a half-surrounding plastic ring connected to adjustment system, deep coverage over the neck for extra protection, GoggFit goggle positioning system and BrackTech light and camera mount.
For further information refer to abus.com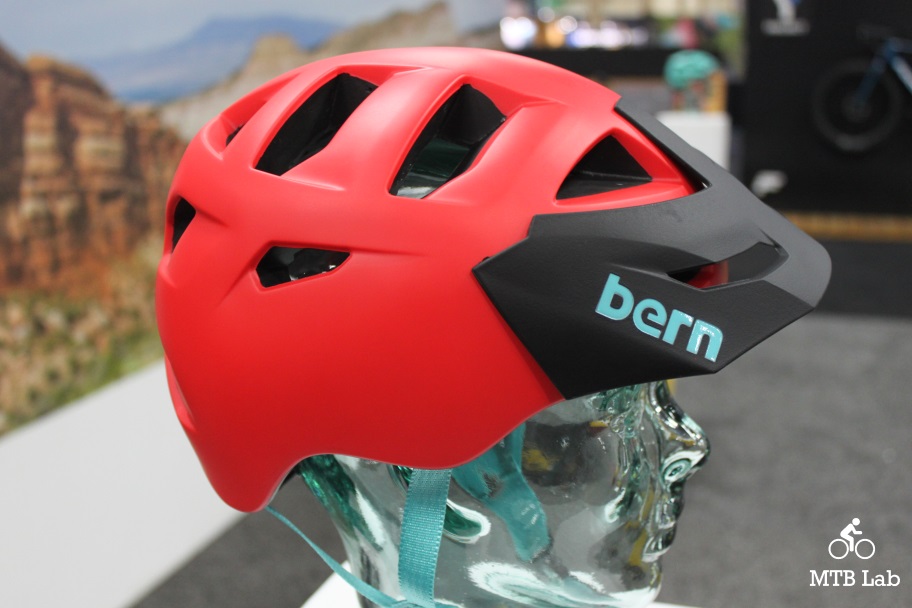 Bern Morrison
They're resurrecting the Morrison for the 2018 season after being dropped when the FL-1 Pavé, Trail, and XC helmets were released. It utilizes a PVC micro shell lined with their proprietary Zip Mold+ liquid injected foam to create the lowest profile All Season lid. Zip Mold+ was reformulated to reduce weight by up to 20% than the previous production version. Styled with the Bern profile signature shape and complemented with a deep, surround, signature fit and feel. Multiple shell sizes are available in most models to provide optimum balance between protection, profile, and fit. It features the BOA retention system, a removable visor, and 16 vents and will come in four colors and S, M and L sizes.
For further information refer to bernunlimited.com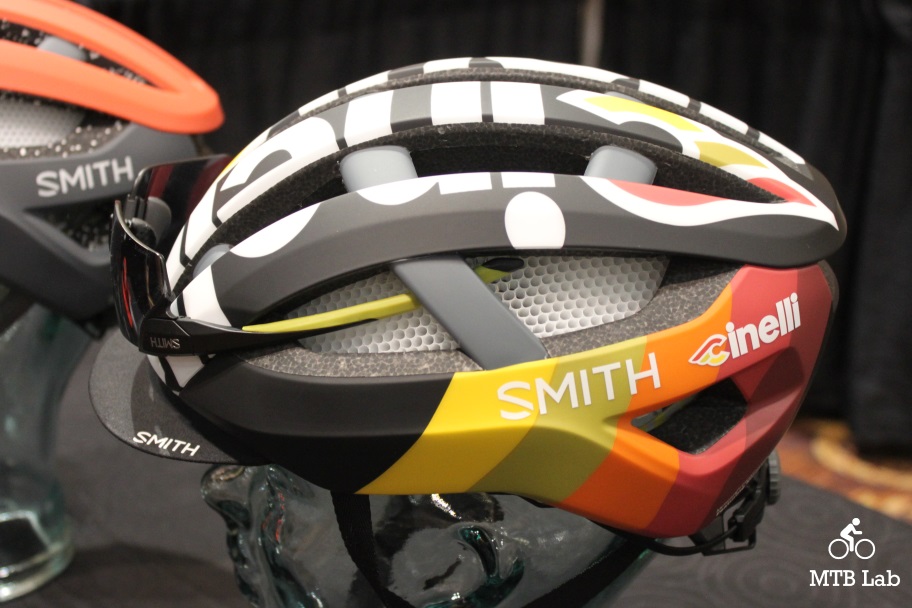 Smith Optics
Network
The Network helmet is roadie centric and features the MIPS liner and the Koroyd energy-absorbing inserts on each side instead of the full interior space. The Koroyd inserts are an innovative honeycomb material utilized in high-impact areas for energy-absorption, what they call "strategic, zonal impact areas." The open design should provide more ventilation than their brethren, which is especially necessary due to the decreased air movement through the Koroyd system itself. It features an eyewear dock that inserts into the over the bridge on top of the helmet and comes with a short visor brim for protection from the sun. The Network also has their VaportFit retention system, X-static padding, has 20 vents and weighs 270g. It comes in seven color schemes (shown with the special edition Smith x Cinelli version) and will retail for $160.
Session
The new Session uses the Koroyd system in the same manner as the Network helmet, meaning it's only used down the sides. The design should provide better ventilation, plus it looks a bit more like a standard helmet. It features an adjustable visor that can be pushed all the way up to act as a goggle perch and also includes an eyewear dock up on the top helmet side bridge. The Session has their VaportFit retention system, X-static padding, has 15 vents and weighs 340g. The helmet will come in six colors and will feature the MIPS liner and retail for $160.
For further information refer to smithoptics.com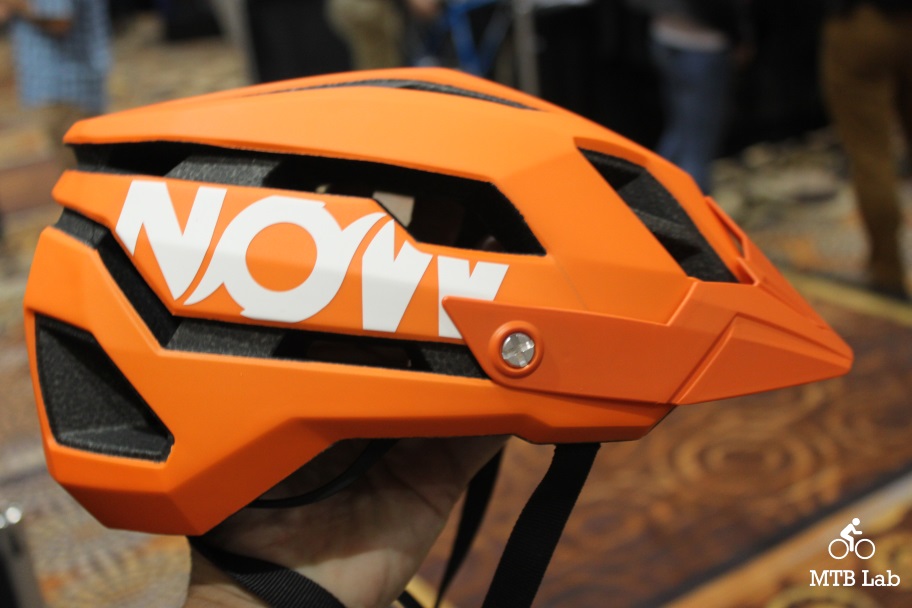 NOW XFlow
The company NOW or Nonstop on Wheels is still morphing into cycling business. The XFlow is one of the lighter weight mountain bike helmets on the market and at around 310 grams it's pretty darn feathery light. Constructed with an In-Mold High-Performance EPS Liner and Microshell with an Effective Stabilized Aerodynamic system design. It utilizes their Spider Web Airflow System to channel air through the helmet from front to back for improved venting. It features a detachable visor, their Easy Quick Dial Fitting retention system and anti-bacterial cooling padding. It comes in five color schemes and retails for $128.
For further information refer to nowhelmet.com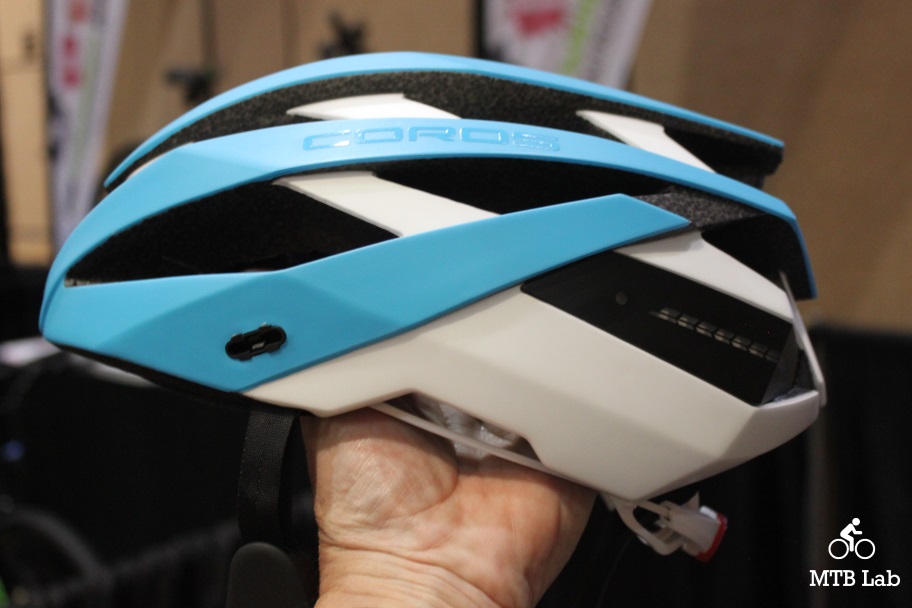 Coros Omni
Coros calls the new Omni their next-generation smart helmet, and it integrates a pair of bone conduction headphones on the chin straps with a hands-free calling microphone system and two rows of LEDs along the rear side for visibility. The system consists of the helmet, smart remote and a mobile app to deliver mobile lifestyle demands of smartphone connectivity, precision two-way audio, and instant accessibility, all packed into a high-performance, multipurpose helmet. The bone conduction technology transmits sound through the listener's cheekbones to the inner ear, bypassing the eardrum completely yet still allows the user to hear the external ambient noise safely. Their system links cyclists to their music, friends, bike mates, navigation, and ride data to enrich the ultimate riding experience and stay safe on the road. It has a more roadie styling compared to their Linx helmet, and features a detachable visor and should retail for around $200.
For further information refer to coros.com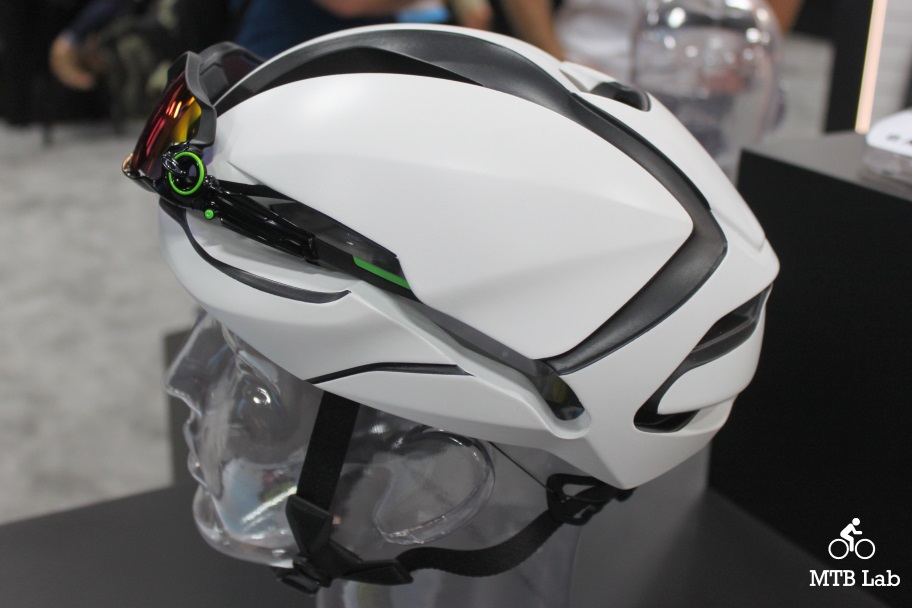 Oakley
Oakley is releasing a road racing particular Aro helmet lineup. It's comprised of the Aro 3 (climb), Aro 5 (speed/sprint), and Aro 7 (aero/time trial), and they each feature a MIPS liner and a Boa TX1 textile lace retention system which offers better fitting with eyewear and a comfortable 360̊  fit.
Aro 3
The straightforward and lightweight Aro 3 retails for $180 and provides the best venting of the group making it ideal for the climber. It features the X-STATIC brow pads with antibacterial technology using silver for odor-free use.
Aro 5 (shown above)
The Aro 5 features less venting than the Aro 3 for improved aerodynamics, but it still offers plenty of air throughput with its vent and exhaust design. It has a super cool slot system for your eyewear arms so that they can perch on the helmet brow. Like the Aro 3, it features the X-STATIC brow pads with antibacterial technology using silver for odor-free use, and it will retail for a stiff $250.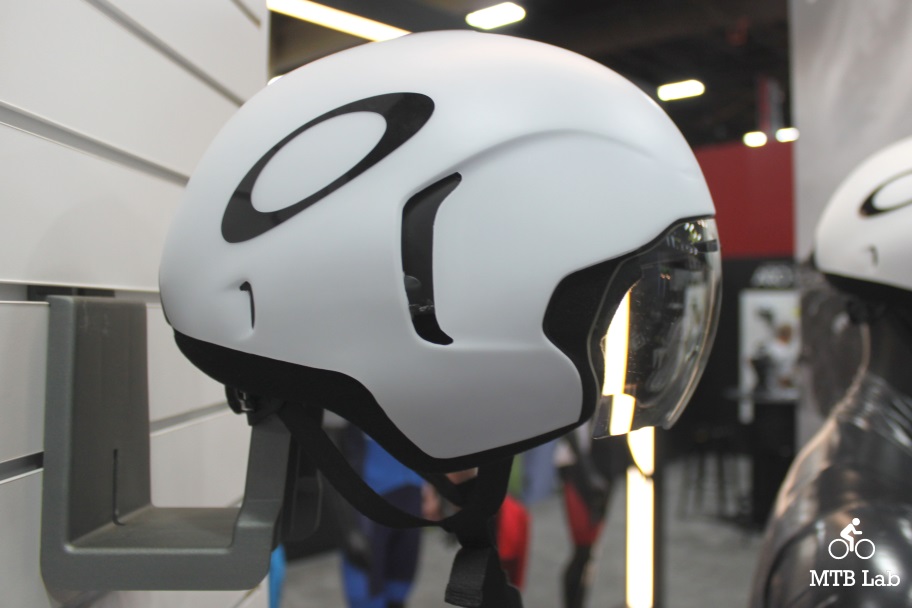 Aro 7
The top of the line Aro 7 is meant for time trialists and triathletes where aerodynamics are paramount, and ventilation and cooling take a back seat. It features their Fidlock magnetic buckle system on the chin straps for quick and easy connection which is a serious consideration for triathletes in transition zones during a race. They utilize an integrated and interchangeable Prizm lens shield system which is a magnetic lens that can be flipped upside down when not in use. All this technology will set you back a whopping $500, ouch!