For 2018 Leatt has the DBX 1.0 trail apparel line (shorts, jersey, jacket, and gloves), the DBX 2.0 helmet featuring their innovative 360° Turbine technology and a trick hip pack the CORE 2.0. They also have the DBX 6.0 Kneepad combining advantages of soft and hard shell protection and a completely redesigned award-winning DBX 3.5 Neck Brace. Lastly, the 3.0 Enduro helmet with a detachable chin guard will finally come to market this fall.
For further information refer to leatt.com
DBX 2.0 Helmet
The DBX 2.0 brings Leatt's DH-proven safety technology to your home trail at a lovely price point of $99.99 and comes in four colors. It is equipped with 360º Turbine Technology that helps reduce the risk of head impact at concussion level (by up to 30%) and rotational acceleration to your head and brain (by up to 40%). Ten turbines are set inside the helmet that hardens on impact. Combined with the classic EPS in-molded shell, this dual-density construction dampens all kinds of impact – from low to high speed. The helmet is well-ventilated with 20 vents, lightweight and is equipped with Quattro Force Control for easy custom-fitting with the turn of a dial, as well as with a breakaway visor.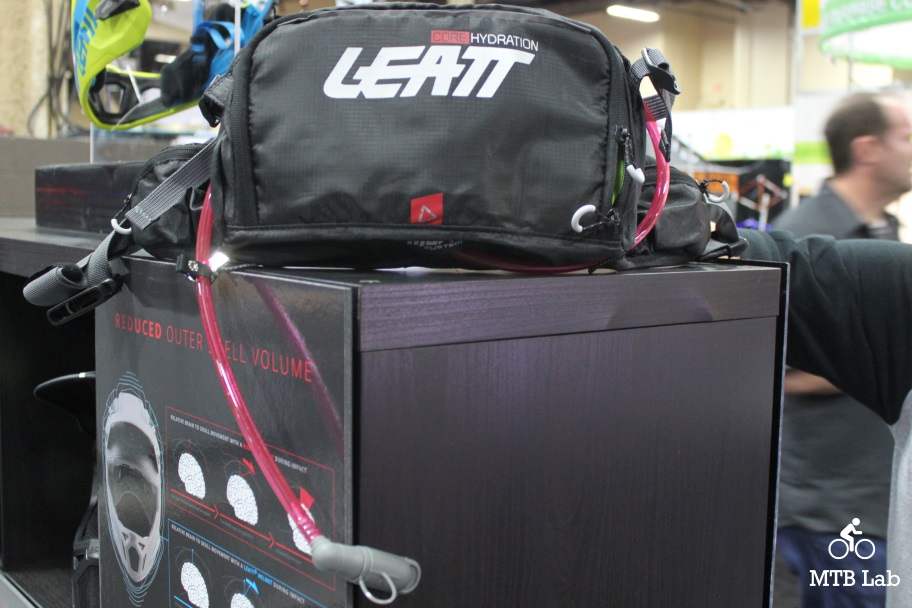 CORE 2.0 Hydration Pack
The new CORE 2.0 hip pack includes a 2-liter hydration reservoir and has 5-liters of storage capacity. Its design provides a low center of gravity waist location for the utmost in stability and comfort. It features a durable outer shell, waist belt pockets and dedicated tool and hydration compartments/pockets. The mesh AirLine pods on the back offer ventilation and the bladder have an auto-shutoff design and an inverted port for maximum water drainage.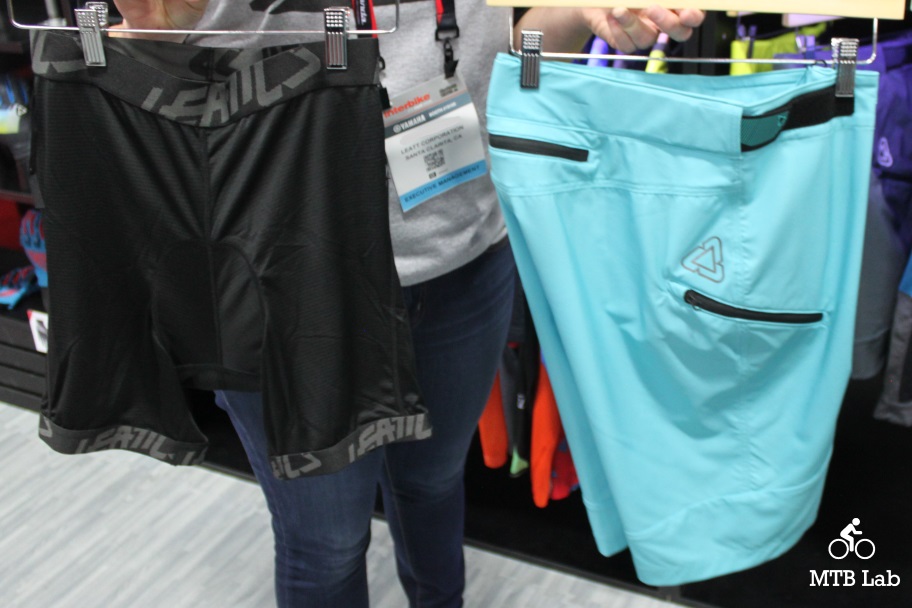 DBX 1.0 LINE
These slim/tailored fit jersey and shorts are made of very light, robust and breathable fabrics, making it the perfect combo for climbing and descending all day long.
The four-way flex shorts include a chamois liner and two zipped pockets (one at the center back and the other on the mid right leg). The shorts come in three colors and retail for $79.99.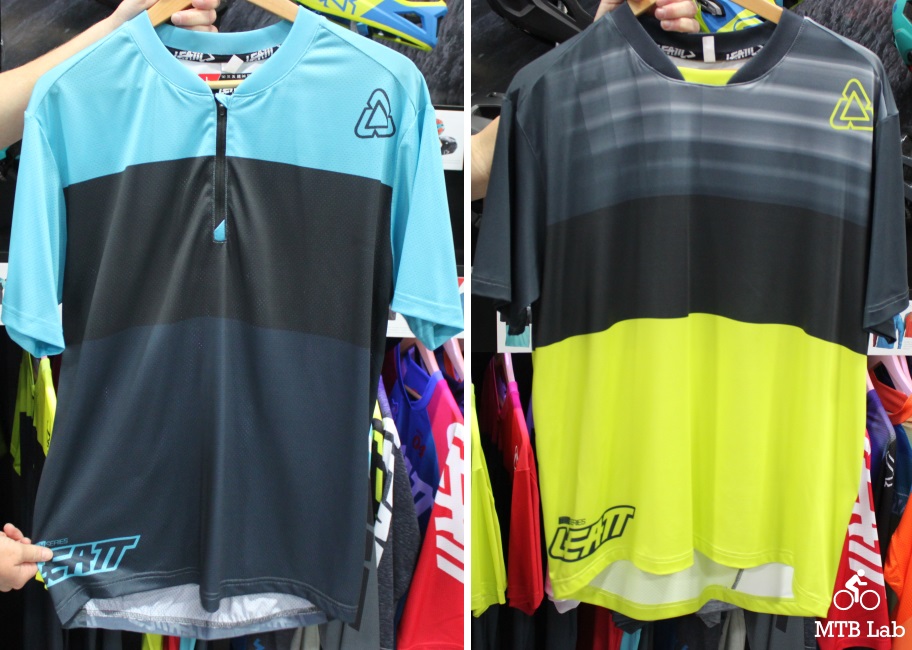 For the jerseys, two styles are available in four color schemes – a more casual-looking tee (with one hidden pocket) for $54.99 and a classic ½ zip jersey with a ventilated back panel, including three bigger stash pockets for $64.99.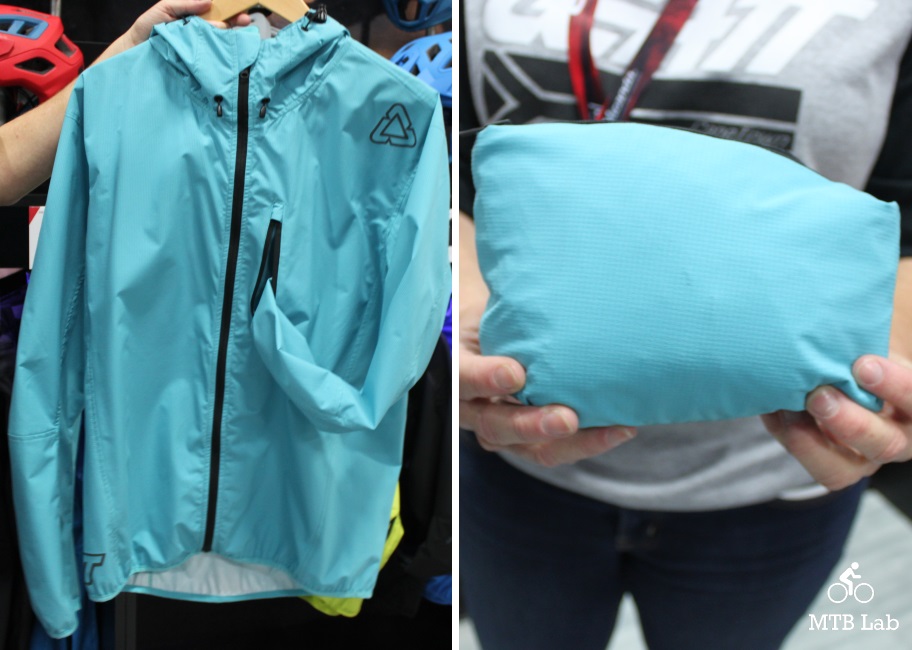 The super lightweight, compact, windproof and water-resistant jacket is made of a breathable stretch fabric and will retail for $99.99.
The 1.0 and GripR gloves own a new palm made of MicronGrip, which is claimed to be super comfortable and tear resistant, with or without comfort padding. The 1.0 comes in four color schemes and retails for $29.99 while the 1.0 GripR comes in seven colors and retails for $25.99.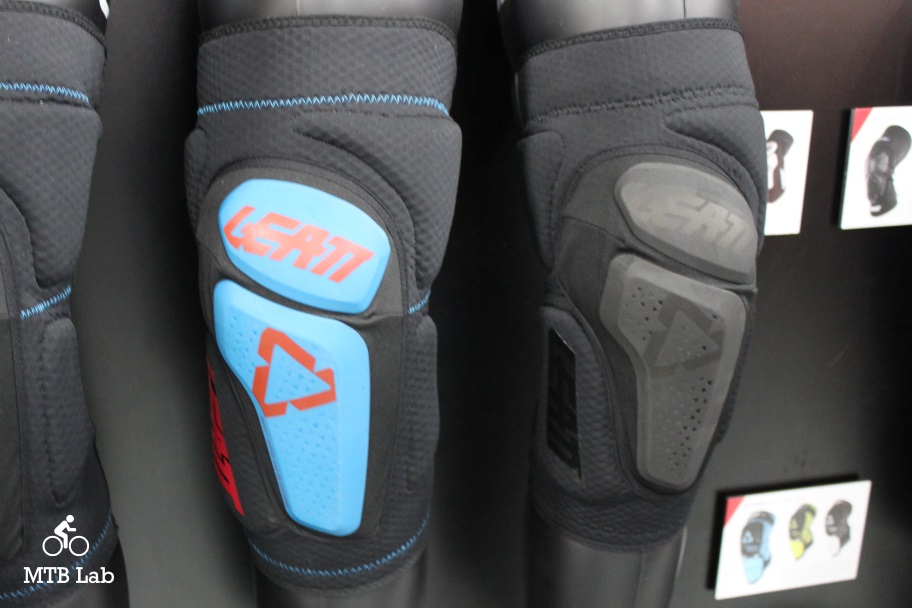 DBX 6.0 Knee Guard
This unique knee pad combines a classic soft protection construction with two hard shell sliders. One classic main hard shell at the kneecap/ upper shin, and an additional hard shell along the top of the kneecap. It is said to improve sliding characteristics on rough terrain massively, so the impact forces are reduced, and the knee guard does not slip during crashes. The 6.0 knee guards are still pedaling-friendly, offering proper ventilation because of the new thoroughly perforated main fabric at the front and very breathable mesh at the back. There is one Velcro strap at the thigh with a silicone grip lining on the interior, as well as an anti-slip band located at the top of the calf, guaranteeing a solid fit. Available in three colorways, from all-black to black/blue (fuel) to black/white, for $89.99.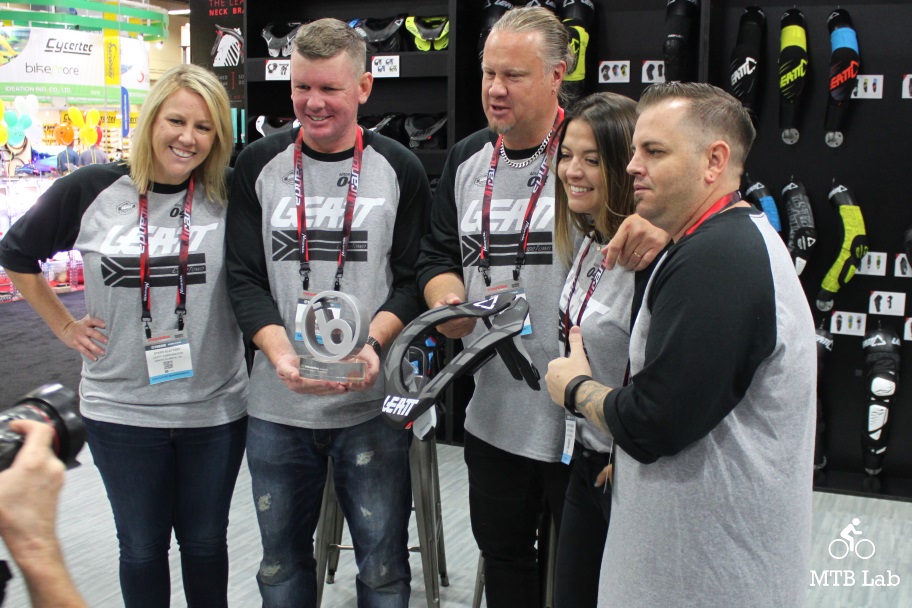 DBX 3.5 Neck Brace
The all-new Leatt DBX 3.5 neck brace has won a Eurobike and an Interbike Innovation Award. The Eurobike Award Jury stated, "This very lightweight design now places a key item of safety equipment within an attractive price range."
The first neck brace that is manufactured from an in-molded EPS construction with a Nylon core that is similar to many bicycle helmets.  The lightest neck brace in the Leatt range, the 3.5 is 30% lighter than the existing 5.5 models. At the same time, it is the most cost-effective Leatt neck brace at an entry-level price point of $249.99 and comes in two colors. The 5.5 and 6.5 Leatt neck brace models offer a more custom fit than the 3.5. However, the semi-rigid chassis is still adjustable to fit most riders' body shapes. Like all previous Leatt neck brace models, the DBX 3.5 is CE certified as Personal Protective Equipment and has been lab-tested and proven to reduce neck forces, thereby lowering your chances of a serious neck injury by up to 43%.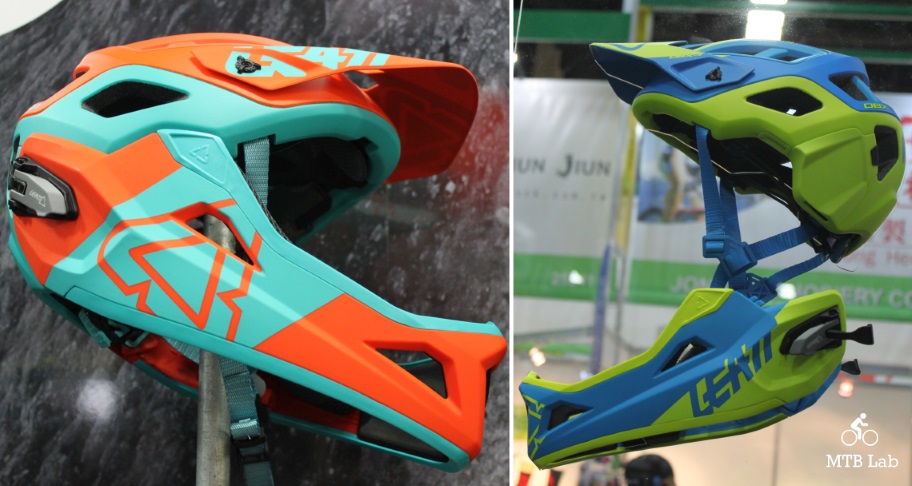 3.0 Enduro Helmet
First seen at last years Interbike show, the Enduro 3.0 will finally be available this fall! Made of a polycarbonate outer shell, it is lightweight and, the helmet's key differentiation is that it is equipped with a removable chin bar to modify the helmet from an uphill to a downhill helmet. The helmet is also super ventilated – even at very low speeds, as it is equipped with 18 vents. The smaller outer shell of the helmet and 3D in-molded impact foam allows for better energy absorption while its visor has a breakaway function that offers a rotational reduction in a crash. For your convenience, it has a custom fit Fidlock buckle, and it pairs perfectly with your hydration system. It retails for $239.99, comes in S, M and L sizes and three color schemes.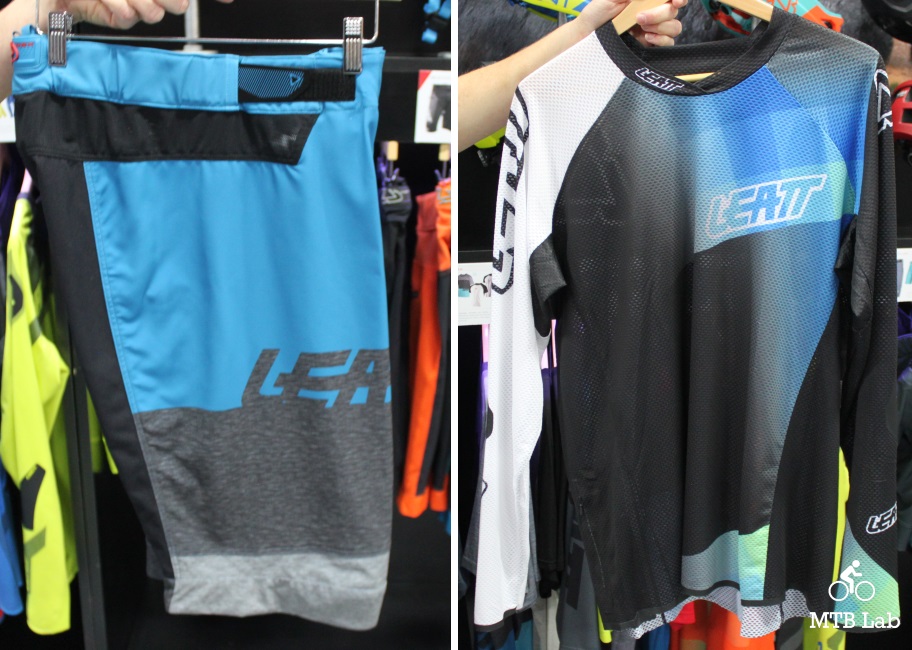 Lastly, Leatt has some new colors, patterns, and graphics on their existing gravity items such as the DBX 4.0, DBX 3.0 and DBX 2.0 apparel lineup. Also, they made some minor tweaks to the DBX 5.0 full faced helmets and DBX 3.0 All Mountain helmets.
We did a comprehensive look at the 2018 lineup back in August, refer to New Apparel, Helmet, Neck Brace and Knee Pads by Leatt for 2018