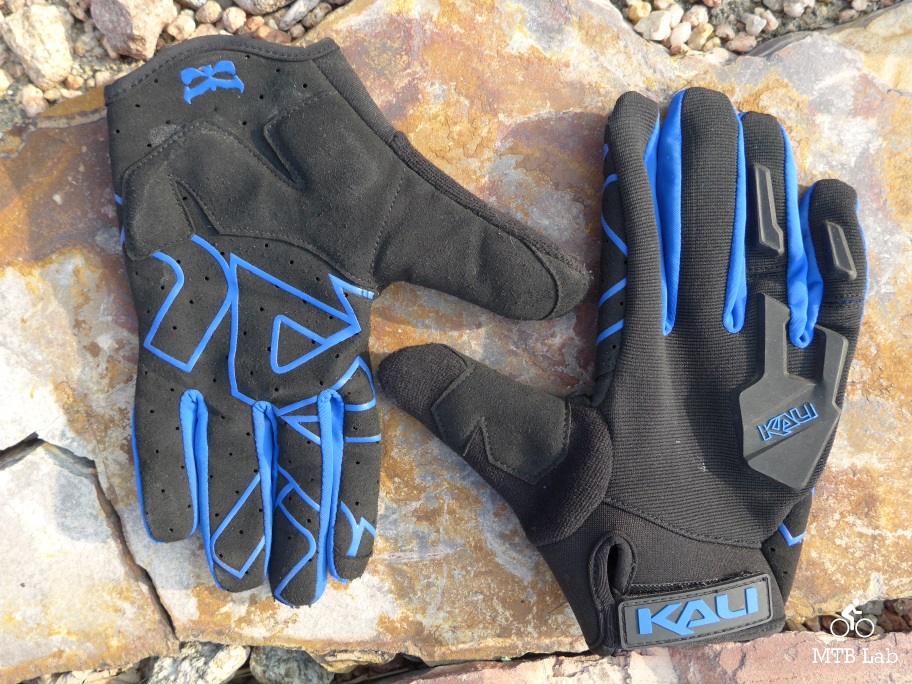 I like minimal thin gloves for the dexterity and tactile feel that they offer, but unfortunately, they inherently don't offer much protection against brush and crashes and tend to wear prematurely. Kali's new Venture offers a thin glove design where you want the tactility, but it provides TPU rubber panels on the outboard side to fend off tree and bush impacts along with a robust wraparound for the thumb. It also includes foam padding at the heel of the glove to help insulate the rider from fatiguing trail chatter and bumps.
Features
Micro Fiber palm
Silicone palm print for enhanced grip
High absorbency thumb wipe
Low profile silicon closure
Flex knuckles for optimal articulation
Outer TPR knuckle & finger protection
Added palm protection
Touchscreen compatible finger tips
Sizes – XS S M L XL
Four color schemes
MSRP $40
For further information refer to kaliprotectives.com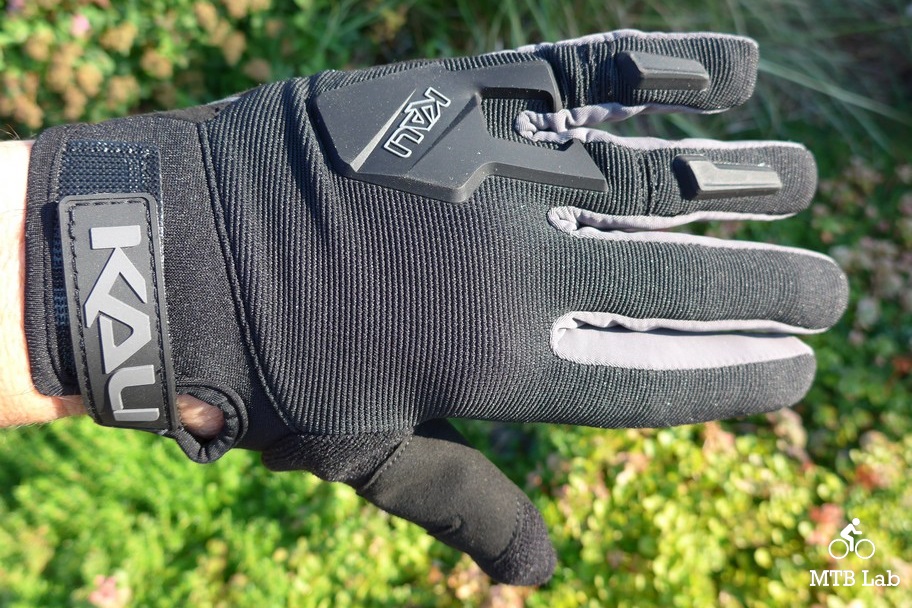 Impressions
The gloves seem to run a tad small, so it took some effort to get them on my hands initially, though after some break in and minor age stretching they seem fine. Once they were on my hands, I noticed the nicely contoured design and fit, without any seams binding me or causing hot spots. The top features a stretchy mesh material for improved comfort, flexibility, and ventilation, while the palm and wrist utilize a robust Micro Fiber for durability. The two smallest fingers offer flex gussets for articulation, while the top outer side includes TPR protection providing impact padding in three sections, including the two smallest fingers and then over knuckles. I enjoyed having the TPR pads whenever I banged into trees and bushes accidentally on my rides since it offered lots of impact absorption For adjustment around the wrist, it features a low profile silicone band with Velcro closures.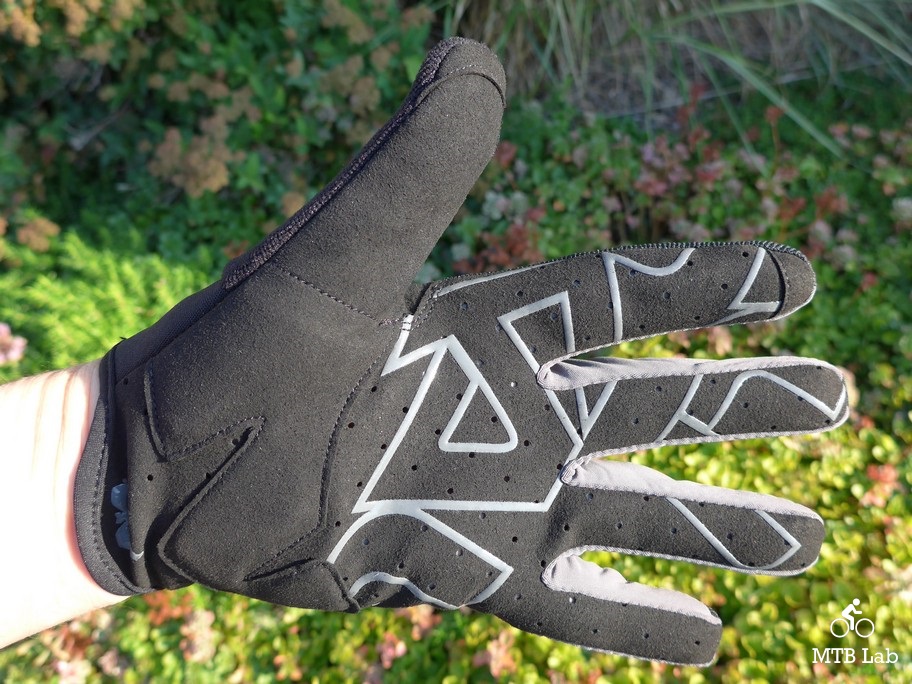 The palm is also perforated for ventilation and breathability and includes a sticky silicone print for enhanced grip and braking. The gel inserts on the wrist pad provide lots of comfort without being overly thick, though if you're used to ultra-thin gloves, you will notice a slight decrease in tactile feel in that area. With the design layout of keeping most of the palm free of the gel inserts and thick padding, most of the dexterity and tactile sensitivity is retained. The index finger has a small touchscreen tip so you can use smartphone and cameras as needed. I greatly appreciated that as it allowed me to use my phone without having to take my gloves off and the tip was small enough not to take away the fingertip braking characteristics, though you did lose a tiny sliver of silicone gripping.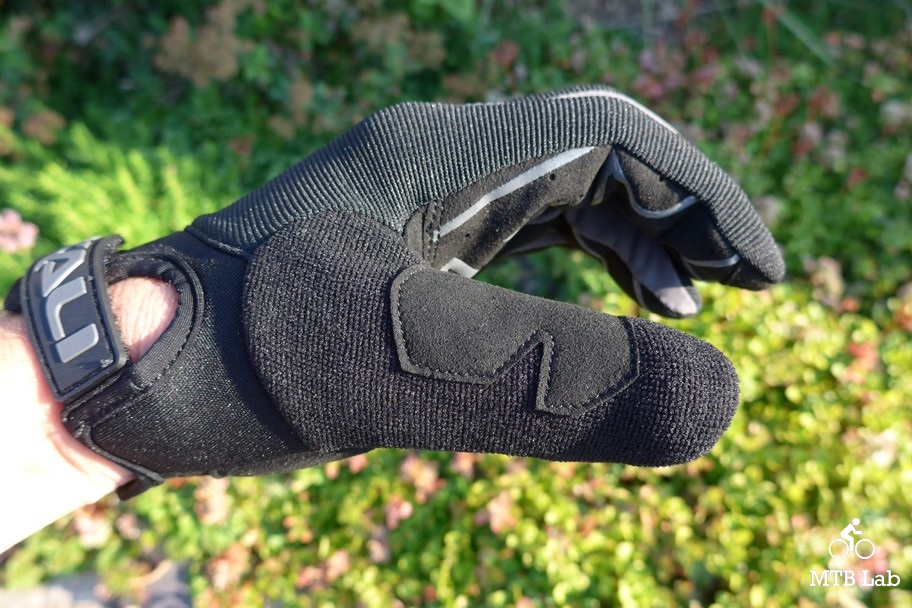 The outer thumb has an absorbent wipe that was quite useful, and there is an extra wraparound section of Micro Fiber for durability when gripping the handlebars.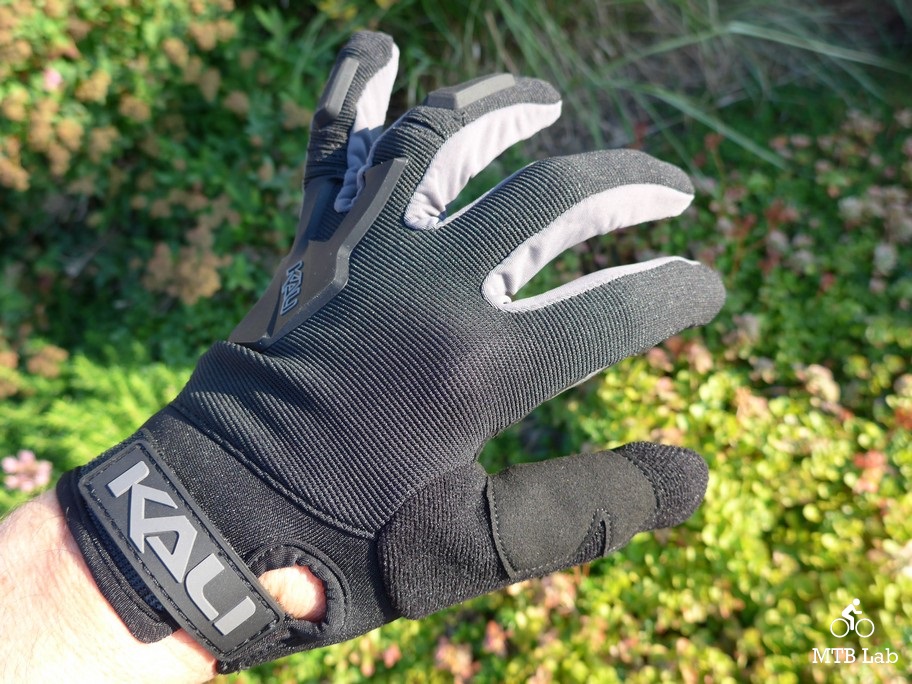 So far no outstanding durability issues even after a few tumbles, bashing into trees and some minor trail maintenance work. One of the Velcro closures did fray along its edge, but I seemed to have fixed that by cutting off the extraneous stuff and there was some minor pilling on the thumb's absorbent wipe material. I tend to be tough on gloves, and the Venture has taken my abuse in stride without any excess wear and tear is shown.
The All-Purpose Venture glove provides a good balance between lightweight flexibility, functional padding, durability and hand protection, yet still offers comfort and breathability.