For 2018 Dakine has the Hot Laps collection of lumbar packs, which include the new Hot Lap 5L with a 2-liter reservoir and under jersey Hot Lap Stealth, an upgraded Hot Laps 2L and the new Hot Laps Gripper bag for on-bike storage of small gear. Also new is the Bike Roller Bag, which can carry almost any sized bike and folds up for compact storage. 
Inspired by enduro race trends for fast and light gear, Dakine launched the new Hot Laps series of lumbar packs for All-Mountain riding, small, compact and lightweight; the new packs offer versatile carry options for every kind of singletrack mission.The Hot Laps Collection will be available December 2017 at specialty retailers and online at dakine.com.
Hot Laps 5L
The Hot Laps 5L (MSRP $70), offering the largest feature set in the series, includes a 2-liter Hydrapak lumbar reservoir with magnetic hose buckle for hydrating during long rides. The offset waist buckle with stretch panel and the airflow backpanel each provide added comfort. Designed with internal organization for gloves, snacks, and essentials, including a fleece-lined phone sleeve for protection front attachment straps can secure a light jacket or knee pads and cinch up cleanly when not in use. The addition of side compression straps provides a smaller footprint when carrying less gear, plus a safety light attachment when riding in low light.
2L / 70oz Hydrapak lumbar reservoir
Phaser bite valve
Magnetic buckle auto-locates hydration hose
Breathable Air Flow backpanel
Internal organizer pockets
External attachment straps
Side compression
Safety light attachment
Storage – 305 cu in. [ 5L ], Size – 12 x 7 x 4.5 [ 30 x 18 x 11cm ], Weight – 1 lbs [ .471 kg ]
Hot Laps 2L
Smaller and simplified for shorter rides, the Hot Laps 2L (MSRP $40) offers an external bottle carry and internal drop pockets, while still offering breathable air mesh backpanel and offset waistbelt for comfort.
Breathable air mesh backpanel
Internal fleece lined phone pocket
Internal mesh pocket
Deployable side water bottle pocket
Safety light attachment
Five color schemes
Storage- 122 cu. in. [ 2L ], Size – 10 x 7 x 3″ [ 25 x 18 x 8cm ] , Weight – .5 lbs. [ .22kg ]
Hot Laps Stealth
The Hot Laps Stealth (MSRP $35) is designed to be worn under a jersey for concealed storage. The air mesh backpanel with Polygiene odor control technology encourages breathability and comfort. Includes micro-stretch waistbelt for comfort, dual mesh side pockets for added breathability, and tool, tire lever, C02 and tube specific storage, plus padded phone protection and room for your keys/wallet.
Under-jersey storage solution
Breathable air mesh backpanel with Polygiene anti-microbial
Internal fleece lined phone pocket
Tool, tire lever, C02, and tube specific storage
Dual side pockets
Micro-stretch waistbelt for added comfort
Two color schemes
Size – 21.5 x 7.5 x 2″ [ 55 x 19 x 5cm ], Weight – .33 lbs [ .152 kg ]
Hot Laps Gripper Bag
For on-bike storage, the Hot Laps Gripper (MSRP $22) attaches under the seat or multiple locations on the bike frame to house tire levers, C02, and a spare tube.
On-bike storage solution
Tire levers, C02, and tube specific storage
Attaches under seat or multiple locations on bike frame
Three color schemes
Size – 5.5 x 2.5 x 2″ [ 14 x 6 x 5cm ], Weight – .13 lbs [ .063 kg ]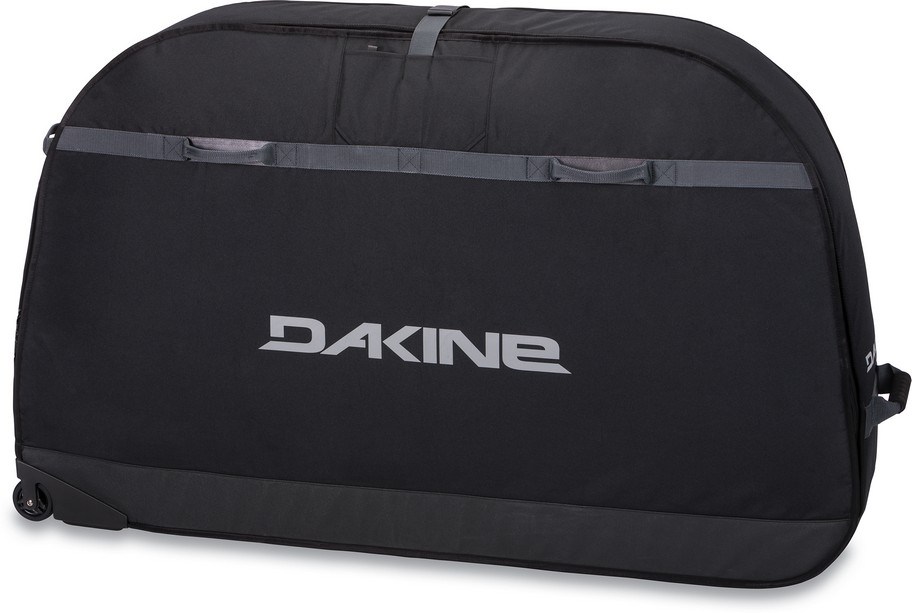 Bike Roller Bag
The new Bike Roller Bag is a travel bag that can carry any road or mountain bike, including 29-inch sizes and fat tire beasts. It's stock full of useful features, including functional Urethane wheels, ample padding all around the inside of the pack, a removable tool roll, and pedal holder, and it the pack folds up into a compact shape for easy storage.
Fits one Downhill, Trail, Fat, 29'er, or Road bike
Smooth rolling, replaceable urethane wheels
360° Padded bike protection with five internal padded sleeves
Rolls up for compact storage (55"x 14.5 x 18) (140cm x 37 x 46)
Five upper grab handles
Lockable YKK #10 main zipper
Removable Tool Roll for tool and pedals
$400.00 USA MSRP
Size – 55 x 13 x 34″ [ 140 x 33 x 86cm ], Weight – 17.75 lbs [ 8 kg ]