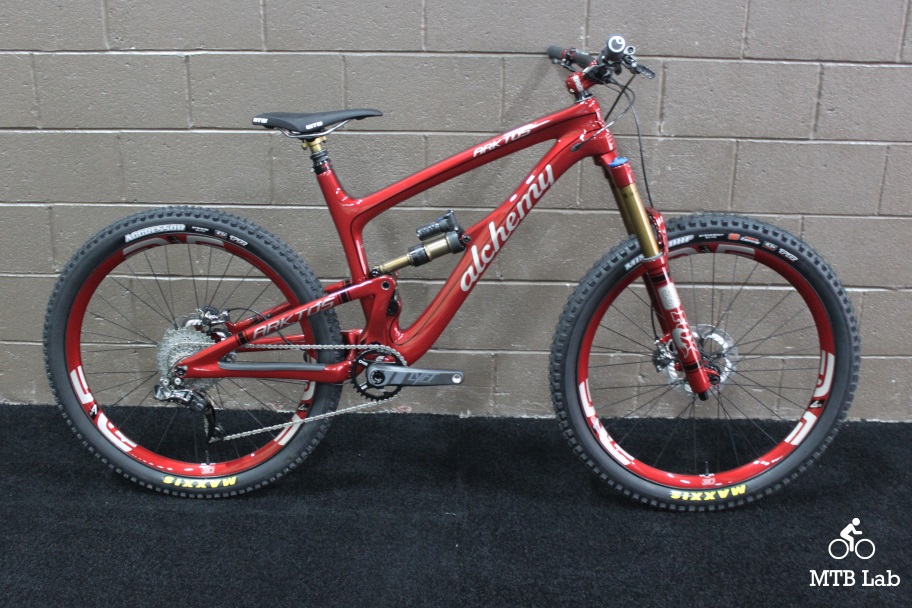 Alchemy Bicycles is expanding their Arktos mountain bike lineup into two models; they'll have the overseas produced 'Arktos' and the Denver built 'Arktos Custom' versions. Both bikes will feature the Sine Suspension system and the Fox Float X shock, and the Arktos framesets will retail for $2,999 while the Arktos Custom will go for $3,799. They'll also have several kits for each version, including XTR Di2, XTR, XT, XX1 Eagle and XO1 Eagle.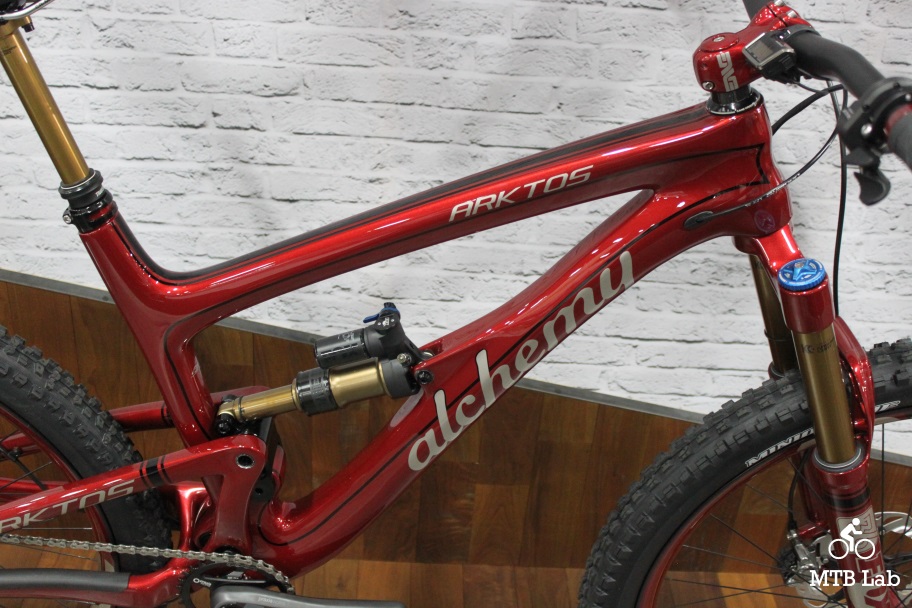 Alchemy has their 'Ethic Paint Works' in-house paint facility at their Denver headquarters, and you can custom order your American made Arktos Custom anyway you desire. An example of a custom paint job is the no holds barred glossy red paint special shown here.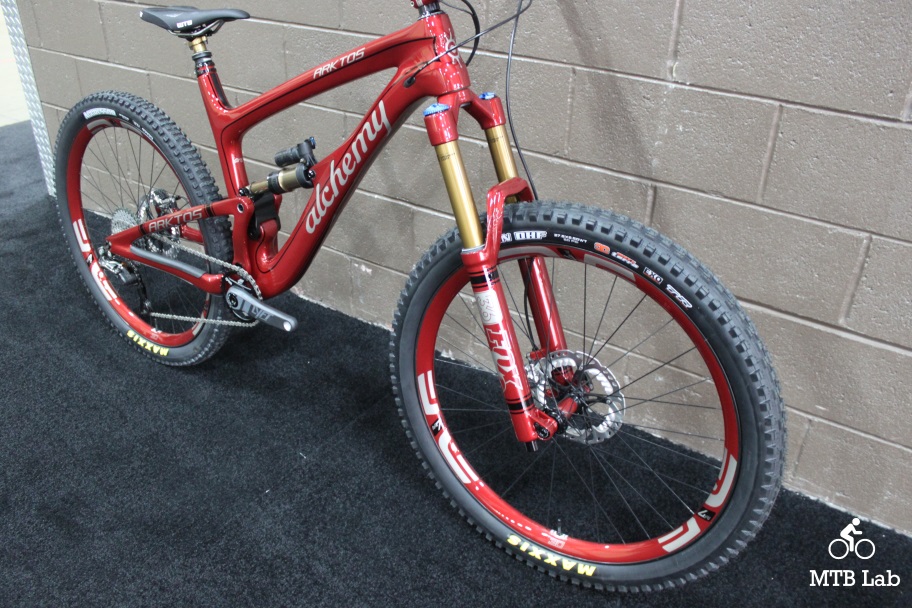 It has a slew of parts painted to match the frame, including the FOX fork, ENVE rims, stem, and handlebars, hub, lock-on collars, etc. The paint job is amazingly stunning with a deep glossy red color that reminded of an old 50's hot rod.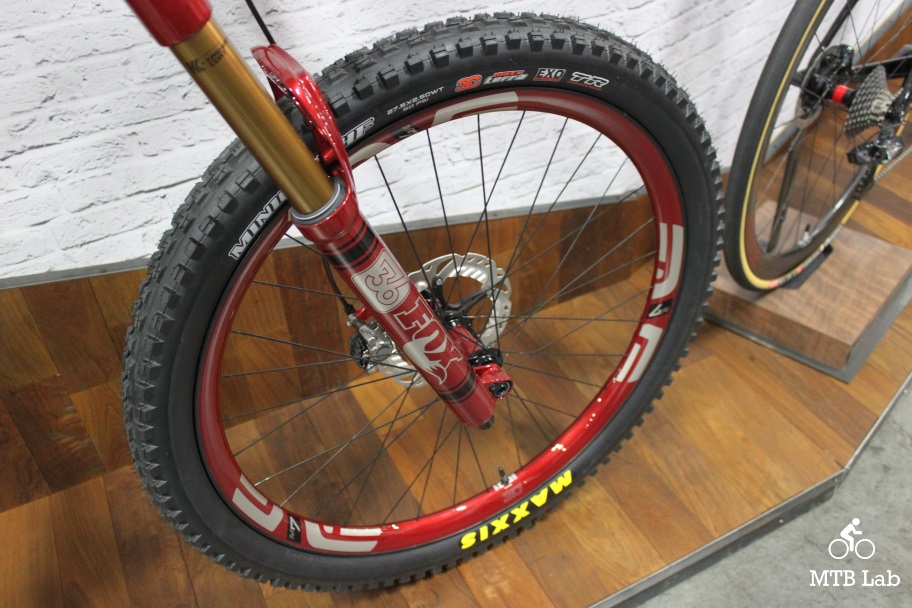 Something this extreme will set you back close to $3000, but it's stunning enough to hang on your wall as a piece of artwork.
David Earle's Sine Suspension, the cornerstone of both the Arktos and the Arktos Custom, is licensed exclusively to Alchemy Bicycles and relies upon a Fox Float X shock for rebound and compression damping. Considered a groundbreaking suspension platform and offered at just $2,999, the Arktos is a convincing option when compared with other trail bikes. "The Arktos was so well-received last fall that we had to think about how the production of this bike would affect the production of our custom offerings," said Alchemy President Ryan Cannizarro. "By utilizing Dave Earle's overseas production expertise and supervision for the new Arktos we can continue the Alchemy tradition of offering top-tier bikes, but at a price point new to us."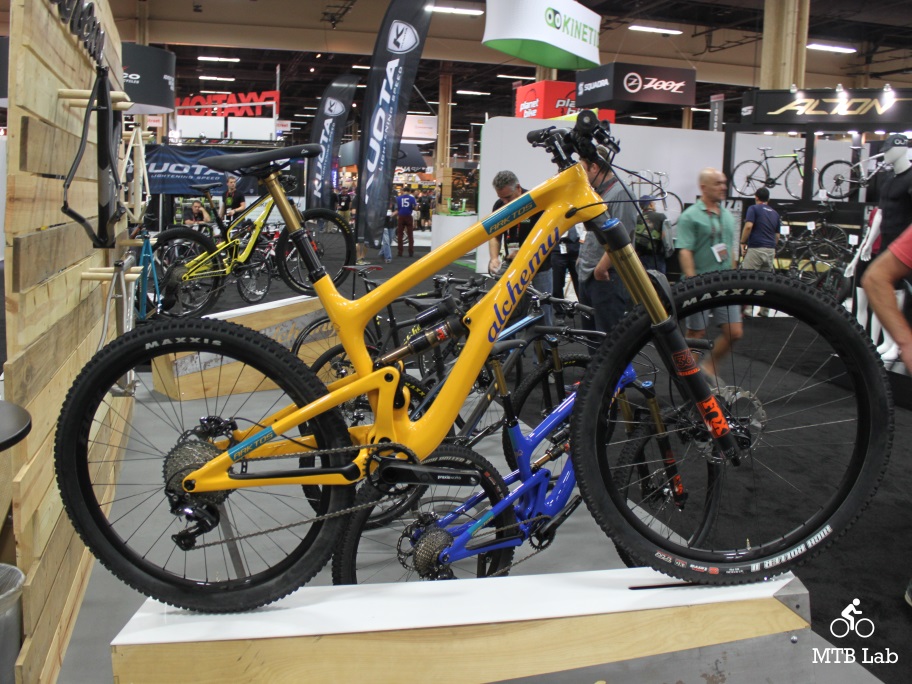 The new Arktos is available for order now with no lead time and is available in two yin-yang colorways – yellow and blue. Arktos Custom frames are to be painted to customer's spec in Denver by Ethic Paint Works. One-off custom paint schemes will be offered to Arktos Custom customers with an additional fee.
| | | | | | | |
| --- | --- | --- | --- | --- | --- | --- |
| | Frame & Shock | XTR Di2 | XTR | XT | XX1 Eagle |  XO1 Eagle |
| Arktos Custom | $3,799 | $8,999 | $7,999 | $6,999 | $8,799 | $7,399 |
| Arktos | $2,999 | $8,199 | $7,199 | $6,199 | $7,999 | $6,599 |
For additional information refer to AlchemyBicycles.com.