Burley Coho XC
Burley was introducing the new Coho XC single wheel cargo trailer, which includes features such as variable width yoke system to adjust to a wide range of axles and hubs, instant release lever, integrated kickstand, different rear wheels sizes, suspension, removable side panels and a slew of accessory mounts. The kickstand would come in extremely handy since anyone that has used a single wheeled trailer knows everything falls over if you don't have a way to prop things up and attaching and detaching it from the bike is problematic by yourself. The kickstand would offer a stable platform for any activity.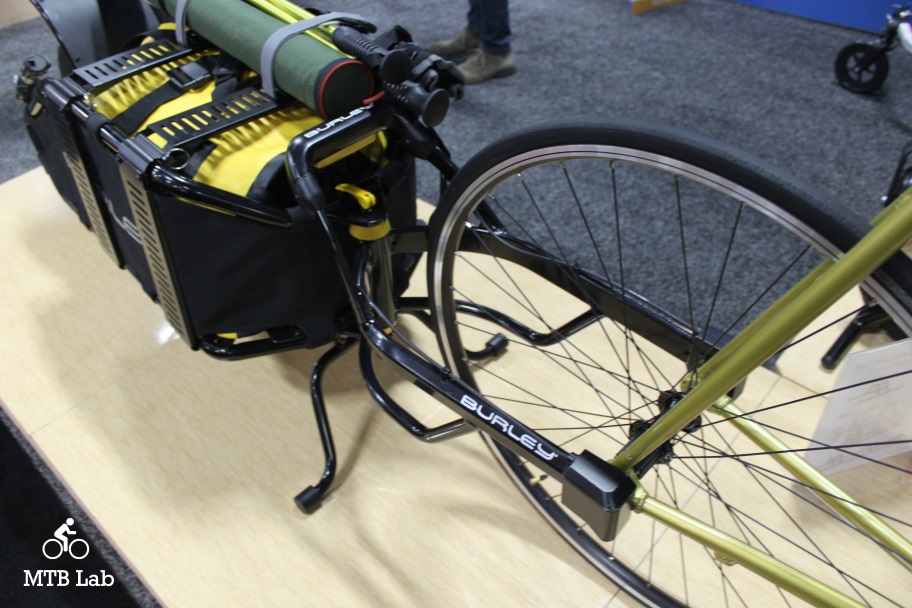 Built to address one of the most common problems with traditional trailers; the inability to adjust the yoke to a wide range of axles and hubs (125-197 mm spacing); the Coho XC introduces a variable width yoke system. This industry-leading feature allows installation on a wider range of hubs and tire sizes, including 700C with full wrap renders, 29 plus wheels, off-road tires and road tires.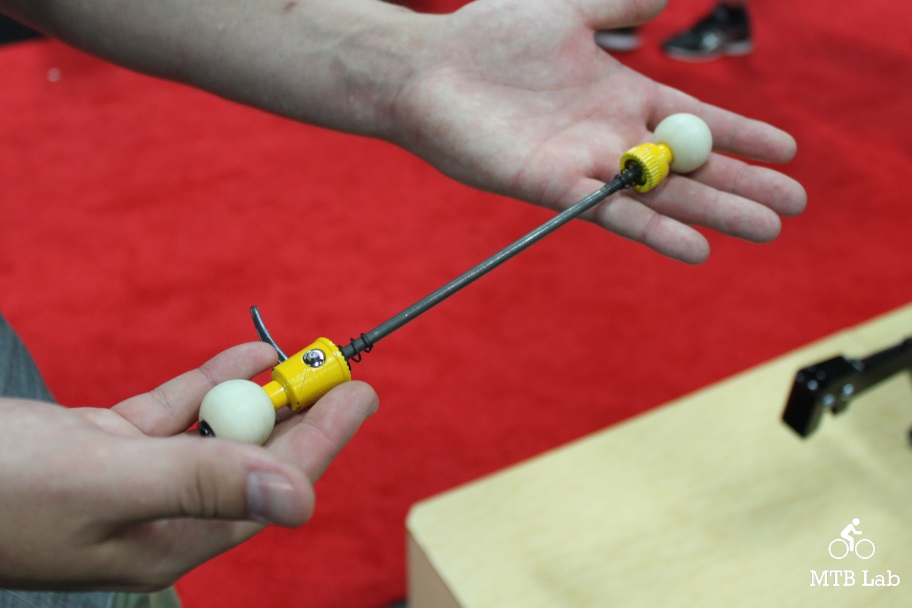 Users simply spread the yoke to the width of their rear axle, and then drop and lock the trailer to the bike with the new dual ball hitch that allows the yoke to connect at multiple angles. I think the only current issue with the system is the lack of compatibility with a 12mm rear axle which exist on many newer bikes, but Burley said they have something in the works.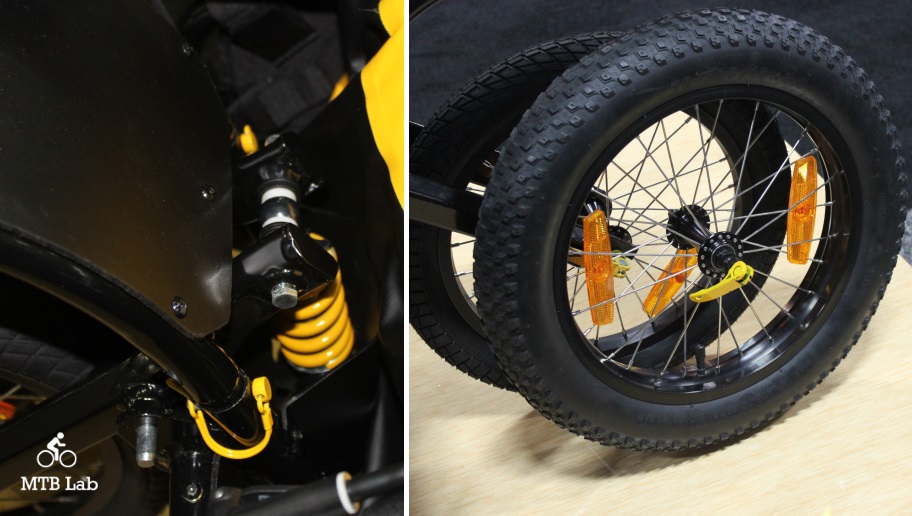 It follows in the footsteps of the standard Coho but has the added benefit of a coil sprung rear shock to help soften the blows of the trail. It also is compatible with three different wheels sizes, a Road oriented 16"x1.75", an Off-road 16"x2.125", and a fat Plus 16 x3".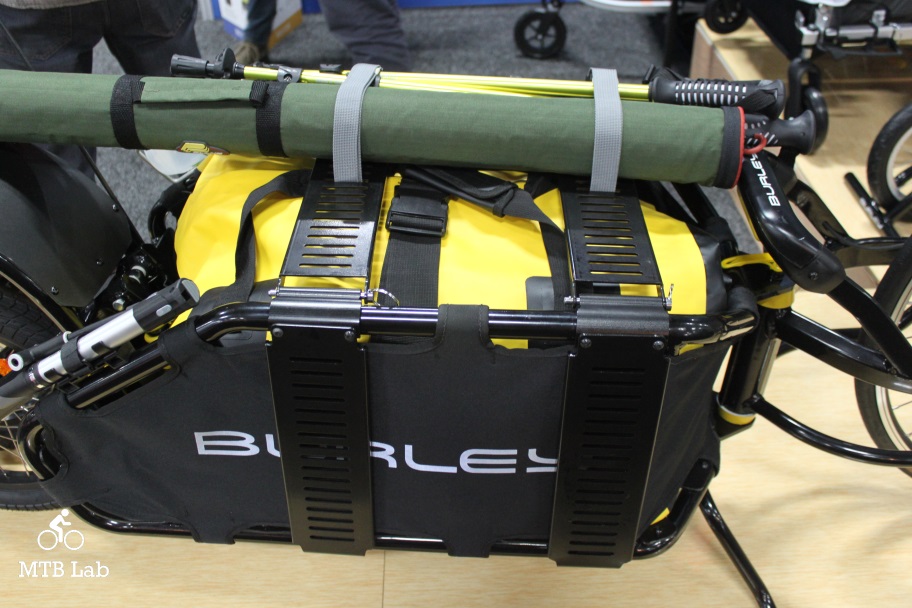 The main area of the trailer is large and one of their dry bags would keep everything dry and clean inside the enclosure. They have lots of other accessories such as rear fender pannier rack and bags, side and top ladders to attach additional gear for a very functional carrying system. I think the Coho XC would be ideal for trail maintenance work, where you're carrying lots of heavy and awkward gear.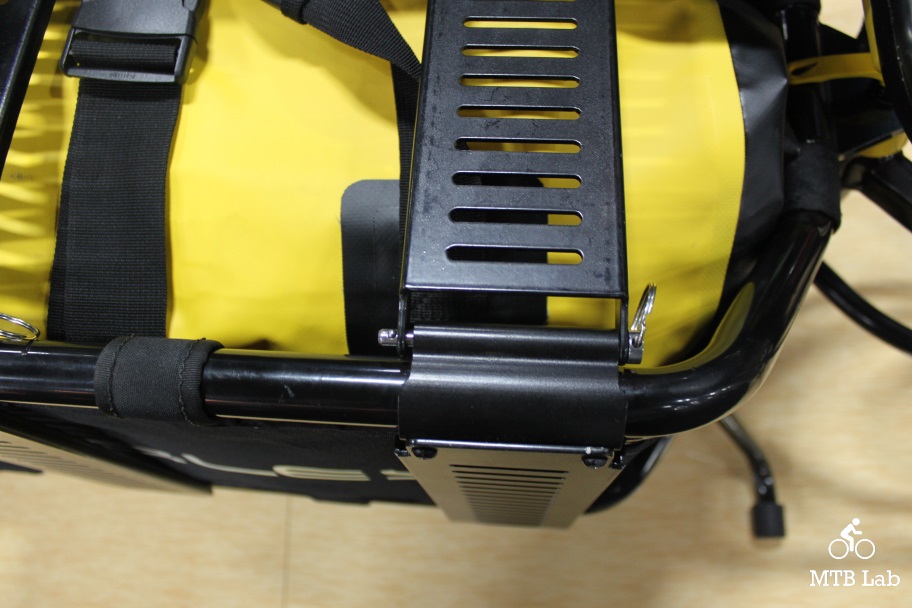 The ladders decouple with a functional cotter pin system for easy on and off the parts.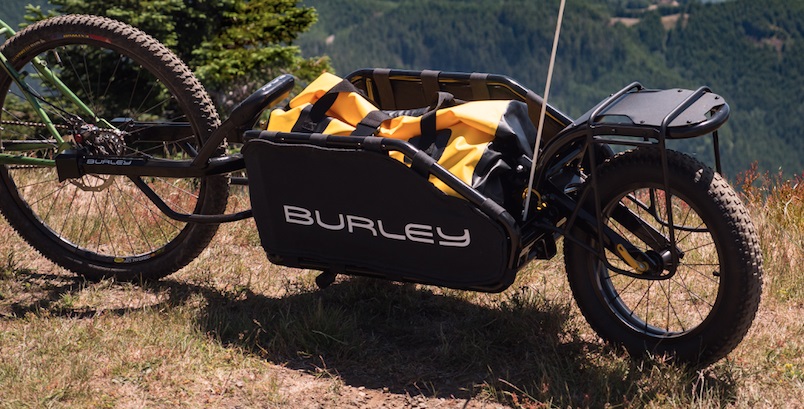 Specs
The Coho XC embodies the below additional features, making it the most advanced single wheel cargo trailer yet.
Release lever instantly disconnects trailer          
Yoke adjusts to wide range of hubs and tire sizes instantly without tools
Integrated kick-stand holds trailer and bike upright
Removable side panels hold cargo when not using dry bag
Customizable with three available trailer wheel sizes (Plus 16 x3", Off-road 16"x2.125", Road 16"x1.75"), pannier rack and cargo ladders
Multiple integrated accessory mounts for easy bottle cage/accessory attachment
Disassembles without tools into compact form for storage and travel
Large object compatible: The level frame and fender design accommodates long and wide objects
Adjustable suspension
From single track bikepacking to long-distance touring, the Coho XC is an ideal product for everyone and will be available for purchase March 2018 in the $439-$469 price range.
Nomad
$339.00
Built specifically for touring, the Nomad bike cargo trailer features an efficient, lightweight design, huge cargo capacity, and durable weatherproof cover. The trailer's balance point minimizes torque on the bike while the two-wheel chassis provides superior tracking and stability. Weighing in at less than 15 lbs., the Nomad can carry up to 100 lbs. of cargo, and the weatherproof cover keeps your gear protected from the elements. Embrace your wanderlust with the Burley Nomad.
For additional information refer to burley.com