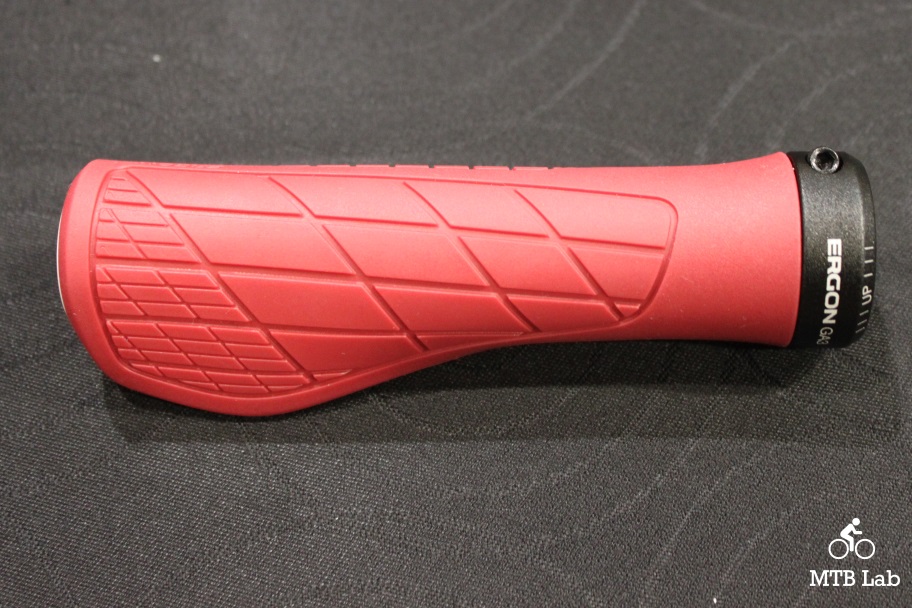 Ergon has a bunch of new stuff for this coming season, the GA3 grips with mini wings, the GA2 Fat grips, and the redesigned GE1 EVO/EVO Factory. They haven't had any packs in the US market for a couple of years, so the innovative BA2 and BA3 packs are a highly welcome return. They have the women's anatomical and ergonomic optimized SR (road) and SM (mtb) saddles along with the game-changing ST Core saddle utilizing a TwinShell design with the Infinergy E-TPU foam core.
GA3 Grips
The GA3 feature a "Mini-wing" design that offers more comfort and wrist support for GA2 grip fans and riders with smaller hands who found other winged grips to be too big. It comes in one size, five colors (black, blue, orange, red, berry) and retails for $29.95. I am looking forward to spending some time on these grips, as I do like wings, but they're usually just too wide for my tastes.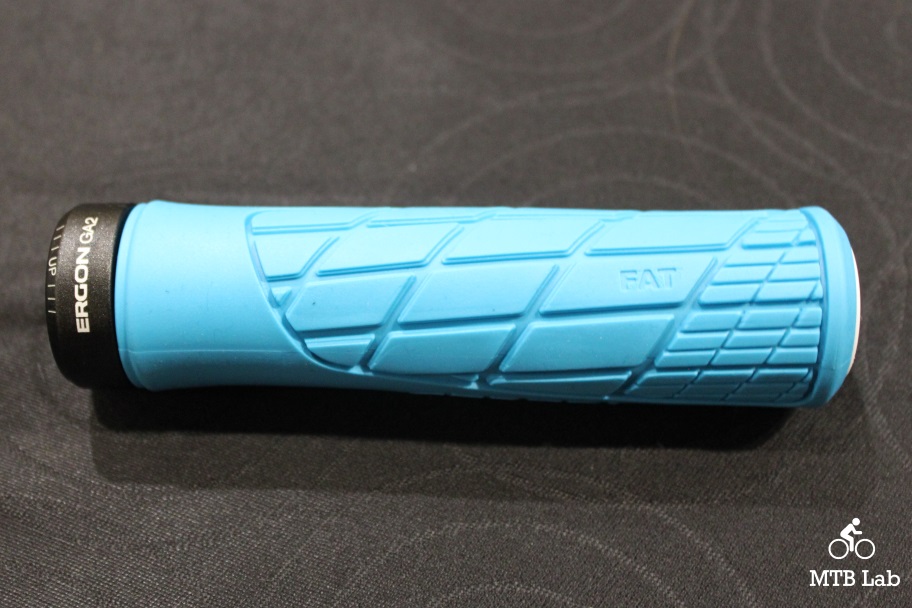 GA2 FAT Grips
The GA2 FAT is 33.5mm in diameter instead of the standard GA2's 30mm. It's visually and noticeably thicker and uses the same compound as the GA2, and the bigger circumference makes the GA2 FAT more absorbent to trail chatter. It comes in one size, three colors (black, blue, red) and retails for $29.95.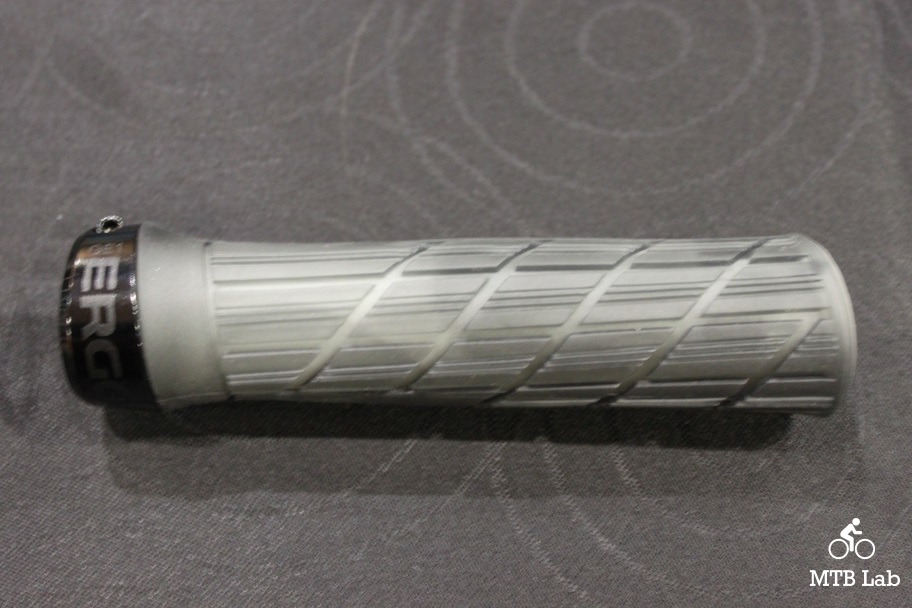 GE1 Evo / GE1 Evo Factory Grips
The evolution of the popular GE1, the GE1 Evo and GE1 Evo Factory feature a new surface structure that offers more grip. The Factory versions get the special rubber compound that delivers improved grip and rebound.  Both models come in two sizes, Regular at 32mm in diameter and the Slim at 30mm. The GE1 Evo comes in four colors (Black, Blue, Red, Lazer Lemon) and retails for $34.95, while the GE1 Evo Factory comes in two colors (Frozen Black, Frozen Orange) and retails for $39.95. I'd like to try out the GE1 Evo Factory and see how the new surface works out on the trail, and I certainly love the stickier rubber compound which has a soft, yet very defined and precise feel.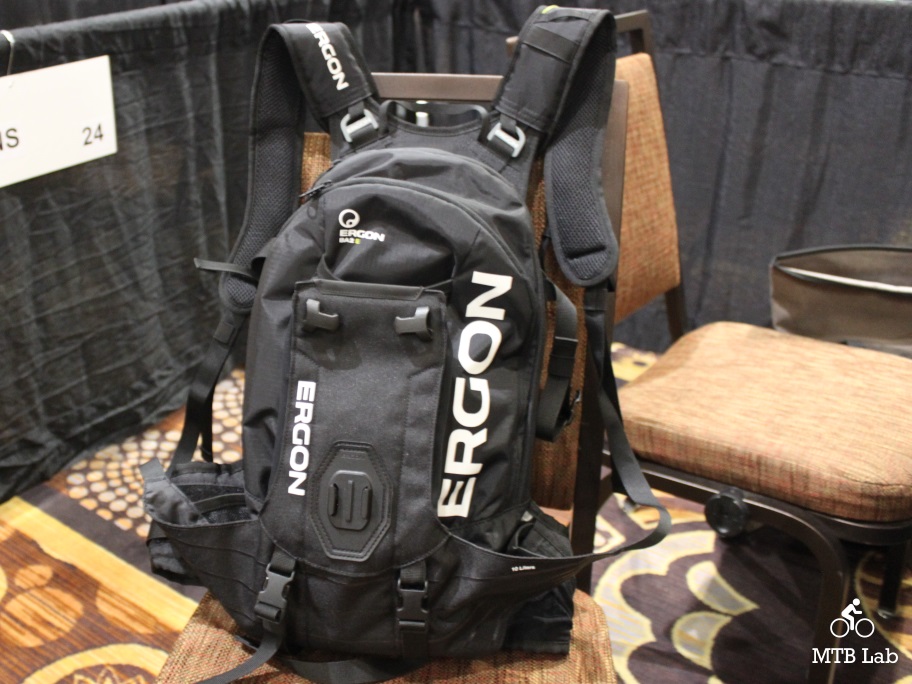 BA2 / BA2 E Pack
I am glad that Ergon has returned to having Packs in the US market and the new BA2 and BA3 packs have tons of features and functions, and they have engineered in innovative and useful ergonomics that work in the real world.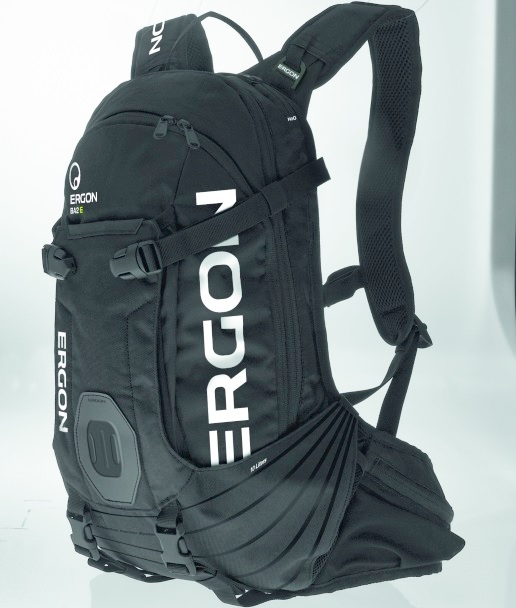 The BA2 pack has a 10-liter capacity and utilizes their new one size fits all designs that have a four-step length adjustment system on the back panel to adapt to all rider sizes.
Much like the old BX2 pack I tested years ago the BA2 has some common designs it seems to share with its predecessor. It has padded shoulder straps, which attach to its upper frame with a free-floating system, allowing the straps to adjust, angulate and undulate as required. The lower strap connects to the central section's trapeze/hammock, which cradles the bottom of the pack, helping to compress and pull up the load for better weight distribution and tighter center of gravity. The hip belt flows from that same trapeze and is quite wide and wraps a reasonable distance around the hips all of which provides additional comfort, stability, and security.
It features an oversized front flap system to carry all kinds of helmets, a rear-facing action cam or light mount (generic GoPro adapter) on the lower back, and the main compartment has four inner pockets and internal bladder and protector compartments. It uses the super comfortable "Adaptive Carrier System" and the ContouFit aluminum bar for stability and load carrying. The E model means it optimized for E-Bike's and it has an additional storage compartment for a spare battery. You can also attach the optional $19.95 Sport Camera Chest Mount to the front of the pack.
The pack retails for $129.95 and comes in Black and Blue colors, while the E variant is $139.95 only in Black.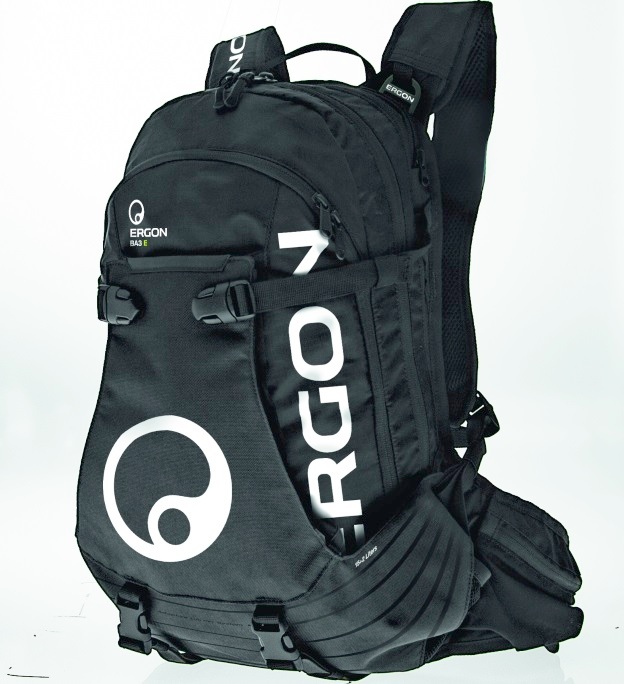 BA3 / BA3 E Pack
The BA3 pack has a 15-liter capacity with an expandable front for an additional 2-liters, and it utilizes their new one size fits all design that has a four-step back length adjustment system to suit all rider sizes. It is pretty much a larger version of the BA2, with mostly the same features, except it doesn't have a rear-facing action cam or light mount.
The pack retails for $139.95 and comes in Black and Blue colors, while the E variant is $149.95 only in Black.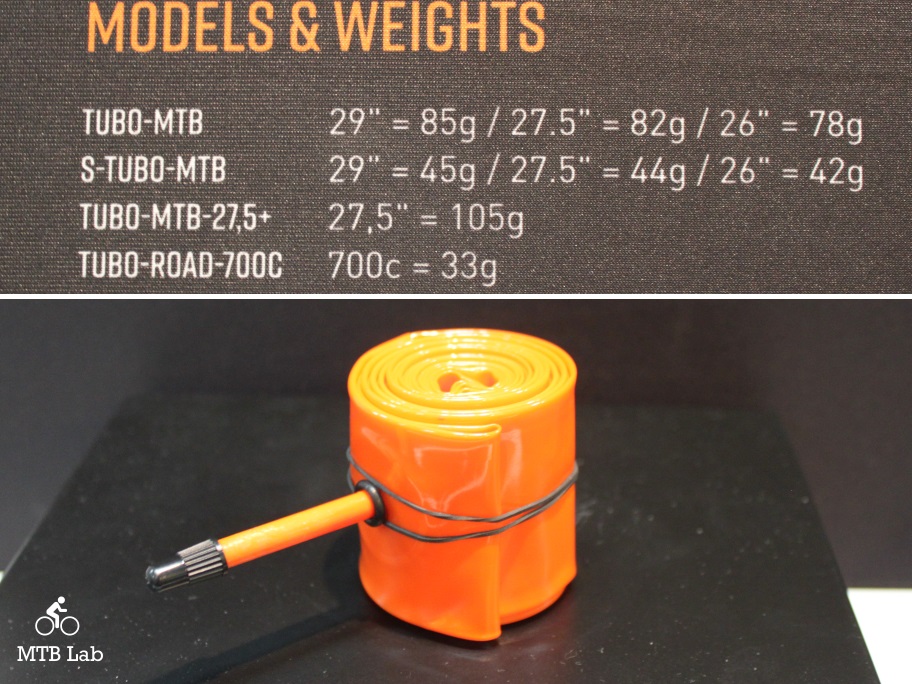 Tubolito
The Tubolito is a new generation of mountain bike tubes that are twice as robust and puncture resistant as normal tubes while weighing 65% less and being more elastic. The Austrian company is combining a high-tech thermoplastic material with a newly developed seamless production technology to produce their revolutionary product. There has never been an easier way to trim weight off your wheels while not compromising on security or spending a fortune. They comes in four versions with multiples sizes in some models, all having 44mm long tubeless valves:
TUBO-MTB (26″, 27.5″, 29″ x 1.8″-2.4″)
S-TUBO-MTB (26″, 27.5″, 29″ x 1.8″-2.4″)
TUBO-MTB-27.5+ (2.5″-3″)
TUBO-ROAD-700C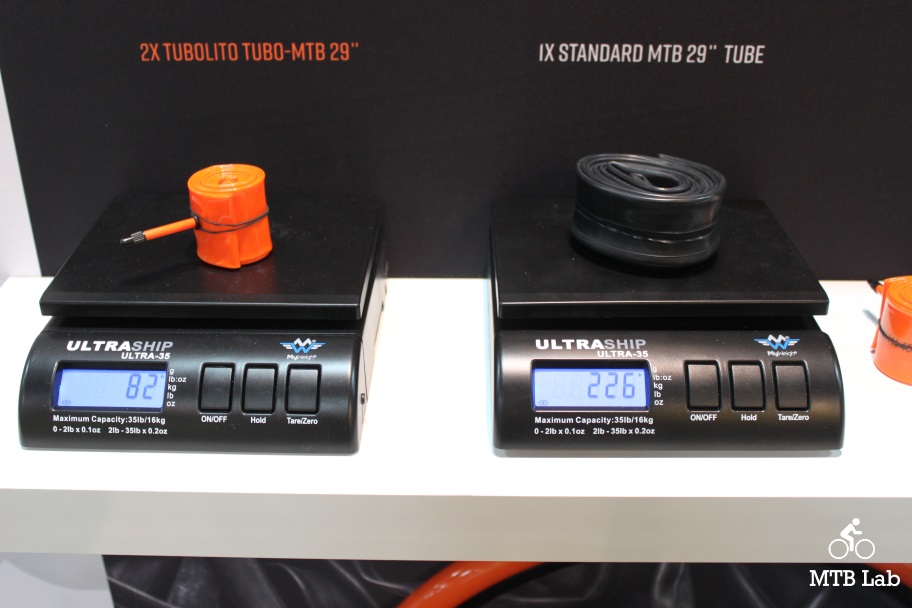 Ergon is releasing the Tubolito's here in the US, and it utilizes a new high-tech material that can resist two times higher forces before breakage than standard butyl rubber tubes, and it's also two times more elastic which gives you maximum break-down protection.
Tube Material: thermoplastic
Valve Material: Presta 42 mm
Color: Orange
MSRP: $35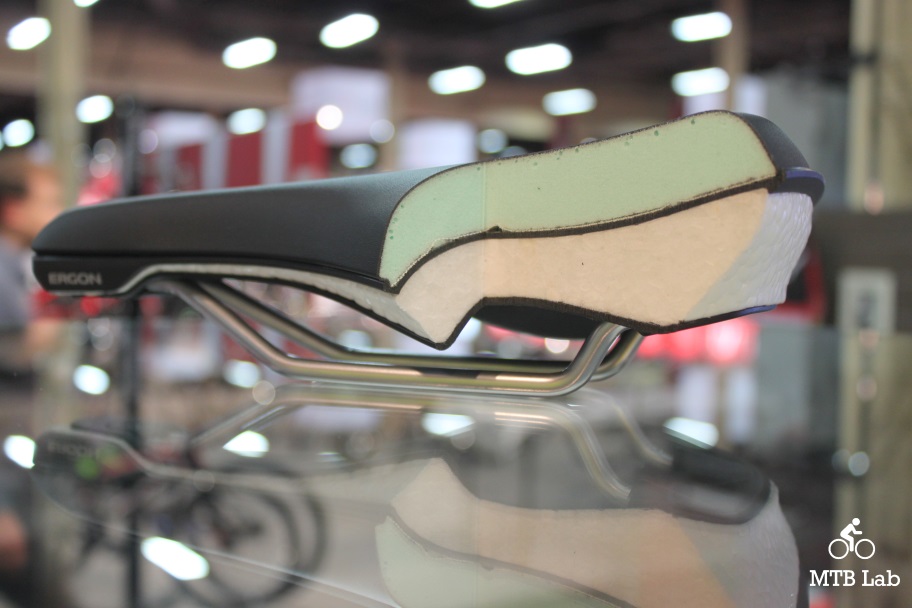 Fitness Saddle – ST Core
The first of a new generation of saddles that utilizes a TwinShell design that supports the rails without sacrificing comfort. The TwinShell design has a nylon composite with the lower shell being stiff and the upper shell being flexible and resilient. The core is made of BASF's Infinergy E-TPU closed cell particle foam that comes from the running shoe world.  The cake-like layers start with a Microfibre top shell surface, followed by an Orthopedic comfort foam, the seat shell, the Infinergy E-TPU ergonomic core, and finally the carrier shell with it's attached CroMo rails. The entire saddle works in synergy for maximum comfort and freedom of movement by combining the TwinShell floating system, an exposed 3D damper (Infinergy), and a sit bone relief system.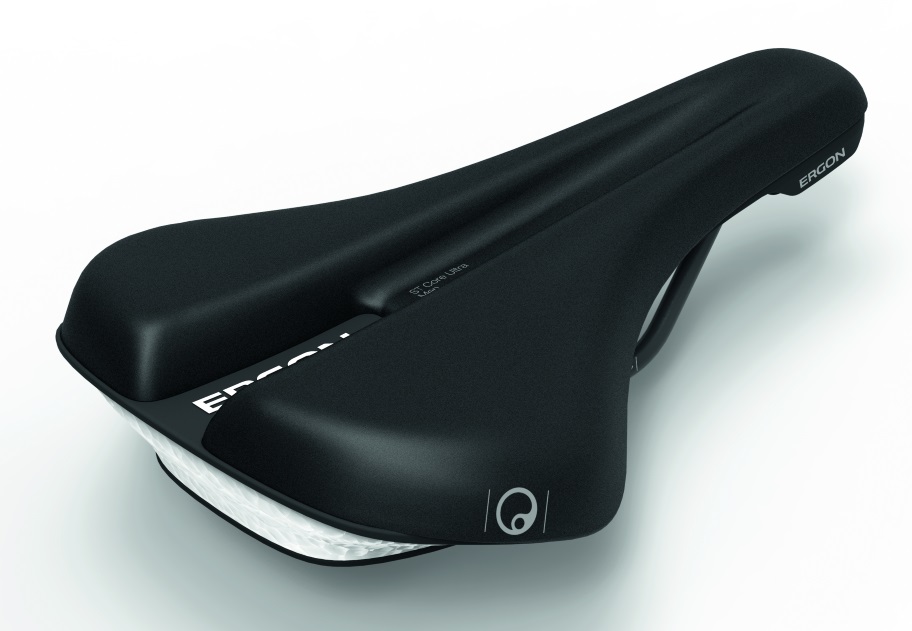 The ST Core offers a pronounced relief channel comes in Men's and Women's versions with two sizes in each S/M (9-12 cm) and M/L (12-16 cm), and they retail for $149.95.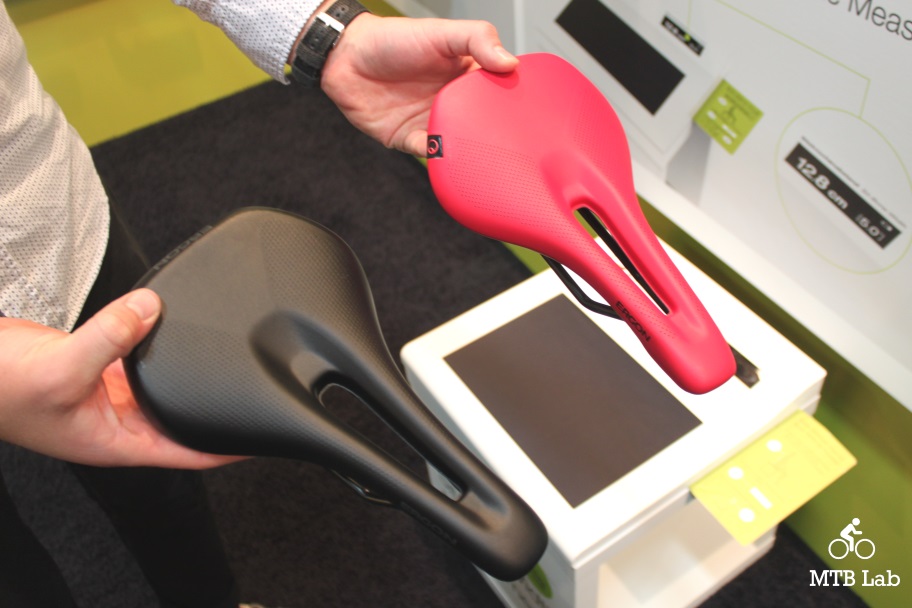 Women's Saddles – SR and SM
The new saddles are anatomically and ergonomically designed and optimized for a women's pelvis and structure. They're wider in the transition area and offer pressure relief in the frontal area and a long cut-out that aids with climbing when utilizing a forward position on the saddle. It comes in an SR (Saddle Road) and an SM (Saddle Mountain) model, with each having a Pro and Sport Gel version and they all come in two sizes, S/M (9-12 cm) and  M/L (12-16 cm).
The SR Pro features OrthoCell Comfort Padding, Inlays placed in the critical genital area with improved cushioning and dampening, Tinox-Rails and Friction Free Side Flanks and it retails for  $129.95. The more straightforward SR Sport Gel features Gel Pads, CroMo Rails, and Orthopedic Comfort Foam and it retails for $89.95.
The SM Pro features Gel Pads, CroMo Rails, Friction Free Side Flanks and Orthopedic Comfort Foam and retails for $89.95. The more standard SM Sport Gel features CroMo-Rails and Orthopedic Comfort Foam and retails for $69.95.