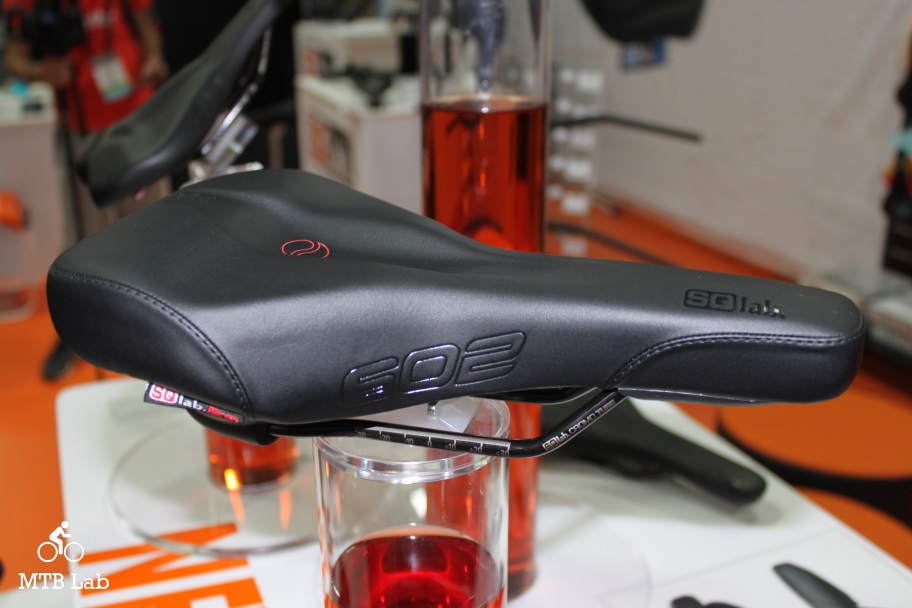 For the coming season, Sqlab is releasing new ergonomic equipment, the comfier Ergolux mtb saddles, prototype Infinergy saddle, grips, the All-Mountain 80x stem, and the 30x handlebars with 12º and 16º backsweep. SKS has a new maintenance fluids lineup and a light and fender partnership with MonkeyLink that uses their magnetically actuated connection system for power and attachment.
SQlab ERGOLUX Saddles
ERGOLUX; more free space; more movement; less pressure, ERGOLUX is the comfort version of the successful SQlab ERGOWAVE saddle shape. Three models, each with different widths for every application, every bicycle and, above all, every behind. The 610 Ergolux Active, 610 Ergolux, and 602 Ergolux Active make up the saddle lineup, and they all come in 13, 14, 15 and 16 cm widths (no 13cm for the 602). The Active damping system uses three different density elastomers, which are swappable (plug-n-play) depending on the riders desired amount of lateral movement of the hips.
The top of the line 610 Ergolux Active offers the back friendly SQlab active saddle technology for the comfort-oriented mountain biker and the sports-oriented trekking rider. The 610 Ergolux is for the comfort-oriented mountain biker and the sports-oriented trekking rider. The new 602 Ergolux Active is the trekking and touring saddle for medium to long distance riding.
ERGOLUX Highlights:
Comfortable Seating Position – The wave-shaped elevation of the ERGOLUX that extends frontward has a shape that fits perfectly to most bulbous ishial branches. The enlarged, less intermittent support surface provides optimal pressure distribution inside the ischial branches.
Lower Saddle Nose – The lower-lying saddle nose accordingly presses less on sensitive positions. Equally so for both men and women
More Clearance, Less Pressure – Enhanced clearance through a slightly higher step, from 1.5 cm on the ERGOWAVE® to now 2 cm on the ERGOLUX® saddle. More clearance, supporting various riding positions from sporty to a more upright ergonomic position.
Easy On The Back – The motion of the pelvis with SQlab active technology, similar to walking from a biomechanical point of view and enhanced by up to 7°, increases pedaling motion efficiency. Vertebral discs are relieved of stress at the same time and seating bones comfort is increased.
Adjustable – The motion of the pelvis with SQlab active technology, similar to walking from a biomechanical point of view and enhanced by up to 7°, increases pedaling motion efficiency. Vertebral discs are relieved of stress at the same time and seating bones comfort is increased.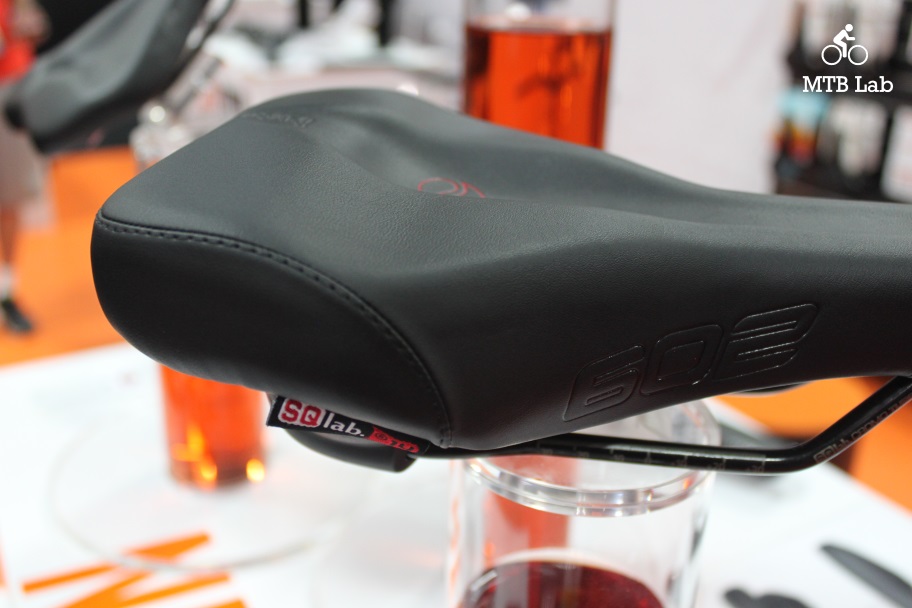 The SQlab Ergolux excellent ergonomic design makes the saddle more comfortable, efficient and easier to spend longer periods of time out riding without numbness or hot spots, especially in the nether regions. The key features for SQlab's saddles are there multiple sizing that is specific for the riders sit bone width, the wave-like shape and stepped rear design, which pushes the rider's weight onto those sit bones and the MaxContact nose section. The two-stage wave shape design is much more pronounced in the Ergolux line of saddles compared to the Ergowave.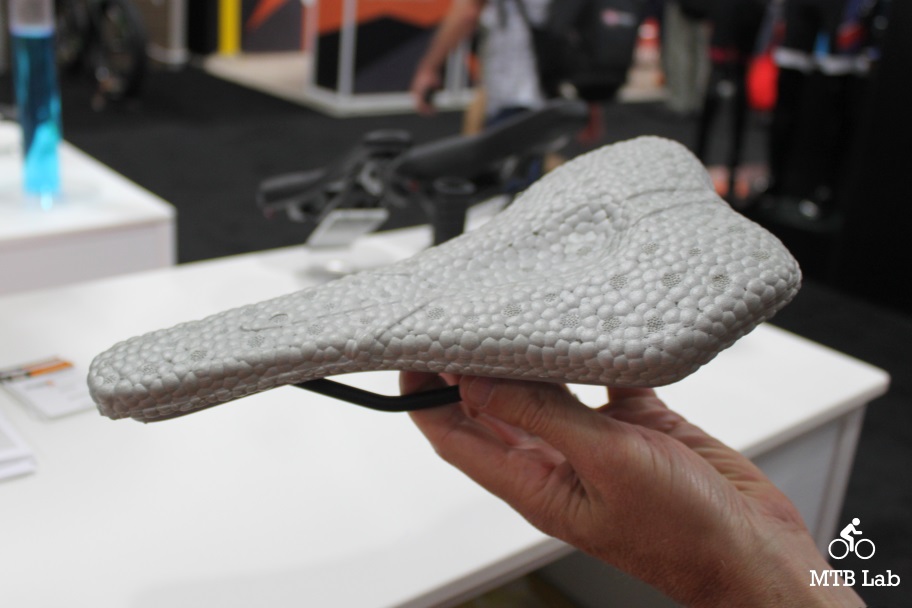 SQlab Infinergy Saddle
The prototype saddle will be using a core made of BASF's Infinergy E-TPU closed cell particle foam that comes from the running shoe world. It was first used in the "Energy Boost" running shoe from adidas, but they now have an entire Boost footwear line. The closed-cell, elastic particle foam combines the properties of TPU with the advantages of foams, with features such as low density, high elasticity, outstanding resilience, high abrasion resistance, high tensile strength, good chemical resistance and good long-term durability in a wide temperature range. The saddle is still in an early beta stage, so we'll get more information sometime next year.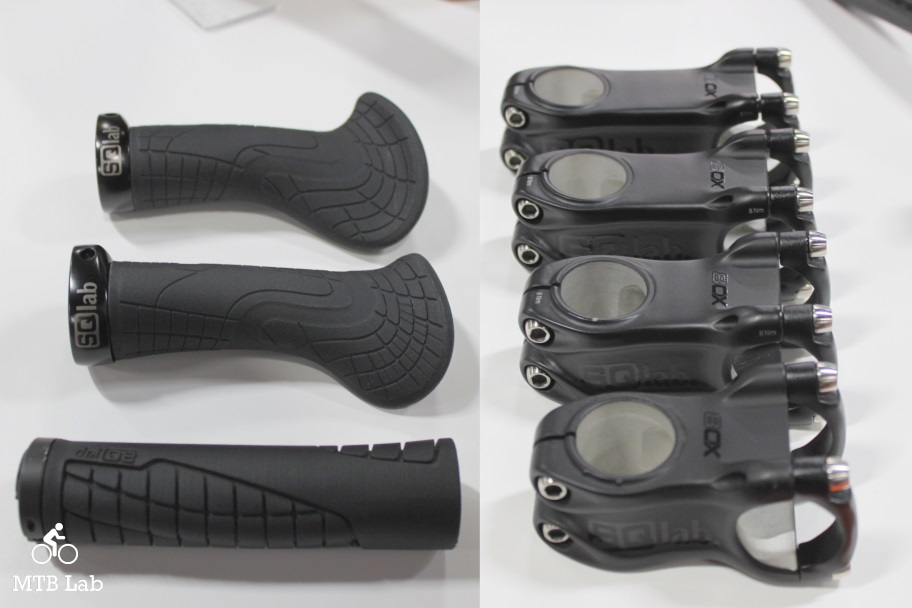 SQlab Grips
They're doing some changes and additions to their ergonomic grip lineup, and they'll have a standard cylindrical lock-on and a couple of versions with ultra wide wings that flow both forward and backward. The ones shown at the show were prototypes that were 3D printed, but they should retain most of their design when they're finally in production.
SQlab 80X Stems
The new 80x stems have a nice sculpted flow and symmetry and line to themselves, and should nicely match their 30x handlebar brethren. They're light, stable and able to withstand the force of handlebars. If a handlebar stem were to evolve across many generations like nature's plants and continuously adapt and perfect itself over a very long period, then it would probably look like this. The stems will come in 50, 60, 70, 80, 90, 100, 110 and 120mm lengths, a 31.8mm clamp, +/- 6° and are made from AL 7050 alloy.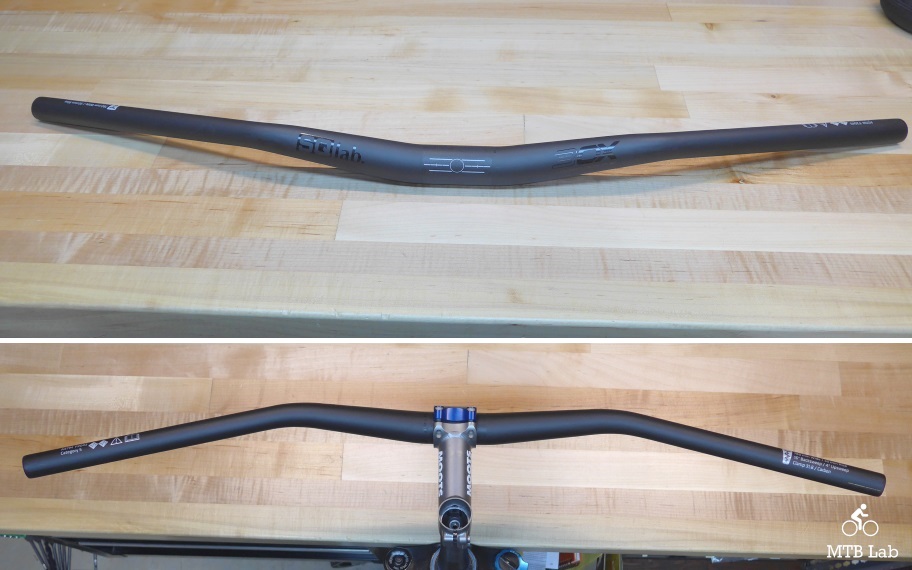 SQlab 30X Handlebars
SQlab has released their trick new 30X Handlebars for mountain biking which were first seen at the Sea Otter show earlier this year. They come in a Carbon and Aluminum version with two large back sweep options and three rise heights options. The bars have a 4º upsweep, a 15mm or 30mm or 45mm rise and a 12º backsweep or 16º backsweep. The increased backsweep provides improved and more natural ergonomics when riding, which decreases fatigue and injuries.
For additional information refer to sq-lab.com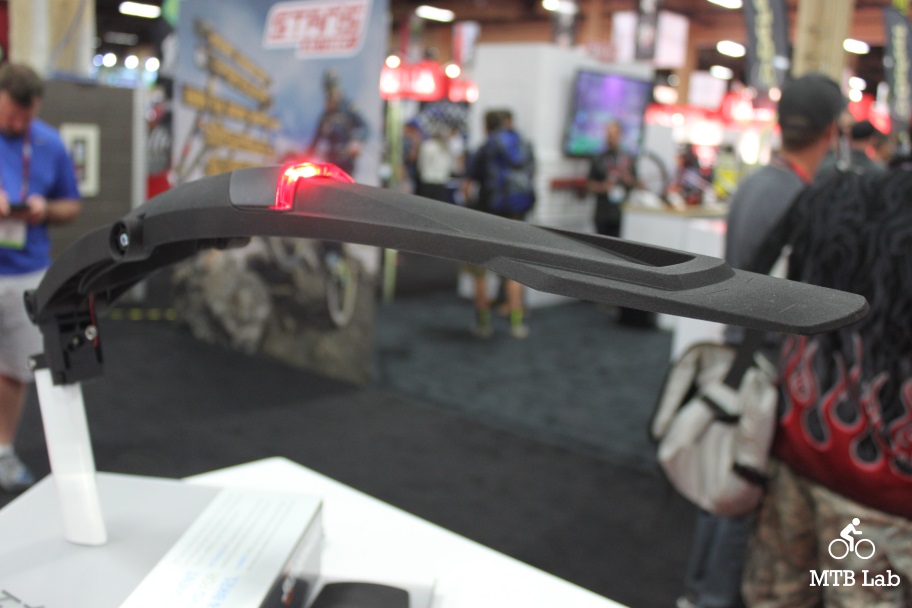 SKS and MonkeyLink
In partnership with MonkeyLink, SKS has a bunch of innovative new products that are magnetically actuated, including front headlights, rear lights, rear lights integrated with fenders, water bottle systems, and fender connection systems. Most of these are in an early prototype phase, but some functional products will be released in the coming year, and the lights and fenders will be part of their Refresh and Connect lineup (ML-Light Set Recharge, ML-Light Set Connect, Monkey Fender Set Mtb Recharge, Monkey Fender Set Mtb Connect.)
E-Bike or conventional bicycle – MonkeyLink makes the connection between components and bike so easy. One click and it just fits! Via magnetic connection, every component finds its place and locks automatically. E-bike parts are simultaneously supplied with energy from the battery and can be controlled via the display.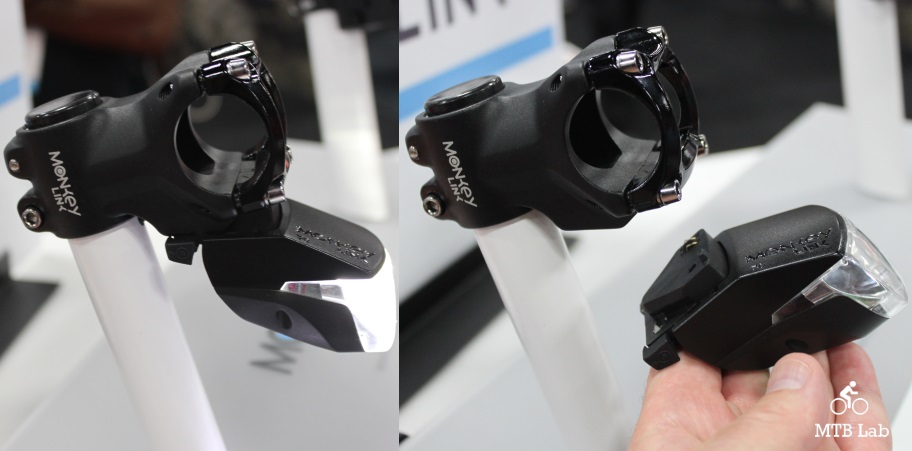 Although the electronic related MonkeyLink systems were mostly being designed for E-Bikes; since they have a readily available power supply throughout the bike; it can be used on any bike that utilizes internal wiring. It's a pretty darn nifty and functional system, just place the light into the cradle and the magnets snap it into position, and the lights come on. The SKS fender with the integrated rear light that utilizes the MonkeyLink system is pretty innovative, and I am sure that plenty of additional variants will be released in the future.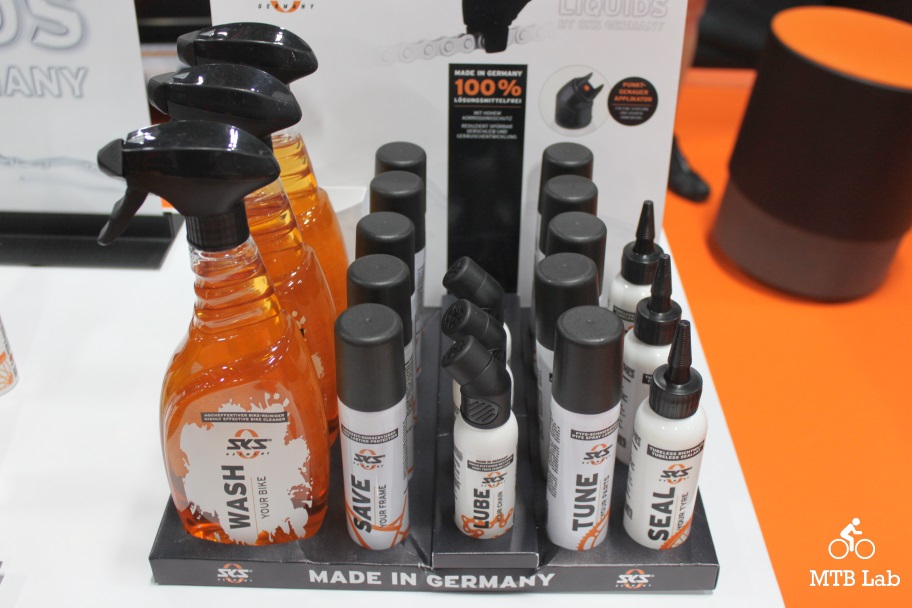 SKS Fluids
SKS is well known for their fenders and bike pumps, but this season they're adding a lineup of bike fluids for cleaning, sealing, and lubrication. It includes a bike cleaner (Wash), a protection spray PTFE (Save), a chain lube (Lube), a lubrication spray (Tune) and a tubeless kit (Seal). In addition to the standalone Seal's tubeless sealant, they'll have entire kits that will include sealant, tape and tubeless valve's.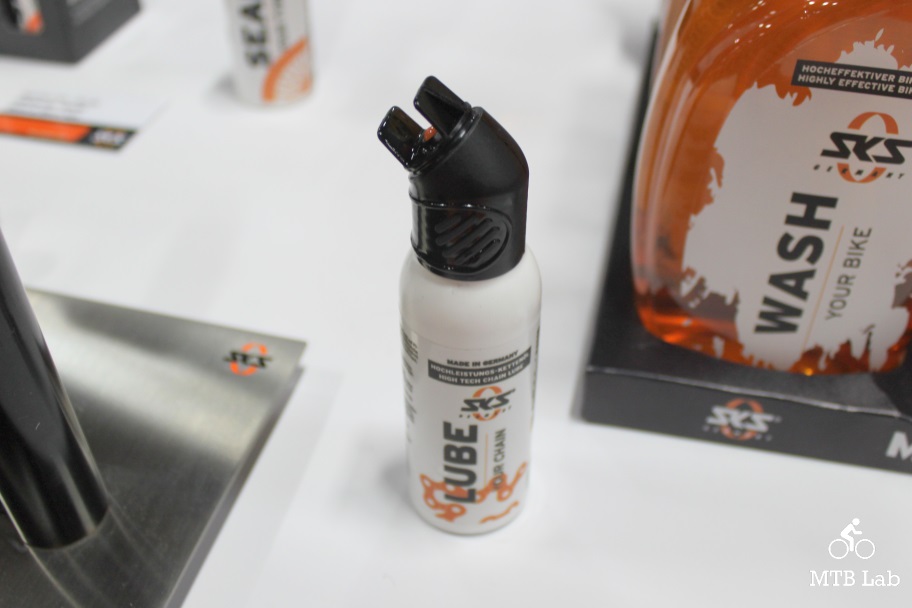 The chain lube system is kinda cool, and the integrated applicator head on the bottle has a spring-loaded button that will only apply lube to the chain when its pushed for optimal coverage of the chain links. The high-tech chain oil was specially developed for SKS by an expert from the automobile industry. The oil has corrosion protection, is 100 percent solvent-free and contains PTFE which forms a protective film to reduce friction and seal the gaps between the chain links.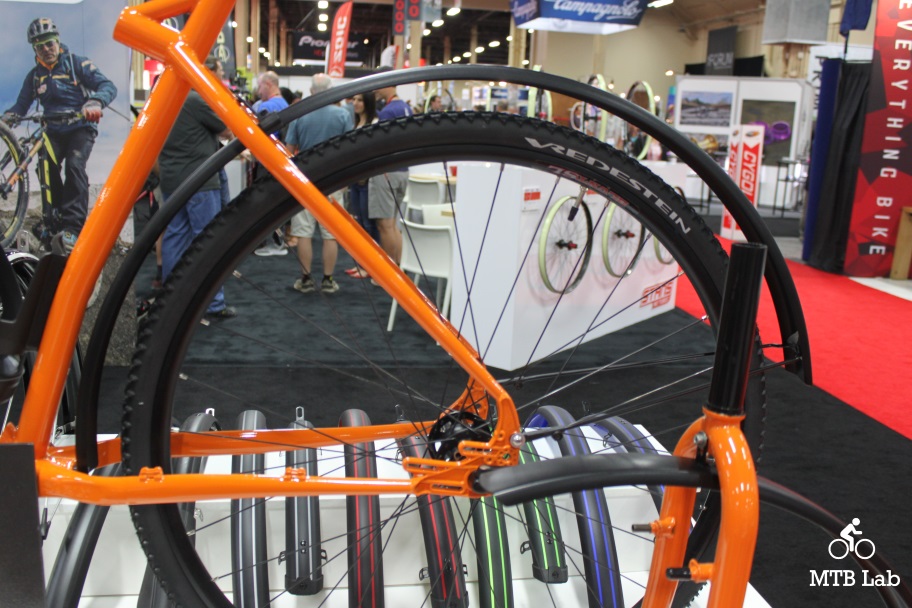 SKS Edge AL Fender
It wouldn't be a new season without SKS releasing some new fenders, so they have the new Edge AL full coverage aluminum fenders. They fit up to 42mm tires, the front is 740mm long and the rear is 1200mm.
For additional information refer to sks-germany.com