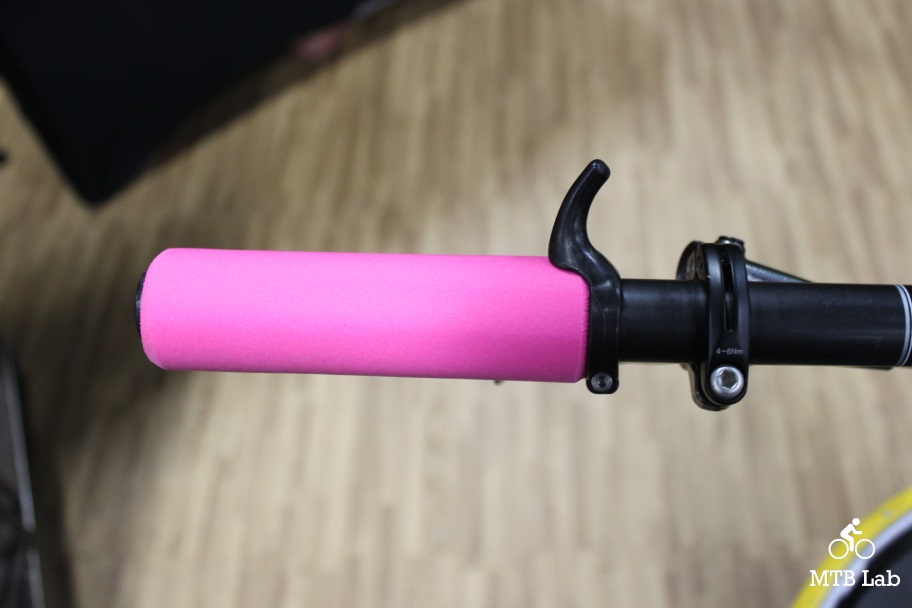 The Thumb Over Grip System or TOGS brings improved control, comfort, and climbing capabilities to your handlebars. TOGS creates extra hand positions, reduces hand and wrist fatigue, and offers easy access to shifters and brakes, along with an almost universal fit with nearly all grips. It's like having mini inner bar ends on your bike and provides tons of functionality.
Currently, they come in two models, a clamp on ring version made from Zytel that retails for $20 (eight colors) and a hinged version made from Carbon for $30. The Carbon TOGS is hinged for easy installation, utilizes a 40% Carbon Fiber blend and weighs 18 grams per pair. The standard TOGS is made from Zytel which a reinforced nylon resin which makes them incredibly strong and light.
On the horizon is their new rubber tipped and flexible Flex TOGS model which should be available later this month. The innovative Flex TOGS offers a couple of critical features and functions for the rider.  It has a 17° rotation for an ergonomic thumb and wrist interface, easier installation since the ring is flexible enough to pry over bars without grip removal, a raised hood to accommodate the lock-on collars and lastly, the soft rubber tip provides comfort and shock absorption.  Also, the 17° rotation offers additional thumb and trigger finger positioning, for improved comfort and hand and arm relief.
NOTE – The new Flex TOGS will replace the current standard TOGS.
TOGS Specs
Control – Togs thumb grips add a control point to the top of the bar. Control the bar with your thumbs and conveniently index shift and brake from the Togs position.
Comfort – Togs give your hands and wrists a change of position. This means less wrist flexing and hand clenching, making an overall happier ride. Great for hand issues.
Climb – Togs excel at climbing both in and out of the saddle. Gain climbing leverage on top of the bar, w/o grabbing it.
Users – Togs are great for commuters, recreational bikers, and racers alike. They fit nearly all handlebars and grips, including lock-on grips (standard 22.2 mm diameter). Togs are not ideally suited for grip-shift setups.
Construction – Togs are made in the USA from reinforced nylon resin. Carbon Togs are made from 40% Carbon Fiber and are hinged for easy install on the bar without removing grips.
For further information refer to togs.com