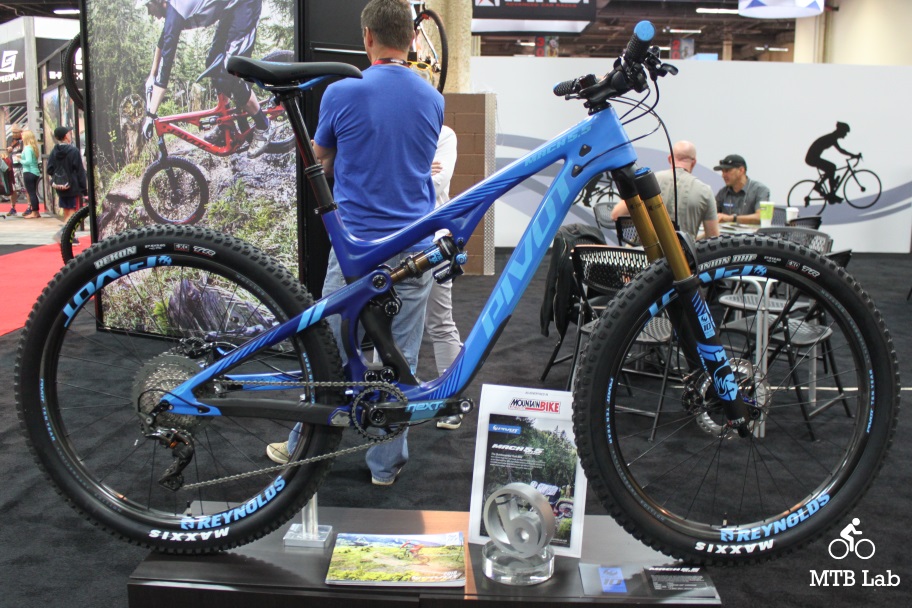 Pivot

 Unveils 10th Anniversary Mach 5.5 Carbon
This limited and numbered edition of their flagship, high-performance, trail bike features a unique Pivot Cycles 10th Anniversary paint. Also included are Race Face Next SL carbon crankset with custom graphics, matching Fox 36 fork and Fox Float Factory DPX2 rear shock, particular WTB Volt Team saddle with Anniversary graphic and custom rail color, and Anniversary Edition Reynolds Carbon wheels with custom, laser-etched Pivot 10-Year Anniversary logos and blue anodized-to-match, Industry 9 hubs. It's a stunning bike in person with tons of trick parts and matching color schemes.
Only 300 of these very special Mach 5.5 Carbon bikes are available, worldwide. See your dealer immediately to order.
140mm dw-link™ rear suspension with 

Pivot

's mid-travel specific linkage design
Designed for forks up to 160mm travel. All 

Pivot

 complete builds come with a 160mm travel fork
27.5" wheels with extra clearance for larger tire sizes
Designed to fit 27.5 X 2.1" to 2.6" tires. Complete bikes spec'd with new Maxxis 2.6 Wide Trail Tires on 35mm wide rims
Features 

Pivot

's new long and low geometry
Short 430mm (16.9") chainstays
12 x 148mm Boost rear spacing for maximum stiffness and control
180mm rear post mount disk brake
Every size clears a full-size water bottle inside the front triangle
Available in 5 sizes from X-Small to X-large

Pivot

 Cable Port system for easy internal routing of shifters, brakes and droppers and full Di2 Integration
Front derailleur compatible with 

Pivot

's stealth E-Type mounting system
New ultra quiet low durometer rubberized frame protection
For further information refer to pivotcycles.com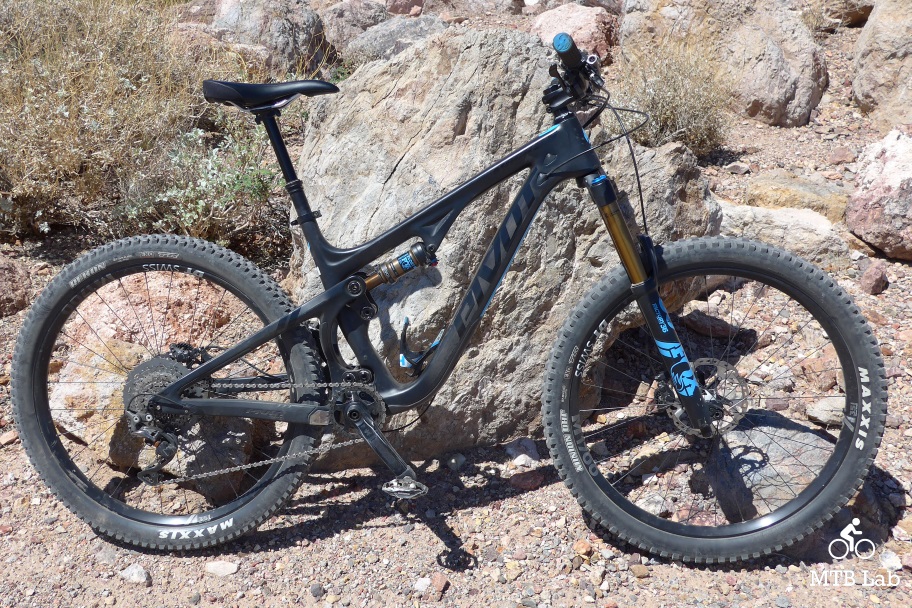 Ride Impressions
I got a good long ride on the Mach 5.5 Carbon on the rugged trails of Bootleg Canyon during the Outdoor Demo portion of the show. Although it had a somewhat stiff ride this beast would go anywhere you pointed it, without any discernable flex or slop from the bike. I like techy trails, and I found myself going for the gnarliest lines I could find and it would stick like glue wherever it went and the bikes suspension system absorbed what was required without tossing you around. Although you could get the bike to fly around on trails and flow in and out of things, it seemed the happiest in uber techy terrain where control and precision were needed.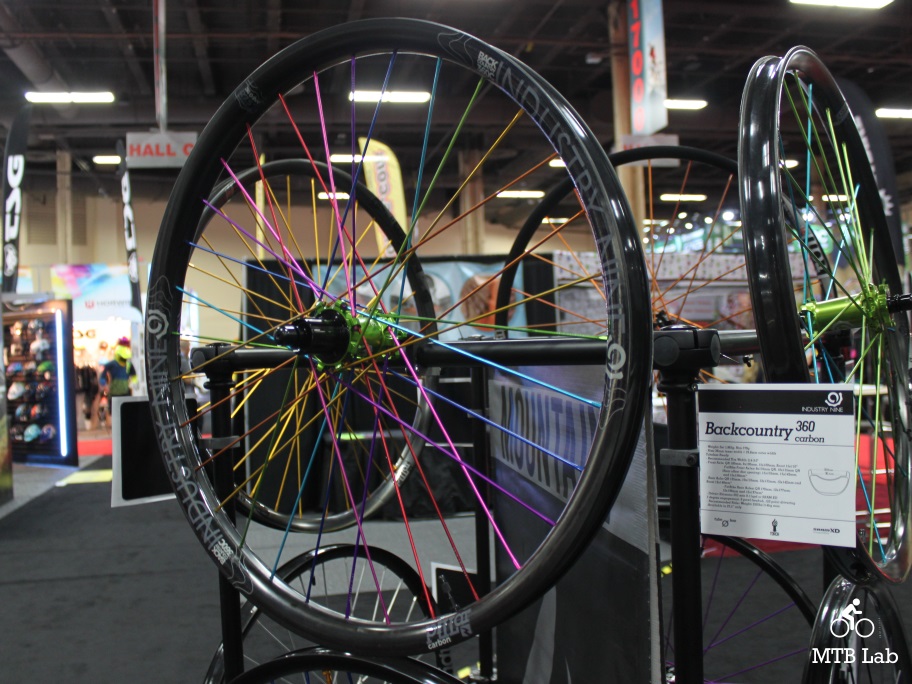 Industry Nine PillarCarbon BC360
I9 introduced its latest member to their carbon rim lineup at the show, the PillarCarbon BC360 also known as the Backcountry 360 Carbon. After they released the aluminum rim BC360 last year, they were inundated with requests for a carbon 27.5″ counterpart. Weighing in at 1865 grams the new wheelset with an inner width of 36mm is ready for any tire size between 2.4″ and 3.0″ in width. The BC360c is available in all of our usual 11 colors of hubs and spokes and can be configured on our AnoLab page.
"PillarCarbon BackCountry 360 is our premier wheelset for modern, wide-cased mountain bike tires. Built on our Torch 32 hole chassis, PillarCarbon BC360's 36mm internal width provides optimal sidewall support for the newest breed of performance rubber. PillarCarbon BC360 raises the performance bar, highlighting the advantages of added traction while shaving weight with carbon execution."
For further information refer to industrynine.com
1865g Pair, 570g rim
36mm IW, 40mm OW
2.4″ – 3.0″ Tires
Max Rider – 250lbs
MSRP $2325
Shipping mid-late October
Front Axle: QR 100mm, 9x100mm, 15x100mm, Boost 15×110
FatBike Front Axles: 9x135mm QR, 10x135mm QR (Rear offset disc spacing), 15x135mm, 15x142mm, and 15x150mm
Driver: Shimano HG mtn 9-11spd or SRAM XD with 3-degree engagement, 6 pawl freehub, 120 point drivering
Rear Axle: QR 135mm, 10x135mm, 12x135mm, 12x142mm and Boost 12x148mm
FatBike Rear Axles: QR 170mm, 12x177mm, 12x190mm and 12x197mm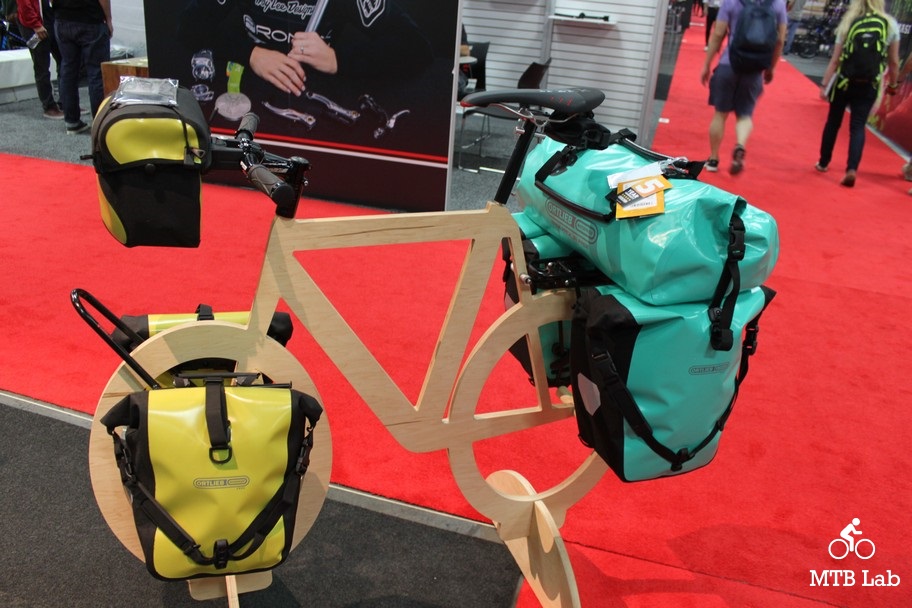 Ortlieb
Free Line
The FREE line is a high-performance collection keeping up the well-known truck tarp looks, however, without PVC. The PVC-free fabric offers the same performance and durability and is made in Germany. The collection includes Back-Roller, Sport-Roller, Ultimate6 M and the versatile duffel Rack-Pack in size M (31 L). All products are available in black, Starfruit and Lagoon.
The Back-Roller Free pannier uses a sturdy polyester fabric that makes these rear panniers long-lasting and durable companions. The roll closure makes sure that your gear is safe and watertight. The Sport-Roller Free compact pannier is perfect lowriders for use in the front or rear carriers. The panniers use the ORTLIEB QL2.1 system which allows fast and easy single-handed mounting and removal and is suitable for racks with tube diameters up to 16 mm. Once the panniers are hooked into the rack, the mounting components close automatically. For removing from the rack, you simply lift the handle. The panniers are supplied with a shoulder strap and can be carried like a shoulder bag. Two large and highly reflective 3M Scotchlite reflectors ensure safety in the dark.
The Ultimate6 M Free handlebar bag has a 7-liter volume and offers space for your valuables you want to keep within reach and sight.
The Rack-Pack is a versatile duffel for sports, travel or a long cycle tour. The roll closure runs along the bag's length and allows easy access through a large opening making sure that your gear is protected from water and dust. The roll closure allows individually adapting the volume and making it much easier to pack in comparison to the limits of a rigid suitcase. A padded removable shoulder strap and comfortable handles make are easy to carry. Lateral buckled compression straps allow a combination of the Rack-Pack on the rear carrier of a bicycle with panniers.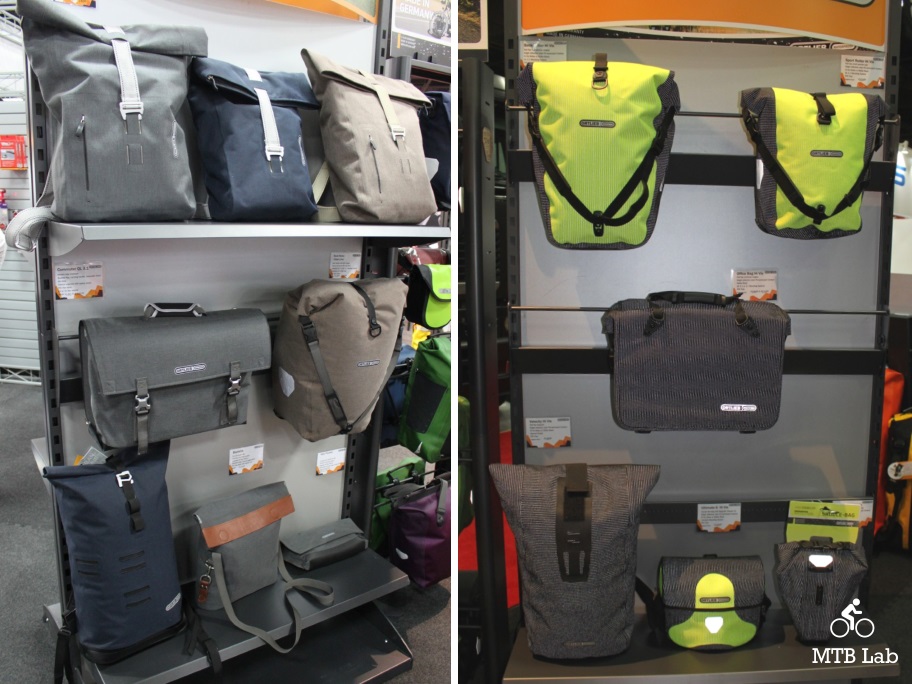 Urban Line
The Urban Daypack (upper right shelf) is a trendy, convenient and stylish backpack in 15 and 20-liter sizes suitable for your day in the city. It has a zippered fold-down flap that covers the main compartment, and the Cordura cotton blend gives it a textile look in combination with the sturdiness of Cordura fabric. Its 100% water-proof, a feature visible only when looking closer, and its flexible woven shoulder straps ensure carrying comfort.
The waterproof Downtown2 is your trusted companion in daily life, and the 20-liter volume main compartment takes everything you need for a day in the city. It has a padded laptop sleeve for notebooks up to size 15.6", an organizer with two zippered pockets, a pen holder, and a key snap-hook keep things tidy. Convenient features such as the fold-down flap which is adjustable in height, the stable shape, and base feet assist in making loading easier. With a padded shoulder strap, the briefcase can be comfortably carried for walking. A subtle, elegant bag which does not reveal at first sight that it's a bike pannier. Downtown2 is manufactured in Germany and is optionally available with QL 3.1 or 2.1 system. The bag is offered in two material versions: a PVC-coated polyester fabric or a PVC-free Cordura cotton blend.
Pina Colada, Network, Jungle and Ethno are the new designs and color schemes of their classic daypack Velocity. Function without compromise. Velocity Design is made of sturdy waterproof polyester and features a handy roll closure. The large main compartment offers 24 L volume, and an internal zippered pocket keeps small items in place. The padded foam back and shoulder straps with sternum and waist strap ensure comfort while the edge protectors save the corners from abrasions.
For further information refer to ortliebusa.com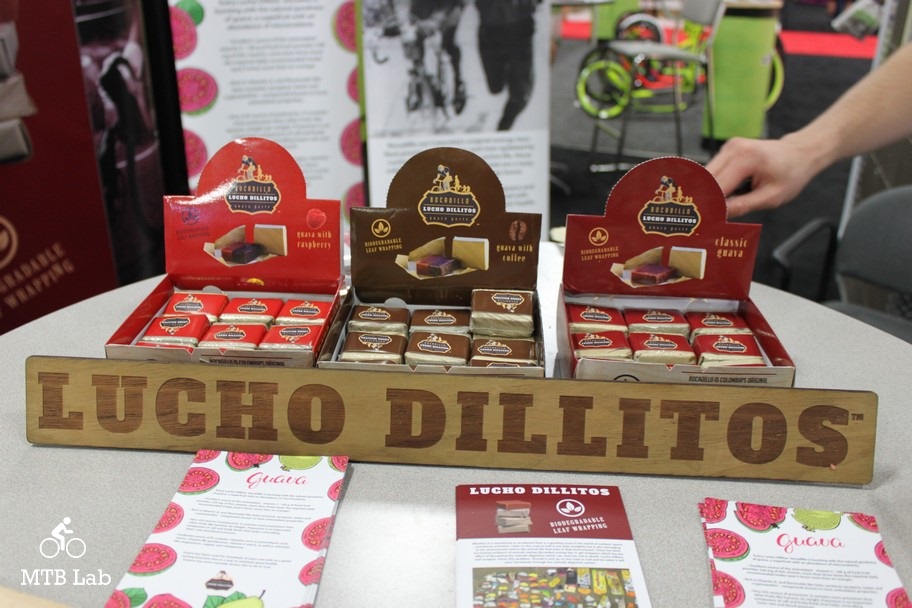 Lucho Dillitos
Colombian cyclists have been fueled by Bocadillos energy bars for years to improve their race performances. The simple Bocadillos have only two primary ingredients, guava, and sugar. Nothing else, no additives, no preservatives, no flavorings, all wrapped up in a biodegradable palm leaf. Long revered in Ayurvedic medicine for its healthy properties, Guava is a nutrient powerhouse, packed with vitamins, minerals, and fiber.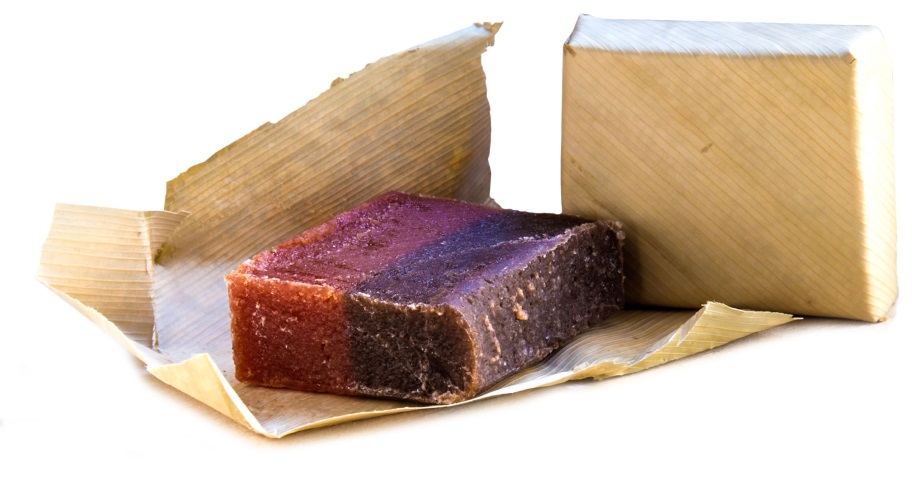 Currently, Lucho Dillitos has three flavors of the Bocadillos, the plain Lucho Dillitos Classic, the Lucho Dillitos Coffee and the Lucho Dillitos Raspberry. They have a sweet taste and an interesting texture, sort of like a sugary gum drop and ultra thick jam. I tried one on a bike ride, and they went down well without being overly sweet or gooey.
Guava stats
Excellent source of antioxidant vitamin-C. 100 g fresh fruit provides 228 mg of this vitamin, more than three times the required daily-recommended intake (and four times more than an orange)
Rich in Vitamin-A, and flavonoids like beta-carotene, lycopene, lutein, and cryptoxanthin. The compounds are known to have antioxidant properties
A vibrant source of soluble dietary fiber (5.4 g per 100 g of fruit, about 14% of DRA)
A wealthy source of potassium. It contains more potassium than other fruits like banana, weight per weight. Potassium is an essential component of cell and body fluids that helps controlling heart rate and blood pressure.
A moderate source of B-complex vitamins such as pantothenic acid, niacin, vitamin-B6 (pyridoxine), vitamin E and K, as well as minerals like magnesium, copper, and manganese
For additional information refer to luchodillitos.com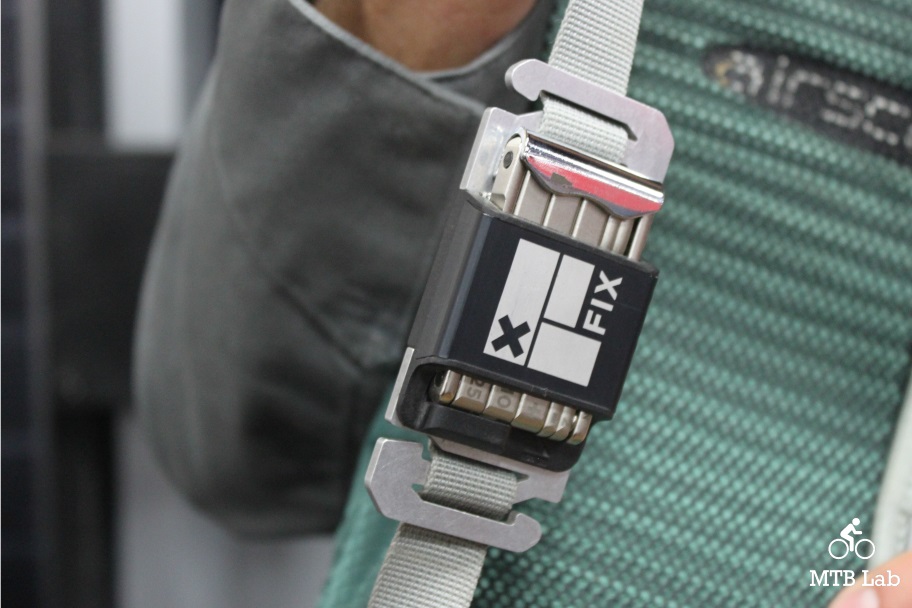 FIX Manufacturing
FIX Manufacturing multi-tools were born from the desire to revolutionize portable and wearable tools. The brainchild of skate, snow and bike enthusiast and company Founder Tony Zentil, Fix Mfg takes pride in offering a product line of quality tools that boast optimal performance, function and easy accessibility. FIX has four products: The Powder Pliers (snowboard tool), The Board Sword (skate tool), The Kraken (surf tool), The Wheelie Wrench (bike tool) and the all-time belt: created to fit and carry any of the three tools.
At the show FIX was showing off a new beta product that will allow you to attach their tool to your shoulder strap of your hydration pack, and carry the tool around, making for quick access no matter where you are.
For further information refer to fixmfg.com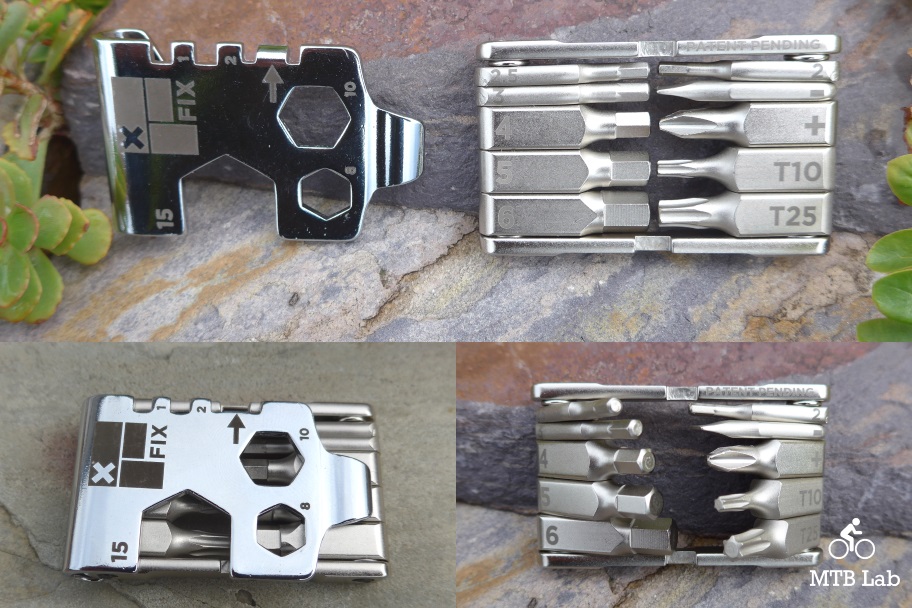 All their compact tools look ideal to carry around and perform maintenance for your designated sport. I am testing the Wheel Wrench for mountain biking, and its small footprint makes easy to stash in a pocket or pack for on the trail bike repairs and maintenance.