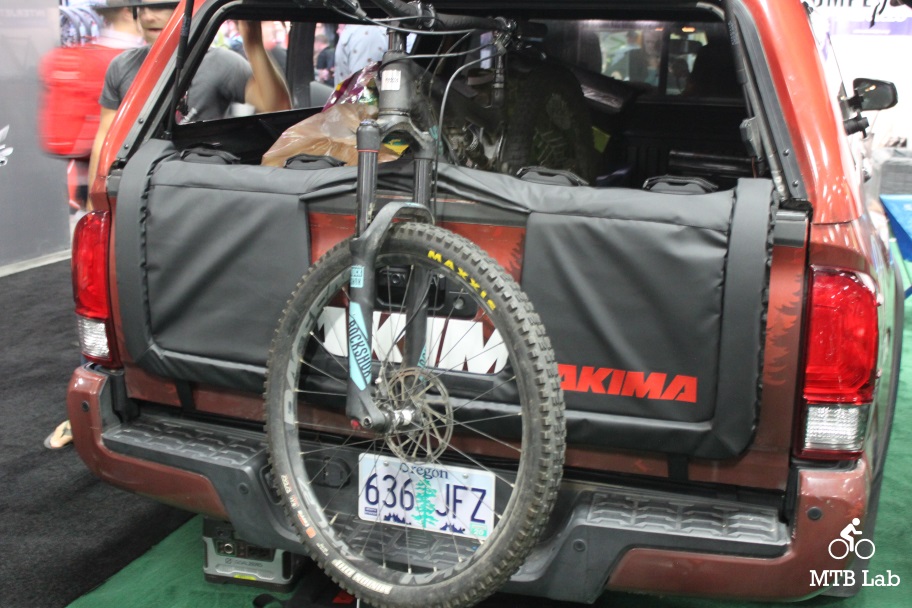 New for 2018 is the tricked out GateKeeper truck tailgate pad, the universal BackSwing swing-away rack adapter, the minimalist single-bike SingleSpeed rack, the fat bike capable HoldUp EVO, and the EasyRider High, the highly functional multi-adventure trailer.
GateKeeper
Want a truck tailgate pad that securely holds your bikes and provides backup camera accessibility? Following in the footsteps of their CrashPad, the new GateKeeper truck tailgate pad is designed for throw-it-in-and-go bike transport. Cushioned, SitTight bike cradles give each bike a safe, comfortable spot to be strapped in for the shuttle ride, and protects your bike and truck's tailgate. The full-throttle feature set includes individual bike closure straps for extra stability and protection, a tuck-away cover that opens up the view for your backup camera, and super-durable, coated nylon construction.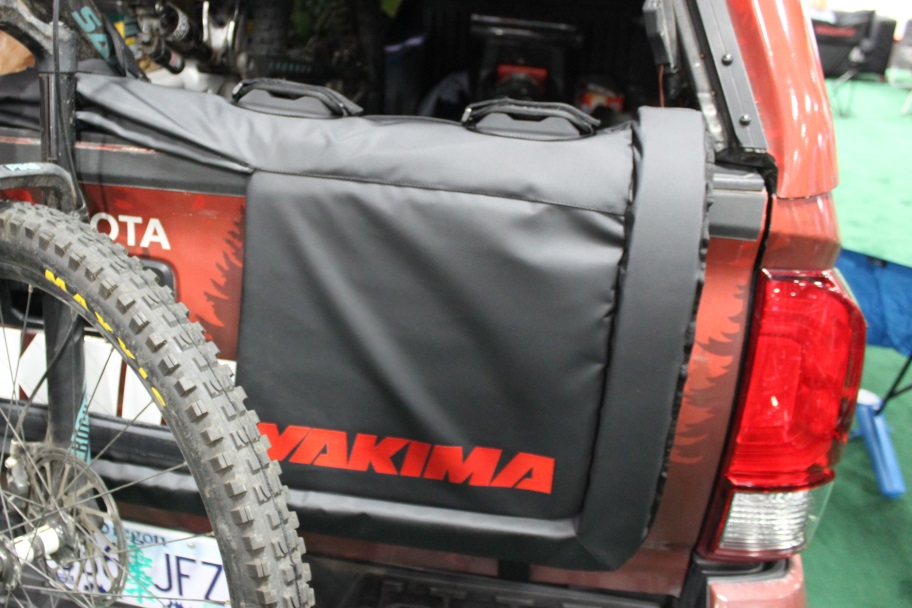 It comes in two versions, dependent on your tailgates width, so there is a five bike and six bike cradles. The cutaway slot is large enough that any trucks backup camera will at least be able to get some viewing, depending on how the center situated bikes obstruct things. The individual carriers for each bike are well padded and have an excellent strap system for the utmost in security on the bumpiest roads.
Made with easy-to-clean, UV-resistant, waterproof tarpaulin nylon material
Medium: 54" & 5 bike cradles; MSRP: $139
Large: 62" & 6 bike cradles; MSRP: $149
Available Spring 2018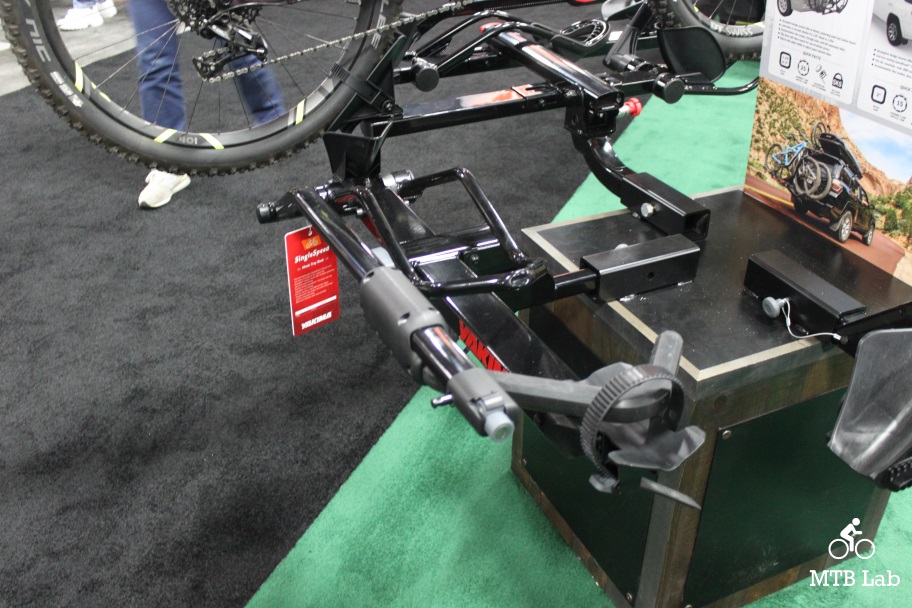 SingleSpeed
What do you do when you always ride by yourself and need to carry your bike on a rack? The single-bike hitch rack is perfect for fast and light solo travel, and its minimalist design meets the needs of urban-dwellers with limited parking or storage spaces. The SingleSpeed carries any bike and is super-easy to install and remove, The StrongArm design secures bike at wheels, protecting paint jobs and carbon frames. It's compatible with fat, mountain, road, BMX and kids' bikes.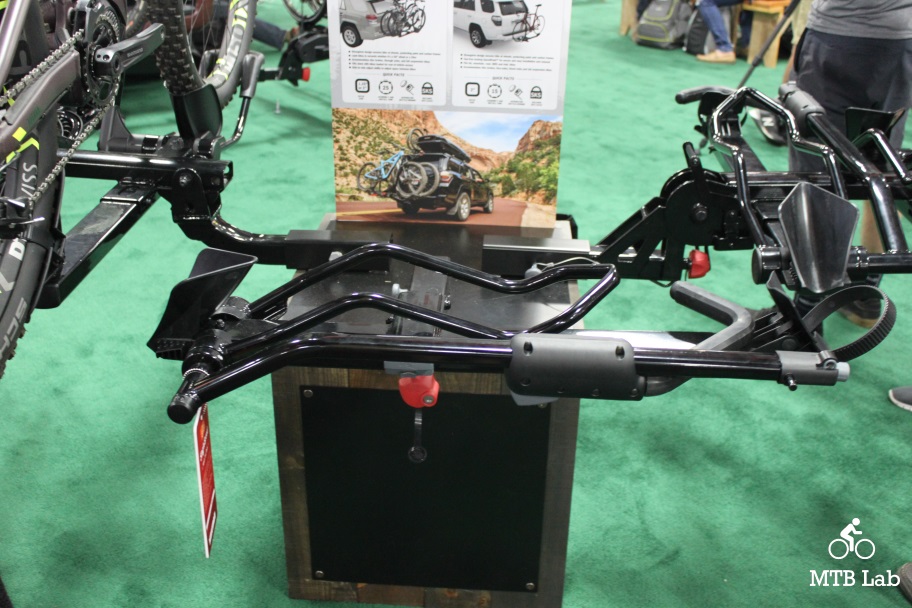 It's the first single bike tray that comes with a full locking package: SKS Locks are included, which locks both the rack to the vehicle and bikes to the rack.
Weight: 20 lbs.
Compatible with 2" and 1.25" hitch receivers out-of-the-box
MSRP: $259
Available: Spring 2018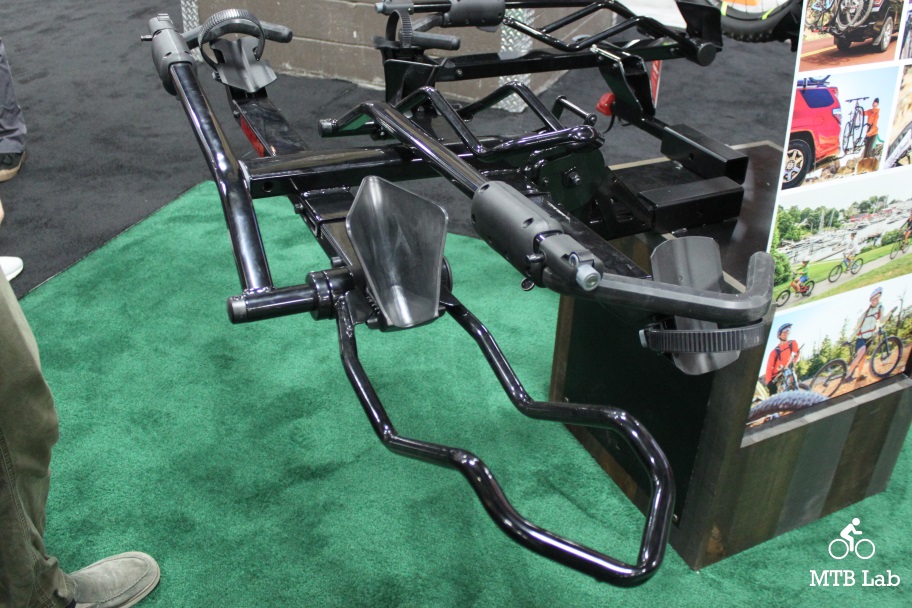 HoldUp EVO
Need a rack that offers the ability to hold fat tire bikes as a standard option? Yakima' bestselling HoldUp rack is getting an upgrade for 2018. Updates include an easy-access tilt mechanism & kick plate, the addition of the SpeedKnob for tool-free installation, increased side-to-side tray adjustment and fat bike compatibility. The StrongArm hook design secures the bikes at their wheels, protecting paint and carbon frames.
Ever-versatile, the HoldUp EVO fits fat, mountain, road, BMX and kids' bikes with wheels 20"-29+", and accommodates disc brakes, thru-axles, Boost hubs and full suspension mountain bikes. Two bike capacity; carry up to four with the addition of the HoldUp EVO +2 (2" only).
HoldUp EVO MRSP: $499
HoldUp EVO +2 (2" Only): $369
Available Spring 2018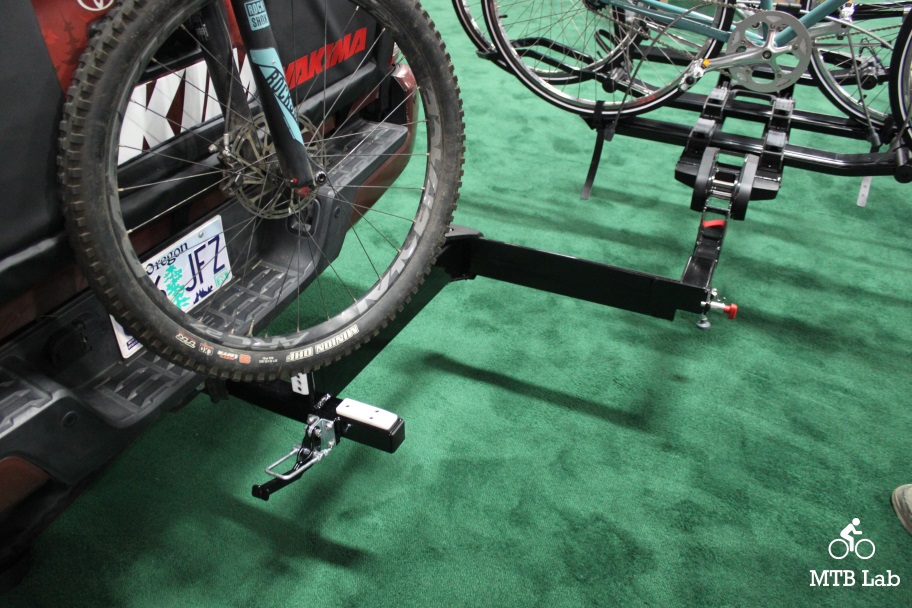 BackSwing
How about having an adapter for an existing bike rack so that the thing swings out of the way to access the rear of your vehicle? The new BackSwing upgrades almost any hitch rack into a swing-away hitch rack, allowing users to swing their fully-loaded rack out of the way and easily access the rear of the vehicle. The universal adapter swings out far enough that it will even clear my uber wide Toyota Tundra (widest on the market), so it will keep anything out of your way. It works seamlessly with Yakima's Dr.Tray and HoldUp EVO, as well as almost any other rack or hitch basket using a 2" receiver and it has a 250 lbs capacity. For ease of use, it opens by pulling a locking pin and then releasing the securing clamp, then after swinging it to the side, it has a push-button AutoLock to securely hold it open.
Weight limit: 250 lbs.
MSRP: $299
Available Spring 2018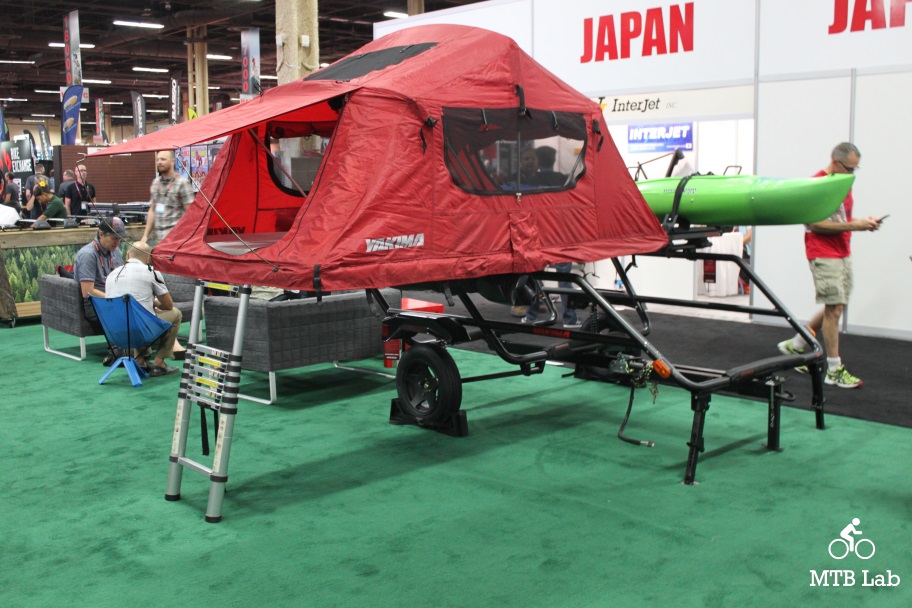 EasyRider High
Sometimes the most straightforward trailer without a lot of unnecessary features is all you need? Haul it all with the new EasyRider High utility trailer – perfect for hauling bikes and other outdoor toys and cargo. Carry up to 500 pounds of gear with two levels of storage and our widest heavy-duty bars. Shock absorbers provide a plush ride for your gear. The smart handle lets you use it as a handcart, and the aluminum construction is strong and light. The trailer is highway-friendly for long trips, and also great for shorter adventures. It's fully submersible, for those using it to transport their water toys. Storage is easy – just fold in the tongue and roll it out of the way. Accessories, including the SpareTire, TentKit, and LongTongue, are also available.
Top deck: 78"
Lower deck: 48"
Distance between decks: 22"
500 lb. carrying capacity
Works with Class I, II and III hitches when a 2"-sized ball is attached
Tires are tubeless trailer tires, available at any tire shop
Weight: 155 pounds
MSRP:

EasyRider High: $2799
SpareTire: $199
TentKit: $119
LongTongue: $199

Available: Spring 2018