PeakRider is an intelligent carrying system for mountain bikers
Small, simple and easy to use. The PeakRider fits in nearly every mountain bike backpack, so carrying your bike free handed and relaxed is now possible.
Thoughts => This looks like a great contraption, and if it works as shown, it will make those extended hike-a-bike forays I end up doing much more straightforward and far more comfortable. Carrying my bike, picking it up and rolling it along through rock gardens and on trails is always a slog, and this design should alleviate those issues. I'll be interested to see how it works in the real world?
(Photos: Alex Fuchs and Max Schumann)
Now available for bikers: An innovative carrying systems for mountain bikes.
Engineer and passionate mountain biker Marvin Kiesel have developed an intelligent carrying system that allows mounting a bike easy and quick to nearly every bike backpack. The main advantage is: Both hands are free will carrying the bike. A feeling you have to experience to appreciate fully.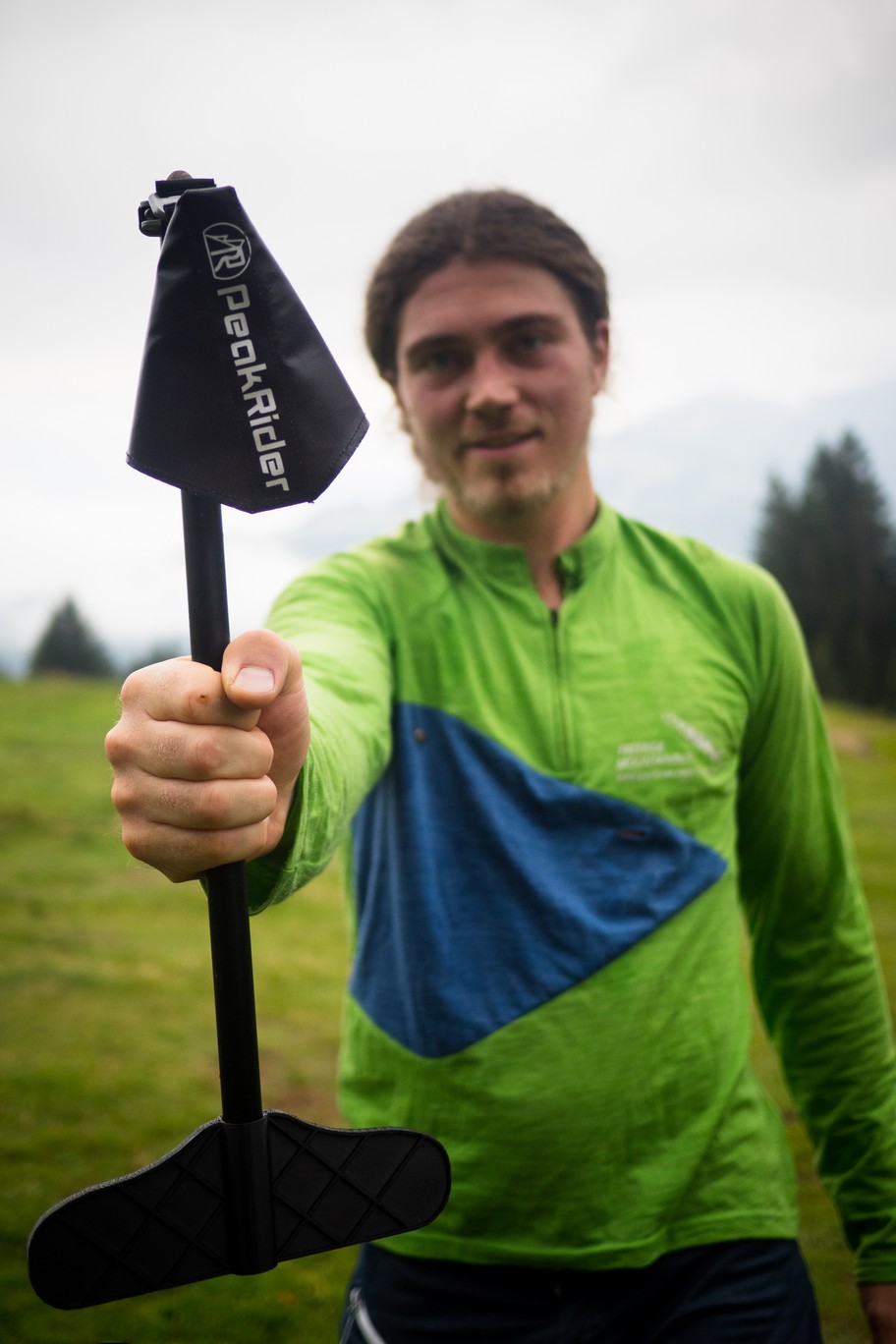 Well, not anymore. What has been commonplace in the world of skiing and snowboarding has finally arrived in the biking universe: an intelligent light-weight carrying system. The PeakRider is going to change, and above all improve, your alpine bike tour experience once and for all. The system is made up of two components: a newly developed telescopic rod with a support plate and the so-called Cone-Strap.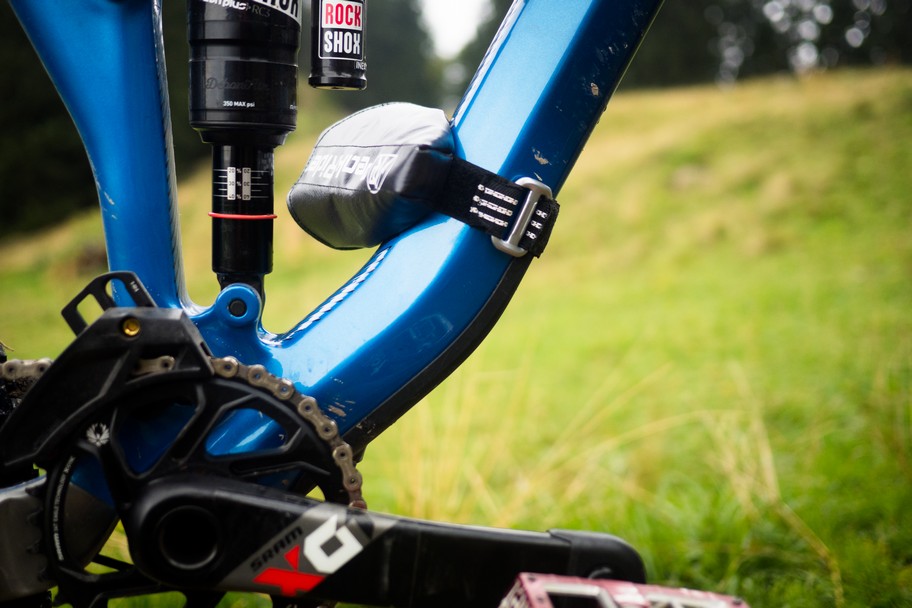 The telescopic rod fits into all current bike backpacks that come with a central opening for your water supply system. The Cone-Strap is attached to the lower frame of your bike at its barycenter (aka, the balance point) by a simple flick of your wrist. That's it.
Just lift your bike over your head and hook it onto the telescopic rod via the Cone-Strap. This will keep your bike in a safe and stable position throughout your journey. The well thought-out construction allows you to swivel and tilt your bike in all directions to get past obstacles and narrows of all sorts.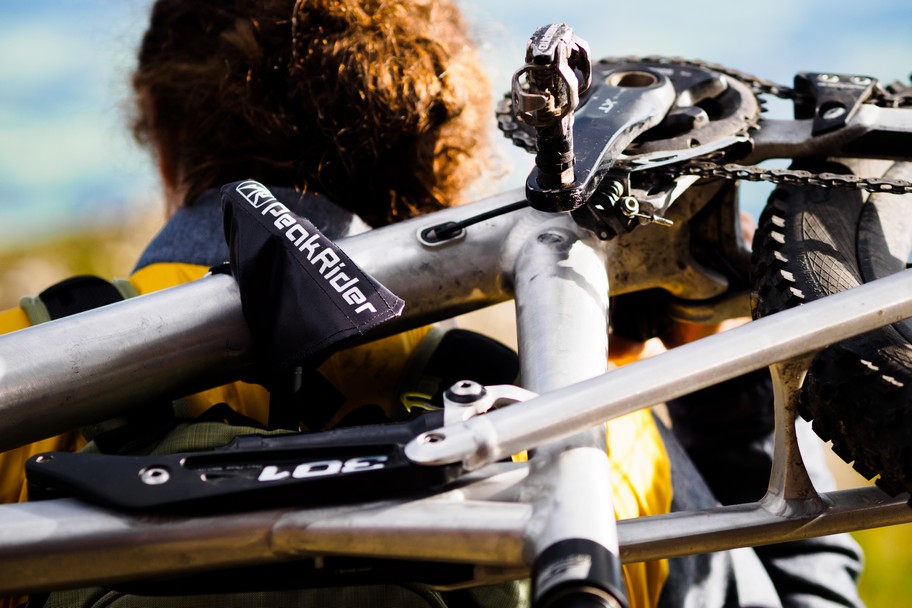 The bike does not press against your shoulders. Its barycenter is close to your body, and the support plate distributes the weight of your bike evenly across your back while supported by your hip. The best part: you have both hands free while knowing your bike's safely attached. You have to experience this new feeling of freedom to appreciate it fully. Once you've transported your bike with the PeakRider, you won't want to miss it anymore.
About
The PeakRider was developed by Marvin Kiesel, a 28-year old mountain biker from the beautiful Allgäu, a region in South Germany where you will find one thing above all else: steep mountains. Marvin has spent most of is life on a mountain bike, and he always wants to go higher than the regular driveways will take him: to the summit. During his most recent crossing of the Allgäu's main mountain ridge, he had to dismantle his bike once again and elaborately attach it to his backpack. That's when the learned engineer and bike fanatic had enough.
"I knew I had to take charge myself, especially after no one introduced a bike transport system at the last Eurobike," Marvin recalls. It took two years to get from the initial idea to the finished product. Today, the PeakRider is fully developed and ready for serial production.
"To overcome the last remaining financial hurdles we decided to do a crowdfunding on Kickstarter," Marvin explains. "Help us bring this unique and innovative product to market and make it available to mountain bikers all across the world."
Homepage: https://www.peak-rider.com
Kickstarter: https://www.kickstarter.com/projects/peakrider/peakrider-the-first-bike-carrying-system