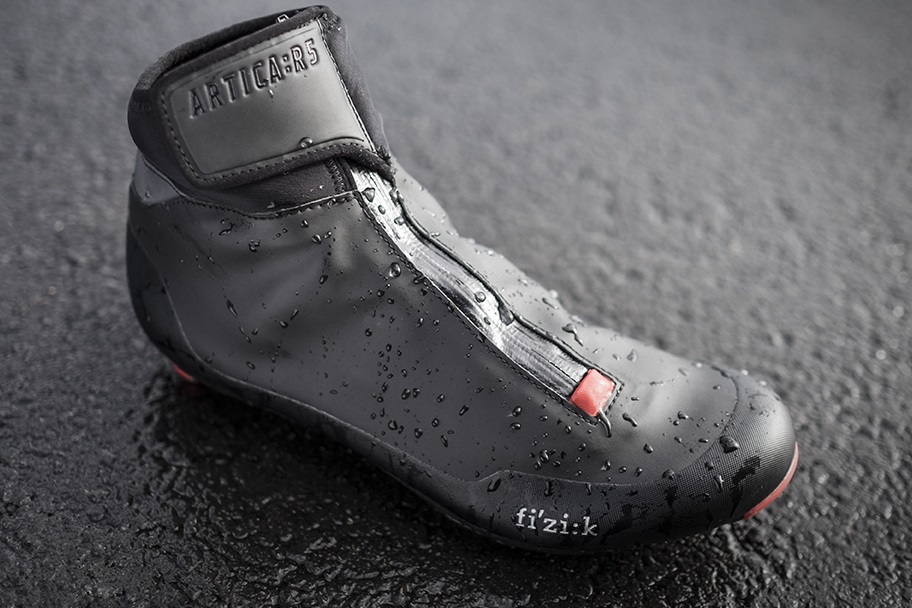 Performance Shoes for Total Weather Protection, On and Off-Road
For cyclists who want to get out and ride whatever the weather, warm, dry feet are essential – and fi'zi:k's new Artica range has the answer. Tough, comfortable, warm, easy to clean and entirely waterproof, fi'zi:k's new winter shoes are designed to completely protect, enabling riders to put down the winter distance in comfort. R5 and X5 share many materials and design considerations, with different soles suited to ROAD or MTB riding.
Thoughts => These look like dry and toasty warm shoes that will be perfect for those snowy bike ride, cold commutes, and just plain ugly weather. I like the sealed up breathable membrane and aluminum insole to keep the cold from entering the bottom of your feet, and the wraparound fleece upper. The tread on the X5 looks like they'll work well in mud, snow, and crud with enough grip for hike-a-bikes.
fi'zi:k's Artica R5 and X5 are available to order online and direct from fizik.com
Artica shoes feature an adaptive, lightweight fit with seamless bonding technology and an Internal Speed Lacing system that's quick to fasten and easy to secure.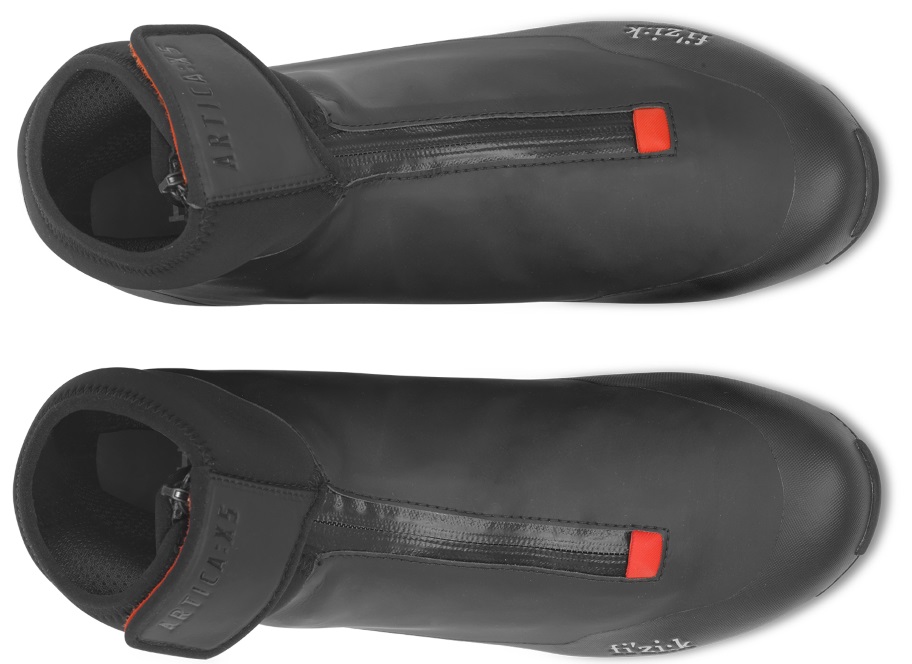 Water has no chance with Artica; a breathable mesh to maximize airflow is covered by a fully enclosed waterproof membrane to keep feet completely dry and warm during challenging foul weather riding conditions. Being encased by a waterproof zip and a fully enclosed impermeable outer layer, it's also easy to clean; the dirt washes straight off.
Both the R5 and X5 feature fi'zi:k's winter edition insole. Made with a warm fleece upper providing snug comfort and an aluminum layer for superior insulation, it's the ultimate combination of comfort and performance.
The Artica R5's nylon outsole is light and stiff, while the X5's treaded rubber outsole and PU bonding provide a complete shield from trail hazards and high levels of grip when tackling the elements off the bike.
Whatever your riding discipline – road or dirt – fi'zi:k's Artica will help you power through this winter in maximum comfort.
Artica R5 / X5  specifications
Waterproof membrane
Internal Speed Lacing system
Fleece/aluminum foil insole
Upper: Waterproof and Breathable Membrane, Microtex Reinforced Shell
Outsole: Nylon / Carbon Reinforced Nylon, Rubber Grip
Closure: Internal Speed Lacing system
Insole: fi'zi:k winter Insole
Artica R5 Weight: 380g (size 42.5)
ArticaX5 Weight: 463g (size 42.5)
Sizes: 40-47 and 48
Available in black
MSRP – €200/ £ 189.99/ US$ 200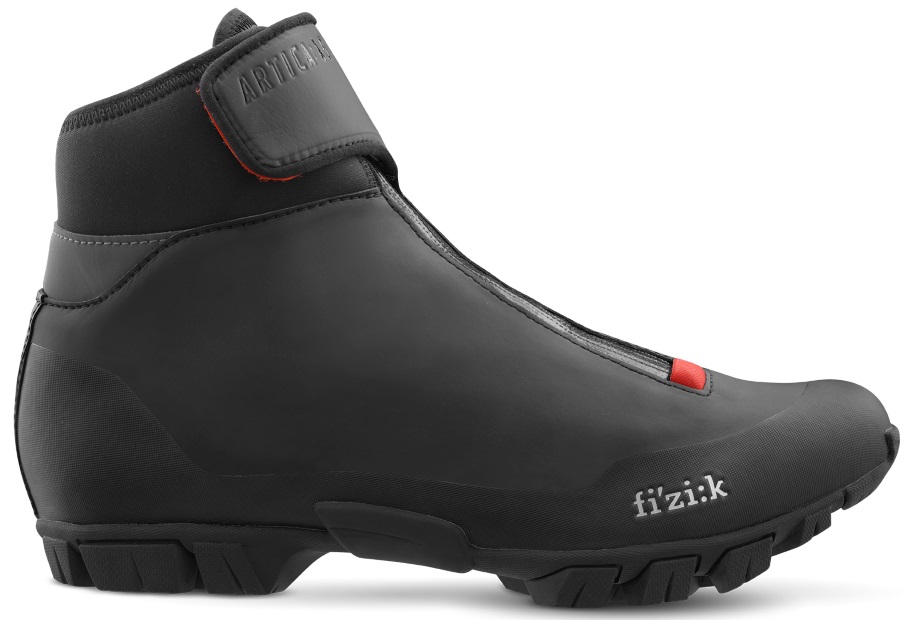 Artica X5
The Ultimate Winter Shoe For Off-Road Riding
Whether your off-road adventures take you out on the trails, singletrack or forest road, when riding through the worst of the winter, you need a shoe which will keep your feet warm and totally dry.
Super tough, comfortable, warm, easy to clean and totally waterproof, fi'zi:k's new Artica X5 shoe is designed to keep your feet completely protected from the elements, allowing you to enjoy your ride without the discomfort of cold, sodden feet.
Design & Specification
The all-new Artica X5 features an adaptive, lightweight fit thanks to the new technologies developed by fi'zi:k for its 2018 road and off-road range of performance shoes. Seamless bonding technology on the shoe outer provides low-profile protection for the harshest rides.
The waterproof outer layer utilizes a surface finish that makes it super easy to clean as any dirt can be washed straight off.
The Internal Speed Lacing system makes it quick and easy to secure the shoe in place, while the waterproof zip of the outer layer keeps the elements at bay.
Generous PU Bonded heel and toe sections join with PU lower instep and outstep sections to provide a shield from trail hazards, give a high level of grip when off the bike and help create the integral stiffness of a high-performance shoe with a negligible weight penalty.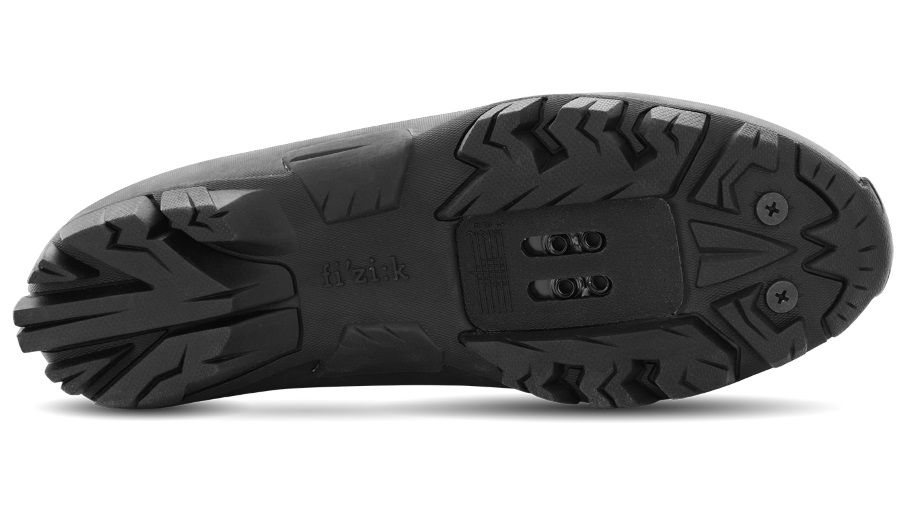 Materials
The Artica X5's rubber outsole combined with a Nylon midsole is combined with the proven supportive and comfortable fi'zi:k Winter Edition Cycling Insole, with fleece upper and aluminum foil underside – for improved insolation.
A fully enclosed waterproof membrane over a breathable internal mesh to help keep your feet completely dry and warm during challenging foul weather riding conditions.
A tough but light nylon outsole hives good power transfer and trail protection, while the rubber treads mean you'll never lose your looking in the rough.
To keep your feet warm and cozy during the cold winter months, the insoles include fleece on the upper part and bottom layer of aluminum to give enhanced insulation against even the coldest of weather.
Key Technologies
Waterproof breathable membrane
Internal Speed Lacing system
Microtex Fleece/aluminum foil insole