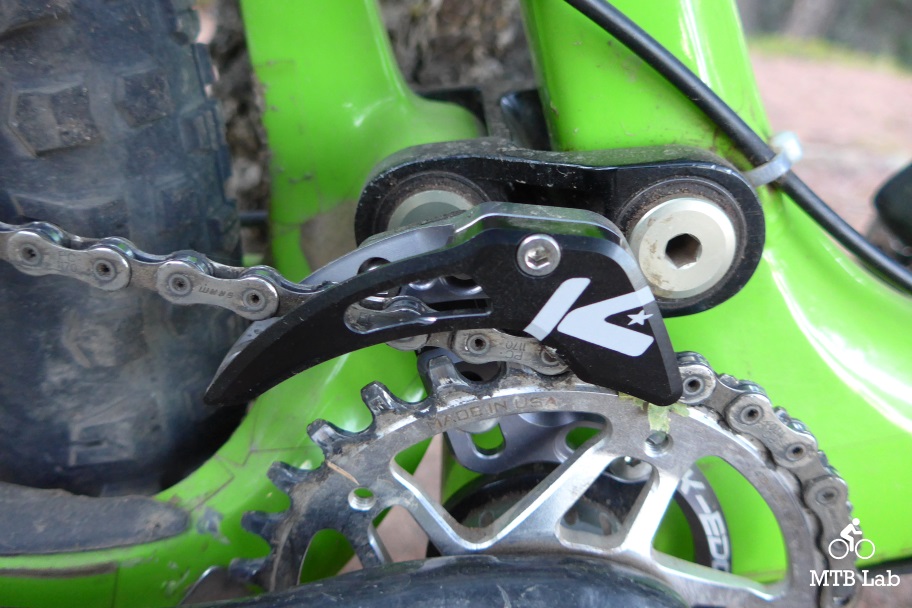 In our test queue is the gorgeous all-metal K-Edge 1x Chain Guide, the comfy Ergon GA3 winged grips, the fast Terrene McFly plus sized tires and the tough and waterproof LifeProof NÜÜD smartphone case.
K-Edge 1x Chain Guide
The full-cage design works under abusive conditions and keeps the chain from popping off the chainring or getting sucked. The guide is fully adjustable for height, center-line, and angle and was optimized for 10, 11 and 12-speed drivetrain systems. Its CNC machined from 6061-T6 Aluminum uses stainless steel hardware and has no plastic parts (love that). It works with 28T to 34T chainrings and is made in Boise Idaho and comes with a Lifetime Guarantee against material or manufacturer defects. The chain guide is a work of art and how everything fits together and adjusts is sublime. I was much intrigued that they didn't use plastic in the design, which is usually a place that prematurely fails on most chain guides on the market.
Thoughts => This well-engineered chain guide has proven itself to be brutally durable and well made and after the initial install and some minor tweaks on the first ride it hasn't moved out of place and has offered rock solid stability.
For further information refer to k-edge.com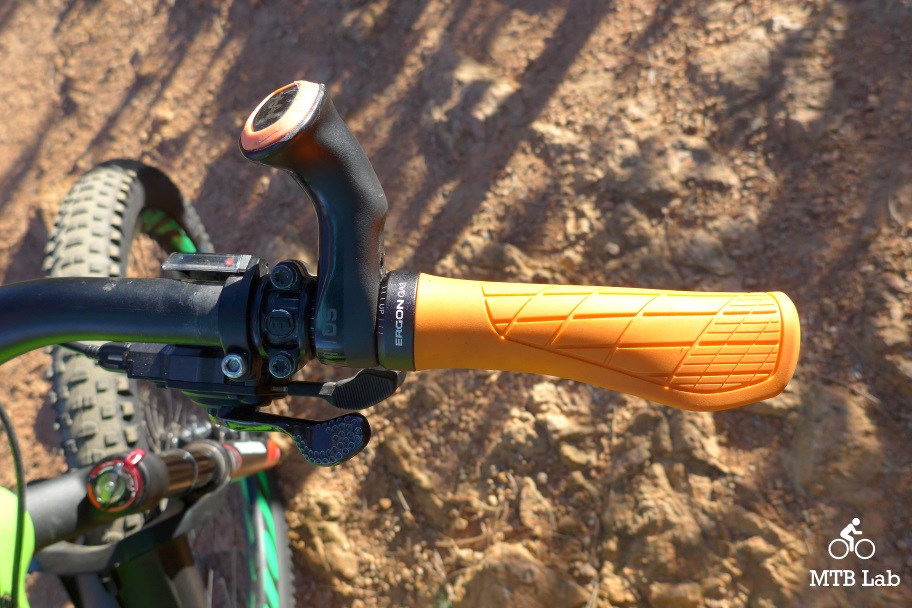 Ergon GA3 Grips
The GA3 feature a "Mini-wing" design that offers more comfort and wrist support for GA2 grip fans and riders with smaller hands who found other winged grips to be too big. It comes in one size, five colors (black, blue, orange, red, berry) and retails for $29.95.
Thoughts => I do like wings on grips, but they're usually just too wide for my tastes, and the GA3 are about perfect. Enough to provide some comfort and hand relief, but not too much to get in the way. The rubber is slightly soft, and the wings have a tad of give, both of which offer just enough cushioning for the hands without being sloppy.
For further information ergon-bike.com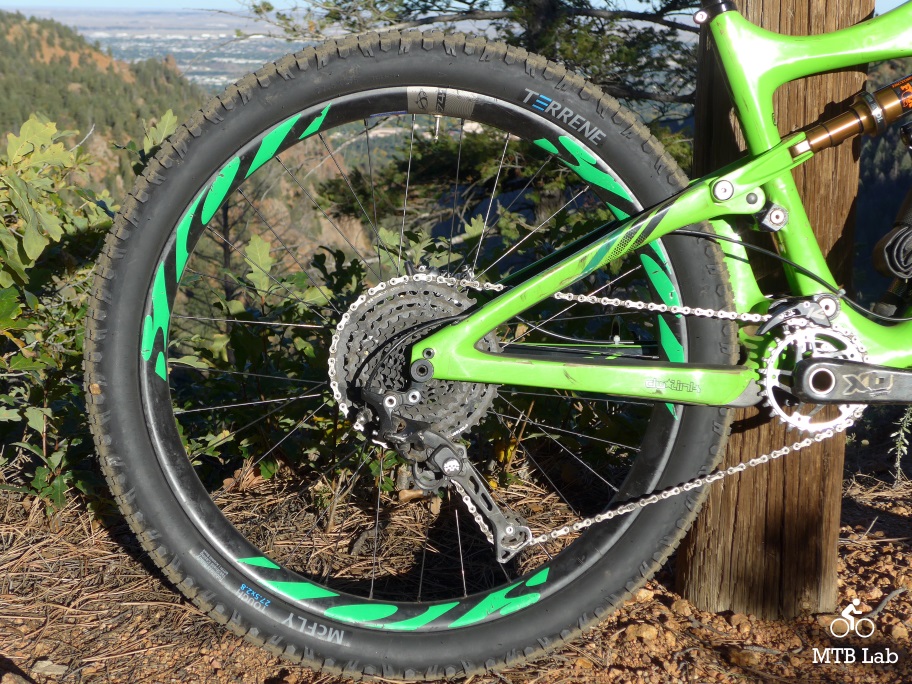 Terrene McFly Tires
Terrene has released the new McFly tire with a perfect 2.8″ Plus width. They're tubeless ready and come in 27.5″ and 29″ diameters, and Light and Tough casings. I like a 2.8″ width as it has the attributes of the 3.0″ without its detriment and has a bit more girth, float and traction power than a 2.6″. The low profile and open block tread design should provide plenty of speed, roll fast and hook up well on hard pack trails and multi-conditional terrain. The McFly's will retail for $80 and be available in July direct from Terrene or your LBS.
Thoughts => They're fast rolling tires and work exceptionally well in rock gardens. The tread height is a bit low for use in loose and sloppy conditions (like my local hideous Pikes Peak gravel), so sometimes I lost the front end from a washout or slipped in the rear during climbing and braking. The Tough casing which I tested has been brutally tough, and after lots of encounters with rocks and debris, they haven't suffered any damage.
For additional information refer to terrenetires.com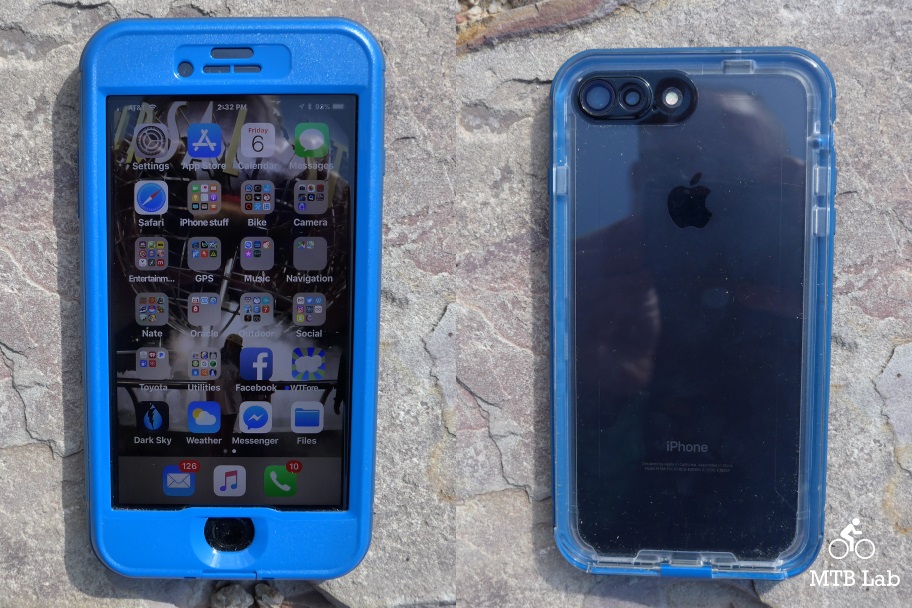 LifeProof NÜÜD Case
Featuring screenless technology NÜÜD delivers perfect clarity and touch response with your iPhone's touchscreen. It's WaterProof, DirtProof, SnowProof and DropProof, so your phone defies the elements in any environment. It features integrated gaskets that form a waterproof seal around the edge of your phone's screen while leaving the display open to your direct touch. To prevent internal water intrusion, the lightning port has an access door that seals tightly shut, and the home button which is also used for fingerprint interaction has a sealed membrane cover.
Thoughts => The case is pretty robust and not only protects the phone from the typical crashing and bashing, but it keeps it clean and dry in inclement weather or an unwanted drop in some water. Getting the phone back apart after squeezing the case together was a bit difficult, but at least you knew it was protecting your phone from the world. It was nice to have the screen open without any sort of cover to interfere with touching things. The fingerprint interaction with the home button worked most of the time, but on occasion, it didn't want to work, though retrying or just resorting to the password quickly resolved things.  
For further information refer to lifeproof.com